AC Milan – SSC Napoli: Paquetá and Piatek leave good first impression at San Siro in goalless but entertaining draw (0-0)
In a very evenly matched first half, both Napoli and Milan failed to consistently disorder their opponent's defense and create good chances. In the more dynamic second half, a more aggressive Napoli clearly dominated, until Milan unveiled their newest weapon: Krzysztof Piatek.
Tactical analysis by José Pérez.


AC Milan is in the middle of a highly competitive race for the fourth Champions League place, with strong competitors in AS Roma, SS Lazio and the surprising Atalanta Bergamo. Coach Gennaro Gattuso has built a strong defense, but his team has struggled in the offensive phases this season. Milan often experience difficulties to progress through midfield, stretch opposition defenses and create spaces for a declining Gonzalo Higuaín, who thus disappointed in his short spell at Milan.
An overworked Suso has been forced to create offense out of thin air, doing everything from ball progression, to creating chances (8 assists) to scoring (5 goals). To improve the offense, Milan has completed two big winter signings in striker Krzysztof Piatek and midfielder Lucas Paquetá.
On the other hand, Napoli have not been able to keep up with a near-flawless Juventus, but at least they are firmly the second-best team in Italy. Carlo Ancelotti quickly and efficiently transitioned Napoli into a 4-4-2 shape and a deeper defensive block.  A defensive block is the compact group of defenders that defends a particular zone, either their own half in a medium defensive block, or the zone around their own box in a deep defensive block. His Napoli might not be as spectacular as the one of prior coach Maurizio Sarri, but they remain a well-drilled and optimized unit that can make any opponent in Europe break a sweat, as demonstrated in the Champions League.
Gattuso and Milan went for their usual 4-3-3 shape. Goalkeeper Gianluigi Donnarumma was defended by a back four of Davide Calabria, Matteo Musacchio, Alessandro Romagnoli and Ricardo Rodríguez. Defensive midfielder Tiemoué Bakayoko was accompanied by Franck Kessié and new signing Lucas Paquetá. The forward line featured a trio of Suso, Hakan Çalhanoğlu (who went back to the left winger position after a few games in midfield) and Patrick Cutrone.
Napoli and Ancelotti went for their usual 4-4-2 formation, but with some changes in personnel. In front of David Ospina, Mário Rúi, Kalidou Koulibaly, Raúl Albiol and Kevin Malcuit were fielded as defenders. With Marek Hamšík just returning from injury and Allan unsettled by the alleged transfer interest of Paris Saint-Germain, central midfield featured an unusual pairing of Piotr Zielinski and Fabián Ruíz. The wings featured a very offensive pairing of Lorenzo Insigne on the left and José Callejón on the right, and up front the striker duo consisted of Dries Mertens and Arkadiusz Milik.

Paquetá improves Milan's possession game
Milan's ability to progress through midfield when in possession has certainly improved compared to earlier in the season. Perhaps the keys to this improvement are Paquetá (not a surprise) and Bakayoko (quite a surprise).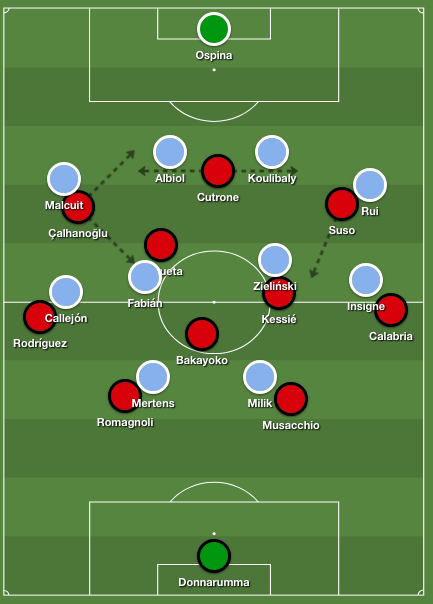 Milan's 4-3-3 structure in possession against Napoli's 4-4-2 
After a woeful 2017/18 season and a slow start to the current season, Bakayoko looks confident and in-form once again. His dribbling and ball-carrying abilities give Milan's midfield increased resistance to pressing opponents when playing out from the back.
Meanwhile, Paquetá has had an immediate impact upon his arrival at Milan. He provides the midfield some much needed creativity and dynamism. Playing as the left central midfielder, Paquetá had the most advanced position out of the midfield trio, often looking to provide a passing lane in between the lines. Paquetá's passing combinations with a very active Çalhanoğlu often allowed Milan to get near Napoli's penalty area, and produced their most dangerous attacks throughout the first half.
However, despite the improvements in Milan's midfield, they did not create big chances in the box. Once the home side reached the final third The one-third of the pitch that is closest to the opposition's goal. , it was complicated for attackers to find good shooting positions against the orderly Napoli defense. Gattuso prefers his fullbacks to be conservative and not make many forward runs, while Suso and Çalhanoğlu—Milan's wingers—often operate in more central areas, particularly in the half-spaces. This meant that Milan rarely had players out wide stretching the Napoli defense and creating space in the box for shooting opportunities. Thus, Milan players were forced to shoot mostly from outside the box.
Napoli cannot disorder Milan's defense
Napoli was also struggling to create good chances. Their wingers and strikers were more disconnected from central midfield than usual, due to Ancelotti's personnel changes for this game. In Napoli's usual 4-4-2 shape, Insigne plays the role of an extremely mobile second striker, who is constantly providing a passing lane in between the lines for his teammates in the double pivot. However, with Insigne playing on the left wing in this game, this option was not available. The striker duo of Mertens and Milik was more involved in pinning down Milan's defenders than dropping deep and moving in between the lines.
Napoli's 4-2-4 structure in possession against Milan's 4-5-1 defensive organization.
This meant that both Fabián and Zielinski often found themselves in front of Milan's orderly 4-5-1 low block with no passing alternatives to the center. Napoli's attack was reduced to Fabián and Zielinski passing to their fullbacks and wingers, who would then produce crosses into the box for Mertens and Milik. This was predictable and easy to defend for the attentive Milan defense, led by Romagnoli who was very active in clearing any incoming crosses (six clearances in the first half).
Milan and Napoli were very evenly matched during the first half, with possession being almost evenly split (49 to 51%) and both teams having six shots. During this half, one could say that defensive structures prevailed. Both teams proved unable to consistently disorder the opposition defense and create spaces and chances.

In the second half, both teams took more offensive risks
Both Milan and Napoli did half-time adjustments to fix the offensive issues seen during the first half. In the case of Milan, we could observe more aggressive behavior from the fullbacks and central midfielders. Right back Calabria was more willing to move forward, support Suso and stretch Napoli's defense. Meanwhile, Kessié and Paquetá would often load the box to support Cutrone and overwhelm Napoli's central defenders. These movements resulted in Milan producing some shots in the box in the first five minutes the second half.
However, by committing more men forward, Milan was also leaving more spaces at the back that could be exploited by an improved Napoli. The attackers of the away side were more mobile and dynamic during the second half. Insigne and Callejón started moving more often towards central positions, Mertens was dropping deeper, and both Fabián and Zielinski stepped forward several meters compared to the first half. Napoli's midfield and forward lines were finally linked up properly, they were pressing more aggressively and soon enough, they monopolized possession and created better chances. Napoli's talented attackers had finally clicked together and dominated Milan.

Piatek gives Milan counterattacking punch
Gattuso needed some changes to counter Napoli's dominance. In the 69th minute, he substituted a tired Paquetá for forward Fabio Borini. With this change, Çalhanoğlu was moved into central midfield while Borini would play as a left winger. In the 71st minute, Gattuso substituted Cutrone for Piatek, who was making his debut in the Milan shirt.
The Piatek substitution turned the tables for Milan. Piatek was outstanding at finding the right place and time to run into space, punishing even the smallest distraction from Koulibaly and Albiol. From a possession standpoint, Napoli still controlled the final twenty minutes of the game (40% vs 60%), but Milan could now punish Napoli's attempts by sending passes into space for Piatek. The Polish striker also has a good sense of when to drop deep to provide a passing outlet, laying off the ball to the closest teammate with a simple but effective first touch.
On the other hand, Napoli tried their best to keep moving the ball quickly from side to disorder Milan's defense and get into good crossing positions, but the tight Milan defense cleared most of the incoming danger. Ancelotti substituted Mario Rui for the more offensive Faouzi Ghoulam (72nd minute) and a tired Mertens for Simone Verdi (80th minute), but the results were the same. Despite Napoli's insistence in those final twenty minutes, they failed to create chances in the box against the solid Milan defense.

Takeaways
Throughout this first half of the 2018/19 season, Milan's midfield struggled to progress when pressed, and their attack was slower and more static. Thanks to Paquetá and Bakayoko, Milan's offensive game is more dynamic than before, and midfield struggles less when pressed. However, there are still issues with the attack being too narrow and not stretching defenses enough, which makes it harder to produce good shots in the box. Piatek, a specialist in finding spaces in the box, comes into play here. It iss too early to tell for sure, but he might just be what Milan needed to turn their improved possession game into shots.
Napoli did not have an inspired performance (especially their strikers) but it was not bad either. The attack lacked more mobility in the first half, but they reacted well in the second half to correct that deficit. That being said, after so many years of Insigne playing on the left wing, it seems that Ancelotti's Napoli needs him more as a striker for now. Napoli seems to be at their best when Insigne moves closer to central areas.
Use the arrows to scroll through all available matchplots.