Ajax Amsterdam – PAOK Saloniki: Ten Hag's Team Makes It To The Next Round In A Thriling Game (3-2)
In a game full of events and goals, Ajax displayed their superiority once again, as Ten Hag had drawn lessons from the first game. In his tactical approach, the team was solid, yet Ajax were naive enough to let PAOK open the scoring, bringing frightening moments in the game that would last until the very last second. 
Tactical analysis and match report by Simon Piotr. 
Drawing the first game 2-2 in Greece, Ajax started the game with a head start. However, the intensity and the bravery PAOK Saloniki showed in the first leg foreshadowed that the return would not be a piece of cake. Both teams did not change much to their tactics compared to the first leg, mainly because of the coherent and clear styles of play from two very different coaches. 
Ten Hag kept his vintage 4-2-3-1 formation in place, that turned into a flexible 3-1-4-2-ish formation when building up, comparable to last week's second half. The changes came in the players lined up; David Neres was back in the offensive line instead of Kasper Dolberg – which also brought Dušan Tadić back to his false nine A striker that constantly drops deep and plays like a number ten. position. Marin was also played in midfield instead of the defender Perr Schuurs, leading Noussair Mazraoui to play in his nominal role of right back, as Joël Veltman was back in central defense. 
As expected, the Greek side lined up in the exact same counterattacking 4-4-2 shape, so typical for modern Portuguese coaches like Jardim or Lage. All the players starting in the first leg were back on the game sheet. 
Territorial domination for Ajax rewarded with .. a goal for PAOK
Given the nature of both teams, it was out of the question for Ajax to not have the majority of ball possession, over 70% in the first twenty-five minutes. 
They were building with the 3-1-4-2 shape which could easily turn into a 3-3-1-3 formation given all the collective movements happening simultaneously. Blind would drop between the center-backs to secure the numerical superiority against the two strikers. The fullbacks were very high and ready to receive the ball near the touchline, which Ajax did during a lot of possessions. This made sense in order to use the space left by the very narrow 4-4-2 defense from PAOK, and it also avoided to keep the ball in Marin's zone for too long, given how isolated he was in midfield. 
Ajax's 3-3-1-3 shape when building up from the back
Once the ball was in the opposition's half, Ajax's offense was as we got to know them: full of rotations. It is worth mentioning that the attacking line did not get affected by the summer transfer window yet (unlike the midfield and the defense). We would see the usual attacking patterns with all forwards narrow on the same side of the field. The aim was to overload When one team has more players in a certain area or zone than the other team. the space between the lines to take advantage of the technical superiority of the players in tight spaces. Tadić was dropping to get the ball before combining with his team mates, and Van de Beek was bringing balance to the team with his movements and compensations. As for the wingers, Neres and Ziyech enjoyed a lot of freedom on their positioning, especially the latter. Fluidity in attack is part of Ten Hag's philosophy, but it seems to have been taken to a new level these days. 
PAOK Saloniki held the same ultra compact 4-4-2 system. They may look like just another team setting up in a medium block A medium block refers to a team that retreats in their own half out of possession, generally only disrupting their opponents some way into their own half.and waiting for the counterattack, but the quality and the variety Ferreira brought to his team was actually something pretty impressive. They were able to quickly shift from high pressing, to a medium block or something even more defense, with ease and a lot of energy. 
In that respect, their first goal was not that surprising, as it came through a high pressing sequence which yielded possession, before PAOK were able to take advantage of the passivity of the Dutch defense, when Biseswar scored with a near post shot (minute 23). 
PAOK unambitious in possession
PAOK's game plan on the ball was something less ambitious, so to speak. The little amount of time they were in possession, they would play long balls from the keeper, in order to fight for the second ball or play very vertically. Ajax were defending in their classic 4-2-3-1 shape, with high pressing and man-marking, especially from Van de Beek and Blind. 
The strength of the team on the ball relied more on their quick transitions. Ajax tried to apply counterpressure   After losing possession, a team immediately moves towards the ball as a unit to regain possession, or at least slow down the pace of the counterattack. as soon as they lost the ball, but several times, PAOK were able to get past it and push their actions forward in interesting conditions – numerical equality or superiority. But the lack of individual talent was the limit of the team when it came to converting these types of situations into goals, despite the initiatives from players like Biseswar or Pelkas.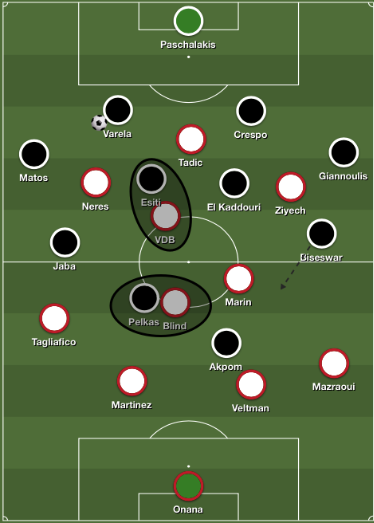 PAOK's 4-4-2 shape against the Ajax 4-2-3-1: long balls and transitions.
A twenty minute storm over PAOK
Behind and potentially eliminated at this point, Ajax had to show some kind of reaction. Ten Hag's side increased their level of intensity and played much closer to Saloniki's box. The buildup was more vertical, with more penetrative forward passing to the offensive line. As a result, interesting situations were more likely to be created, not really big chances at this point, but PAOK were forced back, conceded set-pieces and crosses. Ziyech had a good chance after a cross in minute 30, and Neres was fouled inside the box as he was aiming at the rebound. 
As a consequence, Ajax were rewarded a penalty kick, taken by captain Tadić. However, his attempt got saved by Greek goalie Paschalakis, meaning the game was still level after 32 minutes.
A few minutes after the penalty, a series of transitions occurred with the ball going from one end of the pitch to the other, and Ajax won this battle as they earned a second penalty after a transition minute 41. Biseswar was guilty of a handball, after Ajax were literally playing a rondo sequence inside the opposition's box, unreal technical level. The penalty was scored by Tadić this time and Ajax were qualified again. 
Ajax's way to qualification, despite shaky moments
Ajax came back from the dressing room with the same style of possession. The shape was similar but Serginho Dest replaced Marin, which brought Mazraoui back in midfield while Dest played in the right back position. 
The Dutch side kept the same level of possession, but with some nuances compared to the first half. For example, they were more keen on using the width of the pitch to overload PAOK's back four and find free players on the wings after switching the ball. 
Ziyech free on the right when the back four can be pinned around the left side.
By playing high and wide, Ajax earned many corner kicks (eight out of a total of twelve in the second half), and those were absolutely key. First, PAOK almost punished Ajax, who were too exposed on transitions following set-piece situations. In the 59th minute, PAOK wasted a four (!) versus one counterattack, after a bad Ajax pass by Mazraoui.
The game went on like this until the 79th minute: whipped corner kick hit by Ziyech, and somehow, Tagliafico (Ajax's smallest player) managed to score a perfect near post header from the penalty spot. 
Four minutes later, on another corner kick, Huntelaar who just went in a few minutes before got fouled and PAOK conceded a third penalty. Scored by Tadić again. 3-1, game done and dusted? Think again.
The team of Abel Ferreira went all-in, with most of their players in attack, as Ajax did not look like the most solid team at this point. PAOK committed bodies forward and Biseswar scored again in the 93rd minute (what a willianesque performance from him, in the positive sense of the term). Too late for PAOK, who would not have time to carry on attacking.
Three penalties sure helps the xG numbers. Also, PAOK had a lot of dangerous counterattacks that did not end with a shot.
Takeaways 
Ajax are still Ajax. Even though they lost their midfield up De Jong-Schöne and their captain and defensive leader, De Ligt. The team can rely on the same coach and a preserved offensive line to carry on playing the modern total football that led the team to the semi finals of the UCL in 2019 with the exploits we all remember against Real Madrid or Juventus. Ajax will now face APOEL Nicosia, who just defeated FK Qarabag. 
Defeat feels tough for PAOK, who conceded three penalty kicks on the night. Their 4-4-2 shape is tight, they have some great individual players and set-piece taking is very apt. They now have to play Slovan Bratislava in the last round of Europa League qualification. It would feel like a true omission if this team does not qualify for any European league, so let's root for them. 
All match plots can be found below.