Arsenal – Manchester City: Arteta's Side Hold Out Against City Attacks (2-0)
A wonderful sequence of buildup play put Arsenal 1-0 up in the first half. Manchester City dominated the ball, but were unable to break down Arsenal's deep defense, despite Pep Guardiola's tactical adjustments. Mikel Arteta's side added a second goal with twenty minutes left, making City's task almost insurmountable, and Arsenal eventually closed the game out to win 2-0.
Tactical analysis and match report by
Josh Manley
.
These two teams met only a few weeks ago on the first Premier League matchday after lockdown. On that occasion, Manchester City were able to comfortably dispatch Arsenal, partly thanks to individual errors made in defense by Mikel Arteta's side.
Since then, City have continued to perform relatively well, including a 4-0 demolition of title winners Liverpool. Still, Pep Guardiola's side have also suffered two defeats, one at Stamford Bridge, and another against Southampton where they created plenty of chances but were unable to finish any of them.
Arsenal beat Sheffield United in the quarter-finals to reach this stage, a win which came amongst other victories in potentially tough away games against the likes of Southampton and Wolves. After a tame display in the North London derby, their most recent game saw them overcome Liverpool at the Emirates Stadium, helped along by some costly mistakes from the away side. 
With Ainsley Maitland-Niles in the starting eleven and Sead Kolašinac on the bench, it was unclear exactly how Arteta would set up tactically. However, as it turned out, he stuck with the 3-4-3 system he has been using in recent months, with Maitland-Niles slotting in at left wing-back, as usual wingback Kieron Tierney moved inside to left center-back. 
For City meanwhile, they lined up in a 4-2-3-1 shape to start with. İlkay Gündoğan was at the base of midfield alongside Kevin De Bruyne. Ahead of them was the trio of Riyad Mahrez, David Silva and Raheem Sterling, in support of the striker Gabriel Jesus. 
City begin with double pivot
Looking at the teamsheet before the game, it seemed a fair prediction that City would play in a 4-3-3 with De Bruyne and Silva as advanced central midfielders. At the start of this game though, the arrangement was slightly different.
City in possession in the early stages.
De Bruyne was instead playing alongside Gündoğan, essentially as a double pivot. Two central midfielders next to each other. Furthermore, the wingers Mahrez and Sterling were moving inside to the halfspaces, If you divide the field in five vertical lanes, the halfspaces are the lanes that are not on the wing and not in the center. Because there is no touchline like on the wing, players have the freedom to go everywhere. But this zone often is not as well-defended as the very center. This makes it a very valuable offensive zone to play in and a lot of chances are created by passes or dribbles from the halfspace. while the fullbacks Kyle Walker and Benjamin Mendy were the ones primarily responsible for holding the width.
This perhaps slightly unexpected way of building up from City did have a slight effect on Arsenal's pressing shape. Alexandre Lacazette seemed to be under instruction to mark Gündoğan when City had the ball as Arsenal were likely expecting him to be the lone number six.
However, De Bruyne's presence alongside him drew Xhaka further forward from the midfield line, which increased the remaining spaces next to Ceballos in the Arsenal defensive midfield zone. City's attacking midfield trio could then look to drift into these spaces to offer progression through the thirds.
Arsenal's bravery playing from the back
In the opening stages, especially before going up, Arsenal did not want to abandon their own ball possession phases. They were courageous in trying to play out from the back against City's high pressing. This of course put them in challenging situations, and they sustained a couple of ball losses in risky areas.
However, the risk ended up paying off just under twenty minutes into the game, as Arsenal were able to slice through the City press and take the lead courtesy of their top scorer Pierre-Emerick Aubameyang. 
The move itself was wonderfully crafted. They were able to create passing angles deep in their own half to switch the ball from one center-back to the other, away from the side of the pitch where City were pressuring. 
They found Tierney on the left touchline, who made a fast, flat pass inside into the feet of Lacazette, who held the ball up with his back to goal and switched the ball out to the right side where there was space for Héctor Bellerín and Nicolas Pépé to attack City's backline. 
Pépé swung a great cross towards the back post, where Aubameyang was arriving to poke the ball back across the six-yard box, past Ederson and into the far corner of the goal, making it 1-0 to Arsenal.
The construction of Arsenal's goal. Arteta learned very well from Guardiola. Excellent finish from Aubameyang. Manchester City 0-1 Arsenal. #FACup pic.twitter.com/6U0xscXWXC

— Premier Sports 📺 (@PremierSportsTY) July 18, 2020
Guardiola adjusts shape
Towards the end of the first half and going into the second half, City's shape was adjusted from their initial 4-2-3-1 shape to the more familiar asymmetric 4-3-3 they have used on many occasions this season. 
Walker now stayed further back and narrower, while Mahrez held the width on the right. De Bruyne was higher, leaving Gündoğan more as a lone six with Silva occasionally dropping in to pick up the ball. Mendy continued to occupy the left wing, while Sterling drifted freely across the front line behind Jesus.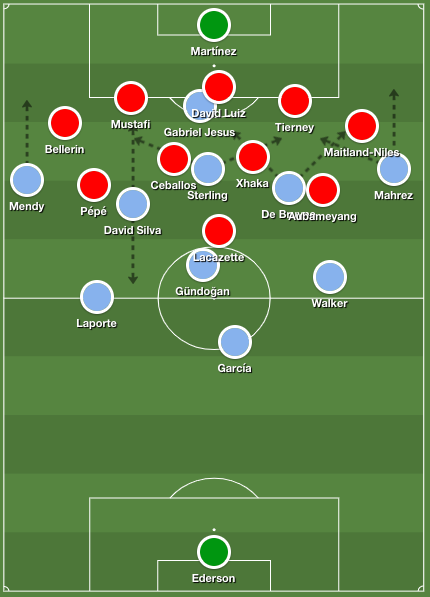 City's adjusted possession shape.
In the second half City had almost 80% of the possession, and for the most part the game was condensed within thirty yards of Arsenal's goal. García was City's deepest player, while the likes of Laporte, Gündoğan and Walker found themselves almost on the edge of Arsenal's box as Arteta's side defended with eleven men behind the ball.
No breakthrough for City
The sheer number of players in the Arsenal box meant that City's attackers were always trying to thread the eye of a needle. The spaces were incredibly small, even for technicians like David Silva and Sterling.
The other option for City was throwing crosses into the box, which they did plenty of courtesy of the likes of Mendy and De Bruyne, but the spaces for crosses to be targeted into were once again extremely small. Even when City could generate shots in decent locations, there were always Arsenal bodies in the way to block them.
The first substitutes of the game arrived with twenty-five minutes left and were like-for-like in terms of position, as Rodri replaced Gündoğan and Phil Foden replaced Mahrez. Five minutes after these introductions were made, Arsenal grabbed their second goal. 
The spaces behind the City defense were huge as they camped in Arsenal's half looking for an equalizer. This gave the perfect opportunity for Aubameyang to use his speed to capitalise. Played in behind in the left channel by Tierney, he calmly rolled the ball underneath Ederson to put Arsenal 2-0 up. 
Despite City's huge possession share, which rose to nearly 90% from Arsenal's second goal until full-time, they were unable to score against the defensive wall which Arsenal had constructed in their penalty box.
Takeaways
City did have a couple of decent chances and were probably unfortunate to finish the game without a goal. However, it can also be said that this was not City's greatest display in terms of chance creation when compared to their usual standards.
Arsenal's first goal on its own was something to be proud of and gives a demonstration of the principles that Arteta is looking to instil into his team. While they did concede shots, the emergency defending in the penalty box from the likes of David Luiz and Xhaka should also be commended, helping block potentially decent City chances. 
Use the arrows to scroll through all available match plots. Click to enlarge.
Check the match plots page for plots of other matches.