Arsenal – Wolverhampton Wanderers: Emery's switch of formation fails to overcome well-organized Wolves (1-1)
Wolves organized themselves well at the Emirates Stadium, scored an early goal and got very close to what would have been a deserved away win. Arsenal's offense was ineffective for the entire match, despite Unai Emery's formation switch at half-time. In the end, an unlikely goal rescued a point for the home side.
Arsenal's manager Unai Emery is enjoying a very good start to his managerial stint in North London – result-wise that is – even though these results have already started to cool down a bit. After a long winning streak across several competitions, Arsenal had drawn their last two Premier League games going into this match. And although it may feel like a new dawn for the club, the 4-2-3-1 system that was so dear to Arsène Wenger is still in place.
Wolves are one of only two Premier League teams to field a back three week-in-week-out.  Huddersfield is the other team that always plays with three central defenders. They play in a 3-4-2-1 shape, with a starting lineup that boasts loads of Southern European talent.
Against Arsenal, they fielded an exclusively Portuguese square in midfield, a spectacularly talented bunch of four, when taking into account that this is a newly promoted side. Rúben Neves and João Moutinho form the double pivot 4-2-3-1 is one of the most frequently occurring formations in football. The two most defensive midfielders are called a 'double pivot'. , with Hélder Costa and Ivan Cavaleiro playing as the team's offensive midfielders.
Wolves offensive midfielders do a job on Arsenal's build-up
Wolves stuck to very specific plan when Arsenal was building their attacks from the back. Striker Raúl Jiménez would place himself a couple of yards ahead of the halfway line, as the offensive midfielders – or wingers, if you like – positioned themselves diagonally in his back. Wolves' whole organization looked like a 5-2-3 in these moments.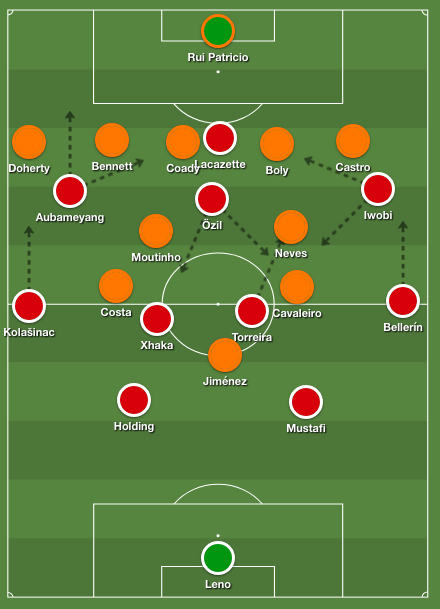 Wolves' 5-2-3 shape that made sure Arsenal did not have access to the middle of the pitch.
Because the center of the pitch is so crowded in these situations, a pass to a fullback is logical. If you do that against Wolves, the whole team shifts over to that side to press the fullback and make sure he passes back. It is worth noting that Wolves do not necessarily aim to create turnovers from these pressing traps, A pressing trap is a predefined plan to leave a particular player or zone open, to invite a specific pass. Upon a pass to that player or into that zone, a rapid coordinated team press on that player or zone is exerted. but merely want to provoke the opponent into a sidewards or – even better – a backwards pass.
Arsenal's pivot was also largely neutralized this way, as Cavaleiro and Costa would come towards them to press when they got on the ball. If the home side did manage to play their way inside of Wolves block of nine defensive players, a very sturdy 5-4-1 organization was formed.
Arsenal's possession gets a bit better
During one of Arsenal's early build-ups that did not go anywhere, left back Sead Kolašinac tried to play a sidewards pass to holding midfielder Granit Xhaka. Despite having just looked behind him, Xhaka decided to let the ball go by without a touch, presuming one of his team-mates was in proximity to receive. The problem for him being that there wasn't anyone in a red shirt even close.
Wolves' offensive midfielder Cavaleiro picked up the ball, played a one-two with striker Jiménez and finished. Just like that, Arsenal were trailing at home after a mere thirteen minutes.
For the remainder of the half, Arsenal kept struggling to get access into Wolves' final third The one-third of the pitch that is closest to the opposition's goal. . Their offensive midfielders Mesut Özil and Alex Iwobi progressively started to drop to collect the ball and distribute play into more advantageous areas. Özil is still one of the best passers in the world, and whenever Arsenal managed to get deep on Wolves' half, it was mostly because of the German dropping and creating forward options.
As the ultimate illustration of their toothless play in possession, Arsenal's best chance of scoring came in a moment of counterpressing, after the ball was lost. A little over twenty minutes in, a looming Wolves counterattack was quelled by central defender Rob Holding, and Arsenal quickly played three passes forward, which meant Özil was free inside the penalty area. Özil did what he usually does in the final third, as he found an open team-mate. Alexandre Lacazette could not convert the rather big chance.
The ensuing counterattack led to Wolves entering Arsenal's penalty area for practically the first time since the opening goal. Bernd Leno pulled off some heroic goalkeeping to deny striker Raúl Jiménez. This counterattack-on-counterattack-on-counterattack string of play made this match feel more alive than it had been up to that point.
For the remainder of the first half, Arsenal kept struggling with the same problems over and over again. Left winger Pierre-Emerick Aubameyang epitomized Arsenal's powerless first half, in which they did not manage to get a shot on target and accumulated just three attempts on goal. Aubameyang dearly lacked supply inside the box and it is certainly not his strength to get on the ball on the left touchline.

Diamonds are Unai's best friend
Unai Emery decided to switch things up at half time. Iwobi – who had been one of the few active ball progressors – was taken off for Guendouzi. After a few minutes of play it became clear that Arsenal had switched to one of the classic formations in football: the 4-4-2 diamond. Özil played as a number ten, Xhaka at the helm and Guendouzi and Torreira as central midfielders. As play went on, it turned out that a lot of freedom was given to the midfielders to interchange and roam the midfield.
With great freedom comes great responsibility. In this case, the responsibility to make sure all spaces are covered well and the ball can be circulated easily to find space between the lines or on the flanks. Arsenal's midfielders struggled to maintain this balance for the entire second half. Especially Guendouzi and Torreira moved towards the ball most of the time, not being available as an outlet closer to goal.
One of the rare ways in which Arsenal was able to get a bit higher up the pitch was by moving left-back Kolašinac very high up the pitch and letting Guendouzi and Xhaka distribute play from the left halfspace. If you divide the field in five vertical lanes, the half spaces are the lanes that are not on the wing and not in the center. Because there is no touchline like on the wing, players have freedom to go everywhere. But this zone often is not as well-defended as the very center. This makes it a very valuable offensive zone to play in and a lot of chances are created by passes or dribbles from the halfspace. As a result, Arsenal attacked predominantly through the left.
Their biggest chances also came from the that side. In the 70th minute, Xhaka made a run behind the defense and was fed by Kolašinac. His cross was met by Arsenal's right back Bellerín, who could not convert. Two minutes later, an early cross by Xhaka was controlled by Torreira, who found that same Bellerín. He opted to put in a low cross this time and squared it to Aubameyang inside the six-yard box. His effort hit the outside of the post.  
Arsenal get their equalizer as match ends in chaos
Since the introduction of Ramsay and Mkhitaryan, Arsenal were playing in a 4-2-4 / 3-3-4 formation, with Xhaka constantly shifting between left-back and midfield. The entire second half, Wolves' play was sloppier than it had been in the first half. Counterattacking possibilities were less prominent and Arsenal could keep the pressure on that way.
In the 84th minute, though, Wolves had one of their scarce counterattacks, as Diogo Jota had a healthy chance to put them up by two. His shot was stopped by Leno, who saved his team multiple times throughout the match.
It is funny how things turn out in football matches sometimes, as two minutes later, the game was level. A corner kick by Arsenal was taken quickly and placed into the feet of Henrikh Mkhitaryan. He delivered a quick cross into the penalty area that was missed by everyone, but went into the net nonetheless. The game was tied with five minutes to play.
Now playing in a hyper-attacking formation, Arsenal actively chased a winner, without ever coming close to it. It was Wolves who could have easily left the Emirates as winners. Having put football analytics darling Adama Traoré on the field, their counterattacking prowess had improved significantly. The first time he was through on goal, he was stopped by an outstanding save from Leno.

This should have been a warning sign. In the 95th (!) minute, another one of Traoré's dribbles fell to Diogo Jota just outside the penalty area. He produced a thunderous shot that fell right on the inside of the intersection between post and crossbar. A fitting to end to a match that was asleep for long periods, bursting to life in short intervals.
Takeaways
Wolves offer a better defensive organization than most teams in English top-flight football. For a team with Arsenal's stature and overall level of squad players, getting the first shot on target well after half-time is just plain bad. Emery tried a switch from 4-2-3-1 to a 4-4-2 diamond formation, but this did not sort the desired effect, as his team struggled to find the right balance in the second half.
Newly promoted Wolves are a lovely addition to this year's Premier League. Even though their overall play in possession was quite underwhelming for the match, they showed how far you can go with a solid defensive organization and a willingness to keep the spaces as compact as possible. Leaving the Emirates with a point will probably leave them questioning how they could waste their chances on the counterattack.
Use the arrows to scroll through all match plots.