AS Monaco – Olympique Lyonnais: New Look Lyon Overcome Monaco In Ligue 1 Season Opener (0-3)
Sylvinho's Lyon won their first game in Ligue 1. After Monaco were brought down to ten men, there was nothing left in the tank to stop Lyon from controlling the entire game. By no means an offensive orgy, yet Lyon showed efficiency to win the game three goals to nil. 
Tactical analysis and match report by Simon Piotr.
Ligue 1 kickstarted in Monaco this Friday night with an interesting game between the two big names of the French first division – apart from PSG of course. Two big clubs in very different states, mind you. 
Lyon are entering a new era with the arrival of the Brazilian duo Juninho (sporting director) and Sylvinho (head coach) at the club. This closed the Bruno Génésio chapter, (2016-2019) which brought decent-ish results, but no cup finals, being outplayed in the league by teams like Monaco and Lille, only one qualification for the Champions League round of 16, and the team never progressing collectively, despite an impressive amount of young talented players. 
On a larger scale, it is also the end of a long tradition of French managers in the club directed by Jean-Michel Aulas. The project of Sylvinho is supposed to mean the improvement of the collective principles rather than relying on individual talent like before, even more true since Fékir and Ndombélé left during the summer transfer window.
As for Monaco, they're a team trying to come out of a nightmare. After selling their best players without sufficient replacement in 2018, the team collapsed. Jardim dismissed, Henry brought in, heavy spending in the winter transfer window, no improvement whatsoever, and Jardim eventually brought back with still mediocre results. The club finished 17th in Ligue 1 and was not that far from being relegated. 
Monaco's season was considered to be more or less of an accident season, and the project seemed to be somewhat back on track after promising results in pre-season games.
For this first game, Lyon came to the Louis II Stadium in the 4-3-3 formation we have seen in their pre-season games games. Whereas Génésio would play a 4-2-3-1 system with Fékir as a number ten, and Depay as the striker, Sylvinho has opted to play a 3-man midfield with a defensive holding midfielder, the new all rounded player Mendes from Lille, and Aouar who is the most creative of the three. 
Jardim chose to line-up his team in a 4-2-3-1 shape, with a very defensive double pivot 4-2-3-1 is one of the most frequently occurring formations in football. The two most defensive midfielders are called a 'double pivot'. in Jemerson and the versatile Henrichs. Cesc Fàbregas was deployed in a number ten role, which he had not occupied for a while in his career.
Opening night! #ASMOL pic.twitter.com/gprwdVtfLz

— OL English (@OL_English) August 9, 2019
The beginning immediately brings a goal
The game started with Monaco trying to progress the ball upfield through short passing. Fàbrgas already showed he was miles above his team mates in terms of passing and playmaking, even in a somewhat particular role. However, on the first actual established possession from Lyon, they had a patient an interesting buildup, ending with earning a corner kick. Fifth minute of the game, and Monaco were guilty of a scandalous marking error, meaning Moussa Dembélé was able to score a powerful header. 
After an early goal so reminiscent of last season – when they conceded 57 goals – the monégasques would then have 60% ball possession, as Lyon dropped back in their medium block. A medium block refers to a team that retreats in their own half out of possession, generally only disrupting their opponents some way into their own half. The 4-2-3-1 shape was pretty flexible, with players free to push forward. 
Monaco attacking shape against Lyon's 4-5-1 defense
Monaco's buildup was very dependent on the left flank, as players like Panzo and Fabregas are much more comfortable on the ball than others, like Glik or Henrichs. They tried to bring tempo and pace in play, yet lacked quality to create danger. As a consequence, they shot three times during their possession momentum, without any attempt on target.
Indeed, Lyon were defending in a very compact 4-5-1 shape. Traoré and Depay, the wingers, were totally committed to protecting the wings, and it was rather the central midfielders who would step out to press opponents at times.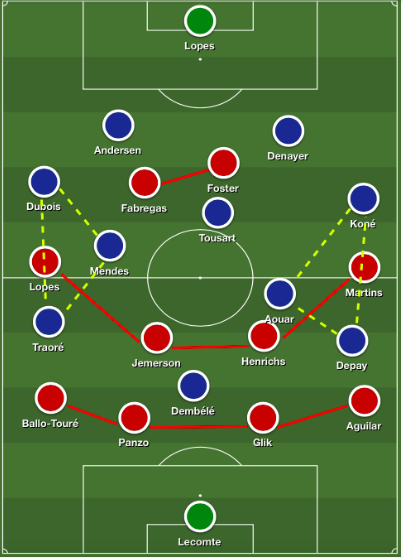 The 4-3-3 system in possession against the 4-4-2 shape
On the ball, Lyon played in a strict 4-3-3 shape, attempting to play out from the back with short passing, except on goal kicks, where Lopes would try to find Dembélé in the air. 
The system naturally formed triangles on the wings, although the left flank was more offensive than the right one. It is worth reminding that Aouar is the most offensive player of the midfield trio, whereas Mendes is more of a holding midfielder or double pivot specialist. It therefore came with no surprise that Aouar was able to receive the ball in more advanced positions. 
Monaco held a 4-4-2 shape in defense, with Fàbregas in a second striker position. The block sometimes pressed a little bit higher, although they would definitely be more agressive in the zone of Lyon's midfielders, using man-marking on players like Mendes, and especially Aouar. Yet Lyon was more focused on the defensive side of things anyway and did not do much on the ball as they were leading. 
As usual in a game at the very beginning of the competitive season, the game lacked a bit of intensity. And as it is often the case in Ligue 1, both teams were not too keen on pressing high and risking to be caught out of position, meaning the match turned a bit stale at times.
In the 26th minute, on an insignificant offensive challenge, Fàbregas fouled Dubois with his foot scraping his calf. After a VAR review, the referee changed his mind and chose to turn the yellow card into a straight red. It is hard to say whether Fàbregas fouled the right back voluntarily, and the red card was probably too severe. Down to ten men and down a goal, Monaco had a mountain to climb if they wanted to get away with a result here. 
Lyon's second half: a team managing the score and efficient offensively
After Fabregas was sent off, Sylvinho's team immediately recovered around 70% possession, until the end of the game. Monaco had a very slight re-organization of the team, and played in a 4-4-1 shape, which could turn into a 4-3-2 formation, or even a 4-2-3 system at times, depending on the positions of the wingers.  
Monaco players more or less in the same positions, with the number 10 missing
Despite spending more time on the ball and having a numerical advantage, Lyon almost didn't change anything to their plan and their system. They carried on playing with the same rigid 4-3-3 and a lot of application in all the collective patterns. One slight change was the holding midfielder, Tousart, pushing higher when the team played a vertical pass, a subtle and nuanced difference.
Between the first goal and the second goal they scored, the only shot Lyon had was a free kick from distance, hit in the clouds by Depay. But minute 36, Lyon scored on their next shot with Depay taking a powerful strike from thirty meters out. Monaco's goalkeeper Benjamin Lecomte  was guilty of not reading the trajectory of the ball well. Third shot of the game or Lyon, first shot on open play, second shot on target, 0-2 on the scoreline. 
Second half drags on
The second half confirmed what we saw at the end of the first half. Despite being brave enough to try to push forward as much as they could, Monaco did not stand a chance in these conditions. Out of four shots, they created just one genuine chance, actually a one-versus-one with the keeper well saved by Lopes. 
Lyon were still in possession, and it was interesting to notice one mechanism in the animation: the fullbacks did not get upfield. When the team was attacking, Lyon fullbacks almost never crossed the halfway line. There was a clear five-five structure, with five players attacking and five players covering, with Tousart likely to enjoy a bit more freedom. It was sometimes a bit curious to see Lyon in attack, and the fullbacks not following the actions despite having space to exploit. It was almost like watching football from decades long gone, when fullbacks were not the attacking minded de facto wingers they often are now.
Besides all this, they were still efficient. With their superiority, Lyon would shoot more, but the third goal came in minute 80, from their only shot on target in the second half. The holding midfielder Lucas Tousart scored from twenty yards out with a powerful near post strike. 
Three goals out of three shots on target, two from the outside of the box, Lyon absolutely deserved their win but the efficiency was spectacular, as is clear from their expected goal The amount of goals a team is expected to score based on the quality of the shots they take. totals.
Takeaways 
In the end, an interesting game to start off the French league. It could have been a lot more interesting if both teams kept eleven players on the field. However, it is already clear that Sylvinho wants to implement something fresh to this club, the midfield trio and the positioning of the fullbacks in possession being things to look out for from a tactical point of view.
Use the arrows to scroll through all available match plots.