AS Roma – Atalanta Bergamo: Strong Performance Earns Atalanta Win Despite Chances Conceded (0-2)
Atalanta were able to win away at Roma in a game where they were the superior team for much of the game with and without the ball. Atalanta's pressing stifled Roma's buildup and on the ball Atalanta were able to access their creative players regularly inside Roma's defensive block. Despite all of this, Roma managed to manufacture some chances against the run of play, and it took until the seventieth minute for Atalanta to break the deadlock.
Tactical analysis and match report by Josh Manley.
Atalanta rightly captured the attention of Serie A and European football viewers last season as they defied expectations to qualify for the Champions League. Their first Champions League group game did not go quite to plan though, as they lost 4-0 away at Dinamo Zagreb. 
Atalanta followed that game with a 2-2 draw against Fiorentina in which they had to come back from a 2-0 deficit to secure the point. Gian Piero Gasperini made six changes from the lineup that started that game. Josip Iličić was introduced after having scored as a substitute against Fiorentina, and other key players such as captain Alejandro Gómez and Remo Freuler returned to the side as they lined up in a 3-4-3 formation. 
Paulo Fonseca had yet to be defeated as Roma manager coming into this game, as Roma started the season with two draws and two wins. The Portuguese coach made three changes from their most recent win against Bologna, with Chris Smalling introduced to the team to make his debut alongside Leonardo Spinazzola and Nicolò Zaniolo as the other two changes in Roma's 4-2-3-1 starting shape.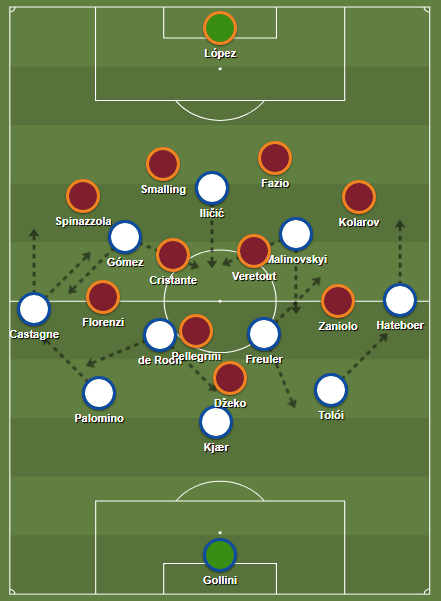 Starting systems, Atalanta in possession.
Atalanta take the initiative
Roma started in their 4-2-3-1 shape with Spinazzola and Aleksandar Kolarov as fullbacks and Jordan Veretout and Bryan Cristante as holding midfielders. Ahead of them was Alessandro Florenzi on the right, Lorenzo Pellegrini as number ten and Zaniolo on the left.
The attacking midfielders when they had the ball would usually pull into narrow positions and look for space between the lines. This is tough against Atalanta's man-oriented defensive scheme though, as defenders are willing to step out of the backline to mark players in such positions and minimise space between the lines.
Without the ball, Roma also looked to press with a narrow 4-2-3-1 shape against the back three of Atalanta, giving up space on the wings. In deeper defending they would then fall into a compact 4-4-2 shape.
Roma's defensive scheme had immediate problems though, as on a few occasions in the early stages Atalanta were able to break through on the right wing and swing dangerous crosses in across the Roma penalty box. They were not able to convert them, but it served as ample warning for Roma.
Formations after twenty minutes, Roma in possession.
Fonseca matches up with Gasperini
Before the twenty minute mark, Fonseca decided he had seen enough of his team in their starting 4-2-3-1 system, and switched to a 3-4-3 system instead. 
This meant that Florenzi would operate as the right wing-back, while Spinazzola would move across to the left wing-back slot. Kolarov would shift inside to complete the back three alongside Federico Fazio and Smalling. The midfield pairing remained the same, while Zaniolo and Pellegrini played either side of striker Edin Džeko. 
This change firstly did not seem to help against the pressing of Atalanta. In fact, it seemed to simplify pressing for their opponents. With the man-oriented marking scheme being used by Atalanta, it meant that the marking assignments for the players were even more clear now that the formations were matched, and Atalanta players would not have to move as far from their nominal position to mark players.
The front three of Atalanta would match up against the back three of Roma, making it difficult for Roma to play across the backline for sustained periods and establish possession. Roma's two central midfielders were marked by their counterparts from Atalanta, as goes for the wing-backs and forwards.
The tight marking of each player made it extremely difficult for Roma to progress the ball through midfield. Atalanta players won many turnovers of possession through winning these individual duels against the Roma player they were marking, applying immediate pressure to any Roma players receiving with their back to goal and forcing them into mistakes.
Roma often found themselves trying to bypass midfield and play longer passes into the forwards, but again the Atalanta defenders were strong in these duels. There was space behind the Atalanta midfield because Marten de Roon and Freuler were often pushed up further in order to mark their opposite numbers, but again Roma were not able to make the ball stick here as the Atalanta defenders were attentive in their marking assignments and strong in duels.
Atalanta stable in possession
Atalanta therefore were able to establish a degree of control in the game through their pressing scheme. Despite the matched formations, Roma were not able to achieve the same effect with their own pressing. 
As opposed to Atalanta, who defended in a relatively aggressive manner, both on a tactical and individual level, Roma by contrast were relatively passive without the ball. This increased as the match went on, especially in the second half.
Roma's passive stance was perhaps partly by design, but it was also because they just struggled to generate a good level of pressure against Atalanta's ball circulation in deeper areas, meaning that there was rarely a good chance for them to find the triggers to jump into higher pressing as a unit.
Atalanta usually had a healthy overload when circulating in deeper areas against Roma's pressing in 5-4-1 or 5-2-3 variations. Atalanta's central midfielders De Roon and Freuler often dropped into very deep supporting positions to create extra options in the backline or just in front.
The number tens Gómez and Ruslan Malinovskyi started between the lines but when one of the central midfielders dropped back they could then drop into the slots previously occupied by them, and add to the overload, picking up the ball in deeper areas and trying to drive the game forward from deeper positions with their playmaking abilities. 
This of course reduced Atalanta's occupation of higher areas within Roma's shape at times, but they were very competent at using the wings to build attacking combinations. Furthermore, it was often not necessary for Atalanta's number tens to drop outside of Roma's shape to get on the ball anyway. Roma's passive midfield line was still not great at protecting against line breaking passes into the feet of the Atalanta number tens who demonstrated good movements to pick up the ball in dangerous zones in front of the Roma defense.
Atalanta prevail in second half
Despite being overall the second best team in terms of the flow of play in the first half, it was Roma who had mostly had the better shots on goal with the attacks they did manage to create. Džeko had a couple of shots inside the box, and Smalling and Spinazzola had decent opportunities too. Atalanta meanwhile had gotten into dangerous positions in the final third but failed to produce shots from them. 
Roma would have another good chance against the run of play in the second half as Zaniolo's shot from close range was blocked. Atalanta became arguably even more dominant in the second half though, through largely the same mechanisms used in the first half.
It took until the seventieth minute for Atalanta to break the deadlock, and it came courtesy of substitute Duván Zapata who replaced Iličić ten minutes earlier. Gómez had been part of many good things Atalanta did in this game, and again it was the case here, as it was his chipped pass that found Freuler on the edge of the box, who controlled the ball well and set up Zapata to power the ball past Pau López in the Roma goal.
Shortly afterwards Roma switched away from the back three as Nikola Kalinić was introduced in place of Fazio. Roma now had a front pairing of Kalinić and Džeko supported by Pellegrini and Roma's earlier substitute Henrikh Mkhitaryan. Mkhitaryan himself struggled to have a positive impact and had some loose touches which disrupted a couple of Roma attacks.
Atalanta sat deeper looking to protect their lead. They eventually brought off one of their number tens in Malinovskyi and replaced him with Robin Gosens, who would sit in a deeper position as they now resembled more of a 5-3-2. Mario Pašalić would also replace Gómez in the very late stages of the game.
There was time for Pašalić to make a positive impact in the game though as he assisted De Roon who was able to seal the game for Atalanta in stoppage time with a back post header making it 2-0 to end the match. 
Takeaways
Roma managed to fashion some reasonable chances but in terms of overall performance they were inferior to Atalanta in this game. They lacked ideas to beat Atalanta's man-oriented pressing scheme leading them to many ball losses in midfield, and their pressing was outplayed with relative ease by Atalanta. 
For the away side this is an impressive result and they showed some interesting tactical features with and without the ball, as viewers will be used to seeing from Atalanta, who are currently one of the most unique and unorthodox sides in Europe on a tactical level.  
Use the arrows to scroll through all available match plots. Click to enlarge.
Check the match plots page for plots of other matches.