AS Roma – SSC Napoli: Ancelotti's Adaptable Tactics Result in Roma Slaughter (1-4)
In a pinnacle Serie A fixture for the Champions League spots, Carlo Ancelotti's Napoli put a huge dent in Roma's aspirations to participate in European football next year. After Roma seemed capable of defending against Napoli's ball-orientation, the visitors moved their focus more to counterattacking and exploiting space created on the wing, resulting in a demolition.
Tactical analysis and match report by Joel Parker.
Claudio Ranieri's AS Roma made five changes following their 2-1 defeat to SPAL 2013, starting in the 4-3-3 formation, another rotation in system since Ranieri came in. Davide Santon replaced Rick Karsdorp at right back, whilst Kostas Manolas started ahead of Iván Marcano, despite being a doubt for this fixture. Aleksandar Kolarov returned to the left back position, replacing Juan Jesus, meaning Ranieri had almost completely rotated his backline. Up front, Diego Perotti took the place of the injured Stephan El Shaarawy on the left wing.
Napoli also made five changes after their 4-2 victory against Udinese, just before the international break. Due to a concussion, David Ospina was not able to fill in his nominal spot between the posts, meaning Alex Meret took his place in goal. Carlo Ancelotti rotated both fullback positions for Napoli, Elseid Hysaj and Mário Rui coming in ahead of Kévin Malcuit and Faouzi Ghoulam. In midfield, Piotr Zieliński was replaced by Fabián Ruiz, whilst Simone Verdi started on the left wing, ahead of Amin Younes and the still injured Lorenzo Insigne.
Both teams comfortable off the ball
After just two minutes on the clock, Arkadiusz Milik gave Napoli the lead with a sensational finish. Simone Verdi chipped the ball into the penalty area, which was met by Milik, as the striker targeted the space between the center-backs and opened his body towards goal with an exquisite touch. Aside from the early goal the match was quite uneventful in the first twenty minutes or so, as both teams looked more comfortable off the ball rather than on it, with possession being equally shared.
Roma would transition into a 4-5-1 shape off the ball, giving them numerical superiority (similar to how they set up in the teams' first meeting earlier in the season). With the extra man in midfield, Napoli did not have as much control of the middle third If you divide the pitch in three horizontal zones, the middle third is the most central area. in possession. Playmakers Allan and Fabián Ruiz were restricted to sideways passing to retain the ball, rather than making line-breaking passes to feed Napoli's attackers.
The way Napoli pressed when Roma would have possession, keeping the opposition pinned in their own half.
In contrast, Napoli faced little to no threat from Ranieri's team thanks to well-organized pressing and setting up in a medium block. A medium block refers to a team that retreats in their own half out of possession, generally only disrupting their opponents some way into their own half. Wingers Simone Verdi and José Callejón would often step out from the middle line into the forward line, depending on which channel Roma was operating in. Thanks to both teams' defensive set-ups, neither team could have access into the final third The one-third of the pitch that is closest to the opposition's goal. for long periods of the first-half – other than Milik's opener.
Napoli begin to dominate possession
As the half progressed, Napoli started to have more possession and as a result, they were able to create some brilliant chances to extend the lead. Both central midfielders dropped deeper in possession, as well as Callejón occupying the right halfspace.  If you divide the field in five vertical lanes, the halfspaces are the lanes that are not on the wing and not in the center. Because there is no touchline like on the wing, players have freedom to go everywhere. But this zone often is not as well-defended as the very center. This makes it a very valuable offensive zone to play in and a lot of chances are created by passes or dribbles from the halfspace. Not only did this help Ancelotti's team transition the ball round the back but also pick out more forward passes and taking control of the middle third.
Roma preferred to hold their shape, rather than press Allan or Ruiz when either of them had collected the ball deep. Napoli's left channel was used as a focal point in attacking moves, constantly targeting the space behind Roma fullback Davide Santon. Rui made plenty of progressive passes forward and as a result, Verdi was given room to move and link with players around him.
Napoli's left sided focus is clear when looking at this passmap.
With Dries Mertens also roaming freely, Napoli started to make opportunities and could have easily scored more goals in the first half. Just on the thirty-minute mark, Napoli exposed Roma after the hosts had committed to many players in front of the ball. Mertens found Verdi in acres of space on the counterattack, only to direct his shot straight at goalkeeper Robin Olsen. Milik had the ball in the back off the net at one point, from another fast-break forward, only for his goal to be ruled out for offside.
At the other end, Roma offered next to nothing. Edin Džeko was often deep in the buildup but received the ball nowhere near the goal and did not get into any shooting positions throughout the ninety minutes. The only way Roma could access the penalty area was from crosses into the box and aiming for Steven Nzonzi – which somehow worked. The French midfielder missed a great chance from a set piece eighteen minutes into the game. Just before half time however, his header met Rui's arm and a penalty was awarded. Diego Perotti netted it cleanly, meaning Roma somehow went into the second half level with their opponents.
Ancelotti's tactical changes begin Napoli's goal-scoring spree
It was clear that Napoli's style of play had changed just a few minutes after the second half had kicked off. Carlo Ancelotti did not change the formation, but significantly dropped both Kalidou Koulibaly and Nikola Maksimović back when in possession. Not only did this extend the length of the pitch – making more space, but it also baited Roma to move forward and overcommit players. Roma's compactness was broken, and Napoli targeted the space left behind the Roma players when moving forward.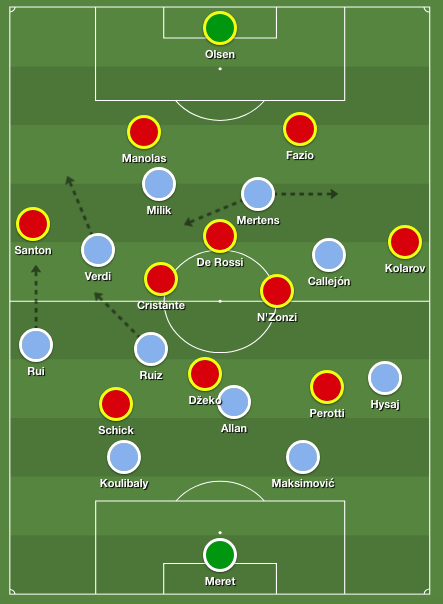 Napoli's player movements on counterattacks.
Like the first half, both Roma and Napoli had their fair share of possession, but Napoli were superior and used it much more effectively. Dries Mertens scored the first goal of the second half just four minutes into it, a fast break found Callejón on the right wing who's low, driven cross into the area found Mertens inside the six-yard box to score his fifth goal. Olsen should have done a lot better dealing with the cross and more or less manufactured this goal.
Just five minutes later, another counterattack saw Napoli extend their lead in impressive fashion. From a Roma set piece, Napoli broke away with incredible pace, leaving a four-versus-two scenario in their favour. Ruiz squared the ball from the left into the penalty area, which was brilliantly finished by Verdi to make it 3-1.
In contrast, Roma struggled to create chances of significant quality despite having more of the ball in the opening stages of the second half. Bryan Cristante, Federico Fazio and Steven Nzonzi all had shots blocked. Ranieri replaced Patrik Schick with Nicolò Zaniolo to try and give them another option in the middle of the pitch and someone to work off Edin Džeko; this had no effect. Roma had one golden opportunity with twenty minutes of the game left to play, Cristante's shot from distance could only be parried by Meret, giving Nzonzi a free header from inside the penalty area, which smacked the crossbar.
By this point, Napoli had started to retain possession a lot more, slowly killing off any chance of a comeback for Roma. Substitute Younes put the final nail in the coffin, as Roma failed to deal with the second phase of a corner. Younes was given the time and space to not only have his shot saved but put in the rebound, despite being surrounded by multiple Roma defenders. Shortly after Napoli's fourth of the game, Ranieri finally decided to make attacking substitutes, with Justin Kluivert and Cengiz Ünder replacing Perotti and De Rossi, but with just eight minutes left, the game was well out of reach and nothing notable happened in the rest of the match.
Takeaways
It is quite clear at this point that Napoli are Italy's second-best team. In Carlo Ancelotti's 4-4-2, Napoli possess a nice blend of fast counterattacking football with defensive stability, if their possession game is not working. Being adaptable like this has given them the edge over the likes of Internazionale and AC Milan in the league standings. As well as making it to the UEFA Europa League quarter-finals, there is still a healthy chance for Napoli to have a taste in glory at the end of the season.
Despite going into this match eight games unbeaten at the Stadio Olimpico, Roma's recent form and bizarre change in management has seen them crumble away from the fourth place. Being slaughtered at home by Napoli means Roma have lost four out of their last five games in all competitions. With matches against Fiorentina and Sampdoria coming up, Claudio Ranieri's team need to recover quickly if they want to play Champions League football next season.
Use the arrows to scroll through all available match plots.