Aston Villa – Everton: Villa Exploit Everton's Dreadful Shape for First League Win of the Season (2-0)
Aston Villa secured their first points of the season in an intriguing Friday night football affair. Building rapid attacking transitions was the key to unlock Everton's defense. Marco Silva's team, once again, showed problems in their buildup, as they struggled to handle a relentless, fast-paced Villa.
Tactical analysis and match report by Joel Parker.
Not many football clubs in English football have as much history and longevity in the top flight, as both Aston Villa and Everton. It would be the 203rd time these two would meet, both teams opposing almost identical win-records against each other – 73 wins for Aston Villa, 76 for Everton. 
After three seasons in the second division, Aston Villa's long-awaited return to the Premier League has begun with two losses. With a huge influx of signings coming in, Dean Smith has the complicated task to gel £130 million-worth of talent, as echoes of Fulham begin to ring. Smith made just two changes to his Villa team, starting in the 4-1-4-1 formation. Fred Guilbert came in at right back and Jota Peleteiro started as a left winger. 
Everton's slow start to the season could see them top the table for 24 hours at least. Despite being the only team not to concede, the shape on the ball has left Everton with little options to progress the ball forward. Lucas Digne managed to retain his position, even after going off last weekend with an injury scare. Morgan Schneiderlin returned to the midfield, whilst Dominic Calvert-Lewin retained his position upfront. 
Everton's recurrent problems with shape
After scrappy opening minutes to the game, it was unsurprising that Everton would take the early spells of possession. There was also no surprise in Marco Silva's tactics, an unbalanced 4-2-3-1 system which created problems early on for Everton.
Both André Gomes and Morgan Schneiderlin took it in turns to drop into the hole between both center-backs, but passing options were limited for both men. Aston Villa easy handled both of them, Jack Grealish and John McGinn man-marking the Everton double pivot. 4-2-3-1 is one of the most frequently occurring formations in football. The two most defensive midfielders are called a 'double pivot'. From early on, Everton's buildup was disjointed, bouncing between far too slow and inviting pressure, to rapidly blitzing the ball between teammates. 
Everton struggled to build from back because of Aston Villa's positional superiority.
Villa's pressing play was a key part to disrupting Everton's ball-retention. With Wesley closing down the player in possession, often followed by a midfield four, all potential passing lanes were occupied and Silva's team failed to consistently break out of the middle third. 
Everton escaped by the skin of their teeth on multiple occasions, but in turn were able to progress the ball forward on both flanks. As always, Lucas Digne and Bernard were the key links to Silva's sides ball-progression and gained entry to the final third. Richarlison achieved this in the right halfspace, If you divide the field in five vertical lanes, the halfspaces are the lanes that are not on the wing and not in the center. Because there is no touchline like on the wing, players have the freedom to go everywhere. But this zone often is not as well-defended as the very center. This makes it a very valuable offensive zone to play in and a lot of chances are created by passes or dribbles from the halfspace. making more direct runs towards the goal. Overall, Everton had a number of breaks forward with no end product to compensate. 
Aston Villa catch Everton off guard
When playing in the opposition half, Everton's highline was set very high, with both sets of wingers dropping out of the midfield line. When losing possession, quick transitions and counterattacks can exploit Everton's dreadful shape. 
From deep, this is where Aston Villa can create their chances and pull players out of position. This is what happened for the first goal. 
A poor touch from Bernard resulted in Gomes giving away a cheap free-kick. Instantly taken from Grealish, Villa created a two-versus-one overload on Lucas Digne, as well as eliminating Everton's midfield, all in the space of two passes.
Frédéric Guilbert continued his run, through the space between Digne and Yerry Mina. With the entire Everton defense ball-watching, Wesley made a superb diagonal run in front of Michael Keane. A simple, quick and direct counterattack, doing more in thirty seconds than Everton had mustered in the first twenty minutes. 
Passing lane for Jota opened thanks to Guilbert's run, Everton caught ball-watching.
From this point onwards, Dean Smith's team built chances from turnovers in midfield and consistently threatened Everton on the break. Just a few moments after conceding, Wesley bullied his way though both center-backs, to go one-on-one with Jordan Pickford. Mina would recover as he pulled his shot away.
Everton's opportunities at goal faded, however, utilizing Aston Villa's narrow and compact defensive approach, Silva's team would build a brilliant opportunity. Morgan Schneiderlin would finally make a pass that the entire frontline was craving, finding Seamus Coleman making a great run forward. With both Villa fullbacks in the penalty area, the defense managed to swamp the goal, blocking Calvert-Lewin's only real chance at goal. 
Silva's subs create a spark
With just one decent opportunity after an hour's play, Marco Silva's next move would be crucial in the upcoming events. Alex Iwobi and Moise Kean came on, altering Everton's formation into a 4-2-2-2 shape. The two coming on injected new energy in a pedestrian Everton side, neither player afraid of dropping deep to receive the ball, as well as carrying possession forward. Iwobi would also roam in the final third, not afraid to move into more central areas and always looking to play the ball forward.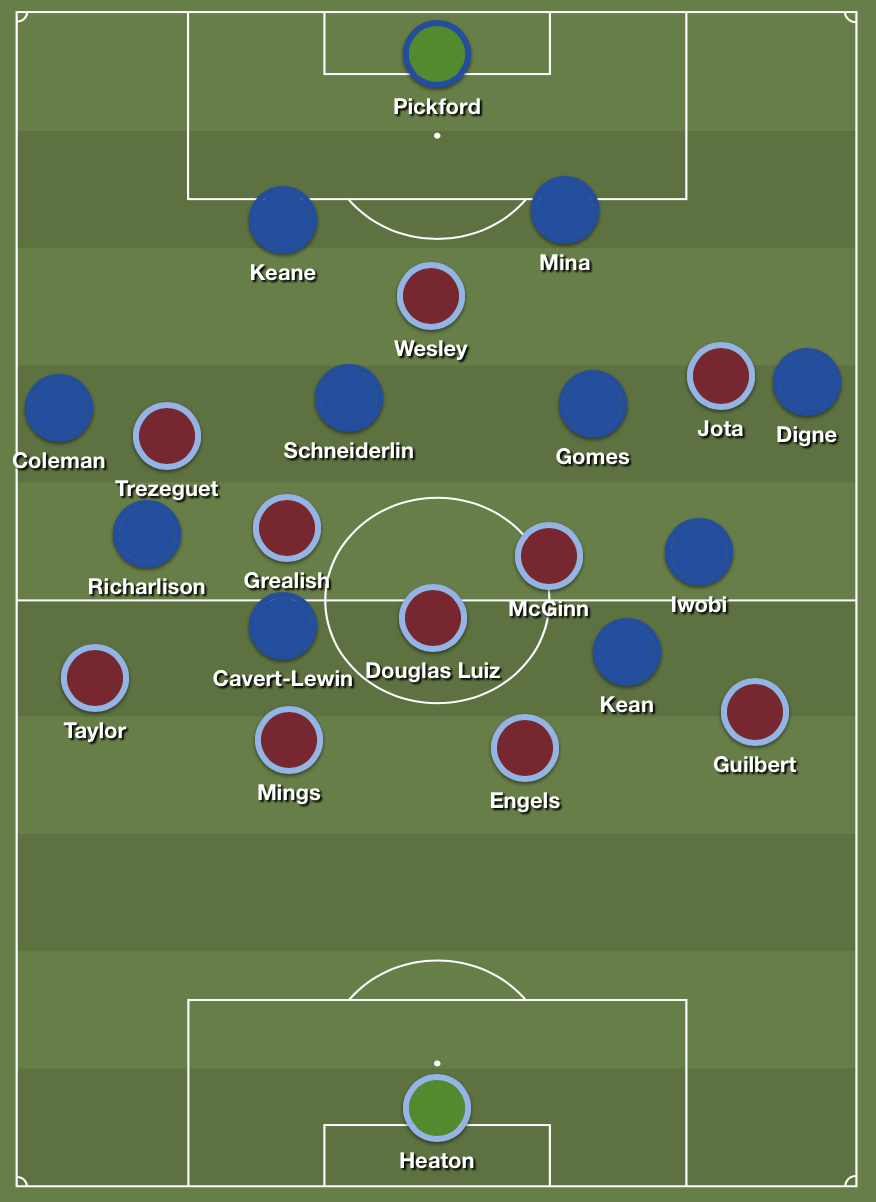 Silva switches Everton into a 4-2-2-2 shape.
With Everton's more energetic look going forward, Aston Villa became compact, the midfield and defensive lines moving closer, which resulted in much less space for Everton. Dean Smith's team surrendered possession in exchange for positional superiority on the pitch, and even with the two new Everton additions, Villa fended away direct danger from the visitors for a majority of the second half.
The last ten minutes saw Silva's team have two incredible opportunities to grab an equalizer. Gomes's cross was met by Michael Keane, heading the ball back into the area, voiding everyone by Alex Iwobi. He shot through the crowd, hitting the post before some excellent defending from Tyrone Mings relieved the pressure. 
Both Iwobi and Kean were involved in the final chance Everton had created. Iwobi's pass behind enemy lines pulled Villa's defensive line out of shape and fell into the path of Kean. A great cross towards the back post was met by substitute Theo Walcott, but with a poor touch. With an entire goal to aim at, Walcott blasted the ball over from close range, perfectly summing up Marco Silva, and his team's night in general.
Villa finished off in style, doubling the lead with just seconds left on the clock. Everton's midfield vanished again as Wesley gobbled up the loose ball before McGinn found the overlapping Anwar El Ghazi to secure all three points.
Takeaways
Though Everton missed sitters, Aston Villa did more than enough to win the game. Their impressive positional play disrupted the opposition's buildup play and the fast attacking transitions were too hot to handle. Wesley was more than a noticeable figure upfront, targeting both center-backs and closely linking with midfielders moving forward when on the attack. A fabulous first league win of the season for Dean Smith's team. 
Everton bottled the chance to be on top for at least a few hours. Alex Iwobi and Moise Kean were undoubtedly the only positive factors from this game, it was just a shame they were surrounded by nine other players who could offer very little. Silva has failed to clear up last season's problems: a terrible shape in possession and a vanishing midfield. Does he possess the flexibility to change the system so Everton can sort these issues out? Perhaps not. 
Use the arrows to scroll through all available match plots. Click to enlarge.
Check the match plots page for plots of other matches.