Atalanta Bergamo – SSC Napoli: Ancelotti's side edge out tight encounter with ambitious Atalanta
Atalanta dominated possession and fought hard for most of the match. But a defensive strategy that aimed to mark the home side's key players out of the game and individual quality up front was enough for Napoli to secure three points.
Tactical analysis by Martyn Davis.

Atalanta have become well known for their man-oriented pressing and possession-based style of football. Their coach Gian Piero Gasperini is also someone who is not afraid to field young players. With an Expected Goal The amount of goals a team is expected to score based on the quality of the shots they take. difference of 7.7, they ranked third in the league in this metric – behind only Juventus and their opponents Napoli going into this game. In terms of results, Atalanta saw a four game winning streak brought to an end by a 3-2 defeat against Empoli prior to this match.

Napoli have had to adapt to life under new coach Carlo Ancelotti. Without Maurizio Sarri, they have moved away from the 4-3-3 formation and have primarily used a 4-4-2 this season. They still tend to see a lot of the ball, with a group of technically talented players they have retained some of the principles that defined them under Sarri. Their Expected Goal difference halved that of title rival's Juventus before this match, but they remained the second best team in terms of underlying performance numbers. This is testament to the one sidedness of the Serie A title race. Napoli had won nine out of their opening 13 games going into this match but found themselves cut adrift from the unbeatable Juventus.

Napoli named an unchanged lineup from their 3-1 win over Red Star Belgrade midweek. Atalanta made three changes from their defeat at Empoli. Gianluca Mancini and José Palomino came in for Rafael Tolói and Berat Djimsiti in defense while Josep Iličić made way for Emiliano Rigoni who took his place in the forward line.

Napoli use intelligent runs to exploit Atalanta's high line
Atalanta defended in a narrow 3-4-1-2 or 5-2-1-2 shape, that aimed to put Napoli under pressure and block off access to central zones. Duván Zapata and Rigoni had clear access to the opposition center-backs, while Alejandro Gómez covered the pass into midfield. Andrea Masiello and Marten De Roon kept their eyes on Napoli's double pivot 4-2-3-1 and 4-4-2 are two of the most frequently occurring formations in football. The two most defensive midfielders are called a 'double pivot'. of Allan and Marek Hamšík. The three center-backs tracked the movements of Lorenzo Insigne and Dries Mertens, while the wing-backs marked José Callejón and Fabián Ruiz.

An obvious flaw in this narrow pressing scheme was the lack of access to the full-backs who were able to find space to step forward. This was covered either by one of the midfielders stepping over, or the wing-back pushing up while the central defenders shifted across to cover.
Both team's general positioning and movements when Napoli had the ball. 

Atalanta's defensive shape was extremely horizontally and vertically compact. Napoli aimed to exploit this with runs behind the defensive line. They specialized in breaking down tight defenses with intelligent movement under Maurizio Sarri, and applied some of these concepts well.
The forwards were able to curve their movements to avoid being caught offside. They also aimed to peel off the backline, in the back of nearest defender so there was less chance of being picked up. Passes were played from deeper zones in an attempt to catch Atalanta out, adding a degree of directness to their play.
Specific passing patterns were also used to break through. Most notably, Napoli players would use backward layoff passes before turning and running in behind to receive a through ball. These quick shifts in momentum were used to create breakaways from reactive defenders. Atalanta's wing-backs and center-backs showed no fear in leaving their positions and making aggressive man-oriented movements, opening spaces in the backline that were well exploited by Napoli.
Insigne was key to all of this. His passing range and movement caused Atalanta problems all night long. This was on full display in the opening goal, which came as early as the second minute as Insigne slipped in behind and threaded a perfect pass to Fabián Ruiz, who scored.

Atalanta dominate possession but struggle to break through
The home side retained their 3-4-1-2 shape in possession with the wing-backs pushing up and out to hold the width. Napoli similarly kept their 4-4-2 organization when out of possession and looked to press Atalanta's buildup. Every time the center-backs had the ball, Insigne and Mertens would harry them and look to disrupt their passing rhythm. Meaning that when the midfielders received the ball, they would press and try to cut passing lanes back to the defenders, setting a pressing trap. A pressing trap is a predefined plan to leave a particular player or zone open, to invite a specific pass. Upon a pass to that player or into that zone, a rapid coordinated team press on that player or zone is exerted.
Napoli's midfielders were remarkably hard-working in this regard, which prompted De Roon to frequently drop beside the center-backs and support the build-up, which relieved the pressure somewhat.
The way Atalanta Bergamo set up their attacking 3-4-1-2 formation.

Once Atalanta did break the press, they were able to pin Napoli back into a deep block  A low block or deep block refers to a team that retreats deep in their own half out of possession, generally only disrupting their opponents around their own box. inside their own half. It was here that Gómez became a crucial part of the system. He would roam in front of the backline, and sometimes even the midfield line, looking to dink chipped balls into the forwards or play out wide to the wing-backs.
It did become obvious, however, that the frontline were struggling to find space and time in the last part of the pitch. Napoli's defenders were very tight and aggressive in the way they marked Atalanta's forwards. Koulibaly would come flying out to tackle Gómez if he ever received between the lines, and Allan was booked for cynically fouling the Argentine. Zapata was forced out wide whenever he tried to dribble, and was unable to find space to get a good shot away.
Furthermore, wing-backs Hans Hateboer and Robin Gosens were sometimes outnumbered against Napoli's two wide players. The forwards, especially Rigoni, found themselves drifting out to support the wing-back on the ball, only decreasing the occupation of central zones. It therefore came as no surprise that crosses and balls into the box rarely found a target.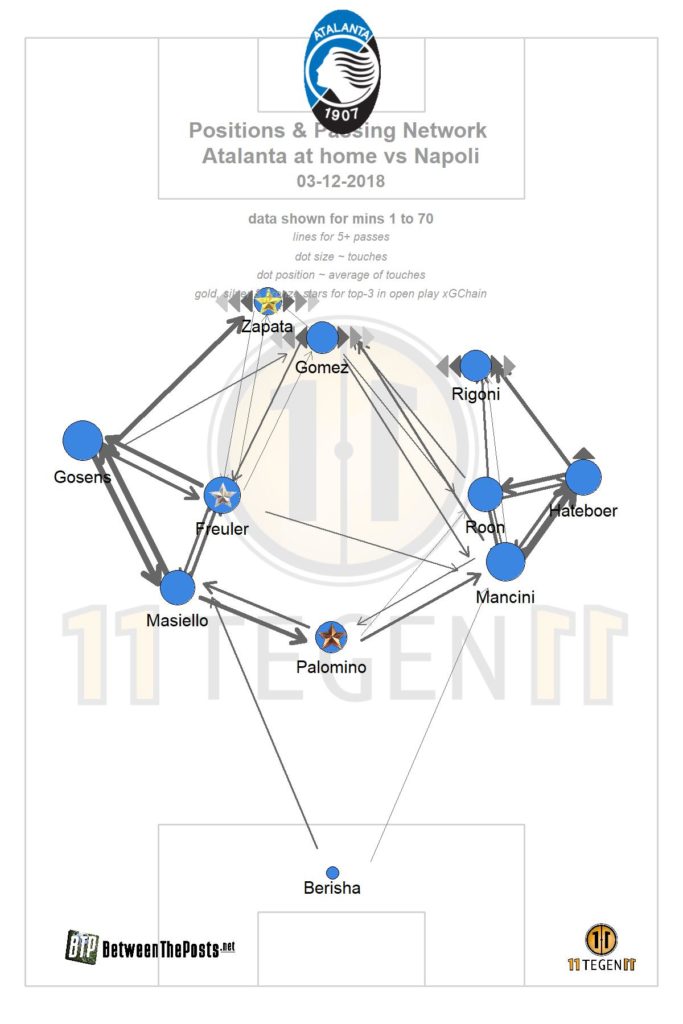 Atalanta improve chance creation
At the start of the second half, Atalanta were once again seeing the majority of possession. The key difference seemed to be the way they moved the ball into the box. In the first couple of minutes, they managed to create two chances through cutbacks, and one from a cross. The first two were a result of good support for the player on the ball, as a late runner was able to offer the opportunity for a cutback. The third chance was due to the quantity of players inside the box, increasing the number of targets to aim for.
Gómez also began to drop deep more in the second half, presumably to escape the tight marking he had been subject to in the first half. He was still tightly tracked however, most often by Allan.
Having more players inside the box also meant that more defenders were being dragged into the penalty area, creating space for the players out wide. In one instance, Gosens was left with a one-versus-one against Callejón, which he was able to exploit and put in a cross. After a few touches inside the box, Zapata swept in the equaliser, and the game was level in the  56th minute.
Following the equalizer, the game opened up as both teams chased a goal. This lead to formations becoming stretched and lots of transitional phases. Neither team was able to take full advantage though, in large part due to poor decision making.

Late substitutions see Napoli snatch win
The first manager to make a change was Gasperini. Rigoni was taken off for Luca Valzania who joined Zapata up front. Atalanta became more focused on attacking down their right side, as both forwards drifted across to support Hateboer. Zapata in particular acted as an outlet on the counterattack, with other players making runs off of him.
Napoli began to dominate the game more as time passed. They circulated the ball with more pace and looked to thread their forwards through. In the 77th minute, Ancelotti made a double substitution. Piotr Zieliński and Elseid Hysaj were introduced, the former taking up a position at left wing with the latter coming on as a right-back. Zieliński had an instant impact as he received between the lines to propel an attack forward. On another occasion he opened himself up for a shot with a tight swivel inside the box. His linkup play was also notably cleaner than the struggling Fabián Ruiz, who he had replaced.
Arkadiusz Milik made an entrance a few minutes later and was gifted an opportunity immediately. Napoli's left back Mario Rui had time to measure a cross in towards the Pole, who had ghosted into the box unmarked due to a breakdown in communication. A sublime touch and finish resulted in what turned out to be the winning goal.
Atalanta's subsequent attempts to find a second equaliser of the game were futile. Marco Tumminello, a striker, came on for center-back Mancini. As long balls were pumped up towards the frontline, the positional sense and aerial ability of the Napoli back four prevented any real chances, and they left northern Italy with three points.

Takeaways
The defeat leaves Atalanta in 11th place on the table, a position that does not reflect their true quality as a football team. They gave a competitive performance against one of Serie A's best teams and will feel a little hard done by to concede so late. There is, however, still much of the season left for their attractive style of play to yield good results.

Napoli's possession game has seemingly weakened in the absence of Maurizio Sarri, but perhaps this was to be expected. And some of the patterns of play that defined their style last season are being repurposed into a more direct system, which is an interesting evolution. In theory, they remain in the title race after reducing the gap with Juventus to eight points. But considering the gulf between them and the league leaders in terms of both points and underlying performance numbers, it seems unlikely they will put in a genuine title challenge.
Use the arrows to scroll through all available match plots.