A Divine Rise To The Elite
The city of Bergamo is a very very grim place right now. Yet it is here, right at the heart of Italy's horrendous Covid crisis, that one of this season's most beautiful stories played out as local small-town football club Atalanta rose to the peak of their powers and looked to join Serie A's elite. Scoring eight goals against Valencia over two legs, Atalanta's football had never seen better days, as Josip Iličić stroked his fine brush against the field to paint the most creative actions week in week out. In this piece, we analyze how Atalanta's success was made possible.
The name Atalanta derives from the Greek word "atalantos", equal in weight, and is believed to be a reference to the goddess Atalanta's equality to men in hunting or athletic accomplishments. Likewise, Giampiero Gasperini – the hero in European football's most legendary apotheosis – in some way claimed equality when it came to challenging clubs of superior wealth and stature.
Known as the team to have defied all odds, forcefully breaking through football's economic barrier from the small town of Bergamo, Atalanta's rise can not be seen as your usual underdog story.  
This is the tale of a team that embraced its divine inheritance to establish itself in Serie A's Mount Olympus, guided by its very own King Midas, Giampiero Gasperini, able to turn every player passing through Bergamo into gold. From the youth to veterans from Europe's deepest trenches. 
Divine virtues
Gasperini's personnel was not merely turned into gold in an instance. Instead, the manager's biggest feat was to create a consistent and successful game model imprinted upon the virgin goddess Atalanta's virtues. 
Fearlessness, a byproduct of the wilderness the goddess was bred in. 
Speed, an essential quality of every one of her quests, such as when she challenged her suitors to a foot race, confident in being able to outrun each and every one of them.  
Survival instinct, manifested in the knack for hunting that Atalanta inherited from the bear that suckled her from birth, and that she later perfected after being found and nurtured by hunters. 
The Goddess Atalanta in a footrace with Hippomenes.
Since taking over Atalanta in 2016, Gasperini has achieved Europa League qualification through finishing fourth in his very first year at the club, and a Coppa Italia final in the same year Atalanta secured Champions League football.
In the 2017-18 Europa League, Atalanta cruised through their group stage with an impressive fourteen points, finishing first ahead of Olympique Lyonnais and Everton. Then, in the round of 32, only a mistake from goalkeeper Etrit Berisha in a dominant performance against Borussia Dortmund prevented Gasperini and his men from accessing the next stage.
The 2019-20 season was even more successful when Atalanta succeeded in accomplishing a feat that would have been unfathomable a couple of years back and still is hard to rationalize: a third-place in Serie and subsequently a spot in the prestigious Champions League. 
At this point, it appeared even more evident how Gasperini's work transcended any active long-term project in football, especially in the light of the limited resources at his disposal. Three years into the Atalanta job, despite constant changes in personnel, the collective and individual progression remained intact, with every new side outrunning the previous.
The paradox of the current season is that despite being the most successful in Atalanta's history, it will also be remembered with most regrets. After qualification for a historical Champions League quarter-final on the back of Josip Iličić's world-class goalscoring spree, the 2019-20 season was suspended, and any guarantees on whether or when the season will recommence are lacking in these concerning times. 
It is only fair to say Atalanta find themselves in an unfortunate limbo. On the one hand, as a football club they are at the peak of their powers, but on the other, with the city of Bergamo as the epicenter of Italy's dreadful corona crisis, Atalanta cannot express their powers on the pitch. For now, the club remains unsure whether they would be able to pick up from where they left off if the season were to eventually resume.
FORZA #BERGAMO, NON SIETE SOLI#iorestoacasa #restiamoacasa pic.twitter.com/PvAiQLt4Qm

— Pescara Calcio (@PescaraCalcio) March 19, 2020
Like the Goddess
Atalanta's football revolves around the pillars of modern football, in the basic principles of intensity and fluidity both in and out of possession. These two binding laws allow Gasperini's men to carry out their defensive and offensive actions with the Goddess' aforementioned virtues acting as vehicles to achieve their game model. 
Fearlessness is the necessary condition for Atalanta's man-marking system to succeed since each player needs to press his man with intensity and free from last-second doubts. 
Fluidity constitutes an equally important condition. Players need to anticipate when a teammate might be dribbled past and quickly react by shifting accordingly. In doing so, reaction speed is essential from a mental and physical perspective.
From an offensive standpoint, intensity and fluidity are also the starting points of every move. The intensity and speed at which the ball is moved is paramount to carry out combinations on the wing and quickly switch the play. The same applies to the fluidity and intensity of player movements, which are necessary to disrupt the opposition's shape. 
Together, the listed conditions bond to create a survival instinct that Atalanta can rely on when the game does not go according to plan, as they devotedly carry out their principles to eventually break out of difficulties.  
One-versus-one
Although deemed as rigid in the past, as explained by Gasperini in his many interviews, his 3-4-3 formation is as flexible as it gets. The shape's plasticity initiates from a solid base in the back three, dating back to Cruijff's Barcelona and Ajax's rich history with three defenders. 
The use of three center-backs in a man-marking system stems from the guaranteed aggressive cover of central areas and halfspaces If you divide the field in five vertical lanes, the halfspaces are the lanes that are not on the wing and not in the center. Because there is no touchline like on the wing, players have the freedom to go everywhere. But this zone often is not as well-defended as the very center. This makes it a very valuable offensive zone to play in and a lot of chances are created by passes or dribbles from the halfspace. without exposing the backline as much as a back four might. That is because when one center-back steps out, the others can shift to cover the vacated space with sufficient defensive numbers. 
The wing-backs play a particularly important role in Atalanta's backline's dynamics as well and are closely linked to Gasperini's principle of achieving numerical superiority in defense. During pressing situations, in order to preserve control over long balls and possible movements ahead of the defensive line, both wing-backs initially stay deep. Only when the ball is played wide will they sprint forward aggressively to press the receiving wide man. 
Furthermore, since the front two in Atalanta's 3-4-1-2 shape press defenders from the outside to block the wings and invite the opposition to play in central areas, fullbacks can only be accessed through chipped passes, which give the wing-backs time to press their man. 
The reasoning behind the cover of wide areas as opposed to blocking the center – like most teams do – is the strong central presence they can boast in midfield. The two pivots protect the backline and the attacking midfielder diligently tracks back to press any ball ahead of the midfield from an additional direction. Therefore, given their intensity, inherently supported by the man-marking schemes which increase control, the potential threat of allowing passes inside the defensive structure is quickly nullified. 
Atalanta's 3-4-1-2 pressing system against Roma's asymmetric 4-2-3-1/4-3-3 buildup.
Atalanta's defense starts from the front, in a high press that sees every player involved in the defensive phase and responsible for preventing the opposition's ball progression.  
This strategy maintains its effectiveness even when Atalanta defends in a low to medium block A low block refers to a team that retreats deep in their own half out of possession, generally only disrupting their opponents around their own box. A medium block refers to a team that retreats in their own half out of possession, generally only disrupting their opponents some way into their own half. since the defenders are always careful not to allow their man to turn and obsessively follow him in each movement. Eventually, the opposition possession is watered down so much that the passing rhythm becomes unthreatening. Consequently, long balls are provoked, that Atalanta can easily deal with thanks to their numbers in defense. 
Nonetheless, defensive stability in a deeper system is more dependent on the individual, since any mistake could potentially expose the defense closer to goal, so the utmost concentration is always necessary.
Liquid football
In possession, the back three's purpose does not change, and numerical superiority remains the building block upon which to develop every other play. This condition needs to be met before the half-backs unfasten their seat belts and support the play up the halfspace, and establish a stable buildup against the opposition strikers. 
From then on it is Atalanta's wing-play that dictates moves forward. By creating structures and passing connections in wide areas Gasperini's men can overload When one team has more players in a certain area or zone than the other team. the wings and either quickly break through the opposition's structure or open up space on the far-side. 
Whereas in previous years "Papu" Gómez used to predominantly occupy the left wing or halfspace, as of late the Argentine has undergone a progressive evolution that has expanded his range of actions into the center and even as far as the right wing. He has now become a total midfielder, dropping into midfield to organize the play and act as the link between wings. More impressively, his creative numbers have not decreased one bit, averaging 3.19 key passes per ninety minutes and registering ten assists in Serie A this season. With an impressive shot volume of 2.89 open play shots per ninety minutes, he has not suffered a shooting dip either, and his goals have followed the trend of roughly 0.25 open play expected goals per ninety minutes.
While Gómez is acting more centrally of late, the two pivots occupy the halfspaces, providing a strong connection between sides and cover during transitions. 
Atalanta's buildup structure, notice the connections between wing and halfspace on the left side and the positioning of the ball-far pivot, in this case De Roon.
Through constant rotations, which are entirely situational and depending on the positioning of teammates, Atalanta always generate effective structures to move the ball quickly and threaten the opponent inside and in-depth.
For example, when Gómez drops deep, Remo Freuler might push up the halfspace to provide an option between the lines and clear space for the half-back to step in. Analogously, if the wing-back is positioned high, the pivot can drift wide with the same intention to preserve a strong attacking structure and connection between wing and halfspace. 
Depth is provided by any of the attackers and the wing-backs, who are as integral to Atalanta's offense as a staff is to a shepherd. With the pivots mainly staying back and protecting the center for defensive transitions, the way Hans Hateboer, Robin Gosens and Timothy Castagne stretch the field vertically and horizontally is key to engineering spaces for the attacking midfielders to receive in. After that, it is only a matter of time before Atalanta orchestrate a breakthrough assisting a wing-back on the overlap When a wide player, most of the times a wing-back, runs outside to fill in the space left by a winger going inside with or without the ball, this is called overlapping. with a switch or a pass into depth.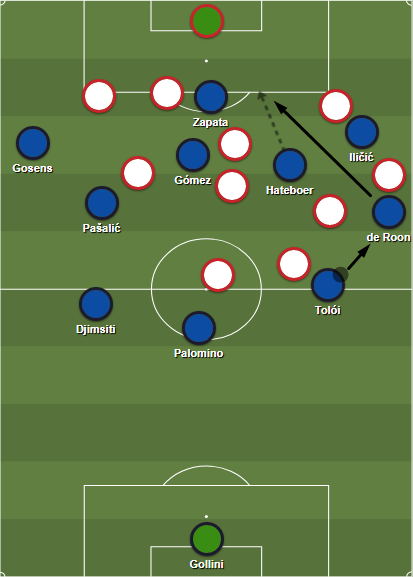 Atalanta's wing rotations against Genoa's 3-5-2 structure open the halfspace for Hateboer.
While the field is stretched and space is attacked, the pockets of space that originate become Josip Iličić's playing ground. From here he waves his wand and strokes his brush against the grass to make things happen, oozing through opponents and pressure with the calmest, yet most menacing of strides. 
The Slovenian is Atalanta's most decisive player and has finally found his consistency at the age of 32, scoring fifteen goals in Serie A and adding five assists to his tally. In the Champions League, he has scored five in seven, courtesy of four goals in the second leg against Valencia. 
🔙 One week ago: the Josip #Iličić #UCL Show!

✨👀 Una settimana fa conquistavamo i quarti di finale di @ChampionsLeague!#GoAtalantaGo ⚫️🔵 pic.twitter.com/Q9dFIdFwav

— Atalanta B.C. (@Atalanta_BC) March 17, 2020
As the all-around attacker receiving between the lines and combining to progress the play, he simultaneously keeps a perennial eye on the goal, ready to pull the trigger at any given occasion. An extremely impressive 4.50 shots per ninety minutes paint the picture, accumulating to an equally impressive 0.60 non-penalty expected goals per ninety minutes, second only to strikers Luis Muriel and Duván Zapata's 0.62. Iličić's creative contribution is no less either, as he completes 3.00 key passes per ninety minutes with an elite expected assists total of 0.42 per ninety minutes. 
Takeaways
All of Atalanta's attacking angles combine to give the "Orobies" new dimensions of unpredictability and offensive production. In 25 Serie A games, Atalanta's score reads a gargantuan seventy goals with an average of 2.27 expected goals from 19.6 shots per match. In eight Champions League outings, Atalanta has scored fifteen goals. 
The golden machine that "King Midas" Gasperini has forged is the perfect example of a modern team in football's continuous and irrepressible evolution, capable of adapting to numerous scenarios and adversities by placing faith in a distinctive philosophy, without being sucked into a dogma, morphing and evolving whenever necessary. 
This has been Atalanta's secret recipe for success, as their tale will go on to be remembered for centuries to come. A thin ray of light against Bergamo's pitch black clouds.