Athletico Paranaense – River Plate: Lodi And Guimarães Key in Overwhelming River's Defenses (1-0)
The first tie of the Recopa Sudamericana – the super cup of South America – heavily favored Athletico Paranaense, who could have perfectly won the game by a larger margin. During the first half, River had a hard time defending the overlapping runs of left back Renán Lodi, which led to Athletico's goal. After the goal, River switched to to a 4-1-4-1 shape to improve their defense and control the game, but in the second half, Athletico countered River's adjustments and dominated the game.
Tactical analysis and match report by José Perez.
Club Athletico Paranaense are as progressive and forward thinking as their hometown of Curitiba. Their strategic management might just be able to turn them into a Brazilian football powerhouse despite not having the budget of big city behemoths like Flamengo, Cruzeiro or Corinthians. Not only did they win the Copa Sudamericana last year, but they also finished seventh in the 2018 Brasileirão, earning a spot in the 2019 Copa Libertadores.
This year, Athletico continues under the guidance of young coach Tiago Nunes, who led their successful 2018 league and Copa Sudamericana campaigns. Nunes has created a team that aims to dominate possession, often led by young midfield general Bruno Guimarães, rumored to be a transfer target for European giants. Their midfield passing often aims to take advantage of the speed and power of their fullbacks and wingers, which include young left back star Renan Lodi, another one in the eye of Europe.  In the transfer market, perhaps the most important operation for Athletico was replacing outgoing striker Pablo Teixeira – their top scorer last season – with Argentinian veteran Marco Rubén.
For this Recopa game, Nunes went for a 4-1-4-1 shape in possession. In front of keeper Santos lay a defensive line with Léo Pereira and Paulo André as center-backs and Jonathan Moreira (right) and Renan Lodi (left) as fullbacks. In midfield played a trio of Wellington in the holding role, with Guimarães and veteran Lucho González in the interior midfield roles. Guimarães dropped deep often, effectively forming a double pivot with Wellington, while González played the more advanced role. Up front played striker Rubén flanked by Rony on the left and Nikão on the right. When out of possession, the team took a 4-4-2 shape, with midfielder González pushing up to press River's center-backs alongside striker Rubén.
Unlike their opponents, River Plate are not new kids on the club. Under the guidance of coach Marcelo Gallardo, they have been the most successful team in the continent over the last five years, winning one Copa Sudamericana and two Copa Libertadores. These successes included last year's defeat of arch rivals Boca Juniors in a historic Libertadores Superfinal.
Looking at the tactical side, Gallardo's River struggles more than before in controlling games and progressing through midfield, since their midfielders are mostly box-to-box profiles like Nacho Fernández, Exequiel Palacios and Enzo Pérez rather than playmakers. River are more dependent than ever on their intense and well-drilled pressing system for creating chances.
For this Recopa game, Gallardo initially opted for a 4-4-2 diamond shape. The goal of star keeper Franco Armani was defended by center-backs Lucas Martínez and Javier Pinola and fullbacks Milton Casco (left) and Camilo Mayada (right). In midfield, Enzo Pérez played the holding role, allowing Nacho Fernández to aggressively move forward. The wide men in midfield were asymmetric in behavior. On the right, Exequiel Palacios played more as a central midfielder, in a deeper position and closer to the center. On the left, Nicolás de la Cruz played more like a winger, hugging the touchline more and in a more advanced position. Up front played the mobile striker duo Matías Suárez and Lucas Pratto.
🔙 Regreso a Buenos Aires: jueves 23/5 a las 9 hs., en vuelo chárter con destino a Ezeiza. pic.twitter.com/xr9xXRvKN8

— River Plate (@CARPoficial) May 23, 2019
Athletico dominate by creating space for left back Lodi
Up until the goal in the 25th minute, Athletico dominated the game because they found a straightforward mechanism to disorder River's defense and create chances.
When attacking, Athletico's wingers usually moved inside, trying to make runs into the space between the opponent's center-back and fullback. This dragged the opponent fullbacks inwards, creating more space on the wings for the aggressive fullbacks, Jonathan and especially Lodi, to make dangerous overlapping runs and cross into the box. On River's left, wide midfielder De la Cruz would often track back and mark the corresponding Athletico right back, nullifying many of those overlapping runs. But on the right, River did not really have a wide midfielder, since Palacios effectively played as a central midfielder and was quite busy already marking Guimarães. Thus, no one was tracking the runs of Athletico left back Lodi, and the young talent did not disappoint in exploiting this issue with speed, dribbling and accurate crossing.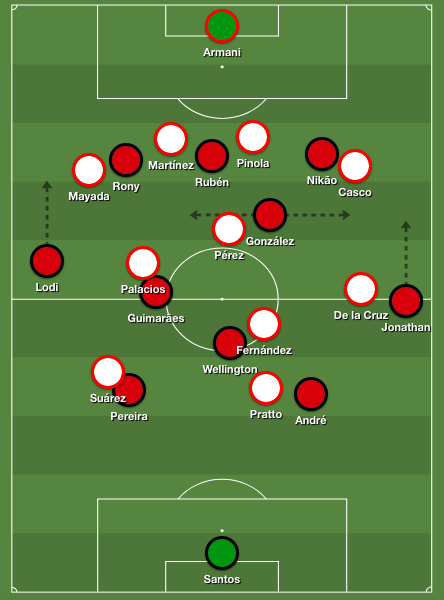 Athletico's narrow 4-3-3 shape in possession against River's 4-4-2 diamond defensive block. Notice the big amount of space around left back Lodi.
Every time Athletico used long passes to switch play over to Lodi, River's defense fell into panic. Right back Mayada was often late to mark Lodi because he was in an impossible one-versus-two situation, often needing to decide whether to mark Lodi or winger Rony. This is exactly how Athletico's first goal came to be. Guimarães masterfully switched play to Lodi with a tense through ball into space and Lodi produced a tense cutback into the box for Rony. The winger eluded his mark and assisted Marco Rubén, who had slipped into the six-yard box to score.
🌪️⚽️ "Marcooooo! Ruuuuuben!" O furacão argentino do @AthleticoPR marcou este golaço da vitória por 1-0 sobre o @CARPoficial! pic.twitter.com/sRngXUXWKv

— Recopa Sudamericana (@RecopaConmebol) May 23, 2019
River and Gallardo react by switching formations
Top managers adjust when their team is struggling. After being the lesser side in the first half hour, Gallardo changed River Plate's defensive shape to 4-3-3. De la Cruz was moved from the left to the right wing to track Lodi's runs, while striker Suárez would operate as the left winger. It thus became harder for Athletico to progress through midfield and create chances, and they couldn't push River back as well as before. Thanks to this adjustment, a more aggressive press, and the constant mobility of Nacho Fernández to link up River's attack, Gallardo's men were finally able to take over the game in the last fifteen minutes of the first half.
However, River still struggled to turn their possession into chances. For one, Athletico's defense of the box was solid, with central defenders André and Pereira clearing most of the danger and making no big mistakes. Perhaps most importantly, River's wingers – Suárez and De la Cruz – were not fast enough to beat Athletico's fullbacks in individual duels, so River was not able to produce many crosses and passes into the box. River's chances came mostly from set pieces and shots from outside of the box.
Led by Guimarães, Athletico beats the River press in the second half
In the second half, River continued to press, but their midfield and defensive lines were not compact enough when pressing, leaving big spaces behind their midfield that could be exploited by Athletico's attackers.
In the second half, Athletico's shape looked more like a 4-2-3-1. River switched to an aggressive 4-3-3 shape, with Palacios and Fernández pressing aggressively.
In the second half, River continued to press, but their midfield and defensive lines were not compact enough when pressing, leaving big spaces behind their midfield that could be exploited by Athletico's attackers.
In this context, the young Guimarães became the tactical key to the game, as he consistently managed to dribble or pass through River's pressing and find his teammates behind River's midfield line. To make things worse, Athletico responded to River's press with their own press. And unfortunately for River, their team is less suited to a game in which press-resistance is asked, meaning they struggled more to beat the Athletico press. With this increased aggression and attackers having more space to run in between the lines, Athletico created several good chances that were saved by an outstanding Armani.
Substitutions do not change the game state
Seemingly out of ideas on how to deal with his opponent, Gallardo did not bring about any significant tactical changes through his substitutes. A right back (Mayada) replaced by a more defensive right back (Fabrizio Angilero) in the 61st minute, a midfielder (Palacios) replaced by a more defensive midfielder (Bruno Zuculini) in the 71st minute, and a striker (Suárez) replaced by another striker (Rafael Santos Borré) in the 75th minute. No changes in player roles and positions, no changes in team shape and formation. The only thing Gallardo did was strengthen the defensive side a bit, in order to prevent Athletico from doing more damage, which became even more necessary when left back Milton Casco was sent off in the 81st minute, for a foul which added a bit of South American flavour to this match.
Athletico did something similar with their own substitutions, but unlike River, they had no reason to change tactics. In the end, the second half heavily favored the home side, with Athletico generating eight shots against River's mere two shots, including two big chances. Had it not been for Armani's shot stopping skill and a couple of bad decisions by their attackers, Athletico could have perfectly scored more goals.
Takeaways
From a tactical perspective, Athletico were a very balanced side, showing no big weaknesses in any phase of play. They could dominate River through possession and pressing, they could leverage the speed of their fullbacks and wingers on the counter, and they defended their box with grit and focus, making no big mistakes. Add to this solid structure the flair and skill of young talents like Guimarães and Lodi, and you begin to understand why Athletico can compete against South America's best. However, we'll have to tune in next week to see if they don't end up regretting the missed chances of this first leg.
On the other hand, River can consider themselves lucky for not losing this game by a larger margin, with Armani needing to once again make miracles to save the day. However, despite their player deficits (such as the need for a deep playmaker and faster attackers), River have the talent and tactical nous to come back in their Monumental home stadium. Gallardo and his men have turned around many ties like this one over the last five years, and the spotlight is once again on them to come up with a tactical solution.
Use the arrows to scroll through all available match plots.