Bahia – Grêmio: Expressive Passing Breaks Through Off-Form Grêmio (1-0)
Grêmio's awful league form continues, the latest chapter being a 1-0 away defeat to high-flyers Bahia. The home side's defensive block and expressive passing system caused massive problems for Grêmio throughout, leaving them with one win in their first seven league matches.
Tactical analysis and match report by Joel Parker.
Bahia's start to the 2019 Brasileiro season has certainly been a surprise. Following 12th and 11th place finishes in the past two seasons, they went into this game with the potential to jump to the third place. Bahia boss Roger Machado, made just one change to his team following a 1-0 victory over São Paulo in the week, replacing his striker Gilberto for Fernandão.
Grêmio went into this match somewhat desperate for a victory. A 3-0 win in the Copa do Brasil against Juventude was surely a boost for a team looking to build some sort of form. Their start to the season has been nothing short of disappointing, despite recording their first victory of the league last week against Atlético Mineiro.
Despite missing six players due to injury, manager Renato Portaluppi made a single forced change, starting Pepê ahead of Everton, who joined the national team in preparation for the Copa America. Grêmio started in their usual 4-2-3-1 system, their two other changes seeing Maicon and Vico replaced by Thaciano and Walter Montoya.
Grêmio's disjointed shape
Grêmio had more possession, but their shape caused them massive problems and made Bahia's job very easy. Like plenty of ball-orientated teams, they need the double pivot 4-2-3-1 is one of the most frequently occurring formations in football. The two most defensive midfielders are called a 'double pivot'. to dictate play and be the linking pin for attack and defense. Grêmio's passing was slow, not causing Bahia any problems or pulling players out of position in passing sequences.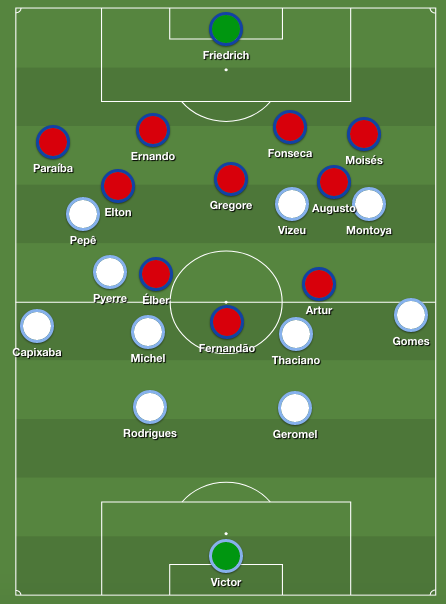 Grêmio's 4-2-3-1 system versus Bahia's 4-3-3 defensive shape.
In their 4-2-3-1 system, Grêmio had far too many players deep. The attacking players found themselves isolated in the final third The one-third of the pitch that is closest to the opposition's goal. with heavy overloads against them. Both fullbacks remained in conservative positions, and a square between the center-backs and double pivot was formed.
Jean Pyerre often dropped deep to collect the ball, but with barely any options forward, Grêmio were stuck in the middle third of the pitch, thus inflicting massive problems onto themselves. This heavily affected their chance creation and left Felipe Vizeu hopelessly roaming between the flanks in hope of receiving the ball.
Bahia tucking their wingers in
Bahia's defensive shape was very effective. Sticking in there 4-3-3 shape, both Élber and Artur tucked in close towards the striker when off the ball. Doing this stopped Michel or Thaciano making progressive passes forward and was another reason why Grêmio were so poor in attacking sequences.
Playing a medium block, A medium block refers to a team that retreats in their own half out of possession, generally only disrupting their opponents some way into their own half. Bahia kept their shape off the ball instead of aimlessly pressing forward. With three central midfielders sitting in front of the defense, this created a compact defensive organization, as well as giving them great protection on the flanks. Bahia made it very easy to overload When one team has more players in a certain area or zone than the other team. on the Grêmio attackers and force risky passes in order to try and feed their offense.
Using this formation also made them very apt at covering passing lanes, center-backs Tonhão Rodrigues and Pedro Geromel struggled to pass the ball out towards the fullbacks. With the center of the pitch so compact, they often played the ball short to Michel in hopes that he could produce the passes forward.
Expressive passing in the final third catches Grêmio out of shape
Bahia's passing was polar opposite to what was seen by Grêmio. With passing sequences often starting from deep, Bahia were much more fast paced, vertical and expansive than Grêmio. Machado's team targeted the space between the fullback and center-back when attacking, with the wingers working off Fernandão, who dropped between the lines, they had great access to the halfspace If you divide the field in five vertical lanes, the halfspaces are the lanes that are not on the wing and not in the center. Because there is no touchline like on the wing, players have freedom to go everywhere. But this zone often is not as well-defended as the very center. This makes it a very valuable offensive zone to play in and a lot of chances are created by passes or dribbles from the halfspace. and utilized it effectively.
Grêmio's 4-4-2 shape versus Bahia's expansive 4-3-3 system
Grêmio used a 4-4-2 shape in their defensive set-up, pressing high on Bahia when they were in possession and often trying to create an overload for the ball carrier. With Grêmio pressing, Bahia played passes in the space left behind the presser, which often saw them gain access to the space behind the midfield line.
The only goal of the game came from the penalty spot, but the attacking move before the penalty decision was a fast, expansive and calculated counterattack. Winning the ball back from deep, Bahia quickly moved the ball forward and flooded players towards the penalty area. A harsh penalty decision, an attempted shot at goal striking the top of Geromel's arm.
Bahia's expressive passing was the difference in a close and cagey game of football. The second half had quite a difference in terms of shot count, Bahia taking eleven shots in comparison to just a measly four from Grêmio. Although plenty of these attempts were not from particularly dangerous areas, Bahia were the better team out of the two, looking better both on and off the ball against a Grêmio team struggling for form.
Dynamic #passmap for Bahia against Grêmio. pic.twitter.com/7ES1cbyrP0

— Between The Posts (@BetweenThePosts) June 2, 2019
Takeaways
Going into this Brasileiro season, it would have been more believable if both these teams had their positions flipped than what they are now. Bahia have now recorded four victories in a row and have built up momentum early on. If Roger Machado's team continues this brilliant form, Bahia will most certainly be one of the surprise stories of the season in South American football.
As for Grêmio, another defeat surely rings alarm bells. They have lost a lot of their creativity and failed to get into any good shooting positions throughout the game. They may not have had star man Everton in the squad, but one would expect far more from a team that finished fourth in the division last season.
Use the arrows to scroll through all available match plots.