FC Barcelona – PSV Eindhoven: Barcelona puts up big score, but shows vulnerabilities (4-0)
PSV Eindhoven occasionally showed their teeth and caused problems when FC Barcelona had to transition from attack to defense. Even though the gap in quality was simply too big to overcome, 4-0 was a harsh result for the Dutch champions.

The Champions League has become a headache for FC Barcelona. The last three seasons they did not manage to get past the quarterfinals. Even though they won LaLiga last year and the Copa del Rey four times in a row, the biggest competition in club football is starting to become elusive. Lionel Messi addressed this in his captain's speech, stating the team 'will do everything possible' to bring the Champions League back to Camp Nou.
The desire to bring back the iconic silver cup was reflected in their starting line-up. Manager Ernesto Valverde fielded his strongest possible eleven in the 4-3-3 he has used all season long. Philippe Coutinho has taken over Andrés Iniesta's role as playmaker from the left of midfield, while Ousmane Dembélé is now starting as a left-winger.
In the first months of his tenure as PSV's manager, Mark van Bommel has only used a 4-2-3-1 formation. It's not hard to see who inspired him: Van Bommel set his first steps in management under the guidance of Bert '4-2-3-1' Van Marwijk. He assisted Van Marwijk – who is also his father in law – at the national teams of Saudi Arabia and Australia, alongside coaching at PSV's youth academy. PSV had won all of their official matches under Van Bommel, doing so in a style that includes more pressing than PSV was used to with his predecessor Philllip Cocu.
In a Dutch television interview, Van Bommel stated that against Barcelona, his team had to defend a lot deeper than they are used to. His plan in transition from defense to attack was to quickly exploit the space behind Barcelona's full-backs.
Van Bommel clearly studied the World Cup champions
In the first twenty minutes, it became clear how Van Bommel wanted his team to defend and counter-attack. PSV defended in a 4-4-1-1 when Barcelona progressed the ball into their half.
On the right hand side, Mexican speedster Hirving Lozano was allowed to play higher up the field, to be the first option in a counter-attack. This tactical setup is reminiscent of Kyllian Mbappé's role for World Cup winners France. In 2010, José Mourinho did this with Samuel Eto'o at the Camp Nou, when Inter Milan kicked out Guardiola's side.
When the ball is on the right hand side and you see Jordi Alba in space on the other side, you might be tempted to feed him the ball. This is what Barcelona did a lot in the first half. By shifting the ball from right to left, you are also taking the ball away from the wing that features the best player on the world in Messi. This might be another reason why Van Bommel chose this asymmetric defensive system.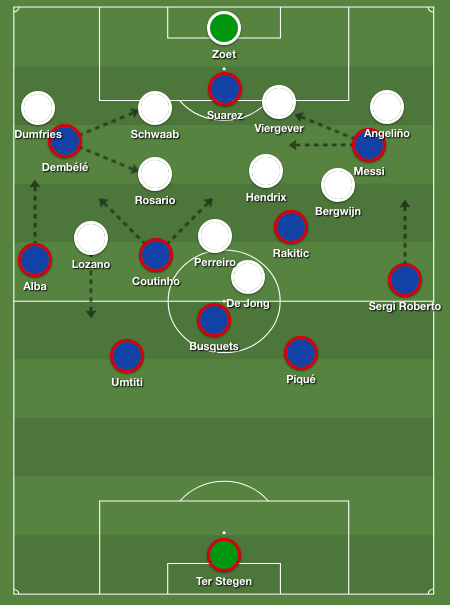 PSV's 4-4-1-1 with Lozano playing slightly higher up the pitch.

Barcelona fail to create… for twenty minutes
PSV's plan worked fine in the first twenty minutes. Barring a rather big chance that was fluffed by Luis Suarez after a ridiculous through-ball by Messi, PSV did not concede a lot. It should also not be forgotten that the biggest chances in the opening phase were for the Dutch champions. In transition, the first option was often a pass to Lozano or a direct long ball to the physical Luuk de Jong, who played an excellent first half against Gérard Pique and Samuel Umtiti. The talented winger Steven Bergwijn nearly missed the goal after one of PSV's sharp counter-attacks. His missed chance concluded PSV's best phase in the game.
Because Lozano was mostly relieved of defensive duties, right-back Denzel Dumfries often found himself in outside 1v1-situations with Jordi Alba, which meant either Pablo Rosario or Daniel Schwaab had to track runners in the center of the pitch. These 2v2- and 3v3-situations were exploited more and more easily by Barcelona from the 20th minute and on.
Without scoring, Barcelona took over the game. The phases of possession were getting longer and PSV was often locked up in their own half. Especially Coutinho and Dembélé were thriving in this phase, in which the spaces on the left hand side became bigger and bigger to play in, eventually forcing Lozano back as well.
That Barcelona scored their opener from a free-kick (by Messi, of course) does not take away from the fact they had 13 shots in the first half and created 0.97 Expected Goal in the first half.
Second half sees PSV collapse
After half time, PSV's defensive organization was less static than it was in the first half, but also less solid. At times, the Dutch champions formed a 4-4-2 and tried to press. When this was not accomplished, the old 4-4-1-1 was formed, which turned into a deep 4-5-1 at times. De Jong really was working his tail off, at times covering up for Bergwijn and Lozano as left or right midfielder.
The latter two had good games in the counterattack, but started to falter in their defensive duties in the second half. Especially when it came to blocking passes to Sergio Busquets. PSV were at times pressing incoherently, which is always a bad idea, but most of all at the Camp Nou. Gastón Pereiro, a creative offensive midfielder, was subsequently pushed back to defending just in front of his own defense for long periods.
During the entire second half, Messi started to play more centrally and gave up playing as a right-winger altogether. The play flowed through Coutinho and Messi, the spaces were getting a lot bigger and the Barcelona players showed they are clearly a level above those of PSV.
Dembélé scored the 2-0 in the 74th minute. A wonderful individual goal, demonstrating that in spite of an injury-ridden first season, the 21-year old is still one of the world's most promising young attackers.
Umtiti red card might mean trouble
The gap in quality between these two sides was especially shown in the phase after Nicolas Isimat-Mirin entered the pitch in the 68th minute. In the run-up to  Barcelona's 3-0 and 4-0, he stepped out of the central defensive zone at the incorrect time. These would have count as grave errors in the Dutch Eredivisie, let alone the Champions League.
The one thing PSV kept doing well in the second half is placing the occasional counter-attack through Lozano and Bergwijn. One of these counters resulted in Umtiti picking up his second yellow card for knocking over Lozano. This is not a big problem normally, but Barcelona's depth at the left central defender position is not ideal. Visiting Tottenham Hotspur in the next round of play, this might become an issue.  
With ten men, Barcelona finished the game in a 4-2-3 in possession and a 4-4-1 out of possession. It's very telling that the Spanish champions easily circulated the ball even with a man down. Even though the tired PSV players were pressuring them high up the field to leave Camp Nou with a goal in the bag, the closest PSV came to a goal was when Gastón Pereiro had a goal rightly disallowed.

Takeaways
In this era of super clubs strolling through the Champions League group phase, every FC Barcelona match before winter without at least three goals is considered a dull affair. Even though Barcelona won handily, this match had some moments that will leave Valverde scratching his head.
When compared to say, Guardiola or Sarri, Valverde is a coach that focuses less on pressing the ball ferociously in the few seconds after it is lost. Just like in the first half, the second half featured a lot of moments in which Barcelona lost the ball and PSV could play out from under the first wave of pressure before launching Lozano and Bergwijn deep. Against better quality opposition, giving away so much space to play into might become a problem for Barça.
PSV had a clear plan with and without the ball, did not only defend deep and created some decent (half-)chances. It is also very refreshing to see a Dutch team opting for route 1 to a big striker, instead of thinking they can constantly play out from the back against a top side. Based on the quality of chances, 4-0 was a bit more than Barcelona deserved.