Bayer 04 Leverkusen – Werder Bremen: Werder's Attacks Expose Leverkusen's Defensive Issues Under Bosz (1-3)
Werder were able to cause a lot of problems for Leverkusen with their intense press and good transitioning from defense to attack. The side of Peter Bosz were lacking in terms of defensive organization and could not create chances against Bremen's passionate defensive approach. Although Leverkusen improved along the way, Werder could easily hurt Leverkusen on the counterattack and won this game.
Tactical analysis and match report by Max Bergmann.
Since Peter Bosz took over, Leverkusen made their way up from a lower region of the table up to the sixth place. To reach their main goal and qualify for a European competition, Leverkusen aimed at expanding their margin compared to one of their direct opponents in this battle – Werder Bremen. The latter side was still unbeaten in 2019, even though a lot those games ended up in draws. Therefore, Werder were in need of getting all three points here, to keep their chance on qualifying for the Europa League alive.
Leverkusen lined up in their typical 4-3-3 formation. The Dutch manager opted for pacy wingers in the form of Leon Bailey and Karim Bellarabi, instead of Kai Havertz, who had often filled in as right winger in previous weeks. Julian Brandt in central midfield was supposed to create chances for the wingers and striker Kevin Volland. In defense, Lars Bender replaced right back Mitchell Weiser, while Wendell started out as a left back.
In the first leg game against Leverkusen, Werder could not stop the opposition attackers and conceded six goals in their home stadium. Contrary to this match, Florian Kohfeldt chose to play with a back line of four instead of lining up with three central defenders. The back-four entailed the center-back Marco Friedl next to central defender Niklas Moisander. In midfield, Bremen formed a diamond shape with four central players, as they so often have done under Kohfeldt's reign. Captain Max Kruse was tasked with a playmaking role behind the strikers while Nuri Sahin was lined up as the single pivot in front of the back four. Up front, technically versatile Johannes Eggestein and the fast attacker Milot Rashica were tasked to threaten the opposition goal as the striking duo.
Werder Bremen's intense defensive approach
Werder used a very courageous approach to defend Bayer Leverkusen's attacks. From the beginning, Werder pressed Leverkusen during their build-up to avoid Leverkusen in progress the ball up the pitch with their preferred short passing.
Werder aimed at pressing Leverkusen on the side of winger Leon Bailey. Leverkusen's main attacking idea is to occupy defenders on the other side through the creation of overloads. When one team has more players in a certain area or zone than the other team.In this fashion, Bosz's team create an isolated one-versus-one situation for Bailey against the opposition right back. By guiding Leverkusen's build-up towards their left side, Werder granted Bailey only few space, as they were able to shift all of their players over in time.
To do that, striker Johannes Eggestein pressed left center-back Aleksandar Dragović and left back Wendell. Meanwhile, his striking partner Milot Rashica marked the other central defender Jonathan Tah and prevented Leverkusen from switching play with short passes. One of the few solutions Leverkusen had for this were longer aerial passes into right back Bender.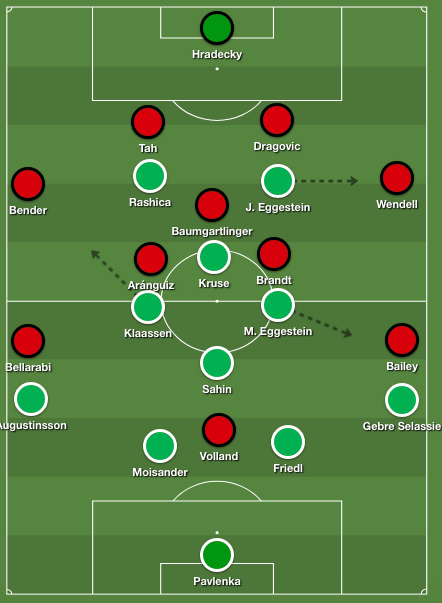 Werder Bremen's pressing in a diamond formation.
Since Johannes Eggestein pressed Leverkusen's fullback, his older brother and central midfielder Maximilian Eggestein was enabled to stay in midfield. This allowed him to support right back Theodor Gebre Selassie when defending against Bailey and to create a two-versus-one situation.
To press Bender on the other side of the pitch, central midfielder Davy Klaassen moved towards the wing. Whenever Werder's high press was outplayed, the side of Kohfeldt fell back into a lower block to defend their goal with a zonal defending approach.
Bosz-esque defensive problems
When Werder had the ball, of course, Leverkusen attempted to press high up the pitch. However, Werder could overplay the first line of pressing with diagonal balls to their fullbacks. As the two advanced central midfielder of Leverkusen positioned themselves really high, Werder could even outplay both of them with one further pass after playing out to one wing. Since Leverkusen's fullbacks Wendell and Bender left their position simultaneously at times, only central defenders Tah and Dragović remained at the back. Wildly aggressive pressing, but not without risks, and Werder's offensive trio successfully took advantage with clever movements.
Striker J. Eggestein dropped to receive the ball and combine with the central midfielders while Kruse moved into a higher role. As Rashica could drag away the center-backs with a deep run, Kruse enjoyed freedom up front. In such a situation, Bremen's playmaker received the ball in a promising attack and scored the leading goal for Werder after thirteen minutes.
Leverkusen's defensive disorganisation was on full display another time, when Bremen striker Rashica scored the second goal of the day. Leverkusen struggled several times to keep their defensive organisation when losing the ball. The counterpressing of Leverkusen requires the players to shift towards the ball and even leave their positions. Central defender Dragović for instance moved forward into midfield to intercept a pass. Because all other players focused on the ball, they were incapable of taking over the position of the central defender. As a consequence, Werder utilized the given gaps in Leverkusen's defense. The attacking trio of Bremen brought Rashica into the perfect position to score and thereby extend the lead, which he did after 37 minutes.
Leverkusen have the ball, but that's it
Contrary to the first forty-five minutes, Werder could not keep up the high pace of the first half during the defensive phase. This enabled Leverkusen to even increase their possession rate to 71% in the second half.
Bosz substituted Kai Havertz, who played as an advanced central midfielder next to Julian Brandt. Moreover, winger Bailey swapped sides and attacked down the right wing in the second half.
Kohfeldt also made a tactical change during half-time. In the second half, Werder opted to press Leverkusen in a 4-3-3 formation. Kruse positioned himself on the left wing, while Rashica took over the role of the central attacker. As this provided more width in Werder's first pressing line, Werder could better react on Leverkusen's switches of play during build-up.
The formations in the second half.
Like in the first half, Werder fell back into a lower block A low block refers to a team that retreats deep in their own half out of possession, generally only disrupting their opponents around their own box. whenever Leverkusen progressed up the pitch. With their back-four and a narrow line of three midfielders in front, Bremen could avoid any through passes to be played. The compactness of Werder's low block forced Leverkusen to put in crosses from wide areas or to take long distance shots. However, Bremen's defenders did not have a lot of difficulty to intercept the crosses and goalkeeper Jiri Pavlenka could save Leverkusen's shots.
Therefore, Leverkusen needed a beautiful direct free-kick goal from Bailey to get one back. That goal did not solve the issues Leverkusen had in terms of chance creation. A static setup in possession, the lack of wide off-ball movements and missing creativity facilitated defending for Bremen. Only some successful dribbling of advanced midfielder Brandt and Bailey were a glimmer of hope for Leverkusen and Bosz.
Leverkusen go all-in
Although Leverkusen struggled to create scoring opportunities for a long time, the home-side seemed to be pretty close to scoring the equalizer in the final stage of the match.
By introducing right back Mitchell Weiser, winger Bailey enjoyed more freedom. As Weiser provided width on the right wing, the Jamaican attacker could moved into more central areas. Through dribblings and clever off-ball movements, Leverkusen's best man on the pitch posed problems for Bremen's defenders.
Since the finishing lacked precision though, Leverkusen could not score a late goal. With the spaces at the back opening even further, Werder viciously counterattacked to extend their lead to the final score of 1-3 right before the final whistle. As an ironic marginal note, Bailey was the one who lost the ball in his only unsuccessful dribbling of the match and thereby introduced the Bremen counterattack that sealed the deal.
Takeaways
As Werder Bremen were able to prevent Leverkusen from creating many promising chances with their passionate defending approach, it is not an undeserved win for Kohfeldt's side. Bremen cleverly outplayed Leverkusen in transition moments by using the pace of Rashica and the brilliance of playmaker Kruse.
In addition to that, Leverkusen seemed to have similar defensive issues as Borussia Dortmund had under Peter Bosz. A lack of cover for the forward movements of their defenders is not a new phenomenon in teams playing under the reigns of the Dutch manager. Moreover, Leverkusen will have to find solutions to create goal scoring opportunities against low-blocks to continue their progress within the Bundesliga table.
Use the arrows to scroll through all available match plots.