Bayern Munich – Borussia Dortmund: Dortmund Gift Tuchel A Perfect Start (4-2)
The biggest Klassiker in about a decade was some way to welcome the Bundesliga back after a short international break. Although they were only a point behind their rivals, Bayern Munich changed managers in these two weeks. Thomas Tuchel could not have asked for a bigger occasion to make his debut, but the pressure was on as well. His previous employers decided to show some kindness, as they rather gifted him his first win.

Tactical analysis and match report by Neel Shelat.
We decided to make this article free to read. If you want to support our work, consider taking a subscription.
There was a lot of talk about whether Bayern Munich's decision to part ways with Julian Nagelsmann was the right call. The 35-year-old manager had not done much wrong and his side were still favourites in the title race by virtue of having an easier run of fixtures, yet he was made to pack his bags. Reports seemed to suggest that the availability of Thomas Tuchel was one of the major factors behind this decision, so the ex-Dortmund manager was expected to step in and deliver titles immediately.
The international break must have been much more peaceful at Borussia Dortmund, especially because their preparation material for this match was drastically reduced by the decision-makers at Säbener Straße. Either way, they would have been well aware of the fact that this was a potentially season-defining fixture. The last time they managed to take any points away from the Allianz Arena was April 2014, but they needed that rotten run to end now.
Tuchel heavily preferred a 3-4-2-1 formation throughout his most recent tenure at Chelsea, but he switched to a 4-2-3-1 shape here. Yann Sommer started in goal behind a back line of Benjamin Pavard, Dayot Upamecano, Matthijs de Ligt and Alphonso Davies. Joshua Kimmich partnered Leon Goretzka in midfield with Thomas Müller ahead of them. Leroy Sané, Eric Maxin Choupo-Moting and Kingsley Coman led the attack.
As they have often done lately, Dortmund lined up in a 4-3-3 formation. Hannes Wolf, Niklas Süle, Nico Schlotterbeck and Julian Ryerson made up the defense ahead of goalkeeper Gregor Kobel. Emre Can had Jude Bellingham and Raphaël Guerreiro either side of him in midfield. Julian Brandt and Marco Reus flanked Sébastien Haller in the front line.
Dortmund's new system in possession
Everybody expected Bayern to come out with a new tactical setup, but Dortmund changed things up as well. For most of this season, their shape in possession has varied between a 3-1-5-1 and 3-2-5 structure, created by the deepest midfielder dropping in between the center-backs. For this match, though, their system looked a lot more like what a straightforward 4-3-3 formation would produce.
Kobel got involved in their buildup in their own third with the center-backs splitting a fair bit. The fullbacks did not get too far forward and were roughly alongside Can in this phase, whilst the two number eights tried to position themselves between the lines although Bellingham often dropped back to support Can. Brandt's positioning tended to be quite narrow in the front line, where Haller tried to play on the shoulder of the last opposition defender.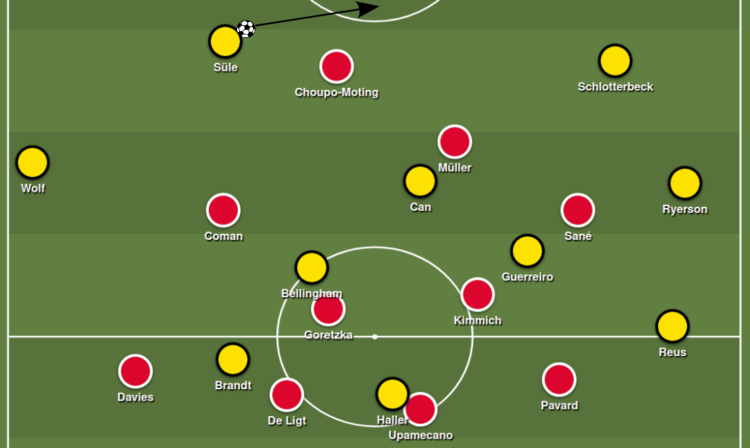 11th minute: Süle passes to Kobel (out of frame) as Dortmund build up using their 2-3-2-3 structure.
Bayern were not too fussed by this. If anything, this ended up playing into their hands as the defensive structure chosen by Tuchel was perfectly suited to restricting Dortmund's system. As the above still shows, Bayern's midfield structure in their 4-2-3-1 high block was the exact inverse of Dortmund's, so it was very easy for them to defend in a block and funnel the visitors' possession-play out wide. So, even though they kept close to 60% of possession in the opening 10 minutes, they could only fashion one shot.
Bayern establish control after accepting the visitors' gifts
Bayern Munich made a pretty passive start to the match – certainly by their standards. They were applying very little pressure on the ball and seemed more than happy to sit in a defensive block, which led to them seeing far less of the ball. Even when they had it, they did not look threatening at all, so some fans might have started to wonder where a goal might come from.
They did not need to worry at all. That was because as Dortmund notoriously tend to do in such crucial fixtures, they imploded all on their own yet again.
This time, the trouble began with Kobel. The Swiss international has arguably been the best goalkeeper in the league over the course of the season, but he had an absolute howler in the 13th minute. The Swiss international rushed out to clear an overhit through ball from Upamecano, but he made a complete mess of it, barely getting a nick on the ball as it trickled into the net.
A HORRENDOUS ERROR FROM KOBEL GIVES BAYERN THE LEAD 😱 pic.twitter.com/PRPXt8XmnX

— ESPN FC (@ESPNFC) April 1, 2023
That was obviously a terrible goal to concede, but Dortmund were still very much in the game at 0-1 down. Within the next ten minutes, though, they would effectively throw away any chances they had of taking anything away from it. First, the visitors conceded from a corner as Müller was allowed to turn the ball in from very close range at the far post. The experienced German attacker went on to get a second from a similar region a few minutes later, turning in a rebound after his teammates generated a high turnover.
After taking a three-goal lead, Bayern could ease off and control the match. They kept more of the ball till half-time, mostly circulating it around the back. They too used a 2-3-2-3 structure with Müller high in the right halfspace and Goretzka pushing up on the left, so their passmap shows the four defenders and Kimmich exchanging a lot of passes as they played keep-ball.
Too little and way too late for Dortmund in the second half
If Dortmund harbored any hopes of staging a second half comeback, they would have been quelled when Coman scored the fourth goal of the match five minutes into the period. Worse yet, this concession took away any immediate impact Edin Terzić's half-time tactical changes might have made.
Said changes saw Salih Özcan and Donyell Malen come on as Dortmund reverted to their usual system. Can or Özcan regularly dropped into the back line to create a back three, freeing up the fullbacks to get forward with a lot more freedom.
It is tough to say how this might have impacted the match if Dortmund had not conceded, but they looked well beaten after going four goals down. They were eventually able to pull one back in the 72nd minute after Serge Gnabry gave away a cheap penalty. Malen added a second in the final minute of regulation time, but his side never really threatened a comeback.
Takeaways
The result was by far the most important thing in this match, so Bayern cannot complain after it went their way. The scoreline is not a fair reflection of their performance, though, as they did not pose a really consistent attacking threat and were pretty passive defensively. This win was rather handed to them on a silver platter, but they will need to improve going forward. Indeed, this is something that Tuchel recognised immediately,
Thomas Tuchel's initial appraisal of his first game in charge as Bayern coach. @ESPNFC pic.twitter.com/iQS89zfcxg

— Archie Rhind-Tutt (@archiert1) April 2, 2023
For Borussia Dortmund (and almost every neutral observer hoping to see Bayern's Bundesliga dominance end), this was groundhog day all over again. They have made an incredibly frustrating habit of collapsing like a house of cards when the pressure is on, and they have done it yet again. The title race is not quite over yet, but this defeat – and the manner of it – seems to be a devastating blow for their chances.
Use the arrows to scroll through all available match plots. Click to enlarge.
Check the match plots page for plots of other matches.