Bayern Munich – Liverpool: Virgil van Dijk Strikes Killer Blow In A Quiet Affair (1-3)
Liverpool won a game filled with few quality shots thanks to the individual ability of their players and an overall better game plan. Sadio Mané scored twice to both begin and end the scoring, while Virgil Van Dijk ended up netting the winner from a set piece.
Tactical analysis and match report by Om Arvind.
The first leg encounter between Bayern Munich and Liverpool created the perfect stalemate, with both teams neutralizing each other's buildup. Liverpool scared Bayern into long balls and passes down the wings thanks to their famous 4-3-3 formation that completely blocks off the middle of the pitch, while Bayern pestered Liverpool's defense with a solid high press. As a result, the game ended in a goalless draw and both teams travelled to Munich on equal footing and similar levels of confidence.
Jürgen Klopp decided to make few changes from the starting eleven that played in Liverpool. Naby Keïta was the only player dropped for tactical reasons – James Milner replaced him – as Fabinho was rotated out of the back line thanks to the return of center-back Virgil Van Dijk. Klopp only had one injury to contend with – Joe Gomez – and he gave Joël Matip another start in a crucial Champions League match.
Niko Kovač, who was probably the happier manager after the first leg, also saw little reason to make drastic changes. Like Klopp, he made only one tactical adjustment – swapping out Kingsley Coman for Franck Ribéry – though he had a couple more injuries to work around. Arjen Robben's calf problems had little consequence, since he has barely featured even when fit, but the suspensions of forward Thomas Müller and right back Joshua Kimmich were big blows. Müller had just gotten back to form over the last few weeks, scoring two goals in two games, and Kimmich has been one of the best fullbacks in the world for a while now. Kovač adjusted by starting Serge Gnabry – who played in the first leg – on the right wing and by calling the aging Rafinha into action.
The stalemate carries over into the second leg
If both the fans and neutrals were hoping for a different game this time around, they would have been severely disappointed. Mirroring their team selection, both Klopp and Kovač set their teams up with tactical plans almost identical to the ones from the first leg.
Liverpool once again formed up menacingly in their medium-high block; Sadio Mané, Roberto Firmino, and Mohamed Salah patrolled the edge of the opposition defensive third If you divide the pitch in three horizontal zones, the defensive third is the area closest to a team's own goal. and tried to bait passes into the center of their formation.
Liverpool's 4-3-3 formation, which neutralized Bayern Munich's buildup.
Their efforts were more half-hearted on this occasion, though, as Liverpool's front three seemed to recognize that Bayern were not going to fall for it.
Indeed, the home side replicated their strategy of trying to build down the flanks and going for route one. Both approaches failed to be more effective than they had been in the first leg, with the latter being even less successful thanks to Van Dijk's aerial prowess. It did, however, prevent Liverpool from creating high turnovers, which was undoubtedly the primary goal of Kovač and his coaching staff.
When Bayern inevitably lost the ball, they took an aggressive stance of their own. Thankfully for the analysts, the high press was a little different this time. In the previous leg, there was a lot of interchangeability; one of Gnabry or Thiago would step out of midfield to create a three-versus-three against Liverpool's buildup. It put a lot of pressure on Liverpool's defense but was also slightly risky. In this match, Bayern decided to settle on a standard 4-4-2 high press.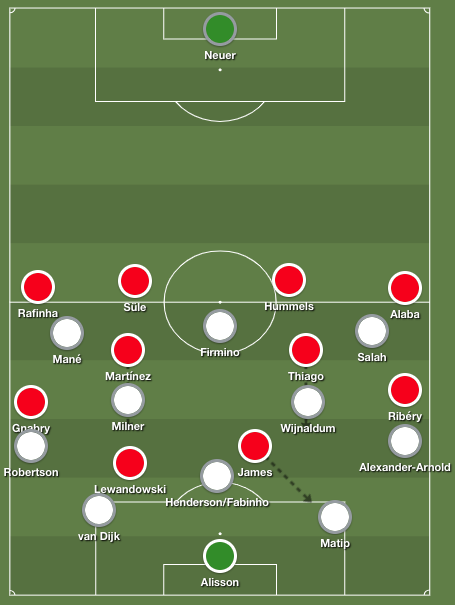 Bayern Munich's 4-4-2 high press versus Liverpool's buildup.
James Rodríguez would man-mark Henderson or Fabinho – Henderson was injured early in the match and came off for Fabinho – until Lewandowski triggered the press. A pressing trigger is a specific pass or movement by the opponent that draws out a coordinated team press. Then, James would step out onto the other center-back while trying to cut off the passing lane to the man he left behind.
It led to fewer turnovers but proved just as effective as the last scheme at preventing Liverpool from progressing the ball. Thus, as one would expect, both team's defensive tactics led to a mere smattering of chances.
Sadio Mané scores to make the game a little more exciting
Out of virtually nowhere, and with Bayern's defense dealing with things pretty adequately, Virgil Van Dijk played a gorgeous ball over the top of the opposition defense in the 26th minute. Mané controlled the ball expertly, rounded the hapless Manuel Neuer – who had come off his line in an ill-advised manner – and scored in an empty net.
The game did not explode from then on, but proceedings did get a little more entertaining. Seven minutes after the goal, Andrew Robertson burst forward on the counterattack and fired a shot off Neuer's gloves. Only five minutes later, Bayern scored in almost the exact same fashion as Liverpool. Niklas Süle played a long ball to Serge Gnabry, who knocked a cross off Matip to equalize the scoreline.
Both teams lose some compactness and collective organization
Though the second half still had much of the same tactical features as the first, there were some differences. To be frank, both teams looked a little worse than they had done in the first half. Both Bayern Munich and Liverpool's collective organization deteriorated and fairly large vertical gaps began to appear between the lines. This created a more end-to-end type of match, which is more suited to Liverpool, and it resulted in one effort on goal and a couple non-shot half-chances until the 68th minute.
The most significant of those "non-shot" chances arrived when one of Bayern's long balls finally connected, allowing them to flood up the pitch. Ribéry took advantage of the situation by drifting to the right and playing a chipped pass into the path of the onrushing Gnabry. Unfortunately for him, his driven cross could only flash past Lewandowski inside the six-yard box.
Virgil Van Dijk scores and effectively ends the game
In the 68th minute, Van Dijk scored from a corner and the floodgates finally opened. Bayern, desperate and quickly running out of hope, threw themselves forward haphazardly, opening all sorts of counterattacking avenues for Klopp's men. The frantic atmosphere created eight shots in total, from the go-ahead goal to the end of the match, which was almost half of all the attempts for the full ninety minutes.
One of those shots ended up in another goal, when Salah casually produced a delicious outside-of-the-boot cross that Mané headed in to make it 3-1.
Bayern's complete loss of confidence after that was patently visible, as they declined to increase the pace of their play and simply waited out the final minutes of the game.
Takeaways
Bayern Munich certainly did not play terribly, but they seemed to have no tools to get back into the game after Van Dijk's goal. If their long ball tactic was not working, they tried to funnel passes to the wide players so that they could dribble and cross. It was a fairly limited strategy and never looked likely to win Bayern the game against Liverpool's unique defensive system. Though Kovač's team will probably go on to win the Bundesliga after a trying start to the season, changes are needed. The board can start by reinvesting in a squad that still has to rely on the 35-year-old Ribéry to start in Champions League knockout games.
Liverpool, to put it simply, were more clinical, had the better players, and a slightly better overall game plan. That seemed to be what Klopp was banking on, as he did not change his strategy from the first leg and seemed content to watch over a low-event affair that tilted his side's way. Sometimes that is all that is necessary in knockout games and Klopp will be hoping that the likes of Van Dijk, Mané, and Salah can produce again in the quarter-finals of Europe's greatest club competition.
If you like this article, please consider a membership of Between the Posts.
This will grant you access to all our coverage of the top five leagues and the Champions League. Members will also get to explore our advanced team stats page. Finally, members are encouraged to post comments and interact with our writers.
Click here for more information.
Match plots are found in the sliders below. Use the arrows to scroll through the plots.