Between The Posts Tactical Analysis Weekend Preview: A Look At The Games We Will Cover This Weekend
Welcome to the weekend primer of Between the Posts, where we preview the matches that will be covered during this weekend, including a little preview of these matches.
Saturday, February 23rd
Sevilla – Barcelona (LaLiga), 16:15 CET
Is there a better time to play Barcelona? Fresh off the goalless draw with Olympique Lyonnais in the Champions League, a double confrontation with perennial rivals Real Madrid – first in the Copa del Rey, then in LaLiga – awaits them after this trip to Seville. On top of that, Barcelona's strike force has mustered the impressive total of two goals in the last four matches, with both of their recent away matches finishing goalless.
On the other hand, isn't this a good time to face Sevilla? Their league form has been nothing short of alarming, with just the single win – a 5-0 thumping of Levante – in their last eight outings. While Sevilla's offense has been nothing short of impressive, it looks like their mediocre defensive numbers is beginning to trickle through in recent results.
Tactical analysis by Peter M.
Sunday, February 24th
Manchester United – Liverpool (Premier League), 15:05 CET
When these two teams met earlier this season, Liverpool well and truly thumped Manchester United. The 36 to 6 shot count – 15 to 2 in the penalty box – signifies the beating United took. It was also their last game under José Mourinho.
How things have changed since then. United are firmly on the up under the guidance of Ole Gunnar Solskjær, who blitzed to ten wins in eleven matches, before seeing his side mostly contained at home by Paris Saint-Germain in the first leg of the Champions League knockouts. Underlying numbers though – here we go – have hardly improved after the much appraised managerial change, which strongly suggests a downfall in results is on the cards. Still, it's football and the new-found euphoria might just serve as a catalyst for improved performances. Who knows, really!?
Liverpool are in a title race. Not just are they in a title race, but it is near the end of February and Liverpool are second in the table, level on points with Manchester City with a game in hand. Reality catches up fast, but what now seems like a totally logical situation – Klopp, Salah, a well-drilled collective spearheaded by the most fearsome trident among football's offenses – was not deemed realistic by most experts before a ball was kicked this season. However, with two draws in their last three Premier League matches, the pressure is on Liverpool to keep up with Manchester City now.
Tactical analysis by Josh Manley.
Borussia Dortmund – Bayer Leverkusen (Bundesliga), 18:00 CET
The last time Bayer Leverkusen's manager Peter Bosz visited the Signal Iduna Park, he was still in charge of the home side. After a blitzing start to the 2017/18 season, Bosz' Dortmund largely flamed out in October and November, before he was sacked in early December.
That story might inject some fear into the hearts of Leverkusen, as the start has been fine under Bosz, winning the last four Bundesliga games in a row. On the other hand, Leverkusen got knocked out of both the Europa League and the domestic cup, and at times have displayed some of the flaws that have been staple throughout the Dutch managers career. A predictable attacking set-up that hinders his team from entering the final third The one-third of the pitch that is closest to the opposition's goal. and mostly sees the central defenders have possession. A very man-oriented press that can be easily exploited. And lastly, a team selection that is mostly based on attacking prowess and technical skill, moreso than defensive or physical qualities.
Leverkusen beat Bayern Munich with exactly those tactics however, which shows that they can beat every Bundesliga team on their day. You don't have to be brilliant to beat Dortmund the past few weeks anyway, so this might be turn out to be a fruitful evening for Bosz and his talented team.
Tactical analysis by Max Bergmann.
ACF Fiorentina – Internazionale (Serie A), 20:30 CET
Fiorentina is built around a steady defense, as their Expected Goals conceded from open play is fourth best in this season's Serie A. Their opponent Internazionale like to have the ball, currently having the largest amount of possession of all Serie A teams on average. What Luciano Spalletti's men do with all that possession? Aim for people in the box with crosses. Loads of crosses.
This match therefore will probably be an exhibition in Inter crossing the ball and Fiorentina heading the ball away, attempting to pick up the second ball and start a counterattack through one of their talented young attackers.
Inter will not be able to field Mauro Icardi, as there is some off-pitch rambling involving his wife / agent, and he is currently out 'injured'. Go look that up if gossip is your kind of thing, because it is quite the story. Without Icardi, Lautaro Martínez has taken the spot as starting center-forward, after netting the winner against Parma two weeks ago. Do not expect this match to be a fun affair, but if you like the street-wise manner in which Serie A games are often decided, this might be a nice game for you.
Tactical analysis by José Pérez.
Monaco – Olympique Lyonnais (Ligue 1), 21:00 CET
Monaco are an intriguing story this season. In early October, the club decided to part ways with manager Leonardo Jardim. The Portuguese had been in charge for more than three seasons and over 230 matches, overseeing successes like the first Ligue 1 title in seventeen years and reaching the semi-finals of the 2016-17 Champions League. Disappointing results in this season's start led to his dismissal and the appointment of legendary Thierry Henry. Legendary player Thierry Henry, that is, as his managerial tenure was cut short with Monaco lingering in the relegation places. In an attempt to turn back time, Jardim was re-appointed. After a disappointing penalty series loss to Guingamp in the Coupe de la Ligue, Monaco seem back on track with a three game unbeaten streak in Ligue 1.
The 'Parc Olympique Lyonnais' was the focus of attention during last week's Champions League, as the hosts welcomed FC Barcelona, whom they held to a goalless draw, despite failing to display their full array of talents. In the league, Lyon are chasing Lille by four points in a battle for second place, and the associated automatic Champions League qualification. Underlying numbers, particularly on the defensive side, favor Lille, so it might well be that Lyon need to rely on qualification football to make it to next season's Champions League group stage.
Tactical analysis by Carl Carpenter.
Monday, February 25th
RasenballSport Leipzig – Hoffenheim (Bundesliga), 20:30 CET
One of the more characteristic aspects of this decade's Bundesliga is the downfall of Traditionsvereine like HSV, VfB Stuttgart and 1. FC Köln, juxtaposed with the upcoming of two clubs that have very little history in Hoffenheim and RasenballSport Leipzig. Their rise in German football was mostly built on tactical innovation and fantastic recruitment, which means that whenever these two clubs meet each other, tactics freaks grab their notebook and writing equipment.
Another interesting storyline is that Leipzig's caretaker manager Ralf Rangnick – who oversaw Hoffenheim's rise through Germany's football pyramid – will face Julian Nagelsmann. Rangnick more or less revolutionized German football from a tactical point of view, while Nagelsmann is the biggest and most talented exponent of young, exciting German coaches coming through the ranks and getting their chance at big clubs, partly because of Rangnick's work in the nineties.
There is another layer to reflect on when previewing this match, as Nagelsmann is set to join RasenballSport Leipzig next season as manager, while Hoffenheim is eyeing Marco Rose – currently at Red Bull Salzburg – as his successor. Clubs attempt to steal players and managers from each other all the time, but that does not mean it is taken lightly and perhaps it will show on the field.
Tactical analysis by Chris Baker.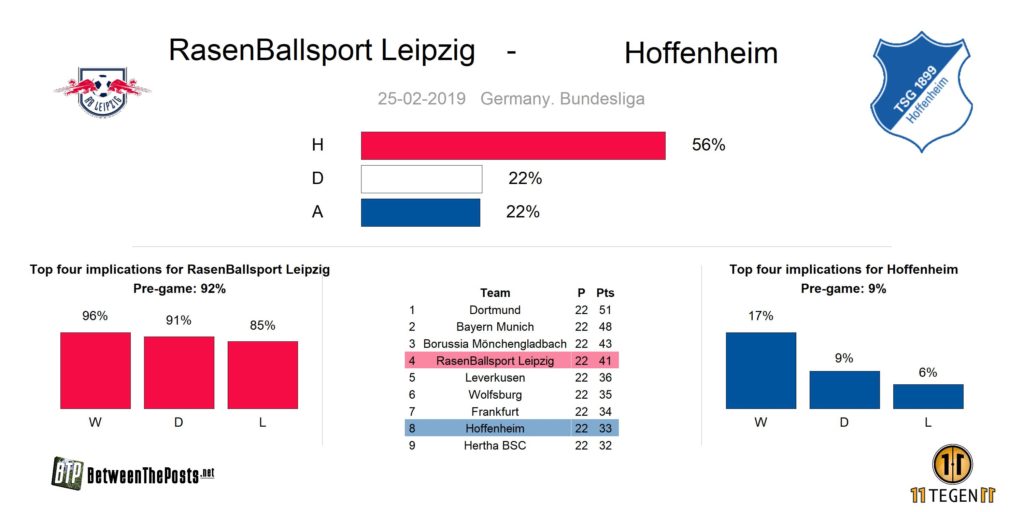 Wednesday, February 27th
Chelsea – Tottenham Hotspur (Premier League), 21:00 CET
Whenever there is a 'blueprint' to beat you, you might be in trouble. As of today, several of Chelsea's opponents have found a way to hurt them, but Maurcio Pochettino's Tottenham Hotspur were the first team to do so, in late November. In short: make a plan to prevent Jorginho from playing forward, and you mostly nullify Chelsea's build-up. Double up on the left side, because Hazard plays in that zone. When you have the ball, attack the spaces next to Jorginho and exploit Chelsea's individual defensive lapses.
Chelsea was on the receiving end of a transfer ban this week, and even though it is a legitimate question if that is a truly bad thing for the club long term, that is a question to ponder on another day. This Wednesday, the only question that really counts is whether Sarri leans a bit more towards tactical flexibility, or if he once again prefers his rigid 4-3-3 formation, with the clear flaws that will probably will be exploited.
Tactical analysis by Erik Elias.