Borussia Dortmund – Bayer 04 Leverkusen: Efficient Dortmund beat possession-focused Leverkusen (3-2)
In a Bundesliga match of high quality and intensity, both sides demonstrated their respective strengths and weaknesses. Leverkusen impressed with a dominant possession-focused style of play, but failed to break their opponent down. Dortmund's defensive compactness saw their offense reduced a lot, but they made up for it with efficient conversion to win three important points in the title race.
Tactical analysis and match report by Max Bergmann.
The clash between Borussia Dortmund and Bayer Leverkusen was obviously important in the Bundesliga title race. Beside that, it was also the meeting between the former and the current club of Dutch manager Peter Bosz. Dortmund was under pressure to gain points in order to retain their first place after five matches without a win, including a thumping loss at Tottenham Hotspur and throwing away a three goal lead against Hoffenheim. Peter Bosz himself aimed to collect further points for the main goal to qualify for European football.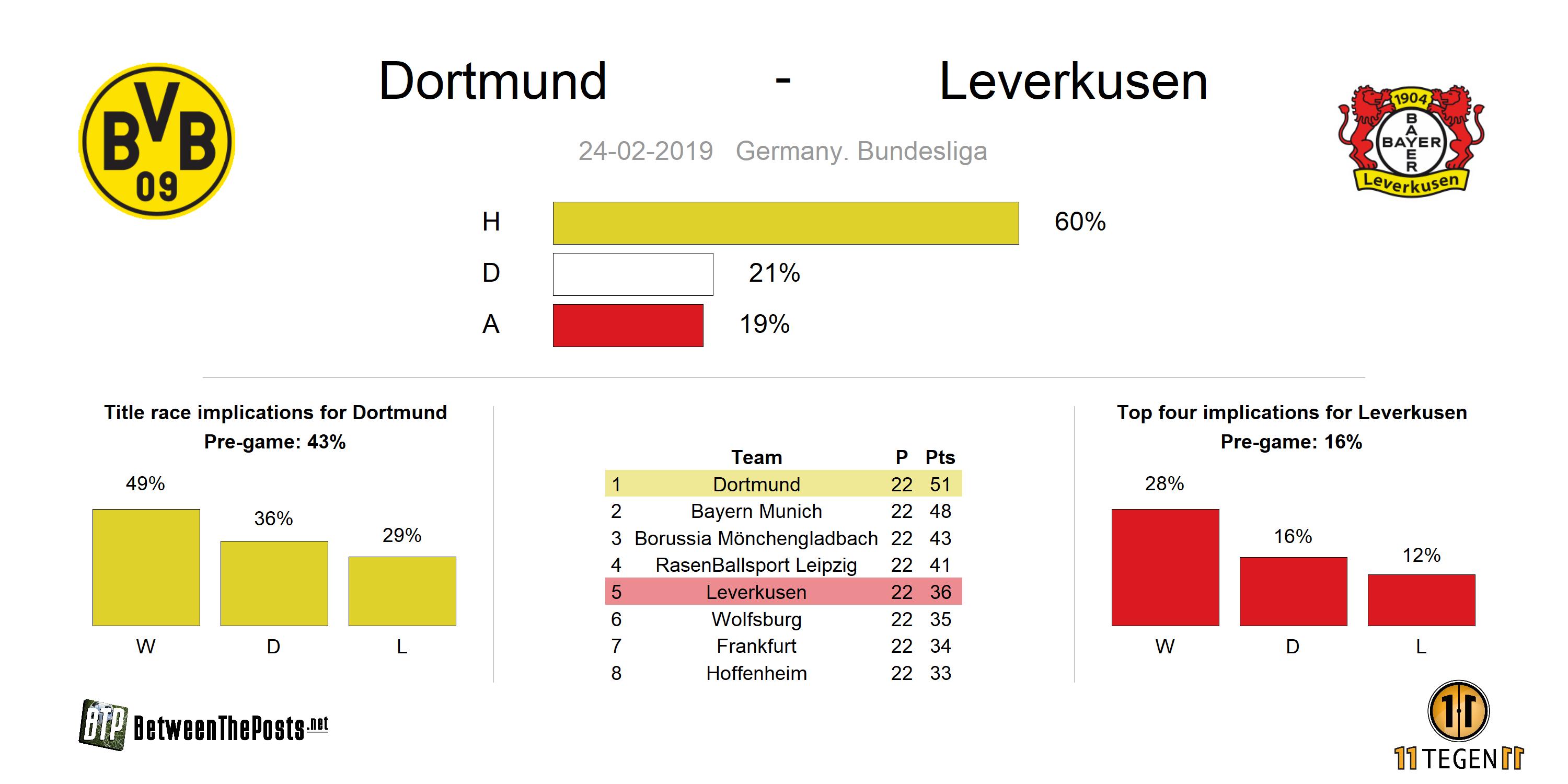 Match prediction, standings and implications going into the weekend.
Dortmund manager Lucien Favre banked on the established 4-2-3-1 system. To replace fullback Łukasz Piszczek, Favre made use of the versatility of central defender Abdou Diallo who was lined up at left back. Dan-Axel Zagadou and Manuel Akanji played in the central defense and Achraf Hakimi completed the back-four playing the right back position.
Julian Weigl played in central defensive midfield alongside Axel Witsel. As captain Marco Reus was still injured, the Swiss manager decided to line up Mario Götze and Paco Alcácer up front. While the German undertook the role of the offensive midfielder, the Spanish played as a striker.
Peter Bosz made a surprising change in the starting lineup. Although the Dutch manager stuck to his prefered 4-3-3 formation, he lined up central midfielder Kai Havertz as a right winger, in the absence of Karim Bellarabi. With the offensive right back Mitchell Weiser behind him, the German talent possessed freedom in his movement.
Julian Baumgartlinger joined the starting eleven as a central defensive midfielder. Julian Brandt and Charles Aránguiz were tasked to connect buildup play with the attack as advanced midfielders.
Bayer Leverkusen dominate through positional fluidity
Kai Havertz was the key figure in Bayer Leverkusen's attack. The playmaker, lined up as a winger, dropped into more central areas of the midfield. This allowed right back Weiser to move high up the wing and to contribute to the attack.
In the bigger picture, Leverkusen thereby outnumbered the Dortmund midfield. As both sides had three central midfielders, there would otherwise have been numerical equality in the center. However, due to the movement of Havertz into the center, Leverkusen was able to create numerical superiority.
Even apart from Havertz, Bayer Leverkusen showed a lot of positional fluidity, meaning that their players interchanged positions during possession phases. After a short pass combination between Havertz and striker Kevin Volland, the latter perfectly demonstrated this fluidity and went on to score an equalizing goal from distance.
By that time, Dortmund had already taken the lead through a corner-kick goal, where Zagadou beat Jonathan Tah to the ball for a close range finish.
Leverkusen's 4-3-3 formation in advanced stance in possession against Dortmund's compact 4-4-2 defensive shape.
Leverkusen showed an impressive territorial domination, even though they mostly played passes around Dortmund's defensive shape. Their advanced stance effectively prevented Dortmund from threatening Leverkusen's goal with counterattacks. Leverkusen's extremely long possession spells kept Dortmund's wingers pinned deep down in their own half. This was an important reason why right winger Jadon Sancho could not evolve his full qualities, even in transition moments.
Dortmund's compact defense
One of the main reasons why Leverkusen could not exploit their possession dominance was the compactness of Dortmund's defensive shape. Dortmund set up a medium block, A medium block refers to a team that retreats in their own half out of possession, generally only disrupting their opponents some way into their own half. occasionally even falling back into a low block. A low block refers to a team that retreats deep in their own half out of possession, generally only disrupting their opponents around their own box. This may have appeared rather passive, and it certainly did not please the home crowd, but it worked. The home side stopped Leverkusen from creating serious goal-scoring opportunities through decreasing the distances between defense, midfield and attack.
Even the playmaker Götze and striker Alcácer kept connection to the midfield line and defended in their own half. Leverkusen succeeded to keep possession and circulate the ball. However, they were often unable to create promising chances.
Dortmund's passmap shows their deep stance and a reliance on the fullbacks to progress the ball up the pitch.
Dortmund with dangerous overlapping fullbacks
Borussia Dortmund created most of their chances from crosses. Therefore, it was not a coincidence that Dortmund went on to score two goals after crosses from open play, having already opened the score from a corner kick.
Especially during the first half, left back Diallo put in some dangerous crosses. For Dortmund's second goal, left winger Raphaël Guerreiro cut inside once more, opening up space for Diallo to move up the wing. On the other side, Jadon Sancho joined the penalty area on the far post and he scored the second goal for Dortmund with an excellent first time shot. Left back Tin Jedvaj was poorly positioned and could not stop the English youngster from scoring.
Dortmund's third goal was also scored after a cross, from the right wing this time. The concept was nearly the same, though. Winger Sancho dragged away the opposition fullback with a diagonal run towards the goal. That allowed Hakimi to use an overlapping run to get into a perfect position to put in a cross. After a deflection in the penalty box, Mario Götze received the ball and scored Dortmund's third goal of the game.
The threat of Dortmund's fullbacks in this game perfectly illustrates one of Leverkusen's weaknesses. The wingers of Leverkusen did not track back the opposition fullbacks and leaving them with ample opportunities to put in dangerous crosses. The fullbacks were left alone and had to defend the opposition winger and fullback at the same time. Due to the offensive orientation of the wingers, this is a problem which often appears for teams that stick to their 4-3-3 shape in defense.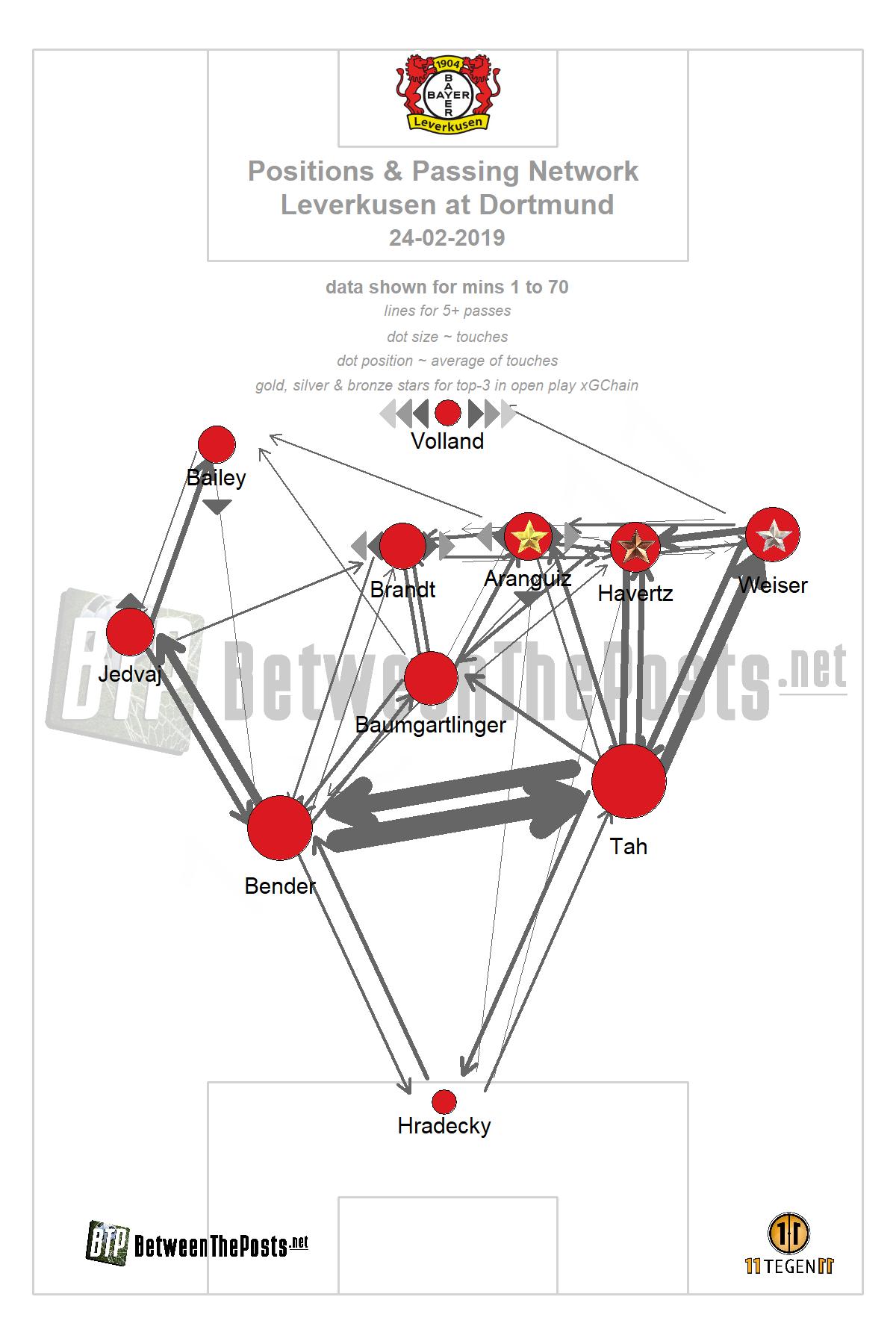 Thick passing lines among central defenders are not the aim, but rather an unwanted by-product of a possession oriented style of play.
Final stage
After Leverkusen scored their second goal from an indirect free-kick with fifteen minutes still to play, they tried everything to tie the score. Leverkusen became more direct in possession, which also opened up more promising counterattacking opportunities for Dortmund. Substitute winger Jacob Bruun Larsen missed the biggest one of these.
Because Leverkusen could not threaten Dortmund's goal anymore, the home side secured three important points with a 3-2 win.
Takeaways
All in all, Bayer Leverkusen dominated the match but without much reward. The side of Peter Bosz demonstrated their strong possession-based approach. In this way, they were well able to reduce Dortmund's counterattacking threat for most parts of the match.
Nevertheless, Leverkusen had issues to create chances in the final third. The one-third of the pitch that is closest to the opposition's goal. In combination with their struggles to defend crosses, the defeat was a touch unlucky, but by no means undeserved.
Dortmund will be happy to retain their three points advantage over Bayern Munich, with this tough win over Leverkusen. Due to a compact defensive unit as well as the use of clever wing-attacks, Dortmund could beat one of the more dangerous teams in their remaining Bundesliga fixture list. Furthermore, Dortmund demonstrated another time, as so often this season, their effectiveness.
If you like this article, please consider a membership of Between the Posts.
This will grant you access to all our coverage of the top five leagues and the Champions League. Members will also get to explore our advanced team stats page. Finally, members are encouraged to post comments and interact with our writers.
Click here for more information.
Use the arrows to scroll through all available match plots.