Borussia Dortmund – FSV Mainz 05: Dortmund's dream day turns into a nightmare (2-2)
Dortmund held all the cards prior to kick-off. But it was Bayern holding the Bundesliga trophy after full-time. A dramatic final day was defined by a ten minute period in which Dortmund conceded two goals, with a missed penalty sandwiched in between, to leave the Black and Yellow with the bitter taste of regret.
Tactical analysis and match report by
Nick Smoothy
.
We decided to make this article free to read. If you want to support our work, consider taking a subscription.
The stage was set. The final gameweek of the Bundesliga season and Borussia Dortmund knew that either a win, or matching Bayern Munich's result, would guarantee their first league title since 2012.
Over 80,000 fans packed out the Signal Iduna Park which was brimming in black and yellow. And the home crowd had plenty to feel optimistic about. Their side boasted the best home record in the league, winning fourteen and drawing one of their previous sixteen matches. In addition to that, their opponents for the day, FSV Mainz 05, had suffered four successive league defeats, conceding at least three goals in each game. 
Edin Terzić entrusted the same team which beat Augsburg the previous weekend to get the hosts over the line. Gregor Kobel played behind a back four of Marius Wolf, Niklas Süle, Mats Hummels and Julian Ryerson. Emre Can, Julian Brandt and Raphaël Guerreiro formed the midfield, with Donyell Malen, Karim Adeyemi and Sébastien Haller in attack.
Bo Svensson lined up the visitors, who sat in ninth position prior to kick-off and could only finish as high as eighth, with Finn Dahmen between the posts, Andreas Hanche-Olsen, Stefan Bell and Edimilson Fernandes in a back three, Anthony Caci and Aarón Martín as wing-backs, Leandro Barreiro and Dominik Kohr in the middle of the park, and Anton Stach and Lee Jae-sung either side of Karim Onisiwo.
With the sun shining, the Yellow Wall singing, and history awaiting, the referee blew his whistle to kick-off what would undoubtedly be a final day of drama.
A snapshot of things to come
The opening period of the game provided a snapshot of how the match would ultimately unfold. 
Mainz were content to concede possession and get into a compact 5-4-1 low block. Whilst the hosts were afforded prolonged spells of possession inside the opposition half, the majority of their play was in front, or on the outside, of the ten Mainz outfield players.
In settled possession, the home side's shape resembled somewhat of a 2-1-7. This shape consisted of Süle and Hummels at the base, with Can fluctuating between playing just ahead or in between them.
The Dortmund fullbacks both advanced higher to form the extended, and staggered, forward line of seven, but each had slightly different roles. On the right, Wolf very much provided the width, with Malen playing inside to occupy the right halfspace. Whereas on the left, Ryerson alternated between playing on both the inside and outside of Adeyemi.
Haller was the most advanced central player which left the fluid Brandt and Guerreiro, alongside Malen, trying to find pockets of space between the Mainz defense and midfield lines.
With the visitors prioritizing blocking central areas, Dortmund's first plan of attack was to patiently work the ball from side-to-side, and wait for any manufactured gaps to appear. And when an opportunity arose, punch a pass through the lines and into the feet of one of their more creative players (Brandt, Guerreiro and Malen).
From here, Dortmund would attempt to execute quick, one touch passing combinations to bypass the Mainz defense. But with time and space limited in these congested final third central areas, these attacks failed to cause any major early threat, mainly due to a rushed or blocked final pass, cross and/or shot.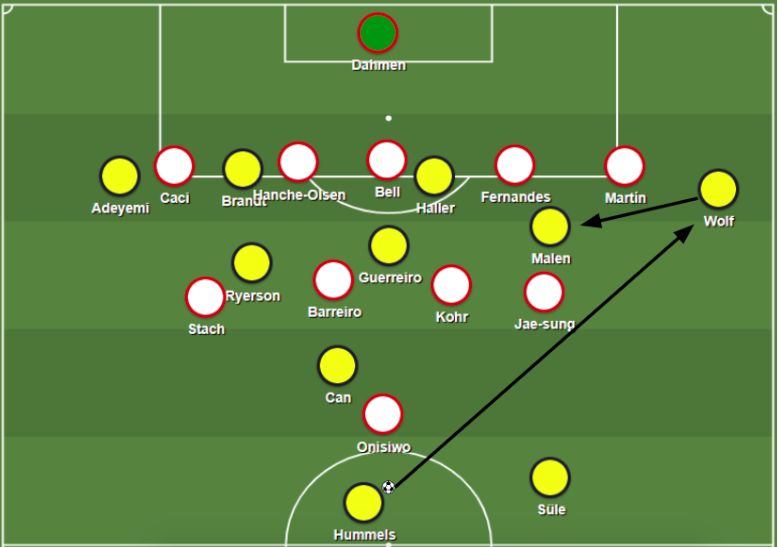 4th minute: Dortmund possession sequence which led to their first shot on goal. Hummels passed out wide to an advanced Wolf who played a first-time pass inside to Malen who turned and shot wide of goal.
A defining ten minutes
In the opening fourteen minutes, the game went pretty much to script.
Dortmund dominated possession and were probing for openings. Mainz defended deep and looked to counterattack. In controlled possession, the visitors aimed to exploit the hosts using the width of their wing-backs.
If Dortmund could deal with those threats, and their nerves, they would have plenty of opportunities with the ball to eventually break the deadlock. They'd already scored 53 goals at home this season – one goal away from equalling a club record which dated back to 1963-64. This was their day. 
But in the fifteenth minute, everything changed. Mainz won a corner kick and from the resulting take, Hanche-Olsen got ahead of Haller at the near post to win first contact and direct the ball in, to silence the home crowd. 
This was not in the script, but less than two minutes later, Dortmund won a penalty. Süle made a line breaking pass into Guerreiro who then initiated the aforementioned one touch passing combinations between himself, Brandt and Malen, before Guerreiro was eventually fouled inside the area. Whilst it took VAR to award the penalty, everything looked to be back on track.
Except, Haller's penalty was saved. But before Dortmund even had time to feel sorry for themselves, they were appealing for another penalty, but to no avail.
A dramatic five minute spell, but things were about to get worse. As in the 24th minute, Mainz went 2-0 ahead. Following a rare spell of possession, Mainz switched play to Martin, their left wing-back, which caused an overload against Wolf. A pass was then slid into Jae-sung who crossed into the box to an inexplicably unmarked Onisiwo whose header was too strong for Kobel's right hand.
Twenty-five minutes gone and Dortmund were 2-0 down. Maybe this wasn't their day.
Little room for error
After the shell shock of going two goals down, Dortmund regrouped and looked for a goal back before half-time. 
But with opportunities to play centrally still limited, and Mainz affording more space in wider areas, Dortmund began to invoke their next attacking solution – more crosses.
However, the problem with this approach was two-fold – 1) the vast majority of their crosses were of poor quality, a number being overhit, in particular by Wolf, and 2) as Mainz were defending so deep, and in numbers, it was difficult to find a target.
Despite more attempts on goal, Dortmund went in at the break two-goals behind. 
Youngsters help breathe fresh hope
Despite a few changes in personnel and positionally, in the opening fifteen minutes after the restart, it was Mainz who looked the more likely to score. With Dortmund turning the attacking dial to gung-ho, they regularly looked vulnerable against counterattacks.
But on either side of the 60th minute, Dortmund finally began to threaten with more purpose. And then, in the 62nd minute, the home side made two further changes, bringing on Gio Reyna and Julien Duranville. Both of these players' ability to bypass an opponent in one-on-one situations gave Dortmund a new dimension in attack.
This change of momentum and build up of pressure eventually told in the 68th minute when Reyna and Guerreiro exchanged passes on the edge of the area before the Portuguese international fired home to send everyone wearing black and yellow into raptures.
Following the goal, Dortmund continued to probe. Crosses were still being used, but unlike the first half the quality of delivery improved and they also targeted the far post where Dortmund always had a player to attack that area. This was the case in the 74th and 76th minutes when both Reus and Haller connected with crosses at the far post, but both failing to score.
74th minute: Ryerson crosses towards the far post which Reus narrowly heads over.
In the 80th minute, despite nothing happening on the pitch, the Signal Iduna Park broke into celebration when the home crowd learned that FC Koln had equalized against Bayern Munich. This meant that despite losing, if the scorelines in both matches remained the same, Dortmund would be crowned champions.
And in the 84th minute, things nearly got even better, when an inswinging Reus freekick was heading goal bound only for Hummels to unknowingly get a touch which sent the ball agonizingly wide.
But in a topsy-turvy final day, in the 89th minute, news reached the Dortmund crowd, coaching staff and players, that Bayern had retaken the lead, so the title was no longer in their grasp, they again needed two-goals.
Five minutes of injury time were awarded, but Dortmund initially looked more likely to concede than score. That was until the 94th minute when first Haller had a goal disallowed, and then in the 96th minute, Süle's deflected shot made it 2-2.
But it was too late. Dortmund had run out of time.
Takeaways
Dortmund finished the season on joint points with Bayern, only losing the title on goal difference.
But that is likely to offer little solace knowing that they went into the final day two-points ahead, with a home game against a side with little to play for, and their destiny in their own hands.
Whether the unrest at Bayern this season played a part in Dortmund challenging for the title, we can only debate. And whether Dortmund can sustain another title challenge next season, we can only wait and see.
The only guarantee we do know is that the Yellow Wall will be singing and supporting their team regardless, just like they did after the final whistle.
Use the arrows to scroll through all available match plots. Click to enlarge.
Check the match plots page for plots of other matches.