Brazil – Switzerland: Similar Script Imposed On The Swiss (1-0)
After a slow start and great opposition pressure, Brazil solved passing issues down their left side to win. Sound familiar? The title may suggest a sequel, but Brazil had to problem-solve in a new way with a Neymar-less void in their attack.  
Tactical analysis and match report by Joel Parker.
Though famous for their chocolatiers, the Swiss can leave big nations with a sour taste when it comes to big games. France at the Euros, Spain in 2010, even Tite's men failed to win against them, in the previous tournament's group stage.
Now Brazil had to find a solution without their crown jewel. It was Neymar's adaptations that helped them get past Serbia, combined with more space created for Vinícius Júnior and Richarlison's excellence in the box. This was a major game in determining who would top the group, Cameroon had opportunities, but Breel Embolo scored the only goal in a balanced match.
Tite's change came as no surprise. As Neymar was replaced, Fred came into the midfield to play alongside Casemiro, his usual midfield choice. This left Lucas Paquetá with the responsibility of creating from deep, in their 4-2-3-1/4-3-3 formation. Their only other change saw the injured Danilo be replaced by Éder Militão at right-back.
Murat Yakin also aligns his team in a 4-2-3-1 system. Their only change came on the right of the attack, as Xherdan Shaqiri was replaced by Young Boys' winger Fabian Rieder.
Dynamic Brazil missing the destruction
The positional structure of Brazil doesn't change, even when changes arise, but the profiles within the personnel can tweak the way this team builds up. Militão was much more of a third center-back than the additional midfielder that Danilo offers. Further ahead, Fred moved across the whole of the field, bouncing from his fellow Man United midfielder Casemiro, to even sitting as a second striker on the right of Richarlison.
Despite their flexibility, Brazil found itself in similar problems in their opening game. The setting of the forwards remained the same; high and wide wingers with Richarlison's runs behind the defensive line. Paquetá, positioned ahead of Casemiro on the left, is a lot more conservative than the roaming work that Neymar produces. Of course, being without your star man of the past decade is bound to make an effect, and Brazil had no way to replicate his progressive work.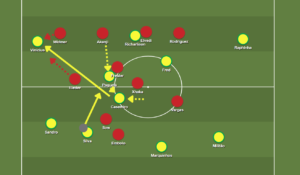 6th minute: Indicative of Brazil's passing problems and how Switzerland's congested the wide areas in their press. Paquetá dropped with Freuler engaged and no rotation behind center-midfieders. Deep fullback enabled Switzerland to collapse onto Vinícius and Brazil was heavily forced onto the outside.
Constantly, the ball was worked up towards a midfield that struggled to find coherence. With Fred bouncing around and Militão deep, Raphinha had very little to combine with, even when moving the ball onto his stronger left foot and with the pitch open. There were moments when this side of the field did click into something sweet; a collection of vertical passes from Militão, Paquetá and Fred put Richarlison behind the center-backs, but a poor touch took the ball away.
On the left, the straight back-three that Militão offered meant Alex Sandro was positioned slightly higher and occasionally offered the late overlapping run. Paquetá started high up, but would also drop in the left halfspace towards the center-backs. This resulted in long passes being hit towards Vinícius but without the Real Madrid winger being in isolated areas.
Brazil's problems can also be accredited to the strength of Switzerland's work off the ball. They sat in a narrow 4-2-3-1/4-4-1-1 formation, with the far-sided winger tucked in towards the center circle. Yakin's team were always well staggered behind Breel Embolo and organized an outwards press that compressed play towards the ball; something that forced Brazil to play the ball more laterally. Granit Xhaka and Remo Freuler moved up as the press was triggered on their side of the field, with his partner covering the space behind.
Against the Brazil midfield, there wasn't a strict following of Fred as Nico Elvedi could pick him up when he positioned himself on the last line. When Fred drifted towards the left, Switzerland's shifting towards the channel was able to nullify the potential overload that could occur.
Overall, a slow-tempo game was matched by a very low shot count. Brazil had six attempts, the closest coming from a Raphinha inswinger connected with Vinícius, who moved behind Siva Widmer. His shot was well saved by Yann Sommer, their first attempt 27 minutes into the match.
Switzerland overload behind Casemiro
In the first period, Switzerland had a balanced share of the possession but missed the elements that converted this into shot creation. They often moved in a 4-3-3 formation, Xhaka sat deepest, with Freuler either vertical or alongside the Arsenal midfielder. Djibril Sow moved around Embolo's adaptations behind the Brazil midfield line, but they gained a little more success when the ball was carried from deep and the narrow forward pinned space for Ricardo Rodriguez and Widmer on the outside.
Off the ball, Brazil pressed in a 4-1-4-1 formation, which also aimed to push their opponents on the outside. This matched against their buildup shape and their counterpress denied Switzerland from creating more frantic moments, although it does not force creativity to come on the transition.
In the second half, much more focus was turned on the space behind Casemiro and how their narrow system could exploit it. Embolo started to drop a lot more towards the center-backs in circulation, which disrupted Brazil in two areas: two-versus-one overloads could be made against more man-orientated Brazil midfielders and Embolo dropping encouraged Freuler and Sow to move behind their markers in front of Thiago Silva and Marquinhos. Fabian Rieder also slalomed around into the striker space off the right side and Switzerland profited from such overloads.
52nd minute: Switzerland movements off the ball managed to create a overload around the center and forced Sandro to stay central, instead of engaging with Widmer. Play continued to circulate and Widmer was found on the switch, behind Vinícius.
The receiver of a line-breaking pass was often able to flick the ball back into another option behind them, now faced towards the goal. This pattern appeared in their play and Switzerland started to generate some half-chances before the hour mark. Pinning of Brazil's fullbacks opened the box for Switzerland in the 52nd minute, as Rieder's curved run put Sandro central and Widmer behind Vinícius. A massive interception by Silva denied Rider, who continued his run towards the box.
Switzerland changed and gained better progression, thanks to Embolo adapting his runs, taking Casemiro out and making Brazil more vulnerable. Despite their improvements, the Swiss struggled to turn this into qualitative shots and missed a direct runner behind the center-backs, which could pull their defense apart further. Just five more attempts were made up until the hour mark, with zero shots on target and no attempts after this period.
A similar script provides an important score
The Swiss sparked some offensive momentum, but the scales tipped towards Tite for the last thirty minutes. He had replaced Paquetá for Rodrygo, a more appropriate profile if you want to replicate some of the Neymar magic. Tite's other midfield adjustment saw Fred taken off for Bruno Guimarães, a safer pair of hands who continuously moved out of the opposition forward's cover shadows and into space for play to slowly build.
What also assisted their balance was Alex Sandro into a more inverted role from the left-back position. Brazil appeared to have unlocked their opponents when Rodrygo held the ball and made space for Casemiro to find Vinícius, completely free as Widmer was dragged. Vinícius scored but an offside within the buildup saw the goal cancelled.
77th minute: Example of how Sandro and Guimarães helped Brazil pin Switzerland. Sandro moved into a more inverted position and Guimarães roamed out of the cover shadow of the forwards. Control was gained around the block, whilst Casemiro and Rodrygo could move higher up the field.  
Nevertheless, though not creative, control was certainly in their favor and they had a much better matchup against a difficult Swiss pressing scheme. Guimarães offered better ball retention around the Swiss center-midfielders and Sandro's dynamism was at much better use around central areas. This led to further adjustments to be made, Rodrygo had the dribbling ability to get the ball further and Casemiro started to move higher up on the left side with security behind him.
Once again, it was the left side of Brazil that provided the scoring. Switzerland attempted to double up on Vinícius, but their setup did not take Casemiro moving up into account. Rodrygo held his position on the edge of the box, as Casemiro moved ahead of him and into a pocket of space inside the area. Casemiro's shot took the slightest of touches off Manuel Akanji, but a shot's fortune does not change its significance.
Takeaways
A massive win for Brazil. They may not be the most creative of teams but have a structure that suppresses opponents' attacks and has the technical ability to produce, even in more unlikely sources. The result leaves Tite's team with an extra game that is stress-free, a chance to rotate and keep his preferred eleven fresh for the knockouts.
Switzerland can be bitter about this result, with a solid defensive display and smart instruction from Yakin attached to it. With qualification still heavily in the balance, it adds an extra layer to a highly charged, emotional and political matchup with Serbia to conclude the group.    
We've decided to make all of our World Cup 2022 content freely accessible for everyone. If you want to support our project, please consider taking a subscription.
Between the Posts has also decided to donate all returns generated during this World Cup to Amnesty International.