Chapecoense – Palmeiras: Pragmatic Palmeiras with routine win over unthreatening Chapecoense (1-2)
Palmeiras showed some fluidity in attack in the first half and were generally the dominant team, albeit without creating a crazy amount of chances. In typical pragmatic Scolari style, they did enough to go in at half-time with a single goal lead. In the second half, Palmeiras sat back as Chapecoense chased the game. However Chape's possession game was not strong enough to make large dents in the Brasileiro's strongest defense, and Palmeiras ran out 2-1 winners.
Tactical analysis and match report by Josh Manley.
Reigning league champions Palmeiras travelled to Chapecoense looking to extend a run of four consecutive wins as the only unbeaten team in this early stage of the Brasileiro. Palmeiras made two changes from their 1-0 win over Botafogo, as Felipe Melo came back into the side ahead of Thiago Santos, and center-back Luan was replaced by Antônio Carlos in their 4-2-3-1 formation.
Chapecoense also lined up in a 4-2-3-1 formation. They came into this game on the back of a 2-1 win over Cruzeiro and made one change from the lineup in that game, as right back Bryan came into the team in place of Caique Sá.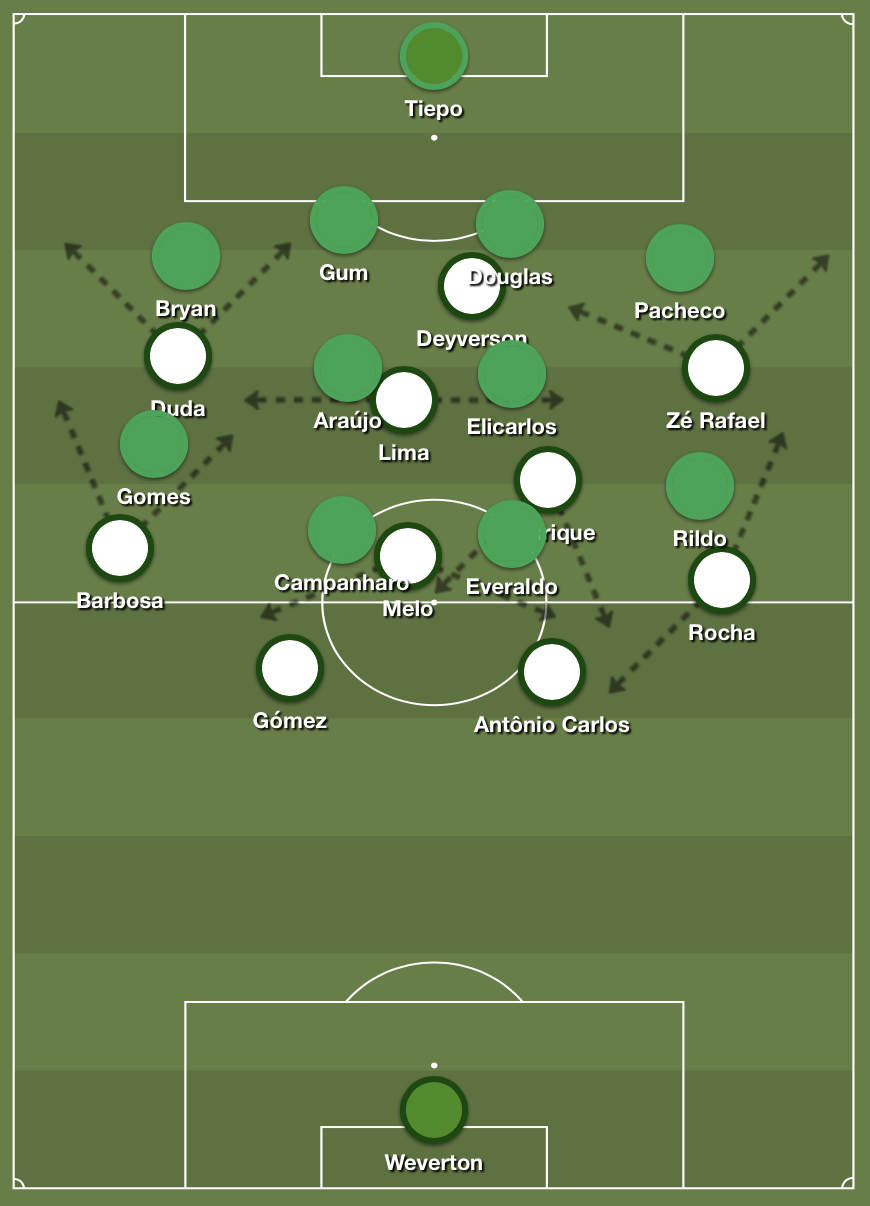 Palmeiras' 4-2-3-1 formation against Chapecoense's 4-4-2 shape out of possession.
Palmeiras control first half
From their starting 4-2-3-1 formation Palmeiras were relatively flexible in the structures that they created in possession. They often created a back three in possession, either through right back Marcos Rocha tucking in alongside the center-backs, or through defensive midfielder Felipe Melo dropping either side of the center-backs.
Melo's central midfield partner Bruno Henrique was quite mobile and roamed between picking the ball up in front of the defense alongside Melo as well as advancing further forward. Meanwhile attacking midfielder Lucas Lima was similarly mobile, starting in central positions but moving away from his nominal position to drift into wide areas, regularly swapping positions with the wingers.
When it came to occupying wide areas, Palmeiras were again fairly flexible, as Lima would make movements outside, both wingers would come into the halfspaces If you divide the field in five vertical lanes, the halfspaces are the lanes that are not on the wing and not in the center. Because there is no touchline like on the wing, players have freedom to go everywhere. But this zone often is not as well-defended as the very center. This makes it a very valuable offensive zone to play in and a lot of chances are created by passes or dribbles from the halfspace. when the fullbacks pushed up, as well as swapping flanks with each other. Left-back Diogo Barbosa also took up some interesting halfspace positions when the winger on his side stayed on the touchline.
Chapecoense defended against this in a 4-4-2 or 4-4-1-1 shape, in a fairly low and passive defensive block A defensive block is the compact group of defenders that defends a particular zone, either their own half in a medium defensive block, or the zone around their own box in a deep defensive block. without many attempts at high pressing. But even in their deep defending they had some issues with their midfield which allowed Palmeiras to gain a foothold.
There was often a lack of compactness from the midfield with the distances between central and wide midfielders being too large to prevent Palmeiras players receiving the ball in the gaps between the midfielders. These distances were related to wide midfielders not moving far enough inside when the ball was central, and central midfielders not getting into good covering positions in relation to their wingers when the ball was wide.
The lead up to Palmeiras' first goal was one example where they were able to penetrate an uncompact Chapecoense midfield with a vertical pass from the defense. The initial pass was not received cleanly, but eventually the ball was worked across to Duda who was free at the edge of Chapecoense's box and had a route to goal, putting the ball past the goalkeeper to put Palmeiras 1-0 up just after the half-hour mark.
However Palmeiras' lead barely lasted five minutes as Chapecoense were awarded a penalty against the run of play for handball, which they converted to make it 1-1. Again though, this score line did not last long, as Palmeiras went ahead again just before half-time from Rocha's spectacular finish as he picked up the second ball from a Palmeiras long throw.
Chapecoense ineffectual with possession
In the second half Palmeiras were more cautious and happy to sit back while they had their lead, leaving Chapecoense to try and break their defense down. From a nominal 4-2-3-1 formation in the first half, they now often fell into more of a 4-1-4-1 defensive shape. They also displayed somewhat better compactness and distances in the midfield than Chapecoense had in the first half, presenting a harder midfield to break through.
Chapecoense's own possession game was also quite weak. Whereas the front four in Palmeiras' 4-2-3-1 shape of the first half helped to connect their possession game by offering themselves between the lines, rotating positions and creating good angles to receive, Chapecoense's forwards did not take up such positions, and were generally more focused on the last line of attack.
Chapecoense were able to create shots in the second half, but apart from a couple of headers inside the box, many of their shots came from outside the box against the deep defense of Palmeiras. In the end then, Palmeiras were able to shut them out and retain their 2-1 lead.
Takeaways
Palmeiras continue their unbeaten run so far this season, sitting four points clear at the top of the table at this early stage. Their attacking game in the first half was fairly well constructed and was able to exploit an uncompact Chapecoense midfield. In the second half their defense was mostly untroubled by the possession game of Chapecoense.
Defeat for Chapecoense leaves them in thirteenth place with one win in their last six games, and this is reflected in their relatively weak tactical performance in attacking and defensive departments in open play, with their only goal coming from a penalty.
Use the arrows to scroll through all available match plots.