Croatia – Spain: Croatia's first half control eventually pays dividends in second half thriller (3-2)
Zlatko Dalić's flat 4-5-1-0 shape perfectly managed to frustrate Spain's 4-3-3 formation. The match changed when the visitors transitioned into a back-three, as Luis Enrique's tweaks helped Spain to create numerous big chances. They might well have taken all three points, if it weren't for a dramatic late winner by Croatia.
Tactical analysis and match report by Peter M.
Croatia's manager Zlatko Dalić made three changes to the side that drew 0-0 in their last UEFA Nations League match against England. In goal, Dominik Livaković was replaced by Lovre Kalinić; in defense, Šime Vrsaljko came in for Josip Pivarić as Tin Jedvaj was forced to play at left back; in midfield, Mateo Kovačić sat on the bench as Marcelo Brozović took charge of his spot in holding midfield.
Jordi Alba finally made his return to the international scene and started at left back, ahead of Marcos Alonso. Elsewhere, there were numerous changes as Nacho Fernández, Jonny Otto, Thiago Alcântara and Marco Asensio were all left out of the eleven. In their place came Iñigo Martínez, Sergi Roberto, Dani Ceballos and Isco respectively.
Croatia's flat line of five frustrates Spain's predictable possession
It was a given that Spain would hold the majority of the ball in this match, so from a tactical point of view, the question was how Croatia would attempt to contain them. In their attempts to do so, they did not pose in a 4-4-2 shape, like most teams who play 4-2-3-1 do. Rather, they set out in a 4-5-1, or, maybe more accurately, a 4-1-5-(0) formation. In other words, striker Ante Rebić dropped back to cover Sergio Busquets, meaning he was in line with the midfield.
Croatia's defensive 4-5-1 shape against Spain's 4-3-3
Croatia only applied pressure to the ball based on certain triggers A pressing trigger is a specific pass or movement by the opponent that draws out a coordinated team press., and usually in only one particular way. Either one of the central midfielders (Luka Modrić or Ivan Rakitić) would step out to press the center-back on their side when they had the ball. In tandem with this, the far-sided midfielder would step up before the predictable pass across had even been played. As a result, it gave no time for the receiving center-back to think or turn and so play went back to David De Gea.
Spain's play in possession was quite predictable and Croatia managed to cause some turnovers. Especially in wide areas, where the wide midfielders did a great deal in blocking access into the fullbacks and the subsequent attempts to find midfielders ahead of them. Spain were not finding ways to open up gaps in the home side's midfield.
Their best hope of quicker progression seemed to be fielding long diagonals from Martínez to Rodrigo once Saúl Ñíguez had made the run inside to open the flank up. However, nothing dangerous resulted from this.
Spain improve with a back-three
Spain changed to a back-three in their build-up and it vastly improved their ball circulation and progressing the kept the ball. The conservative positioning of Jordi Alba and Sergi Roberto before had allowed Croatia's wide midfielders to push up high. Now, both Andrej Kramarić and Ivan Perišić were having to become second fullbacks, as Alba and Roberto became wing-backs. In the center, Saúl and Ceballos partnered each other, with Busquets dropping back to form the back-three.
With the wide midfielders filing in closer to the defensive line, Spain had more success playing into the inside forwards (Isco and Rodrigo). Naturally, with more consistent advancements down the flank, Croatia were forced deeper.
Things were still not quite clicking in attack, however. In their new shape, the connection into the attacking players was weak. At times Isco – comparable to his role at Real Madrid – started to drop deeper centrally meaning now Spain were now at times displaying a 3-5-2 shape.
Croatia's direct transitions
All in all, Spain reacted to Croatia's deep defensive organization with some positional changements. It steadily improved their build-up, but chance creation still left a lot to be desired. The fact Croatia did not amount to much on that department as well, made this a first half that offered little in both penalty area's.
Whilst the Croatians did try to play out from deep when necessary – and, with some ease against a weak press from Spain – they often resorted to long, direct balls. Following turnovers, the aim would be to get it over the top for Perišić and Rebić. The latter was a constant menace throughout, pouncing on every loose ball.
Perišić managed to work himself an early chance thanks to this. Rakitić, in the eighteenth minute, sent Perišić surging down the left flank. He cut in onto his stronger foot easily enough as his near post effort was denied, not only by De Gea, but also then by the post.
The same patterns, different results
Not too much had changed at the beginning of the second half. The one catalyst for a livelier pace to the game was that Croatia had to win in order to stand a chance of winning the group. Croatia continued to defend well, and just short of ten minutes into the half, their press forced a mistake by Sergi Roberto. Kramarić picked up the loose ball and scored the opener, as the host's great defensive work finally paid dividends.
But, within no time, Spain had drawn back level. An aggressive turnover inside the opponent's half gave them a chance to respond, as they cleverly weaved their way through a sparse Croatia defense. Isco then found himself with time to pull it back to Ceballos for a tap-in.
Alba's and Roberto's aggressive positioning
Alba and Roberto were starting to position themselves higher up the field again, more as wing-backs. In the 63rd minute it showed promising signs of paying.
Roberto caught Rebić out twice as he received in good positions on both occasions. His low cross in front of the defense forced a parried stop from Livaković, which only allowed Aspas to get a free hit at an open goal, however, his effort went out off the bar.
The highly-positioned fullbacks almost caused some damage on the other end, too. Croatia helped force a mistake from Isco as Brozović sent through Rebić in the space left behind by Sergi Roberto. De Gea pulled off a good stop to deny the attacker. As only the two central defenders and Busquets were behind for protection against a counterattack, Spain were quite vulnerable this way.
Croatia retake the lead against the run of play, Suso makes his mark
It was a bit of a surprise that Croatia managed to get back ahead. Even more of a surprise, though, was just how they did it. From a corner that was taken short, Modrić jinxed to create some space to cross the ball. He whipped it over towards the far post where Tin Jedvaj was completely and utterly free of any marker whatsoever.
Now trailing, Luis Enrique brought on Suso for Saúl and switched to a midfield diamond. Substitutes Asensio and Álvaro Morata were placed up front and it was the former's movement to the ball that afforded space for Roberto to run into inside. The overloading run was expertly picked out by Suso before the defender-come-midfielder miscued his effort. Unfortunately for Spain, Morata somehow managed to squander a free back post header into a relatively open net.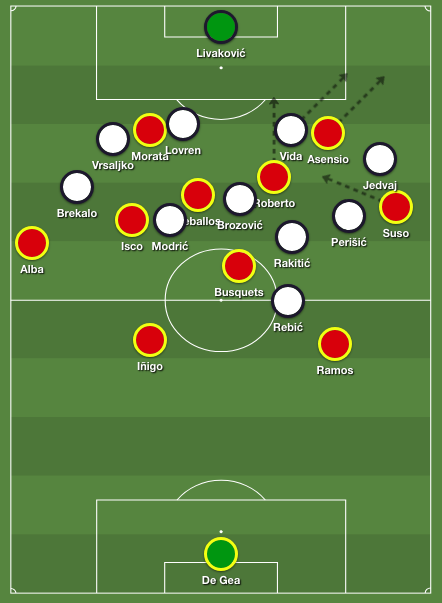 The specific pattern that unlocked Croatia's defense a couple of times. 
No more than a minute later Suso contributed well again. His in-swinging cross ricocheted off the arm of Vrsaljko, who was deemed to have hand-balled it. Sergio Ramos converted the ensuing penalty as Spain drew level.
A scrappy but decisive end
Despite the continued 'end-to-end-ness' of the match, nothing clear cut was being created in the final fifteen minutes. Each team was beginning to tire, which was more than evident in the wastefulness of each attack.
It took until late in stoppage time before anything of note came about. With the onus on the home side to get the win, their committing of bodies into the box finally paid off.
Perišić kept a loose cross in before laying it off to substitute Josip Brekalo. The attacker dummied inside before shooting at goal. His effort was saved but De Gea could only push it as far as Jedvaj, who came in at the back post to put Croatia ahead once again, the left back becoming Croatia's unlikely hero, as he scored twice. As Croatia literally scored in the dying seconds of the game, Spain were unable to amount a comeback.
Standings Europa Nations League A, Group 4. pic.twitter.com/cfbhpBFssK

— Erik Elias (@erikelias_) November 16, 2018
Takeaways
If you had to pick one game to advertise the UEFA Nations League and what it has brought to the table, this would probably be it. It had everything. Two strong footballing nations going toe-to-toe in an intense tactical affair that managed to throw up five second half goals.
The resulting scenario is even more extraordinary. Thanks to Croatia's win, all three Group 4 teams can take first place in Sunday's clash between England and Croatia now, which makes that a must-watch game of football.
Use the arrows to scroll through the expected goal plots, passmaps and other available match plots.