SD Eibar – Real Madrid: Solari suffers first defeat as Real Madrid manager against brilliant Eibar (3-0)
Santiago Solari's perfect start as Real Madrid manager was brought to an end by a passionate and intense performance from Eibar. Problems from the Lopetegui era are yet to be solved while their hosts recorded arguably the best result in the history of the club.
Eibar went into this match off the back of a 0-0 draw with Valladolid. José Mendilibar brought in Iván Ramis to play in central defense for the home side as well as Sergi Enrich and Kike to play together up top in a 4-4-2.
Real Madrid's new manager Santiago Solari has enjoyed a comfortable start to life at the helm, recording four wins in the first four games he coached. Following a brief experiment with Bale on the left flank – against Celta de Vigo – Solari now opted to play him on the right, while Marco Asensio played on the left of a 4-3-3 shape. Dani Ceballos continued his interim role of holding midfielder in the absence of Casemiro.

Eibar set the tempo with high press
It was clear from the first moment that the home side were not going to sit back and let Real Madrid run them over. They set themselves up in a 4-4-2 shape that was positioned high up the pitch, allowing them to press the Madrid backline.

The two strikers, Sergi Enrich and Kike, harried the opposition centre-backs. In some cases this involved one of them pressing the ball while the other hung back and blocked off the pass into Ceballos. Other times, both forwards were pressing.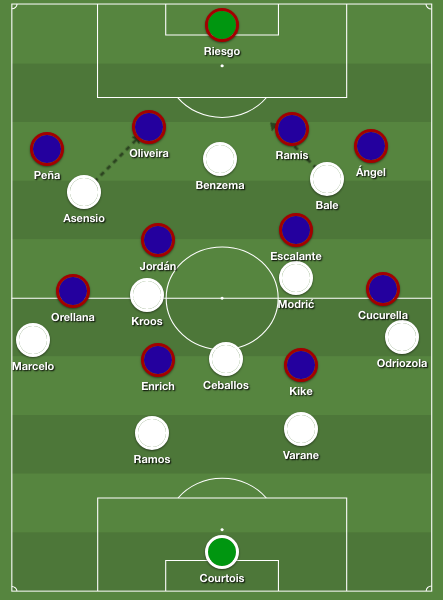 Real Madrid's 4-3-3 formation was successfully derailed by Eibar's sturdy 4-4-2 shape

This was backed up by a flexible midfield line of four that were able to mould themselves to fit Real's buildup. Marc Cucurella and Fabián Orellana alternated between pressing the opposition fullbacks and tucking in to block access to the midfield. The double pivot  4-2-3-1 is one of the most frequently occurring formations in football. The two most defensive midfielders are called a 'double pivot'. of Gonzalo Escalante and Joan Jordán took up deeper positions and prevented central progression.
As a result, Real Madrid struggled to penetrate. In theory they had an extra central midfielder and should have been able to create a three-versus-two in midfield. This was prevented by the compactness of Eibar and their ability to block off passing lanes towards the middle of the pitch.
Despite Eibar's excellent tactical setup, Real Madrid were able to fashion a few opportunities. These mostly came from the darting movements of the forwards in behind Eibar's backline. The channels between the center-backs and the fullback were particularly fruitful as the front three caught the likes of Rubén Peña and José Ángel ball-watching from time to time. For the most part, however, meaningful ball progression eluded them as their two playmakers Toni Kroos and Luka Modrić struggled to get into the game.

Fast and direct attack catches out Real Madrid

Eibar's traditional 4-4-2 shape proved surprisingly productive going forward. Only a few minutes into the game, a flick-on resulted in a Kike shot that hit the post. A warning of things to come.
Real pressed in a 4-1-4-1 shape, which is very easily transitioned into when a team is playing in a 4-3-3 formation in possession. Central midfielders Kroos and Modrić stepped up onto Eibar's midfielders, as the two wingers were tasked with pressing to the fullbacks.
Eibar's answer to this was simple: a fast and direct style that left no room for a ponderous buildup. Long balls up to the two forwards resulted in knock-downs and lay-offs that were picked up regularly by Eibar's midfield line. Gaps in Real's shape, either side of Ceballos, turned out to be good areas for picking up second balls and kickstarting fast attacks.
The two wingers, particularly Cucurella, pushed forward and provided width to the attack. This allowed for switches of play during possession and rapid transitions into the wide spaces when counterattacking. It was that very same Cucurella who burst forward off a Madrid corner and whipped in a cross that resulted in the opening goal from Escalante, in the 16th minute.

Eibar take control as Real Madrid chase the game in the second half

Desperate to get back into the match, Real took up possession at the start of the second half and attempted once again to break through their opponent's well structured defense. Marco Asensio started to drop off the forward line more, in order to offer a passing option during buildup, but the European champions still struggled to progress play through the middle.
Only seven minutes after the break, Álvaro Odriozola was dispossessed inside his own defensive third If you divide the pitch in three horizontal zones, the defensive third is the area closest to a team's own goal.by Cucurella, who played the ball across goal for Enrich to finish. Converting the first half-decent chance after scoring the opener, Eibar showed a quite lethal combination of nullifying Real on one end, and being efficient with their chances on the other end.
After his mistake, Odriozola was promptly substituted, presumably injured by the challenge from Cucurella. The more experienced Carvajal came on in his place and immediately provided more to the attack, overlapping regularly and putting in crosses.
2-0 down, Real committed even more bodies forward and gaps started to open in their shape. Escalante won a duel in midfield, once again inside Madrid territory, and the resulting counterattack resulted in a third goal scored by Kike. A flurry of chances followed, most notable for Orellana, who got in behind Marcelo and almost scoring a fourth.

Solari searches for central penetration
In the 63rd minute, Isco was brought on for the invisible Modrić, who quietly is experiencing one of his least influential seasons for Real Madrid, so far. It altered the run of play a bit, as Real were able to progress the ball a bit more fluidly.

Just like in the first half, they looked to get balls in behind the quick forwards, but were now able to do so more systematically. Carvajal pushed up to support play down the right while Marcelo cut inside from the left. Isco became something resembling an attacking fulcrum, releasing both Bale and Benzema in the space of a few minutes.
Unfortunately for Real, Eibar implemented a surprisingly well executed offside trap and their through balls became less and less productive. Furthermore, the first phase of their buildup remained weak, as Eibar were still directing play into wide areas and forcing turnovers. Meanwhile the defensive gaps that had plagued Real Madrid all game were still there.
In the end, Real never really looked like mending the damage that had been done, and Eibar kept the three points. A truly astonishing performance from one of LaLiga's minnows, who keep punching above their weight.
Takeaways
Santiago Solari's winning start as Real Madrid manager came to a humiliating end as familiar problems came back to haunt them. The post-Ronaldo possession problems appear to still be there despite some tactical tweaks in recent weeks. Not only did they struggle to penetrate, but turnovers in dangerous areas allowed their hosts to cut through them time and again. This was not helped any further by a defensive transition game that was full of holes.
Eibar meanwhile recorded their first win over Real Madrid in the club's history. Their intense and direct style was unimaginably productive at both ends of the pitch. A tenacious pressing game and rapid forward transitions made a mockery of their glamorous opponents. The scoreline certainly did not flatter them, as is clear from the Expected Goals  The amount of goals a team is expected to score based on the quality of the shots they take. charts below.
Use arrows to scroll through the expected goals plots, pass maps and other match plots.