Eintracht Frankfurt – Chelsea: Frankfurt's Brilliant Defensive Plan Frustrates Chelsea (1-1)
European semi-finals are often highly anticipated, entertaining and thrilling tactical battles. Eintracht Frankfurt versus Chelsea was no different. Against a compact, man-marking and aggressive pressing unit, Sarri's team struggled throughout, but adapted and were able to claim an important away goal.
Tactical analysis and match report by Joel Parker.
Both these clubs sit in fourth place in their respective leagues, yet their views on the Europa League competition could not be more different. Being in the Champions League is an expectation for Chelsea and one could even make the argument that competing on Thursday nights has been more of an inconvenience than a benefit for Maurizio Sarri's team. However, now they are this far in, it would be a shame to not grasp the opportunity to win a European cup.
Eintracht Frankfurt's view on this competition is polar opposite. An incredible comeback at home to SL Benfica meant that this is their first European semi-final since 1980. The fact that Adi Hütter has not only led Frankfurt to this point in Europe but improved the club's position in the league as well is testament to his work so far as manager.
Hütter's high pressing schemes and quick attacking sequences have developed Frankfurt into Bundesliga and Europa League surprise package. With no Sébastien Haller or Ante Rebić available, the hosts adapted, as Mijat Gaćinović and Filip Kostić came in to replace them. Frankfurt started in a 3-5-1-1 shape, the threat of Luka Jović something the Chelsea defense had to be well aware of.
Sarri's tactics have been questioned regularly, Chelsea's Premier League form being inconsistent throughout the season. However, in the Europa League, Chelsea have absolutely dominated with their ball-orientated play and high pressing tactics being far too much for many of the teams they have had to face. Chelsea's team was very predictable, Sarri continuing with his 4-3-3 formation. Eden Hazard started from the bench and was rested, but the Italian manager still fielded a fairly strong starting eleven, with plenty of Chelsea regulars in the line-up.
Frankfurt's mid-block and man-marking stops Chelsea control
Against the majority of this season's European opponents, Chelsea usually rack up a ridiculous amount of possession. Sarri's team also did this in this match – averaging almost seventy percent – but Frankfurt's brilliant defensive setup resulted in plenty of turnovers and pressing traps out on the flanks. With both teams having a high number of players in the center of the pitch, whoever would win the midfield battle would instantly have the upper hand.
Frankfurt created a three-versus-four overload When one team has more players in a certain area or zone than the other team. in the middle of the pitch. With Gaćinović dropping back and constantly focused on Jorginho, this left Makoto Hasebe as the free man in the middle third, who could roam and target whoever else was on the ball.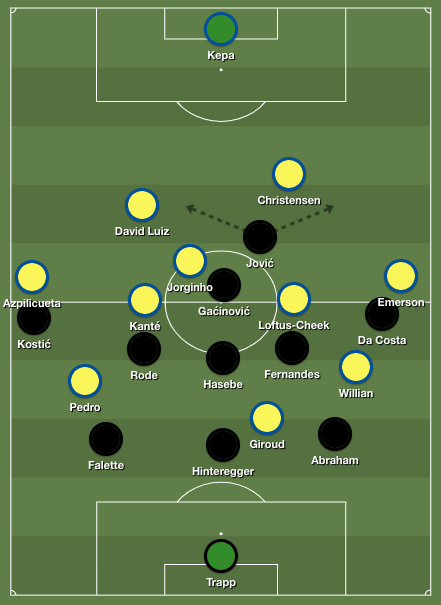 Frankfurt's defensive setup, giving them an overload in midfielder and positional superiority in the low block.
This caused Chelsea huge problems when they were trying to progress the ball forward. When David Luiz or Andreas Christensen attempted to spread the ball out wide, Frankfurt would drift towards that flank, covering plenty of passing lanes and quickly pressing that player out of play.
Frankfurt did not break into rapidly pressing the opposition until the ball was in their half. They excelled in covering passing lanes, which forced Chelsea to attempt risky, long passes forward – gathered up quickly by the Frankfurt midfield. At times, Sebastian Rode could step out of the midfield line, which helped pin Chelsea players in their own half and caused them to give possession away cheaply.
Frankfurt take the lead, but Chelsea start to get back into the game
As Chelsea opted for slow, pedestrian passing, Frankfurt were quite the opposite. They aimed to catch the opposition defense out of shape with fast, vertical passes on the counterattack. Luka Jović often dropped deep, between the lines, to be involved in attacking transitions and spread the ball out wide. This is when Frankfurt would flood players forward, with the Chelsea midfield already surpassed, the backline was often pulled out of position and space being created… most notably behind the far fullback which was not exploited enough.
Utilizing the counterattack played a huge part in Eintracht Frankfurt's goal. After heavily overloading the right flank, Frankfurt would regain possession and instantly be behind the Chelsea midfield. Filip Kostić received the ball on the left channel which made more space in the middle and just in front of the Chelsea center-backs. Jović adjusted himself brilliantly to connect with the cross, and after what seemed like minutes, the ball bounced perfectly into the far corner to give Frankfurt the lead.
Chelsea continued to struggle against Frankfurt's medium block, A medium block refers to a team that retreats in their own half out of possession, generally only disrupting their opponents some way into their own half. but would eventually start to get a foot back into the match. A big part of this was due to Ruben Loftus-Cheek, who was not only resistant to the press but has the technical ability to carry the ball and link with the players around him. It was in fact Loftus-Cheek that started to have the first opportunities at goal, once the midfield line was broken, Chelsea had the space to create.
Pedro replied before half-time, the visitor's pressure eventually paying off for them. Following the first phase from a corner kick being dealt with, Loftus-Cheek opened space for Pedro, having dragged three markers on him. His finish into the far corner was superb, opening his body up and firing in on his left foot. Meaning the game went into the break with a level score.
Chelsea's buildup is much better but fails to create good enough chances
Having struggled to progress the ball effectively for long periods, the visitors adjusted in their buildup and started to create fantastic chances at goal. With the backline dropping deeper, this stretched the pitch further and space started to appear in the middle third. Using multiple up-back-and-through passes, Chelsea progressed the ball much better in the second half.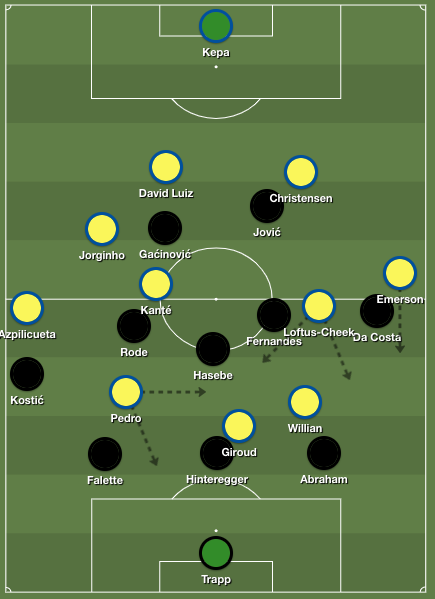 Chelsea's shape in the buildup throughout the second half.
Jorginho's position in the buildup also changed, constantly rotating from the space between both center-backs to the right side of David Luiz. Although this solution was not perfect, it did allow Jorginho more time on the ball in order to pick a pass forward instead of being man-marked out of the game by Mijat Gaćinović.
Chelsea's strongest attacking asset was Loftus-Cheek, who alone completed double the amount of dribbles than anyone else on the pitch (nine out of eleven attempted). With him beating Frankfurt's press, they were often caught out of shape and plenty of room was being created on the break for Chelsea.
Having been pulled out of position and losing their superiority, Frankfurt were noticeably more tired, but Chelsea did not create good enough chances to give them the lead. Even when Eden Hazard entered the field to replace Willian, they still couldn't test goalkeeper Kevin Trapp seriously.
This resulted in a late surge forward by the hosts, Gonçalo Paciência coming on in midfield to provide fresh legs and rejuvenate some more of Frankfurt's pressing play. The captain David Abraham had the best chance to win the game, unmarked, in the six-yard box from a corner kick, but could only head the ball wide.
Takeaways
Both teams had positives and negatives throughout the course of the match, but both Eintracht Frankfurt and Chelsea should be content with a draw. Chelsea dominated possession, obviously, and eventually found the access into their attackers, but came nowhere near the quality of attempts at goal that they should have created. Olivier Giroud's involvement in the game was minimal, not having a single shot at goal and relying on balls being pumped forward for him to control.
Eintracht Frankfurt's defensive plan was imperious, structured and efficient in stopping Chelsea's buildup play, but as the match progressed, they found themselves more open. Perhaps against a sharper, more dynamic team they would have been punished. Overall, Chelsea got the important away goal, but the scores are tied, and Frankfurt showed they are well capable with competing against one of the clear favorites since the start of the Europa League campaign.
Game on at Stamford Bridge!
Use the arrows to scroll through all available match plots.