England – USA: England Unable To Solve Pressing Puzzle (0-0)
The free-flowing attack that England had shown against Iran was not to be seen here, as they were stifled by a well-organized pressing scheme by USA. Not only did England struggle to progress the ball, but they also ended up conceding more possession in the second half as well, putting USA in control of the game which eventually ended goalless.
Tactical analysis and match report by Josh Manley.
England kicked off their World Cup campaign with a comfortable win over Iran this week. Gareth Southgate decided to stick with the same lineup that had started that game, meaning England started here with a back four of Kieran Trippier, John Stones, Harry Maguire, and Luke Shaw, while Declan Rice and Jude Bellingham were in central midfield. The three attacking midfielders in the 4-2-3-1 shape supporting Harry Kane up front were Bukayo Saka, Mason Mount, and Raheem Sterling. 
USA meanwhile had drawn their first game of the World Cup against Wales, conceding a second half equalizer after having the better of proceedings in the first half. Gregg Berhalter lined his side up in a 4-4-2 shape here. The back four consisted of Sergiño Dest, Walker Zimmerman, Tim Ream, and Anotnee Robinson. Weston McKennie started wide on the right as Tyler Adams and Yunus Musah were central and Christian Pulisic played from the left. Timothy Weah then joined Haji Wright in attack.
USA's strong pressing
England probably expected to have the majority of the ball in this match, and this was true for the first half at least. The pattern of the game in this period saw them trying to break down the USA pressing scheme, and having little success in doing so.
USA started from a mid-block in their 4-4-2 shape. Weah and Wright as strikers were focused on using their cover shadows to prevent passes into Rice or Bellingham in England's central midfield, instead forcing England into u-shaped circulation along the backline.
England generally lacked ideas for getting players free centrally. Their attempts to go forward often led them to attempted wing attacks. One ploy here was to have a winger drop to attract the USA fullback forward, while Mount would make a run into the vacated space behind the fullback.
This was a potentially effective strategy but in the end was not enough to ensure ball progression. Kane's hold-up play on the rare occasions where England could find passes into his feet was brilliant, but the ball often ended up having to go backwards still.
USA prevented England's central progression in their 4-4-2 arrangement.
USA's pressing shape also had some asymmetry and could appear as a 4-3-3 arrangement in some scenes. Pulisic often stationed himself higher than McKennie did on the right, especially when USA got forced slightly deeper. Musah would then shift across to the left slightly provide cover, pulling McKennie and Adams across with him in a temporary chain of three.
This temporary arrangement was actually useful for USA in blocking the central lanes after England had a couple of isolated sequences in the first half where they had been able to break lines, finding Bellingham positioned between Adams and Musah.
Overall, England struggled to generate tempo when they had the ball. This was contributed to by the pressing of USA, who had a solid level of compactness and coverage, while also operating at a higher intensity than England for much of the game.
England cede possession
England's own pressing in the first half had not been great. USA had excelled in covering the opponents' number six zone to prevent attacks being launched centrally, and this is where England were poor. It was not too difficult for USA to find the first short pass into midfield, from which attacks could be launched.
USA attacks often concluded towards the right side of the pitch. Weah and McKennie were energetic actors here, supported by Dest from right back. Going into the second half, USA attacks increased in frequency as they gained a more equal share of possession.
England's approach here was somewhat strange. They seemed to lack impetus to control the game as they usually do. Instead, USA were able to force them back for several spells during the second half and dictate the tempo.
This was particularly pronounced in the first fifteen minutes of the second half. Southgate needed to shake things up, and he went in a slightly surprising direction with just over twenty minutes remaining as Jordan Henderson was brought on to replace Bellingham. Less surprisingly, Jack Grealish was also introduced in place of Sterling.
Henderson's introduction was perhaps an attempt to bring some on-pitch leadership to a flat England side. In the first few minutes after he was introduced, he was evidently trying to encourage more pressure on the ball, and for the ball to be moved more quickly when England had it. He spent more time in deeper areas than Bellingham, trying to create more connections for the England buildup.
For much of the last twenty minutes or so, neither team attacked particularly well, and the eventual 0-0 draw started to look most likely. England did rally slightly towards the end with a couple of set-piece situations which looked promising, while the USA attacking dropped off slightly compared to what it had been earlier in the half.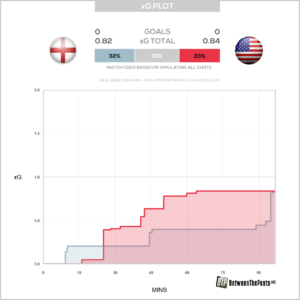 Takeaways
England are still likely to make it out of the group in good shape regardless of this result, but the performance will need to improve in future. In possession, there was a lack of tempo and a lack of solutions once the central options in midfield were cut off. Defensively, the intensity was not always great, especially in the USA spell of dominance early in the second half.
For USA, this was a good performance. They had shown similar characteristics in the first half against Wales, but were able to sustain themselves better here. Their pressing looks well organized, and they have a good engine room for this playing style with the likes of McKennie, Adams, and Musah in midfield. Berhalter's side now face Iran, knowing that a win would secure their place in the knockout rounds.
We've decided to make all of our World Cup 2022 content freely accessible for everyone. If you want to support our project, please consider taking a subscription.
Between the Posts has also decided to donate all returns generated during this World Cup to Amnesty International.
Use the arrows to scroll through all available match plots. Click to enlarge.
Check the match plots page for plots of other matches.