FC Porto – FC Krasnodar: Disastrous First Half Send Dragons Out of the Champions League (2-3)
Sérgio Conceição risked too much for a team that was ahead in the tie, as Porto lost the control shown in Russia last week. Lethal on the counter, Krasnodar built a three goal advantage that was too much for Porto to recover from.
Tactical analysis and match report by Sérgio Sampaio.
The celebrations after Sérgio Oliveira's late goal in Krasnodar last week seemed to have been ages ago. While Krasnodar had followed that defeat with a victory over Rubin Kazan, FC Porto were humbled by Gil Vicente, a team that last season was playing in the Portuguese third tier and was promoted by a court decision.
That upset certainly contributed to Conceição's decision to make several changes to the side. New signings Renzo Saravia and Shoya Nakajima made their debuts, while Luís Díaz was called into the starting eleven for the first time. More significant, the inclusion of Nakajima to play behind striker Moussa Marega suggested a departure from the usual high intensity vertical game Conceição got us used to.
Murad Musaev remained more faithful and changed only one player from last week's game, with Magomed-Shapi Suleymanov taking Younes Namli's place on one of the wings in Krasnodar's 4-2-3-1 formation. With Ari joining Yury Gazinsky and Viktor Claesson in the medical department, the main doubt ahead of the game was whether Ivan Ignatyev or Marcus Berg would spearhead the attack. Although the young Russian prospect scored the winning goal during the weekend, it was the experienced Swedish international who got the nod.
⏱Início de Jogo! / Kick-off! / ¡Empieza el partido! #FCPorto #FCPFCK #UCL pic.twitter.com/FNZGNEsXbH

— FC Porto (@FCPorto) August 13, 2019
Porto's lead cancelled from the start
The game started the way the first leg ended: with an away goal. Two minutes after the start Tonny Vilhena had beaten Augustín Marchesín to put the tie level from a corner. FC Porto's mixed marking had left the Dutch midfielder alone to attack the second post. You can see just before the corner Saravia was struggling to choose whether to mark Vilhena or Uroš Spajić, ultimately choosing the Serbian center-back. The zonal markers attacked the ball on the first post, but Danilo's header unluckily went behind straight to Vilhena. Saravia, who at this point was not marking anyone, still tried to react but arrived too late.
Suddenly, Porto had lost their lead in the tie and had to adapt from the start to the necessity of scoring. What followed was a disaster of a first half.
Example of Porto in the offensive phase against Krasnodar's defensive 4-4-2 shape. The ball is represented at Corona's feet.
Porto's sins
The inclusion of Nakajima instead of a striker was an attempt to be more focused on possession, and not as vertical and constantly looking for the ball in behind. A sound idea for a team that was ahead in the tie. The problem is a team does not achieve changing their style by just changing a single player. 
Nakajima shone at Portimonense, as an attacking midfielder that linked play together, whether in the center or from the left, but he needs support, he needs the right kind of players around him to look for combinations. That has not been Porto's way in the Conceição era and that would not change without proper work in that direction in training, of which there was no evidence of in this game.
Marega was still constantly asking for the ball in behind, Jesús Corona and Luis Díaz, both coming inside from the wings, were largely just improvising every action, and Nakajima's ability to influence the game was significantly reduced. His performance was poor, and there were several poorly executed actions, but one has to take into account this context.
With this lack of collective ideas and styles mismatch, the usual problems arose. Porto had enough presence between the lines and through superior individual quality they managed to get to the final third EXPLAINER often, but as always lacked the ability to get into the box and create high quality chances and instead resorted to crosses and long shots over and over, even when there were better options available.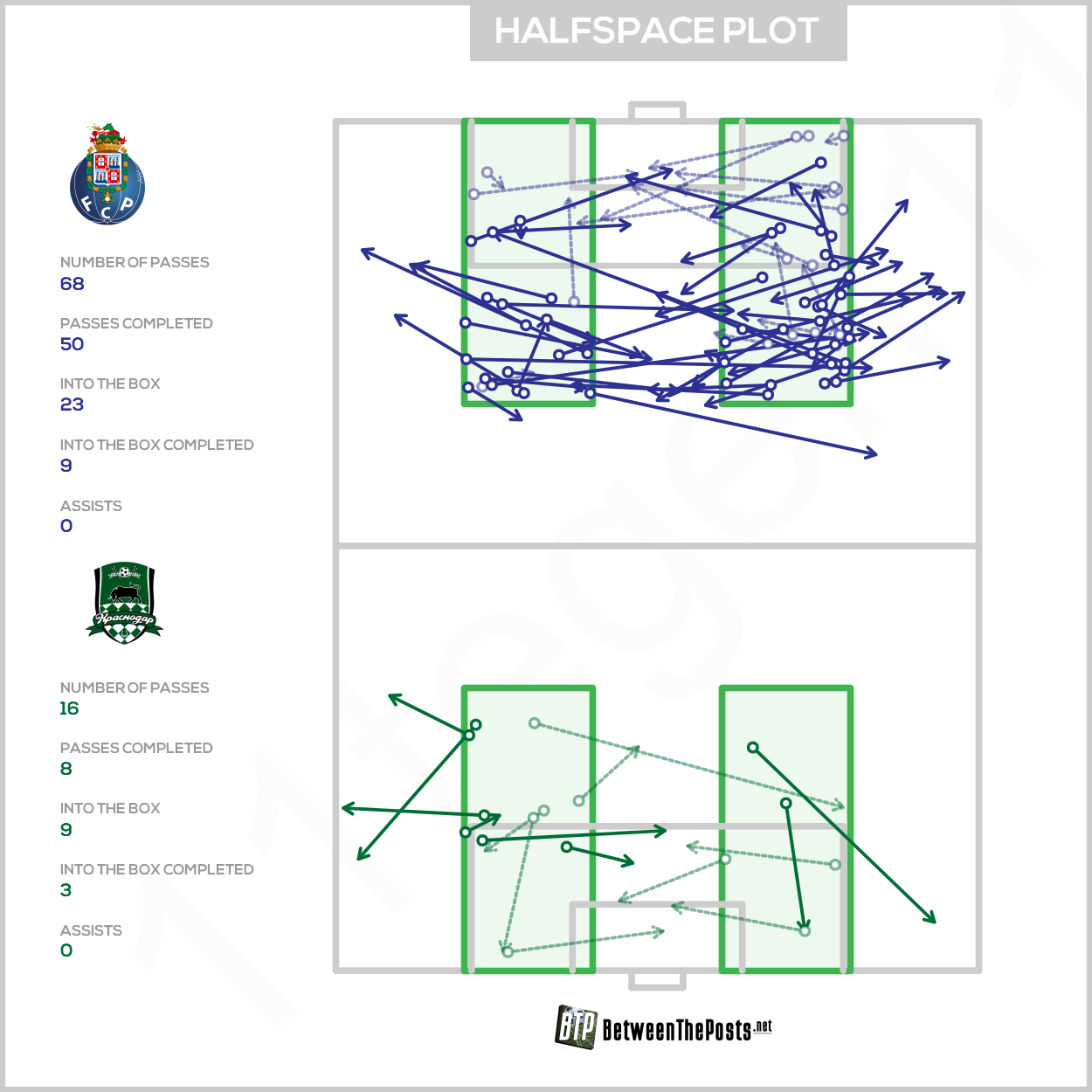 Those bad decisions not only led to lower probability chances, but at times were also dangerous for Porto's defensive transitions. Krasnodar's second goal was the perfect example. Benefitting from a dangerous free kick from a central position – although somewhat far away from goal – Porto played short to break the wall and then Sérgio Oliveira attempted a shot from afar. At that moment, he still had all of the wall players ahead of him, he had four teammates inside the box against four Krasnodar defenders and another to his right with space. 
Oliveira opted for the shot and it was blocked by the wall players, as it was likely to be. Worse, Porto lost possession in a situation where they were unbalanced. Porto counterpressed EXPLAINER as usual, and Marega and Danilo could have won the ball back, but Krasnodar had superiority – remember there had been a four-player wall there – and both tackles merely led the ball to another opponent. 
On the counter, Krasnodar attracted Porto's fullbacks, who had stayed behind to one sided before sending the arriving Suleymanov one-on-one on the other. The youngster's two touches are perfect before putting the ball through Marchesín's legs. Complete naïveness from Porto, from the decision of taking a shot in that situation to not realizing they couldn't afford a counter in that situation and not fouling straight away.
Porto's pressing was also less effective than last week, and although that could also be attributed to playing with Nakajima instead of with two strikers that work so hard off the ball like Marega and Soares, Krasnodar have some merit too. After last week's struggles, the Russians adapted by bringing Cabella deeper to offer support and create superiority when building up.
Things went from bad to worse in the 34th minute, when Krasnodar took advantage of Alex Telles being assisted off the pitch. Luis Díaz dropped temporarily to the left back position, but Nakajima did not compensate by taking the Colombian's place in the left side of the midfield. Krasnodar recognized the situation and intelligently attracted Porto to their right before exploring the space on the weak side. Suleymanov went one-versus-one against the inexperienced Díaz, who actually showed him to his strongest foot. Suleymanov happily complied, cut inside and took a perfect shot towards the opposite bottom corner.
Porto's reaction more heart than brains
In the second half, Krasnodar dropped their block and started committing fewer players to their offensive transitions in an attempt to contain Porto. This allowed Porto to be more aggressive, move their midfielders further up and risk more and more. Porto were to lay siege to Krasnodar's box, but not before the Russians had a golden chance to score their fourth. Nothing compared to the first half counters, as here only two players were going forward against a balanced Porto defense, but Wanderson was enough to bring the ball forward from the left, easily shaking off Nakajima's pressure and also leaving Danilo, who was covering behind with a change of pace. His low cross found Berg after a missed Marcano interception and only Marchesín saved Porto from further humiliation.
That was a rare sign of danger from Krasnodar in this half and only because of inadequate defending. The rest of the half was all Porto's, but you would have been be mistaken if you thought their way to the box had changed. There were more bodies forward, some good combinations on the flanks, the only place where Porto could achieve numerical superiority, but the solutions found were still, you guessed it, crosses and long shots.
Low probability chances as they were, there were so many that they eventually succeeded and indeed Porto scored two goals through them. First, a perfect Alex Telles cross found Zé Luís who scored a header against his favorite victim (Krasnodar were the team he scored against the most while playing for Spartak) when Porto had managed to place five players inside the box. Then Luis Díaz scored from outside the box. There was still time to get the winning goal, but Porto tried with more desperation than composure and Krasnodar competently held on to the advantage.
Takeaways
Say what you will about Porto in Russia – the article on the first match of this tie was titled "Porto Far From Their Best" – but they limited a team with very interesting offensive processes to only one serious chance all game. That level of control was nowhere to be seen at the Dragão. 
Some issues are recurrent, but this lack of solidity and weakness in the defensive transitions aren't. And it's true that Porto's expected goal value EXPLAINER ended up being higher than Krasnodar's in both games, as it was higher than Gil Vicente's in the weekend. Another time, Porto could be on three wins from three games with these exact performances and most people would think everything would be alright. But they are not alright, and these results have exposed these problems and others for which Conceição will have to find solutions fast.
Krasnodar advance to the playoff where they will face Olympiacos. The size limit limit didn't allow me to touch on everything I wanted to say and this article ended up being focused more on Porto's problems, but I have no doubt we'll have plenty more opportunities to talk about Krasnodar. Brilliant project with a good coach and attractive football that achieves another significant landmark and are now favourites to reach the group stage.
All match plots are presented in the slider below.