Fiorentina – Juventus: Juve's fluid 3-5-2 formation exploits Fiorentina's pressing (0-3)
League leaders Juventus had very few obstacles to hurdle in order to claim their joint-biggest Serie A win of the season. The fluidity of Juve's possession shape often cracked open Fiorentina's man-marking approach, whilst their diamond defensive setup also stifled their opponents' build-up.
Tactical analysis by Peter M. 
Despite drawing their previous five matches, Stefano Pioli – Fiorentina's manager –  would surely would have taken another draw as a result from this encounter. Juventus have hit ruthlessly strong levels of form this season, dropping only two points so far in Serie A. Pioli made one change from the side that drew 0-0 against Bologna last weekend; swapping out Federico Ceccherini for Germán Pezzella in defense.
Allegri's side featured two changes from the one that won 2-0 against Valencia in midweek; Miralem Pjanić and Alex Sandro dropped to the bench as Mattia de Sciglio and Juan Cuadrado entered the starting eleven. It should be said, however, not in the positions of the players they came into the side for. Cuadrado played a hybrid part wing-back, part central midfield role as Rodrigo Bentancur took up Pjanić's position. And, in defense, João Cancelo was fielded at left back to accommodate De Sciglio's inclusion as a right-back-cum-center-back.

Juve dominate against Fiorentina's high press
Juve played a 3-5-2 formation in possession. Cuadrado and Cancelo were the wing-backs in this shape, Mattia de Sciglio dropped deep to become the right-sided center-back of a three, as Paulo Dybala acted as a third central midfielder on the same side. This left Cristiano Ronaldo and Mario Mandžukić further ahead as the strikers.
Having clearly done their homework and showing some bravery, Fiorentina set out to go man-against-man in their press. They displayed a 4-2-1-3 formation in pressing, which included the deepest midfielder – Jordan Veretout – stepping up from his holding midfield position to block access into Juve's playmaker from deep, Bentancur.
Fiorentina's defensive shapes varied across the pitch. The deeper they were forced, the more defensive it became. Starting in the aforementioned 4-2-1-3 shape, it reverted to a much more zonal-based 4-1-4-1 formation, before then becoming a 5-4-1 block A defensive block is the compact group of defenders that defends a particular zone, either their own half in a medium defensive block, or the zone around their own box in a deep defensive block. as their right-sided attacker, Gerson, eventually became the right-sided wing-back when Juventus managed to progress the ball op the field.

Juventus have little problems in possession
Unfortunately for Fiorentina, Juventus did not struggle much at all in trying to break down any of the aforementioned setups.
When pressed high, the fluidity of their positional rotations and movements to and from the ball caused havoc for the opposition. Down the left – where a lot of the early phases of build-up were focussed – Blaise Matuidi would move into all kinds of positions; not just to receive, but also to open passing lanes into teammates.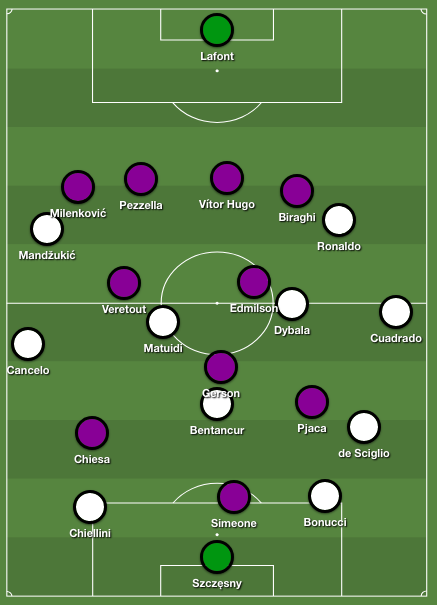 Fiorentina set out to press Szczęsny but Mandžukić's positioning gives him an easy out ball into Cancelo.
In one instance, Matuidi moved closer to the center to drag inwards his man-marker. In doing so he opened the route to Mandžukić. From there, the Croatian center-forward combined with Ronaldo and played through Cancelo, who only had one man to beat. Nikola Milenković cynically took him down and Juventus were awarded a free kick on the edge of Fiorentina's box.
On top of Matuidi's movements – which sometimes also consisted of him dropping into the position of left back – were the roles of the strikers. Mandžukić had a strict position, staying high and wide on the left. This seemed like a good way of excluding Fiorentina's center-back on that side from being able to mark or press anyone, thus allowing Juventus to create a free man higher up the pitch.
That man often was Cancelo. With space all around him now, he was a constant target for Szczęsny from goal kicks. His ability to drive with the ball was a valued asset to ball progression, and to make sure Juventus could play on Fiorentina's half.

Fiorentina's disorganized defensive shape proves costly
What ultimately cost the home side was not their man-marking approach when pressing, but instead, their recovering defense. The opening goal, set up by the excellent Bentancur, highlighted a worrying disparity in willingness to press in Fiorentina's team.
The midfield was always lively in this match, never looking void of energy. They were tireless. However, on occasions when Juventus retreated back having gotten to their opponent's box, Fiorentina seemed quite unalert.
When Bentancur received in the center, only Veretout stepped out to pressure the Uruguayan. The defense remained static up against Ronaldo and Dybala. The latter drifted across in front and easily combined with the midfielder. Ronaldo then made a clever run to the right which fooled both defenders. After dummying with the ball, the space was open for the shot and the goal now gaping. Bentancur slotted it coolly into the far corner along the turf. 0-1 to Juventus after half an hour of play.
In the second half, a recurring lack of synchronicity cost the home side once again. This time from a short corner kick, which had been cleared. The already vacating players were sluggish in their attempts to get out. Resultantly, Giorgio Chiellini got on the end of a hopeful header played back into the box. His volleyed effort was tipped away by Alban Lafont, however, the spin on the ball brought it curling back inside and into the bottom left corner to make it 0-2.

Juve's diamond halts an inventive Fiorentina possession setup
Just as Allegri did, Pioli's side played as a back-four in defense and back-three in possession. Also similarly, the right-back for Fiorentina, Milenković, became the third center-back. In the center, a mostly isolated figure in Veretout was the main central midfielder . In a slight twist, Federico Chiesa was the nominal left wing-back and Cristiano Biraghi, the usual left-back was tasked with moving inside, into midfield, so to open the avenue into the winger. By doing so, he could drag inwards Cuadrado – who was positioned on the right of Juventus' midfield diamond.
Fiorentina's back-three buildup shape with Biraghi moving inside to open the route into Chiesa.
In Juve's press, Dybala would push up further, vacating the number six, Veretout. In line with this, Bentancur, like Veretout in the reverse situation, would push up onto his opposite number.
With the short angles covered and Juventus continuously upping their aggression towards the ball, the home side opted to go wide to Chiesa more often than not. It was a low-risk approach, playing into an area well away from goal, but it was not one that paid off offensively-speaking.

Fiorentina find glimmers of hope working it wide
Fiorentina's best chances all came from crosses, as Juventus forced them to cross from deeper angles, which was not that bad. The diagonal angle they were crossing at provided great danger and rebound potential as it was being whipped right across the face of goal, with space in front.
The problem the visitors incurred – which is an issue that came up because of the shape they played – was that the wider central midfielders tasked with pressing the full-backs, could not close them down until it went out to them on their side. This meant the deep deliverers had time to play it into the box before Juventus' players had time to close them down.
All of this was clear in the 67th minute when Fiorentina – as they had done so frequently against the 4-3-1-2 turned 4-3-3 – shifted the ball from right to left. Cuadrado burst out to the wings to try and block the incoming cross but could not get close enough. It only resulted in a half-chance that was blocked, but the home side had created other chances by doing just this.

Allegri adjusts and Juventus calmly collect win
After Juve were awarded and converted a penalty to make it 0-3, Ronaldo was instantly substituted off for Federico Bernardeschi. The deeper wide midfielder now gave Allegri's side the ability to play as a 4-4-2 shape. This adjustment enabled them to close down the wide crossers and also helped to stop Fiorentina moving the ball so easily from right to left.
From then on, for the final fifteen minutes, they comfortably saw off their opponents with steady keep-ball and solid defensive work. Once again Juventus picked up a comfortable win in Serie A.
Takeaways
In a lively game that struggled to find real rhythm in its tempo, Juventus unsurprisingly came up as the winner. They deservedly cruised to victory in this new, fluid and intriguing 3-5-2 formation. The win sees them, at least temporarily, open up an eleven-point gap over second-placed SSC Napoli.
Fiorentina – who also displayed plenty of tenacity and invention in their setups – remain in 12th. Their underlying defensive numbers look fine though, and they will probably climb a bit in Serie A's standings over the course of the next few months. A chance to break the deadlock and end this seven game winless streak comes away at US Sassuolo next weekend.
Use the arrows to scroll through all available match plots.