Internazionale – SS Lazio: Impressive Inter Remain On Winning Track (1-0)
Inter had a lot of possession in the first half, without creating major chances. This was down to Lazio's outstanding defensive performance, barring one cross at the second post that was converted by Danilo D'Ambrosio. Trailing by one goal, Simone Inzaghi instructed his team to press higher in the second half. This adjustment proved to be an advantage for Inter, who had the upper hand until the end of the game and continued their winning streak. 
Tactical analysis and match report by Jonas G.
Inter started the new season under new manager Antonio Conte in impressive fashion. They won all of the first four matches in the Serie A, outscoring their opponents nine to one. The start to the season was then topped with a win over rivals AC Milan in the Derby della Madonnina. Lazio's start to the season was not as impressive. Although they started with a win followed by a draw against arch rivals AS Roma, they lost away at SPAL and in the Europa League at Romanian side CFR Cluj. However, after their win against Parma last weekend, they have only seven points after four games. 
Compared to their derby win on the weekend, Antonio Conte changed his team on three positions. Cristiano Biraghi at left wing-back as well as Matías Vecino and Matteo Politano as offensive midfielders were new to the starting lineup. The formation used by the league leaders is hard to describe, as they changed it depending on the game situation. In possession, they played in a 3-4-2-1 shape, which turned into a 5-2-1-2 formation in a medium block A medium block refers to a team that retreats in their own half out of possession, generally only disrupting their opponents some way into their own half. and a vintage Conte 5-3-1-1 formation when Inter defended near their own penalty area.
Following Sunday's win against Parma, manager Simone Inzaghi also rotated his starting eleven, even more than Conte, making a total of five changes. Lazio played in a 5-3-2 formation, with Joaquín Correa and Felipe Caicedo as a striking duo. 
Inter struggles against Lazio's defense
In possession, Conte's team played in a 3-4-2-1 formation. Marcelo Brozović and Nicolò Barella were the two defensive midfielders behind the two offensive midfielders Politano and Vecino. Against this, Lazio defended in a medium block and used a 5-3-2 shape. The two strikers stayed narrow to deny any passes from the center-backs to the defensive midfielders. That forced Inter to start the attacks through the right and left center-back Milan Škriniar and Diego Godín. 
After one of these two players received the ball, one of Lazio's central midfielders – either Sergej Milinković-Savić or Luis Alberto – would move up to pressure the center-back. The wing-backs also moved up to pressure their counterparts. The ball-near striker still closed the passing lane to Inter's defensive midfielder. Because Conte's sides often use passes from the center-back to the wing-back and then directly to the striker, Marco Parolo positioned himself very deep in front of Romelu Lukaku. Through his positioning, he denied low passes into the Belgian international.
Lazio's strikers denied passes to the defensive midfielders and Inter had to build play through the wings. Lazio were then able to create turnovers.
However, the positioning of Parolo came with a risk, too. It created a big hole in the halfspace If you divide the field in five vertical lanes, the halfspaces are the lanes that are not on the wing and not in the center. Because there is no touchline like on the wing, players have the freedom to go everywhere. But this zone often is not as well-defended as the very center. This makes it a very valuable offensive zone to play in and a lot of chances are created by passes or dribbles from the halfspace. which Inter managed to reach via Danilo D'Ambrosio. But their problem in possession was that they were too focused on specific passing patterns, and did not recognize better options. Because Milinković-Savić and Alberto had to move up a lot, the distances in the midfield became very big after Inter switched the sides. After overplaying Lazio's first line of pressure, they could have exposed the holes in the midfield, but failed to do so. 
Lazio's pressing improved over the course of the first half. The space created by Parolo's deep positioning was filled by the striker, who pressured the defensive midfielder in this zone. Inzaghi's side managed to create a lot of turnovers in the first half, but one moment of being outplayed would prove to be fatal for them.. In the 23rd minute, Barella escaped Joaquín Correa's pressure through a dribble and switched sides. A few moments later, Biraghi's cross was headed in at the second post by the other wing-back, D'Ambrosio, to give Inter the lead.
Handanovič secures the lead with his saves
Off the ball, Inter used something like a 5-2-1-2 formation, but these numbers – as is so often the case in football – cannot accurately describe how Inter defended. Lukaku positioned himself on the left side to deny passes to Luiz Felipe, Politano followed the movements of Bastos. Because the left center-back had a more offensive role, Politano often had to follow his runs, and was therefore positioned next to his midfielders. Number ten Vecino followed Parolo and Barella stayed close to Alberto. Lazio rarely passes the ball to the right side but if they did, Brozović had to move up to pressure Milinković-Savić.
Because of these man-orientations, Francesco Acerbi was the free man in the buildup. Lazio struggled to advance the ball into higher areas but improved once they found Felipe Caicedo between the lines. Because of their man-orientations, the central midfielders were not aware of the passing lanes to the striker. Caicedo used lay-offs to his teammates and Lazio could advance.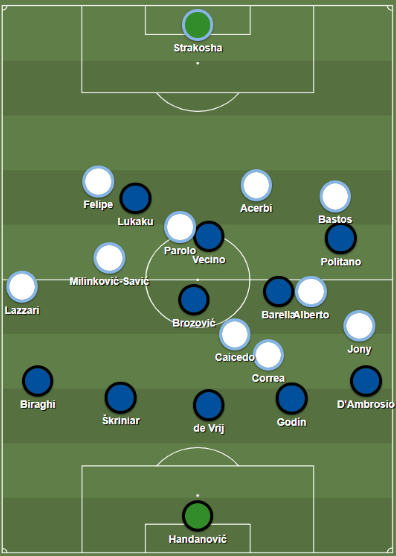 Inter struggled to deny passes to Caicedo between the lines with their man-oriented approach.
In the final third, The one-third of the pitch that is closest to the opposition's goal. Lazio actually had some good positional play going on, however, it is not easy to break down a defense coached by Inter, moreso when it is manned by the likes of Godín, De Vrij and Škriniar. 
Inter's three defenders and central midfielders denied access to the central attacking zones, and Lazio therefore struggled to create chances against an organized defense. However, they created several good chances in transitional moments. Because Inter were not compact in these situations, passes to Caicedo between the lines were possible. He then played to the second striker Correa, but Samir Handanovič saved all of his shots.
Both managers adjust the tactics at half-time
Because Inter had problems in their possession spells with the 3-4-2-1 shape, they used a 3-5-2 formation in the second half. Barella played as the left and Vecino as the right central midfielder with Brozović being the single pivot. Politano did not play mainly in the right halfspace anymore but had a more central role as a number ten.  
On the right side, Vecino – and after his substitution Barella – positioned himself deeper and in front of Alberto. With the high positioning of D'Ambrosio on the right wing, this affected Lazio's behavior in the medium block. Alberto could not move up to pressure Godín anymore because then the central midfielder would be free behind his back. This resulted in a numerical superiority in the buildup which Inter used to switch the ball to the other side and advance.
They dynamics of the second half were mainly influenced by Lazio's decision to go for a more adventorous pressing approach. Because they trailed by one goal and struggled to create chances from open play, Inzaghi opted for a more open game with lots of turnovers. However, Lazio's high pressing was very risky and Inter were consistently able to exploit the holes. 
They started their pressing out of a 5-3-2 shape after Inter played the ball to either Godín or Škriniar. Like in the first half Alberto and Milinković-Savić had to move up. In the center Correa stayed close to Brozović and Caicedo closed down Stefan de Vrij. In a medium block, the distances the midfielders had to cover were already big but this problem could be solved with a compact defensive organization. In the high press, the distances became even bigger and Inter were able to take profit of exactly this problem. Correa and Caicedo were able to prevent passes to de Vrij and Brozović, but were not able to prevent switches between Godín and Škriniar. These switches were used to create numerical superiorities on the other side. With both of his midfield partners in advanced positions, the spaces Parolo was asked to defend were too big for a single player to cover. Inter found Vecino, Barella and later Stefano Sensi multiple times in these spaces. 
More open second half
Because of Lazio's decision to press high, the game was more open than in the first half, as longer possession spells were not possible anymore. However, Lazio never threatened Inter's defense anymore. This was also down to the adjustments Antonio Conte made at half-time. His team no longer used the man-orientations of the first half, but defended in a zonal 5-3-2 formation instead. Politano and Lukaku stayed narrower to force Lazio to play through the sides. The central midfielders covered the central spaces. 
With the game wearing down, Inzaghi then brought in Ciro Immobile for Caicedo. The Italian striker is a different player. He is not the target man that looks to receive passes between the lines, but makes more runs into depth. Although Lazio showed good attempts in the final third, they were still not able to advance the ball into the box to create scoring opportunities. Solid Inter win, all in all. 
Takeaways
Despite their problems in the opening stages of the game, Lazio's defensive performance in the first half was impressive. They had good chances coming from transitional moments as well, but failed to score and therefor went to half-time trailing by one goal. With his team pressing higher in the second half, Inzaghi may have hoped for a more open game with lots of turnovers.
However, Inter were able to outplay the high pressing constantly and therefore dominated the second half. They defended compact and had long possession spells to deny any attacking moments for Lazio. The league leaders were lucky to lead at half-time and did not have their best day, but improved in the second half. They even could have scored more goals to decide the game earlier. 
Use the arrows to scroll through all available match plots.