Italy – Switzerland: Roman Reunion Ends In Stalemate (1-1)
Italy and Switzerland remained level on points at the top of Group C in the European section of the 2022 FIFA World Cup Qualifiers, as Silvan Widmer's goal was cancelled out by Giovanni Di Lorenzo to give both teams a share of the points. With only the group winners going through to next year's tournament, with the runners-up moving to the playoffs, everything remains up for grabs ahead of the final matchday.
Tactical analysis and match report by
Harshal Patel
.
Roberto Mancini has breathed fresh life into the Italian national side, taking them from the low of failing to qualify for the 2018 FIFA World Cup, to the high of winning EURO 2020 this summer. The Azzurri have been an extremely well-drilled side under the former Manchester City manager, utilizing positional play concepts in a manner rarely seen at international level. With the summer's exploits still fresh in the memory, Mancini will look to build on them and seal qualification for the World Cup, where they are sure to start as one of the favourites.
Switzerland also had one of their most memorable tournaments in the summer, where, emerging from a group with Turkey, Wales and Italy, they then defeated tournament favourites France on penalties after a madcap 3-3 draw in normal time. However, they were unable to repeat those heroics in the quarter-final against Spain, ending up on the losing side of a penalty shoot-out on this occasion. This also led to the departure of long-serving manager Vladimir Petković, with former center-back Murat Yakin coming in as his replacement. Yakin has carried on from where his predecessor left off, managing to keep pace with Italy at the top of Group C, and therefore still giving Switzerland a chance of qualifying automatically for the World Cup going into the final round of matches.
Italy lined up in their familiar 4-3-3 shape, with Francesco Acerbi deputizing for the injured Giorgio Chiellini alongside Leonardo Bonucci at the heart of the defense. Leonardo Spinazzola, one of the stars of EURO 2020, remains sidelined through the knee injury he picked up during the tournament, so Emerson Palmieri continued at left back. The rest of the side was as expected, although Torino's Andrea Belotti played at center-forward due to Ciro Immobile's injury.
Yakin sent Switzerland out in a 4-2-3-1 formation. The only notable selections were those of Renato Steffen and Noah Okafor, with Breel Embolo and Haris Seferovic ruled out due to injury, along with Granit Xhaka.
The two lineups, with Italy's shape on the ball and Switzerland's shape off the ball shown.
Italy's positional play is negated by stout Swiss defense
As mentioned previously, Italy are one of the few international sides that have been able to successfully implement a positional play system. Mancini deserves a lot of credit for this – he has got the Azzurri playing like a club side, such is the understanding and cohesion with which they play their football. It has become quite common to see Italy's nominal starting shape be a 4-3-3 formation, but as we know, formations are quite fluid in football, and this transitions to a 3-2-5 shape when Italy have the ball. 
This was on display in this match as well, with the right back, Di Lorenzo, staying deep and narrow to form a back three, while Emerson, the left back, stayed high and wide. This allowed Lorenzo Insigne to drop into the left half-space from where he is so devastating, while Federico Chiesa maintained width on the right flank. Nicolo Barella pushed on from midfield, while Manuel Locatelli and Jorginho stayed deeper to provide ball circulation as well as protection against counterattacks.
Switzerland's counter to this was to stay in a compact and narrow shape when out of possession, thereby denying Italy space to attack vertically. They have generally been a strong side defensively, having only conceded one goal before this match in the entirety of this World Cup qualifying campaign, and Yakin made a couple of subtle tweaks to this approach to make it extremely difficult for Italy to progress the ball.
While the Swiss would drop into a deep 4-4-1-1 shape when Italy did find a way into the final third, The one-third of the pitch that is closest to the opposition's goal. they were initially set up in more of a 4-2-3-1 formation, while utilising a fairly high press. The wingers, Renato Steffen and Ruben Vargas, were tasked with pressing Italy's wide center-backs, while Noah Okafor applied pressure on the middle center-back. At the same time, Xherdan Shaqiri was ordered to man-mark Jorginho. 
This was important, as Jorginho is a huge part of Italy's build-up structure, and denying him space and time on the ball was integral to Switzerland's hopes of preventing Italy from progressing the ball. Additionally, the midfield duo stayed fairly narrow to compress space centrally, with Remo Freuler and Denis Zakaria moving to press Manuel Locatelli and Barella, respectively, when they received possession.
19th minute – an example of Switzerland's defensive strategy, with Bonucci on the ball.
This meant that Italy found it quite difficult to progress the ball centrally, and often went wide, especially down their left. Mancini has usually favoured the left flank during his tenure – Spinazzola's attacking bursts were one of the most exciting facets of Italy's victorious EURO 2020 campaign, but here, he almost played into Switzerland's hands. 
Their narrow shape encouraged Italy to use the flanks, along with the fact that Emerson and Insigne were often able to interchange positions and be free to receive the ball on the touchline. However, the Swiss were quick to create a three-versus-two overload When one team has more players in a certain area or zone than the other team. in that area and then regain possession quickly, thereby neutering one of Italy's strongest attacking moves as well.
19th minute: An instance of Switzerland creating a three-versus-two situation on the left flank.
Mancini's reaction
Around an hour into the game, Mancini reacted to Italy's shortcomings by taking Andrea Belotti off for Domenico Berardi. Belotti had been quite stationary, staying central and on the shoulder of the defensive line. This made it quite difficult for Italy to form attacking connections, as their central striker was not dropping short or drifting wide at all. With this change, Mancini moved Chiesa over to the left, with Insigne now playing as a false nine, A striker that constantly drops deep and plays like a number ten. and Berardi on the right.
This had an immediate impact – with Insigne dropping off to create overloads, Italy found it much easier to have quick passing combinations in central areas, while he also attracted defenders to him, opening up space for others.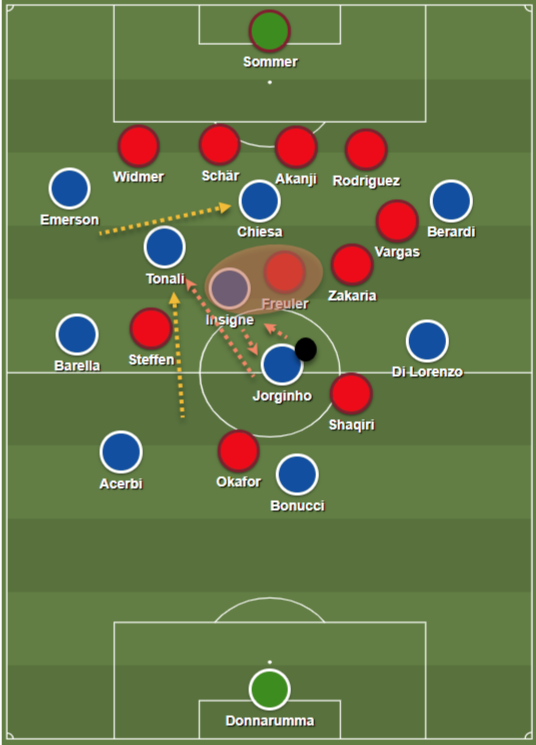 68th minute: Insigne drops deep to receive possession from Jorginho, dragging Freuler with him, which creates the space for Sandro Tonali to advance. With Freuler and Zakaria both moving towards Insigne, he can play a wall pass back to Jorginho, who can then move the ball first-time towards Tonali, in space (orange arrows – ball movement, yellow arrows – player movement).
Insigne's use as the central focal point gave Italy a lot more flexibility, with his movement and positioning creating space for teammates to run into as well.
Mancini also gave his outside center-backs, Di Lorenzo and Acerbi, more freedom to advance into the half-spaces to support attacks. This, combined with the use of Berardi and Chiesa as inverted wingers, also gave Italy much better ball progression, as the wingers could now receive the ball on the half-turn and play passes forward and inside before running in behind into space.
Takeaways
Italy struggled in the first half, but Mancini's tactical tinkering in the second half brought them back into the game and also showed the value of having different options within the same overall structure. This result keeps Italy on top of Group C, but with a tricky last match against Northern Ireland to come, there are no guarantees that the Azzurri will make it to Qatar at the first attempt.
This was another impressive performance from Switzerland under Yakin, and they are yet to lose a game under him. He showed a good understanding of how to nullify Italy's impressive build-up play, while Switzerland's goal also came from some superb counterattacking play. Even if they do need to go through the playoffs, on this form, Switzerland should be able to make it to next year's World Cup, where they will be a tricky customer for any team to face.
We decided to make this article free to read. If you want to support our work, consider taking a subscription.
Use the arrows to scroll through all available match plots. Click to enlarge.
Check the match plots page for plots of other matches.