Juventus – Atalanta Bergamo: Both Teams Shine In Different Ways But Fail To Create Quality Chances (1-1)
Juventus consistently bypassed Atalanta's high press throughout the game but watched as they went behind from a corner in the first half. Allegri responded with quick substitutions that changed the look of his team twice over and allowed Juventus to save the result.
Tactical analysis and match report by Om Arvind.
The last two Serie A seasons brought hope that the black and white juggernaut could be stopped or, at least, pushed to the limit. In 2016/17, AS Roma and Napoli recorded 87 and 86 points, respectively, forcing Juventus to manage 91 of their own to win the title. The following campaign, Maurizio Sarri reached the peak of his project at Napoli, allowing him to top the table for large portions of the season and collect 91 points. As the final stretch of 2018/19 came into view, Napoli's lack of rotation and depth doomed them, and they lost the war of attrition by failing to win only two games more.
There was no such competitiveness this season. With the departure of Sarri, the loss of key players like Jorginho, and the decline of others like Marek Hamšík, Juventus created an unassailable lead in the early stages of Serie A. The lack of title race drama, however, did not lead to a "boring" season.
As things stood on the 36th matchday, the battle for the European places was hotly contested. Both Milans, along with Atalanta, Roma, Torino, and Lazio, were all within touching distance of a Champions League or Europa League spot if things went their way. Hence, while Juventus had nothing to fight for, this match had great significance for Atalanta.
It did not look like it would be this way for Gian Piero Gasperini's team just a few months ago, but an excellent run, starting with a 0-0 draw against Inter Milan, launched Atalanta into the conversation. Gasperini achieved this partly thanks to the consistent selection of his strongest eleven. The team that faced Juventus was almost the same as the one that faced Lazio in the Italian Cup Final and Genoa in the league. The only two differences were the re-introduction of number ten Alejandro Gómez and the replacement of José Palomino with wing-back Robert Gosens, who pushed Hans Hateboer into defense.
Juventus also selected a fairly strong eleven, as they were keen to end their season well despite having already secured the title. Manager Massimiliano Allegri decided to use a 4-4-2 formation, playing Paulo Dybala up top next to Cristiano Ronaldo. Miralem Pjanić and Emre Can were placed in the double pivot 4-2-3-1 is one of the most frequently occurring formations in football. The two most defensive midfielders are called a 'double pivot'. in-between wide midfielders Blaise Matuidi and Juan Cuadrado. Andrea Barzagli got a start in defense next to the usual culprits so that he could get a proper farewell in his last game at the Allianz Stadium.
Atalanta fail to control Juventus' fluidity but create the better chances
Atalanta are a team that have pressed well all season, which has allowed them to choke their opponent's buildup and force dangerous turnovers. As a result, it was surprising to see just how ineffective their aggressive defensive approach was versus Juventus.
Much of that was down to Allegri's own scheme and the quality of his players.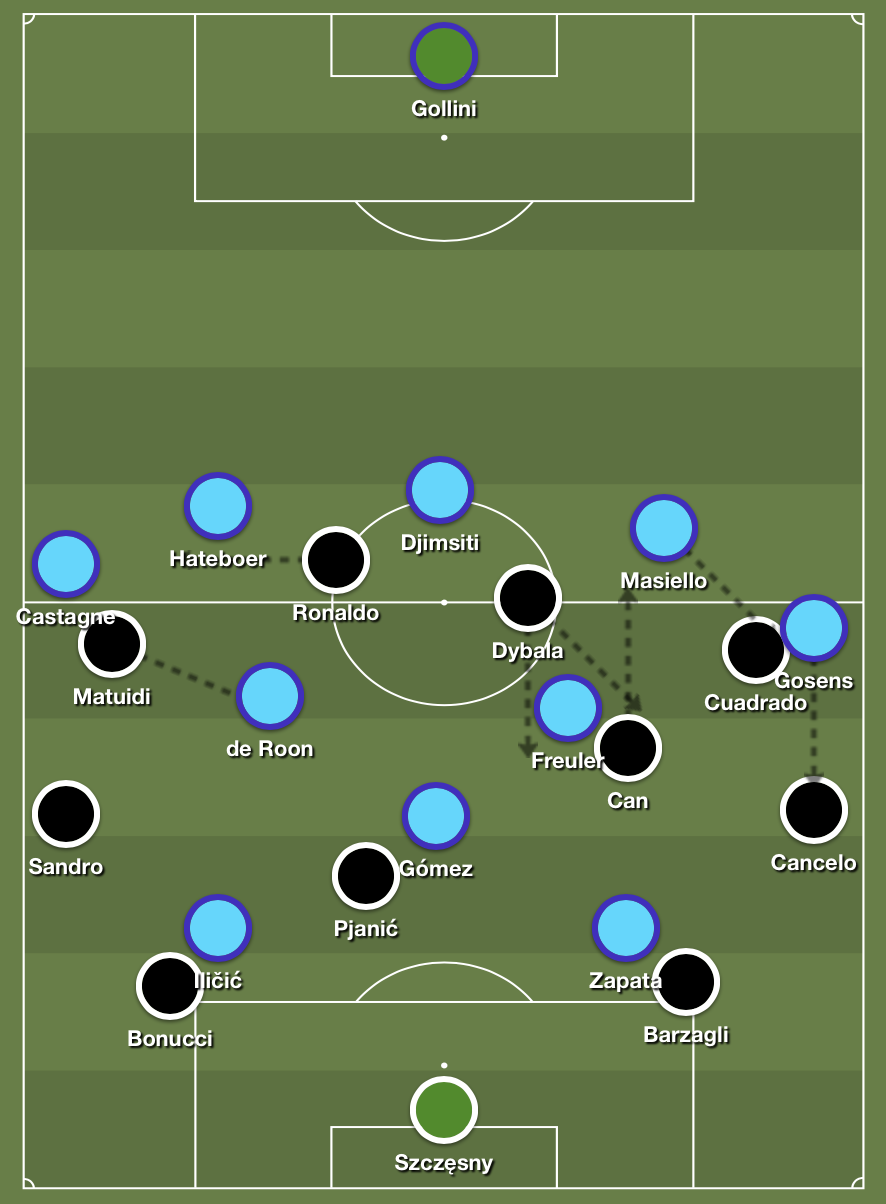 Juventus' fluid 4-4-2 formation versus Atalanta's high press.
What was ostensibly a 4-4-2 structure became very malleable when put under pressure. Pjanić would drop between the center-backs, attracting the attention of Gómez, while Can would make runs behind the defense like a forward. Matuidi would keep presence in midfield by shifting inwards while Dybala helped out in the right halfspace If you divide the field in five vertical lanes, the halfspaces are the lanes that are not on the wing and not in the center. Because there is no touchline like on the wing, players have freedom to go everywhere. But this zone often is not as well-defended as the very center. This makes it a very valuable offensive zone to play in and a lot of chances are created by passes or dribbles from the halfspace. by roaming very deep. This made it difficult for central midfielder Remo Freuler to decide who he needed to mark.
Whether it was due to Freuler's confusion or not, Juventus decided to start most of their attacks down the right. Wing-back Gosens would treat a pass out wide to João Cancelo as a pressing trigger A pressing trigger is a specific pass or movement by the opponent that draws out a coordinated team press., creating the need for center-back Andrea Masiello to shift over and mark Cuadrado, which then required Berat Djimsiti, Hateboer, and Timothy Castagne to shift horizontally, as well.
If Can's runs and Dybala's movements could not cause a breakthrough down the right, Juventus quickly switched A pass from one side to the other. the ball over to Sandro, who was always left free thanks to Matuidi's narrow positioning and the wing-oriented stance of Atalanta's back line. The switch would act as a pressing trigger for Castagne, thereby shifting Atalanta's focus to their other flank. But Juventus played at a tempo that allowed them to break into the final third The one-third of the pitch that is closest to the opposition's goal. before Atalanta could reorganize themselves.
Such a strategy created an excellent look for Ronaldo in the very first minute, but Juventus struggled to replicate that feat. Their entry passes into the final third were often direct and inaccurate and their final pass lacked the necessary quality to find their targets.
Though Atalanta's game plan was not working at the level that Gasperini would have liked, his team still finished the first half with the better collection of chances. This was almost entirely down to their corner routines, which Atalanta created three serious chances from: a Gosens' header in the seventh minute, a Hateboer shot off the bar from the rebound, and a Josip Iličić goal after a flick-on by Masiello.
Juventus start the second half pressing
The start of the second half saw Atalanta enjoy a spell with the ball – something that had eluded them up until this point. Unfortunately for them, Juventus were ready, using a press of their own to take back the initiative.
Juventus' wing-oriented 4-4-2 high press suffocating Atalanta's buildup.
Juventus' strategy was aggressively wing-oriented and was applied with high bursts of intensity so that Atalanta would lack the time to find the free man on the far side The far side is the side of the pitch where the ball is not. or the one present in Gómez. Atalanta looked uncharacteristically shaky and harried and ended up lumping the ball long, where Bonucci, Barzagli, and Can easily won fifty-fifty duels.
Juventus' pressing and Atalanta's inability to deal with it added a more chaotic back-and-forth element to the game, which allowed Allegri's men to spring forward on the counterattack. They did so to good effect in the 50th minute, which led to a corner that then produced a volley that Ronaldo skied.
Allegri uses his substitutes to change the game
At the beginning of the second half, Allegri had removed Alex Sandro for Federico Bernardeschi. This had the effect of moving Cancelo to the opposite flank, pushing Cuadrado deeper into a right back role, and deploying Bernardeschi as a right winger.
Allegri's initial substitution did not drastically affect the nature of the game despite giving Juventus a very different look. Though Juventus chose to build through their left more, they still bypassed Atalanta's press with relative ease and found it difficult to create quality chances.
It was not until Mario Mandžukić came on in the 61st minute that Juventus began to look like they could score. He curiously replaced Barzagli – who proceeded to walk around the stadium and shake the hands of the fans – which created another new look for the team. Can dropped into defense, Matuidi moved into midfield, Bernardeschi moved to the left flank, Dybala played on the right wing, and Mandžukić joined Ronaldo up top.
With two elite targets in the box, Juventus' crosses started to become more and more threatening. A breakthrough finally occurred in the eightieth minute, when a deep Cuadrado cross found its way to Mandžukić at the far post. The Croatian forward slid to make contact with the delivery and poked a shot through the legs of the keeper from an acute angle.
Sensing blood, Allegri subbed off Matuidi for Moise Kean soon after, but Atalanta were able to hold on and secure the 1-1 draw.
Takeaways
Juventus were the better team but that will likely not be reflected in the expected goals The amount of goals a team is expected to score based on the quality of the shots they take. charts, as the Bianconeri failed to turn many advantageous positions into shots. That should not obscure Allegri's tactical mastery on the night, which showed that he is more than just the ultra-defensive coach that he is often made out to be. His fluid tactics and intelligent substitutions dismantled Atalanta's vaunted press and created a way for Juventus to get back in the game. Allegri's next team will be lucky to have him.
Atalanta will simultaneously be delighted and disappointed with their performance; delighted because they drew without needing to play a spectacular game and disappointed because they were forced to rely on set-pieces to do so. But after all the good work Gasperini has done over the course of the season, maybe such a result is excusable. After all, his team now have only one more hurdle to leap before the dream of Champions League qualification can be realized.
Use the arrows to scroll through all available match plots.