LaLiga and The Revolt of the 4-4-2 formation
For decades, the British isles have been thought of as the home of directness, long balls and the 4-4-2 formation. However, in 2020, teams in LaLiga seem to be using these tactics more than teams in the English Premier League. 
Written by José Pérez.
Spanish teams now implement 4-4-2 blocks and other formations with two strikers more often, too. Twelve LaLiga teams use a 4-4-2 or 4-4-1-1 formation as their primary defensive shape, compared to eight English teams. Arsenal, Bournemouth, Burnley, Brighton, Everton, Southampton, Tottenham, West Ham. Nine Spanish teams play primarily with a pair of strikers while only six English teams do the same. What were the reasons for this "British style" takeover in LaLiga? Will the seafood paellas be ultimately replaced with fish and chips? 
Surviving the era of pressing and transitions in Spain
Fortunately for lovers of Spanish food, the root of this phenomenon does not seem to have anything to do with a British cultural invasion. Most of the inspiration has come from teams that were promoted to LaLiga and survived in the division over the last six seasons through the use of direct 4-4-2 / 4-4-1-1 blocks, setting the tone for other LaLiga teams who also adopted these kinds of tactics. Some teams implemented more aggressive pressing blocks – Osasuna, Getafe, Eibar – some of them have done it through deeper blocks – Leganés 2016-18, Valladolid, Alavés, Mallorca.
In this era of pressing and transitions, many top half clubs with better budgets, bigger academies and smart scouting departments can allow to build more expansive possession sides that aim to short-pass their way through the opposition press. This is the approach taken by teams like Sevilla or Real Sociedad. 
However, lower half teams with tighter budgets will usually struggle to buy the kind of playmaking talent that is a prerequisite for the more patient approach. Thus, they choose to go direct and primarily organize themselves against the ball, becoming strong in the boxes rather than in midfield. The use of two strikers instead of one helps compensate for the lack of top goalscoring talent. In addition, it helps to bypass the opposition press through long balls and takes control away from opposition playmakers by forcing them into physical duels. As talented as they might be with the ball, those playmakers will have less of an impact on the game if the ball spends the majority of the ninety minutes flying above their heads.
The timelessness of the 4-4-2 formation
Tactics have increased in complexity in this modern era of football, so we sometimes look down on the relatively simple and humble 4-4-2 formation. However, such simplicity also allows the 4-4-2 formation to remain relevant across shifting eras and tactical trends. Through conversations with a few Spanish managers, analyst Abel Rojas summarized some of the key reasons for its timelessness. 
Use of two strikers: This enables lower budget teams to win more duels in the box and use simpler "brute force crossing" strategies to score.
Easier pressing and defending: The compact lines of four in a 4-4-2 shape are perhaps the most straightforward spatial distributions for defensive purposes.
Player flexibility: Formations like a 4-3-3 often require more specialized roles, like the lone striker, the wingers, or the holding midfielder. A 4-4-2 formation can feature wildly different striker profiles, wingers or central midfielders on the wings, and its double pivot central midfield does not necessarily require a holding midfielder. It accommodates a greater variety of player profiles.
Tactical flexibility: The 4-4-2 formation easily supports different playing styles, from the traditional deep block plus counterattack, to the high pressing of Eibar or Arrigo Sacchi's Milan to the more expansive possession approaches, such as the possession-based 4-4-2s used by Carlo Ancelotti or Manuel Pellegrini.
All in all, we could say there are two predominant schools of thought when it comes to Spanish teams and 4-4-2 defensive blocks.
The high pressing 4-4-2 formation
In 2014, SD Eibar, a club from a Basque town of the same name, reached the Spanish first division for the first time in its history. The town's entire population of 27,000 inhabitants could fit three times inside the Santiago Bernabeu Stadium in Madrid. Despite having no debts at the time of promotion, LaLiga ruled that the club did not have enough capital to compete in the first division, which forced Eibar to come up with a creative and massive successful global crowdfunding to raise two million euros in additional capital. Even though they have managed to remain in LaLiga for six years, they still rank among the bottom five teams in terms of budget.
Year after year, Eibar have managed to punch above their budgetary weight thanks to their trademark direct and high-pressing 4-4-2 formation implemented by manager José Luis Mendilíbar and his staff. Under Mendilíbar's leadership, Eibar has consistently ranked among Europe's highest pressing teams, as measured by passes allowed per defensive action. Passes per defensive action is calculated by dividing the number of passes allowed by the defending team by the total number of defensive actions. Their 4-4-2 shape is compact, shifts aggressively from side to side, and will often feature a defensive line almost at the halfway line of the pitch. Once they recover the ball, Eibar will try to progress through their wings with fullback – winger combinations or through long balls to their strikers, and then create chances through crosses.
Eibar's pressing intensity is something else. Constant high line, aggressive shifting schemes and heavy ball & passing-lane orientation without the ball. pic.twitter.com/xanZUF8MZ7

— István Beregi (@SteveBeregi) May 6, 2019
Mendilibar's Eibar has more long balls than any other top league club in last 10 years. They also have 3rd most crosses of the decade and best PPDA this season in the top 5 leagues. pic.twitter.com/CB9B1WWVV2

— Legris (@statgalamb) February 8, 2019
This intense and physical playing style has been a staple of Basque football for many decades. The Basque Country features very "British" weather, with plenty of rain and overcast days. And just like their counterparts in the British Isles, these conditions forced Basque football teams to play with more long balls, crosses and aerial duels in order to bypass the slow and muddy pitches. 
Perhaps inspired by the success of the Eibar model, other Spanish teams have followed suit in implementing these intense and high-pressing 4-4-2 formations. The best-known successor is Getafe, a team from a southern suburb of Madrid managed by José Bordalás. While Bordalás had always built very physical and combative teams, the last two seasons have seen his Getafe shift to a significantly higher defensive line and much more defensive intensity in the final third. This season, Getafe have taken the baton from Eibar and became the LaLiga team that allows the fewest passes per defensive action and have the highest average defensive distance (ADD) from their goal.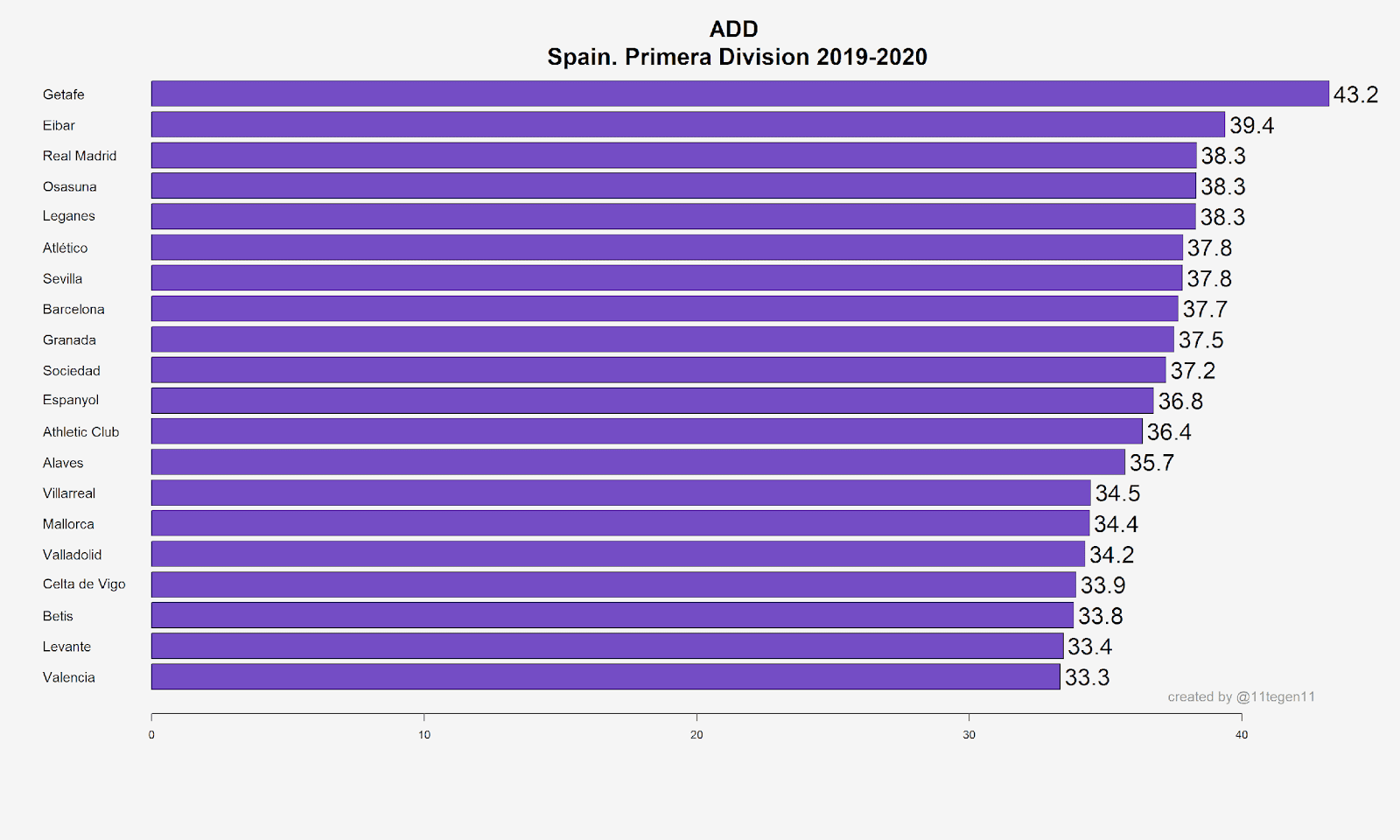 The modern deep block 4-4-2 formation
When we think deep block, we like to think of teams who "park the bus" and put eleven bodies within thirty meters of goal. However, modern deep blocks—particularly those in Portugal, Spain, and Italy—rarely operate this way. They will often press in very specific situations and areas of the pitch and also lure the opponent into pressing traps. A pressing trap is a predefined plan to leave a particular player or zone open, to invite a specific pass. Upon a pass to that player or into that zone, a rapid coordinated team press on that player or zone is exerted. These defensive blocks often allow the opponent to pass the ball within their own half but will then hound opponents once they cross the halfway line. 
One of the best-known representatives of this style in Spain is manager Asier Garitano. In 2013, Garitano took over as the manager of third division Leganés—another club from a southern Madrid suburb—and in his own words, "there was nothing here". The team had just lost the promotion playoff to the Segunda Division and everyone, from the players to the managerial team, had left. Garitano rebuilt the club in accordance to his own football philosophy and managed to promote the team to Segunda Division the following year (2014), to the Primera Division two years later (2016), and even reached a climactic victory over Real Madrid in the 2018 Copa del Rey. In an interview with website Ecos del Balón, Garitano synthesized his game plan into three distinct steps:
1. Analyze the opposition's weaknesses with the ball
2. Use the prior analysis to set the optimal height of the Leganés pressing line and create pressing traps that will lure opponents into the zones where Leganés want to steal the ball.
3. Having stolen the ball, aim the ensuing counterattack toward the opponent's defensive weak spots.
Given the variation of step two, Garitano often seeks to build versatile defenses that can oscillate between deep and medium defensive blocks depending on the opposition, usually following a 4-4-2 or 4-4-1-1 shape. To this end, Garitano assembles and trains squads with a tremendous capacity to steal the ball, from defenders to forwards. At Leganés, Garitano often used defensive midfielder Gabriel Pires as an attacking midfielder / forward to make it easier for Leganés to steal the ball higher up the pitch. Eventually Garitano moved on from Leganés to Real Sociedad in 2018—a puzzling move considering the Basque team tends to favor more possession-based football—and now manages Alavés.
Another well-known Spanish practitioner of the deep block is manager Abelardo Fernández, a former Barcelona defender during the nineties, whose teams tend to focus more strictly on a deep block approach than Garitano's. Abelardo has enjoyed successful spells with Sporting de Gijón (2015-2017), who were promoted to LaLiga in 2015 under his leadership, as well as with Alavés (2017-19), whom he helped save from relegation during the 2017-18 season and then led to a comfortable eleventh place finish in the 2018-19 season. Abelardo is now trying to use his 4-4-2 deep block superpowers to save Espanyol from relegation. The Catalan side have suffered a turbulent 2019-20 season, having fired two managers and currently lying at the very bottom of the table.
Other teams in LaLiga have followed the deep block 4-4-2 model to survive in the division, such as the Real Valladolid of manager Sergio González. Despite arriving at Valladolid in April 2018—very late in the 2017-18 season—his team managed to get promoted to LaLiga via the playoffs. Once in the first division, Sergio González built a no-nonsense 4-4-2 deep defensive block that fostered the growth of young defensive talents like Fernando Calero, who left for Espanyol in 2019, and Mohammed Salisu, who is now rumored to be a target for several top European clubs. This season, the newly promoted Mallorca, managed by Vicente Moreno, also deploys a deep defensive 4-4-1-1 formation. Mallorca and Valladolid have two of the three highest PPDA numbers in the league, which points to their lack of defensive activity in the opposition half.
Will the Eibar model become the future of lower half clubs in LaLiga?
The numbers tell us that defensive behavior this season in LaLiga has become more aggressive compared to last season, with a decrease in the median PPDA – from 10.75 in 2018-19 to 10.2 in 2019-20 – and an increase in the median average defensive distance – from 35.9 to 36.6. Several teams have increased their pressing intensity, including Atlético de Madrid, Espanyol, Getafe, Leganés, Real Sociedad, Sevilla and Villarreal. 
One factor that has likely affected defensive aggression is the recent changes to goal kick rules. Previously, the ball during a goal kick was considered "dead" until it left the box, but now the ball is considered to be in play as soon as it is touched. This has interesting implications for buildup phases, because teams can now place defenders inside the box and begin their buildup from even deeper positions. This behavior seems to invite LaLiga teams to press their opponents even higher up the pitch.
Thread:

Re-watched the community shield earlier and Manchester City were excellent in the first phase, utilising the new goal kick rule to perfection.

Guardiola's use of Bravo in build up allowed City to form a box formation (2-2) around Liverpool's first line of press. pic.twitter.com/jaRzcmVZxV

— HS (@HalfSpaceFtbl) April 30, 2020
Newly promoted Osasuna have followed in the footsteps of Getafe and Eibar and implemented their own high-pressing 4-4-2 formation, featuring the defensive intensity and goal-scoring prowess of star striker Ezequiel "Chimy" Avila. They currently have the second lowest PPDA in the league and the fourth highest ADD. Unsurprisingly, they are managed by another Basque, Jagoba Arrasate. Starting from a flat 4-4-2 formation, Osasuna will often shift their pressing shape into a 4-4-2 diamond to track the opposition holding midfielder, with one of the central midfielders moving just behind the forwards and the wingers tucking inside. This diamond will usually shift intensely to the near side of the ball and proceed to man mark opponents, often leaving an opponent in the far side without any marking. Arrasate describes these movements in the video below – even though the video is in Spanish, one can follow the movements on his tactics board – and he also comments that the new goal kick rules have led him to choose this more aggressive 4-4-2 diamond scheme for pressing.
La presión de CA Osasuna:

Jagoba Arrasate y cómo desde el rombo, ajustando su 4-4-2, consigue orientar la salida de balón rival siempre hacia fuera. Emparejando, dejando libre al jugador del lado opuesto, reduce las opciones de progreso del equipo contrario.

[Vía @AS_TV] pic.twitter.com/fcnYQaHNMQ

— Adrián Blanco (@AdrianBlanco_) January 7, 2020
Expected goal models usually favor higher pressing styles because they are better at suppressing the frequency of opposition shots, which leads to a decrease in expected goals conceded. This season, higher pressing teams like Getafe, Eibar, and Osasuna have conceded less expected goals than deep block teams like Valladolid, Mallorca, Alavés or Espanyol. Getafe lead the way in terms of high pressing and shot suppression, conceding only 7.2 shots per game.
This reduction in expected goals conceded suggests that the higher pressing models are more "sustainable" over the time than the deep blocks and less prone to variance and luck. However, it is good to remember that good shot suppression comes at a price. High-pressing schemes leave more spaces behind their defensive lines, so whenever opponents do bypass the press, they create higher quality chances than average. As we can see from the scatter plot below, Eibar, Getafe and Osasuna—among the highest pressing teams in the division—concede the highest quality chances too.
Takeaways
The rise of 4-4-2 blocks that prioritize directness and organization against the ball has affected LaLiga's scoring numbers. LaLiga has seen a small decrease in both goals (from 2.58 to 2.54) and shots per game (from 12 to 11) compared to last season, and alongside Ligue 1 they are the lowest scoring of the big five European leagues. For reference, the Bundesliga is the highest scoring league with 3.2 goals per game.
Given the better underlying numbers of higher pressing teams, the success stories of Getafe and Eibar, and the incentives provided by the new goal kick rule, there is a good chance that we will see more lower half teams opting for higher pressing models. In the view of Spanish manager Adrián Cervera, as pressing increases, these originally flat 4-4-2 schemes will move towards 4-4-2 diamond shapes, just as it happens at Osasuna, or even towards 4-2-3-1 shape.
LaLiga has always prided itself on being a league of expansive passing football. So this increased focus on defensive structure, directness and simpler 4-4-2 blocks might come as a surprise to many and it leaves us with plenty of questions. Is this good or bad for the league? Should managers be trying more creative schemes? Does the increased directness and long ball play mean that right now the Spanish youth system is not producing enough playmakers? All of these are tough questions to answer, but it will be fun to keep them in the back of our heads as we tune in to the restart of LaLiga.