Lazio Roma – Stade Rennais: Feisty Defensive Display Means Little As Lazio Steal Three Points (2-1)
Scrappy and competitive, this game decided to open up after half-time. A top performance from Clément Grenier was unable to help Rennes to three points, after a quality goal scored by Ciro Immobile made the difference.
Tactical analysis and match report by Tom Quartly. 
A sparsely populated Stadio Olimpico was the location of Thursday night's Europa League tie between Lazio and Rennes. Lazio surprisingly sat bottom of Group E, following an opening day loss to Romanian side CFR Cluj, and needed a win to reignite their hopes of making it into the knockout stage. Rennes faired better as they drew with Celtic. 
Stade Rennes manager Julien Stéphan's pragmatic approach has been a revelation since his arrival last year. His ability to match and contravene the opposition's tactical play meant that more often than not Rennes are able to nullify threats. This seemed to be the case once again in this match, as a 5-3-2 formation combatted Lazio's more fluid 3-5-2 shape. Young Joris Gnagnon was at the heart of the three central defenders, with the more experienced Jérémy Morel and Damien Da Silva either side to provide certainty to their defensive structure.
Lazio's use of Manuel Lazzari and Senad Lulić as wing-backs was interesting to see, as both of them have experience of operating higher up the pitch. This meant that a greater impetus would be placed on attacking wide areas. Felipe Caicedo and Ciro Immobile were played upfront in a flexible 3-5-2 formation crafted by manager Simone Inzaghi.
Scrappy opening characterised by solid defensive display
In what seemed like characteristic Lazio, they defended in a medium block A medium block refers to a team that retreats in their own half out of possession, generally only disrupting their opponents some way into their own half. 5-3-2 shape. Immobile and Caicedo were narrow in order to deny any passes from the center-backs to the defensive midfielders. This meant that Rennes were stuck with the ball around the back, a long pass the only opportunity to move it forward. On a lateral pass, one of the central midfielders would push forwards on to the ball, forming a 3-4-1-2 when the ball was in Rennes' half. This was largely successful, but not perhaps because of the effective press; it was more in the reluctance for Rennes players to get very far forward.
Defensively, Rennes were pretty effective themselves. An unusually high back five compacted the midfield into a stubborn medium block. A light zonal press was designed to keep Lazio at bay and the two center-forwards M'Baye Niang and Flavien Tait worked hard to force Lazio to go long. The combative nature of either sides' defensive structures turned the first half into a scrappy but competitive encounter. Rennes were shrewd; Lazio committed eleven fouls in the game, but at least five of them were extremely contentious; this streetwise way of moving the ball up the pitch occasionally gave them the opportunity to cross the ball into the box, something that looked very threatening.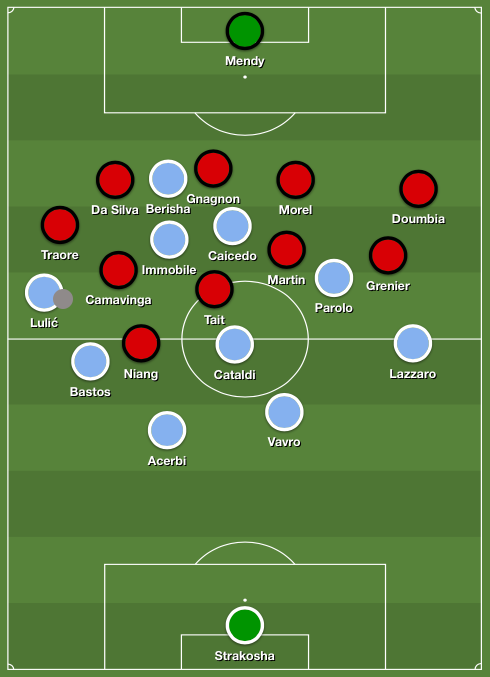 A high line meant there was little room for the ball to be progressed on the ground.
Second half sees goals
With rejuvenated legs, the second half began in the same way as the first, but there was one key difference: Rennes were on top. It was the composed nature of particularly Clément Grenier and Eduardo Camavinga that allowed them to keep the ball and eventually begin to progress forward. Not long into the second half and an expert ball by Niang had found Camavinga, with the Congolese midfielder firing just wide from inside the box. It was clear that manager Stéphan had made his intentions clear at half time: get a goal.
Ten minutes into the second half and they had that goal. A certain dive from Tait following a challenge from Francesco Acerbi gave Stade Rennes another chance to put a ball into the area. Grenier was tasked with putting the ball in. Sky Italia cameras circled the contingent of Rennes fans in the corner of the Olimpico. They knew this was a big chance. If anyone was to carve an opening it would be the perennial Clément Grenier. A fine wine with majestic control. 
In the 55th minute, the deadlock was broken. It was poor marking but also the smarts of central defender Jérémy Morel to escape his marker and fire past Thomas Strakosha. Tactical nouse was replaced by pure determination in this instance, and Rennes were leading. 
Luis Alberto and Sergej Milinković-Savić came on minutes before the goal and it would now be their turn to have a crack at the stubborn Rennes defense. Eight minutes after the goal, there was an equalizer, and it was the two substitutes that combined to make the goal. What Luis Alberto does so well is sit in the halfspaces, If you divide the field in five vertical lanes, the halfspaces are the lanes that are not on the wing and not in the center. Because there is no touchline like on the wing, players have the freedom to go everywhere. But this zone often is not as well-defended as the very center. This makes it a very valuable offensive zone to play in and a lot of chances are created by passes or dribbles from the halfspace. constantly disturbing midfield lines. This was exactly where he was for the goal. A sharp touch followed by a neat pass towards the penalty spot saw Milinković-Savić's left footed shot squeeze past Edouard Mendy in the Rennais goal. 1-1.
Despite the goal, Lazio were still calm in their methodology. Although Inzaghi had demanded a raised tempo, there was no sign of panic from the experienced Lazio side. They now knew it was only a matter of time.
A winner and late Rennes pressure
Lazio were now firmly camped in Rennes' half, but the French side held strong. It took a vintage Ciro Immobile goal to break the wall. It was picture perfect, a goal we have seen many times before. An early cross from Milinković-Savić was expertly glanced on by the Italian forward. A hallmark goal of a world-class striker. The game had lacked any certain quality but this goal was a shining star. Rennes had been good, more than good infant, but sometimes you can't stop Ciro Immobile.
In the remaining fifteen minutes, Rennes piled on significant pressure. Benjamin Bourigeaud came on as an attacking midfielder for Camavinga, and they whipped in four corners in the final eight minutes but to no avail. Even in frantic attacking play did Stéphan's team have a way of playing. Overlapping fullbacks with the occasional underlap from Grenier or Bourigeaud. Even Morel clambered forward in an attempt to find a goal. The referee strangely gave them six minutes added time, but Lazio held onto the three points.
Takeaways
There was no doubt that Rennes were the better side on the night. It was just the quality of Lazio at the front end that made the difference. Julien Stéphan once again showed his tactical prowess as underdogs in a major tie. The Arsenal game last season had given him confidence in his ability and this had only spurred both him and his side on further.
As for Inzaghi, Lazio were not necessarily poor and showed resolve in their attempts and eventual win. A positive sign was the effectiveness of the substitutes and showed a pragmatic approach. Up next for them is a trip to Bologna in Serie A. As for Rennes, they also have a league fixture: Stade Reims at home.
Use the arrows to scroll through all available match plots. Click to enlarge.
Check the match plots page for plots of other matches.
​