Leicester City – Wolverhampton Wanderers: Shrewd Wolves Denied Three Points By VAR (0-0)
The bright lights and cameras return. Cold nights, last minute goals and beef bovril in a cardboard pot would have to wait as a sunny Sunday afternoon at the King Power Stadium saw two top-half Premier League teams pitted against each other. Leicester dominated the ball, yet Wolves had the better chances. A tight VAR goal denied Wolves a winner, as each side shared a point on the opening weekend.
Tactical analysis and match report by Tom Quartly. 
The Premier League is back! Brendan Rodgers' careful carving of this Leicester City side made them interesting opening day hosts for Wolverhampton Wanderers. These two clubs can be seen as the most likely candidates to breach the concept of the 'Big Six' this season.
Potential debutant Dennis Praet began on the bench as Rodgers continued with a similar 4-1-4-1 formation that was deployed at the end of last season. Turkish defender Çaglar Söyüncü acted as Harry Maguire's replacement alongside Jonny Evans, as Hamza Choudhry and Youri Tielemans made up the midfield two.
Nuno Espírito Santo started the season with almost the exact same team he ended last campaign with. A 3-5-2 shape that becomes a back five out of possession; Ryan Bennett for Romain Saïss in defense was the only personnel change.
— Wolves (@Wolves) August 11, 2019
Dominant Leicester fail to create early chances
The visitors often use wing-backs to construct triangles high up the pitch, usually combining with the striker and central midfielders, who then attempt to find space to play crosses or through balls into the box for Raúl Jiménez. Wolves also had the ability to play the long ball, aiming for one of the two strikers, the onus on them to hold the ball up. The duality in attack made them a hard side to keep track of.
What felt different this time was in Wolves' reluctance to commit too many bodies forward. After an early high press – that felt like a Premier League opening stage formality – soon enough, the game settled into a tempo: Leicester dominating possession and trying to find a hole in the orange wall put up by Wolves.
Midfield dynamo Rúben Neves is granted freedom in the role of central midfielder, often drifting in central parts of the pitch to pick up the ball and distribute keenly to the flanks. Together with João Moutinho, his quick and direct passing is essential to Wolves' attack. However, in this match, he was severely limited by Leicester's sheer dominance of the ball (72 percent in the opening half hour).
Playing a 4-1-4-1 formation with James Maddison on the left and new signing Ayoze Pérez on the right, Leicester lacked width to break down Wolves' compact defense. Both Maddison and Pérez were allowed freedom by Rodgers, the latter occasionally joining Vardy up front. This fluidity meant that they had the potential to ferociously attack the halfspaces If you divide the field in five vertical lanes, the halfspaces are the lanes that are not on the wing and not in the center. Because there is no touchline like on the wing, players have the freedom to go everywhere. But this zone often is not as well-defended as the very center. This makes it a very valuable offensive zone to play in and a lot of chances are created by passes or dribbles from the halfspace. as they had no solid position. It helped that fullbacks Ricardo Pereira and Ben Chilwell were more than compliant in getting forward and overlapping. When a wide player, most of the times a wing-back, runs outside to fill in the space left by a winger going inside with or without the ball, this is called overlapping. Yet they did so in late stages of attack, meaning Wolves' fullbacks could squeeze in just a few yards most of the time, reducing space for Leicester to play in. 
Possession without progression is just possession.
Leicester were more sideways than they were forwards, and this was in due part to Wolves' medium block. A medium block refers to a team that retreats in their own half out of possession, generally only disrupting their opponents some way into their own half.The midfield three were no more than six or seven yards away from the defense when Leicester were in possession, and Espirito Santo's use of zonal pressing fended off any attempts to play through them. This move from the Wolves manager was a masterstroke, using Leicester's narrow width against them; their only option was to go down the channels, but there was no one there. Only eight shots (six for Leicester and two for Wolves) were testament to the game's defensive nature.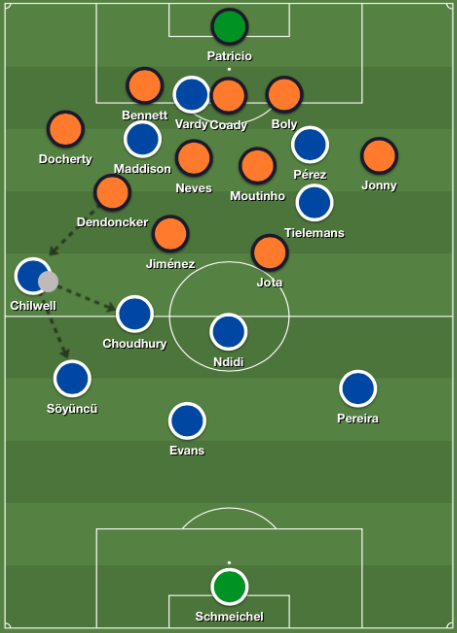 Compact zonal marking gave nothing away and put Leicester under considerable pressure to create a chance.
Tight VAR call 
The second half began, and already, Leicester were unable to create a single chance, meaning their impatience grew. Wilfried Ndidi joined up more alongside Choudhury, pushing Tielemans into a number ten role in an adapted 4-2-3-1 formation. This left gaps and holes to be exploited. 
Pin-point long range balls by Neves suddenly had a devastating effect. One found Jiménez, who managed to turn Evans inside the area, but his tame shot was straight at Schmeichel. Another found Jota one-on-one, yet the shot blazed wide. Leicester still dominated possession, but Wolves were now getting chances.
By the 54th minute, it looked as though Leicester had been made to pay. An outswinging corner landed at Wolves' central defender Willy Boly, whose glance in turn found Belgian midfielder Leander Dendoncker. His half-volley flew past Kasper Schmeichel and into the corner. Whilst wheeling away in celebration, referee Andre Marriner underwent a VAR check, and it was worthwhile. 
It appeared as though the ball had struck Boly's arm on its way to Dendoncker. Contentious to say the least, but the goal was disallowed. Still 0-0 at the King Power Stadium.
Neither team took the initiative in the last thirty minutes of play, even though Leicester managed some chances and half-chances in and around the box, without carving out a serious chance to score. 
The introduction of Harvey Barnes towards the end of the game was more than welcomed by the crowd, but too little too late. His directness instantly troubled Wolves, a quick-fire one-two with Jamie Vardy almost unlocking the sturdy Wolves defense instantly. His direct approach might be what Leicester need in games against defensive teams, even though not all Premier League teams are as well-drilled as Wolves. 
0-0 in the end, and pretty underwhelming from a 'penalty box action' point of view, yet lots to take away in terms of tactics for both sides. 
Takeaways
Dennis Praet did not enter the fray, perhaps due to a lack of match fitness, but it is going to be hard to see where he fits in. He thrives in a narrow midfield diamond, which Rodgers was testing in pre-season. A 4-1-4-1 shape is not going to be sufficient this season, especially for a side that has such a plethora of midfield talent.
We saw a solid Wolves today. Willy Boly showed his quality with some excellent tackles and they still managed to pose a significant threat on the break. A different day, with some better finishing and a stroke of luck VAR-wise, and they would have walked away with all three points. Nuno Espirito Santo is well and truly establishing himself as a top, top manager. All square in the Midlands.
Use the arrows to scroll through all available match plots.