Liverpool – Chelsea: Tired and tireless rivals play the long game to resolve an end-to-end dispute (2-2, 5-4 after penalties)
The 2019 UEFA Super Cup final was a game where the momentum of the match swung like a pendulum made for entertaining viewing, if you were a neutral. The aches and pains caused from this wildly open match threw up some interesting strategies but also shone a light on plenty defensive deficiencies. 
Tactical analysis and match report by Peter M.
Two sides that came away from the Premier League's opening weekend with polar opposite results also came away with different perceptions of their matches. Liverpool were strong enough to wipe aside Norwich City but looked worryingly vulnerable, defensively, at times. In Chelsea's experience, they were on the other end of the four-goal stick but undeservedly so.
Despite a handful of changes, Jürgen Klopp's eleven showed the utmost respect to this final. Adrián replaced the injured Alisson between the sticks, whilst Trent Alexander-Arnold, Georginio Wijnaldum, Roberto Firmino and Divock Origi were all dropped from the team that started against Norwich last Friday. These changes saw Sadio Mané make his first competitive start of the season, as was the case for Alex Oxlade-Chamberlain, James Milner and Joël Matip.
Frank Lampard made just three changes to his side, with Ross Barkley, Mason Mount and Tammy Abraham departing the attack. In their place came the more experienced Olivier Giroud, alongside new boy Christian Pulišić and the returning N'Golo Kanté. These alterations also saw Lampard's side set out in a 4-3-3 formation.
Chelsea struggle against early Liverpool attacks
Last season's Champions League winners were in firm control at the beginning of this encounter. In order to maintain a steady hold of the ball, they had one of the advanced central midfielders of their three – usually Milner – drop alongside the center-backs. By having an extra player in the backline, Liverpool were better able to spread it across and at a quicker rate, meaning the access into the flanks was much smoother.
On the opposite side from which the central midfielder came, one of the nearest deep players would feed it wide. With Mohamed Salah on that right side – where Liverpool aimed the majority of these attacks – pinning back Emerson, and Mané, as the center-forward, pinning back Kurt Zouma, Jordan Henderson's timed runs through the inside channel were easy to locate from either one of Joe Gomez or Salah.
Liverpool's wide-oriented possession shape.
In the fifth minute, this saw Mané make a bicycle kick attempt from within the box as Liverpool's direct in-to-out-to-in play found Henderson in that channel able to cross. He was placed in these spacious scenarios a couple of times, both times delivering good balls, just not ones that Mané himself could make the most of.
However, despite its early threat, it soon became easy to nullify. The more it occurred, the easier it was to read. Soon, Rüdiger was not afraid to pre-emptively step across and shut down Henderson's runs, and it was not at the cost of Mané being open, either, as he was well tracked. 
This low percentage approach was even more limited when feeding passes into Henderson before his runs due to the fact he was stepping onto the ball facing the touchline. Subsequently, he could not turn against the pressure and could neither play it short as Chelsea's wide midfielder and fullback marked their respective opposite numbers. Even back inside where Chelsea left tons of space in front of their midfield, it was totally unexploited as Fabinho failed to get across in support.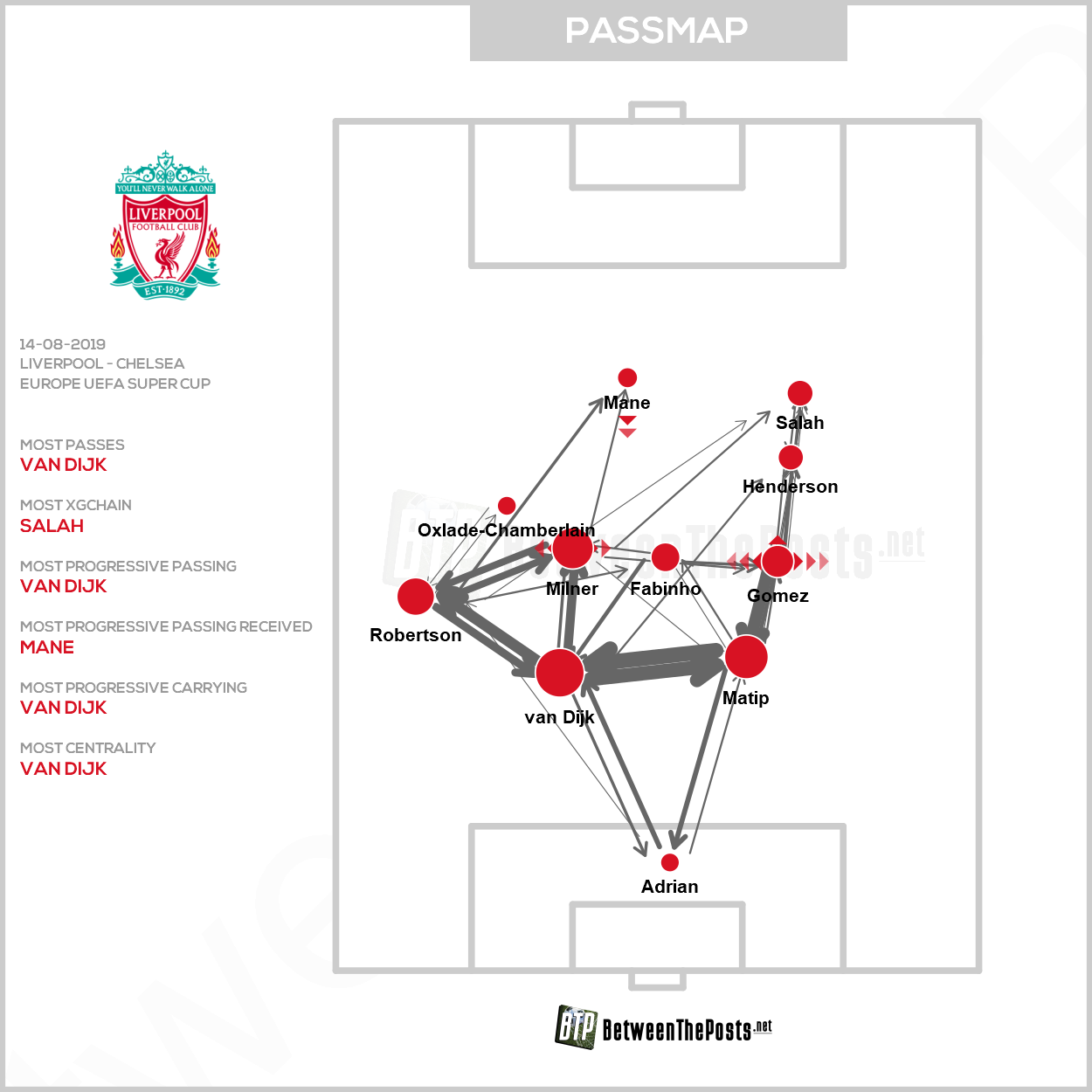 This is not your familiair Liverpool passmap.
So many passes at the back and so few connections up front.
Chelsea take the upper hand
Following that twenty-minute spell, the tide turned. 
Chelsea's possession-based shape was much more skewed and potentially very limiting. Pedro, though, was the highlight as his support across to the left was a huge catalyst for their best attacks. The rest of the very narrow structure, despite limiting itself completely to one side, still had its upsides of churning out strong combinations and a compact enough shape to pounce on turnovers.
On Liverpool's end, it was as if someone had suddenly flicked a switch. Whilst Chelsea had gained some new life, Liverpool had defaulted back to factory settings. Everything about them became so lackadaisical, intensity-wise and positionally. In their narrow 4-3-3 defensive shape, they were quickly beginning to suffer. At the beginning, this was mostly down to the gaps between the midfield and attack, both following turnovers and when defending deep. 
Salah and Mané were always a good distance ahead of the 4-4 block but their lacking presence appeared to make all the difference. Pedro, in the twenty-second minute, managed to get in behind and strike the woodwork through the space afforded by the strikers' lazy positioning. It was from the simplest of moves. Mateo Kovačić fed it into the Spaniard from the flanks, he then had the time to open his body, look up and combine with Giroud. With almost no upheaval from the midfield or defense, Pedro waltzed through. 
Mané and Salah's distancing leaves lanes open into the space in front.
Matip and Van Dijk, surprisingly, were causing their side serious problems. Neither of the two seemed to have the sharpness or willingness to be aggressive, or even just to adjust their body shapes. 
This was clear for Giroud's opener. After an unsuccessful wide passage resulted in Chelsea winning the ball back, Kanté claimed it and drove into midfield where he effortlessly glided past Fabinho to lay it off for Pulišić. As the winger drove one way, the striker ran the other. The two center-backs let it breeze through the gap before Giroud drilled it into the far corner.
Klopp's half-time change swings the momentum
Klopp knew he had to do something going into the second half, and so he did.
Firmino took over from Oxlade-Chamberlain and instantly made a difference. Whereas in the first half there were no prominent links short and into the center, Firmino was now offering that and more. His combinations with Mané off the ball were a highlight that helped him to pick up good, open positions to receive in. It only took two minutes for him to contribute to a goal. 
As Chelsea had been forced to drop deep in the second half, their struggles defending in a deep defensive block A defensive block is the compact group of defenders that defends a particular zone, either their own half in a medium defensive block, or the zone around their own box in a deep defensive block. – mostly because of their inability to keep horizontally compact and well automated – became apparent. A deflected cross fell back kindly enough for Fabinho, who was lurking in that vacant space in front of the midfield, which his side had been victim to many a time already. A first-time ball over the top for Firmino led to a square pass for Mané to tap-in on the second attempt. 
The Brazilian was at the center of another strong move a few minutes later when his positional rotation with Mané caught out the Chelsea midfielders as he received in-between them. A touch, set and pass later, Mané was away down the wing. Instead of cutting it across for Salah, he instead cut it back for Henderson, who was completely free but his effort only deflected into the goalkeeper's arms. 
An equally important aspect Firmino contributed to was in defense. By having him press onto the opposing midfielders, he was narrowing the time Chelsea had on the ball and often helped to force mistakes. It also encouraged the rest of the team to re-energize themselves.
The game loses its rhythm
Once we hit the hour mark, the purpose, intent and energy had mostly drained from everyone on the pitch – even Firmino, somehow. It was playing more into Chelsea's hands than Liverpool's, though. The only problem was a lack of synchronicity of Chelsea's attacking moves. Against such a wide open, high line, Liverpool always looked vulnerable to all three attackers making runs beyond them, however, what good is that when the ball-holder and the runner are not on the same wavelength? No good. So much so that almost every one of these scenarios resulted in a missed opportunity or a mistimed ball leading to an offside decision. 
Quite a positive passmap by Chelsea, but the downside is it also left them quite exposed for most parts of the match.
Less precision, more drama
Into extra time we went with the first half providing us with another whirlwind of chances. First came Mané's goal to give Liverpool the lead. After a basic play out attempt from Kepa Arrizabalaga to César Azpilicueta was easily closed down thanks to the time the aerial ball took to travel. Another linkup between Mané and Firmino quickly did the trick to put Liverpool in front.
Liverpool's attacking approach by this point was as good as punting balls diagonally into the far-sided attackers, so this goal was necessary for them to survive the extra half hour.
The end-to-end nature of the game suited Chelsea far more with their closer-knit combination plays, which helped them create a few more big chances, all of which Abraham was at the heart of. First, in a tussle with van Dijk, then to buy a penalty in a fifty-fifty shout, which was converted by Jorginho. Finally, for a narrowly missed tap-in following some strong movement.
That was what it came to after a very dry second half of extra time resulted in a penalty series, where Liverpool edged past Chelsea 5-4.
Takeaways
It is probably not unfair to suggest that some Liverpool players, particularly their most important players, took their feet off the gas for this game given how thick and fast Premier League games come. Chelsea, on the other hand, were a team on a mission to prove a point, which is what they did, despite another very admirable performance met by defeat.
The annoying takeaway for both these sides now is that they had to deal with a much longer than planned mid week match, whilst hoping to recover in time for the weekend games.
Use the arrows to scroll through all available match plots. Click to enlarge.