Manchester City – Everton: Everton Put Up Good Fight But Come Up Short Of Premier League Leaders (3-1)
Manchester City started this game in a slow pace, not being able to break down the visitors' defensive wall of nine outfield players. Everton missed their only big chance to go up and got overrun by the steaming City train afterwards. Changing up their system got Everton back in the game somewhat, but City's lead was never seriously in doubt.
Tactical analysis and match report by Erik Elias.
Manchester City are in the middle of an incredibly arduous and dour spell of games, having to play twelve matches in 41 days across the Premier League, Champions League and the League Cup. Manager Pep Guardiola thus opted to rotate some of his key players for the home fixture against Everton, leaving both John Stones and Raheem Sterling on the bench. The formation of choice was 4-3-3, which has been a staple throughout this season. Fernandinho was fielded as the lone pivot with Bernardo Silva and İlkay Gündoğan as central midfielders.
Liverpool's manager Jürgen Klopp once said that if you do not press Manchester City and defend close to your own penalty area, you are ''hoping to win the lottery''. Easy statement to make if you have Mo Salah, Roberto Firmino and Sadio Mané as your three attackers, right?
Lacking the elite pressing systems to derail Manchester City's extremely fluid buildup, most teams opposing City have chosen quite defensive formations. The most extreme varieties of those being either a 6-3-1 or a 5-4-1 shape. Everton went for the latter, moving away from their usual 4-2-3-1 formation. From right to left, the five defenders were Séamus Coleman, Kurt Zouma, Michael Keane, Yerri Mina and Lucas Digne. The Brazilian Richarlison played on the right side of midfield, while Dominic Calvert-Lewin acted as the lone striker up top.
Manchester City's standard 4-3-3 formation in possession versus Everton's deep 5-4-1 organization.
Everton defend deep, but are quite brave in possession
Pep Guardiola is on record saying that 'whatever happens in the next fifty of seventy-five years, if the opponent plays 5-4-1 it is going to be hard to break them down'. Guardiola says this in German, in this video. The English subtitles are fairly accurate. Defending with five at the back allows the fullback to step out to the touchline without opening spaces in the middle. Since City always play with two very offensive central midfielders, having an extra defender means there is no gap for those midfielders to run into in.
That's the theory, though, which as you all know can differ from the reality a lot during a football match. Everton did a fine job getting the basics right, keeping equal numbers on the flanks, tracking runners and shifting over their entire team when City attempted to switch the play to the other side.
Manchester City were also committing a lot of unforced errors, misplacing several passes and making mistakes with their first touches. It was no coincidence that the first big chance of the match was for Everton. After a pass over the top was unsuccessfully dealt with by City's right back Kyle Walker, which gave Digne the chance to put in a lovely cross, Richarlison put it just over the bar.
Everton get punished for failed buildup
Richarlison's chance was reflective of Everton's strategy in possession, as it came after a healthy amount of passing in City's half. Marco Silva's team were not afraid to circulate the ball, in particular looking to find Sigurdsson and André Gomez, who could then distribute the play further ahead. This approach was mixed up with longer and more direct passes over the top, which were largely unsuccessful.
The thing is… City are still one of the best pressing sides in Europe. Everton's right and left center-backs – Mina and Zouma – showed less composure on the ball than what is needed to pull off a clean buildup against a Pep Guardiola side. City's three attackers pressed Everton's three central defenders, while the fullbacks pressed on Everton's wing-backs.
In the 22nd minute, Mina was pressured in a situation like this, and tried to punt the ball far away, but found Gündoğan instead. Two passes later, City's striker Jesus was one-versus-one against Pickford and put the ball in the back of the net.
After going up a goal, City eased the tempo, attempting less riskier passes and playing outside of Everton's block. A defensive block is the compact group of defenders that defends a particular zone, either their own half in a medium defensive block, or the zone around their own box in a deep defensive block. Near half-time, two small chances for Jesus and Sané ended what had been a half with two faces for City, as it had been hard for them to control the opening stage, but they were utterly dominant after opening the scoring.
Manchester City's passmap clearly shows how wide both Sané and Mahrez played on either wing, in an attempt to stretch space as much as possible against a compact defense.
City go up by two and Everton switch formation
Since both managers did not change formation or personnel after half-time, the opening phase of the second half looked a lot like the first half. Manchester City had the ball and tried to find dents in Everton's sturdy organization, while Everton were not able to produce chances after Richarlison's fluffled shot.
Once again, Klopp's quote springs to mind. If you stand in and around your own penalty area for so long, a moment inevitably comes where the ball falls for one of your opponent's players in a fruitful position.
Such was the case in the fiftieth minute, when a deflected cross from the right fell for City's left winger Leroy Sané. He beautifully crossed into Jesus, who headed in his second goal of the game. Jesus ending his goal drought is pretty much what his underlying offensive numbers were predicting for a couple of weeks, since he came in good positions to finish during this period.
Five minutes later, Marco Silva took off Coleman and the anonymous Bernard for Theo Walcott and Ademola Lookman, two purebred attackers. Everton changed their formation into an old-fashioned 4-4-2 shape, which was the go-to formation in English football for decades, but has become more or less obsolete in the modern era.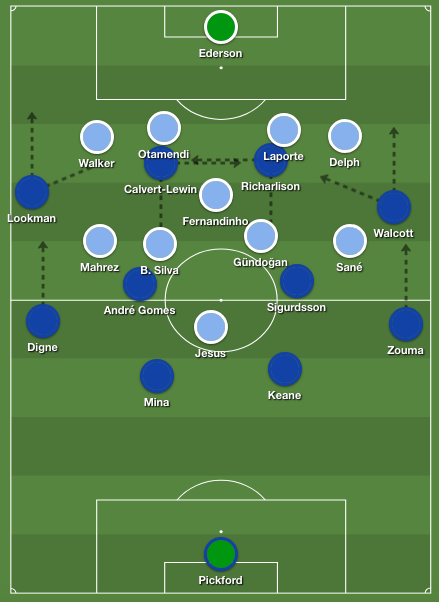 In the second half, Everton switched to a 4-4-2 / 4-2-4 formation.
Everton score, but never truly let City sweat
It is truly not fun to play against Pep Guardiola, since one of his first reactions was to immediately let left back Fabian Delph play alongside Fernandinho in the build-up. The Spanish manager also instructed one of the central midfielders to drop back to aid playing out from the back. City created a 3-2-4-1 / 3-3-3-1 shape in these moments, as the buildup was unhindered by Everton's pressing attempts.
After the switch, Everton were trying to come back into the match with wing-oriented football, utilizing their overlapping fullbacks and old-fashioned wingers. The hard-working Calvert-Lewin got rewarded for his positive performance by netting in the 65th minute, after a cross by Digne from the left.
The match never felt like it would truly tilt Everton's way, however.
City still had more of the ball and could easily fend off the visitors' attacks. Shortly after conceding, City were able to restore the goal difference to two. Largely thanks to their Brazilians, as a smart and quick throw by Ederson found Gündoğan.
After a dribble, he passed it to Fernandinho. City's holding midfielder played a one-two combination with Gabriel Jesus, slid into the penalty area and played a wonderful cross into Raheem Sterling, who had came on as a substitute minutes earlier. The young English attacker headed in the ball and put this game to bed.
Playing with four true attackers meant Everton had quite some firepower on the pitch, and it resulted in them creating some small chances in the late phases of the game, after City were two up again.
Spells like these lead to a team adding up heavily to their Expected Goals tally, without actually changing the course of the match. When watching the Expected Goals tally of a single match, one should always take into account that there are subtle nuances like these that can influence the Expected Goal tally. Winning the 'xG-battle' while still being the inferior side is possible in some situations, especially when a team is trailing by two or more goals.
Takeaways
City never came close to conceding after Sterling's goal, and all in all after the final whistle, it felt like a very routine victory for Guardiola's side, albeit it not a very sparkling performance.
Because of the loss away to Chelsea and the narrow win against Watford, one might think that this is one of City's lesser phases of the season. Pep Guardiola won't worry, though, as this was a match wherein he rotated his side heavily on multiple positions. City won anyway, and Kevin de Bruyne made his first appearance in over three months, which is also a huge positive for City.
The last four Premier League matches have yielded only two points for Everton, but Marco Silva must have liked what he saw today, especially in the first fifteen minutes. The next few weeks will be crucial in terms of reaching Everton's goal this Premier League season – to be the ''best of the rest'' and end the season as the Premier League's number seven.
Use the arrows to scroll through all available match plots.