Manchester City – Tottenham Hotspur: Tricky Encounter Reveals The Importance Of A Goalkeeper's Ball Playing Abilities (1-0)
Manchester City scored early through Phil Foden, but struggled to break down Tottenham Hotspur's 5-3-2 defensive block. Pochettino's clever formation choice also proved to be useful against City's 4-1-4-1 high press, until Paulo Gazzaniga's passing ability was exposed.
Tactical analysis and match report by Om Arvind.
Pep Guardiola's legacy is under some serious pressure, whether you think it should be or not. Just last Wednesday, Manchester City were knocked out of the Champions League quarter finals by Mauricio Pochettino's Tottenham Hotspur after a couple of crucial VAR decisions. That tie demonstrated the randomness of football and also the ability of pundits and fans to pounce on that randomness and use it for narrative building.
As you are aware, the current story is that Guardiola is overrated thanks to his repeated failures in the Champions League. Nothing will put that argument to bed like winning the competition itself, but securing a second consecutive Premier League title would certainly hold off some of the critics. This is what was at stake in Saturday's clash between Manchester City and Tottenham – the former's title hopes and Pep's legacy.
Having lost dynamic midfielder Moussa Sissoko and goalkeeper Hugo Lloris to injury in the aforementioned Champions league encounter, Pochettino started Paulo Gazzaniga in goal and shifted away from his diamond setup to a 5-3-2 formation. Center-back Juan Foyth deputized at right wing-back on the opposite side of Ben Davies, while Dele Alli, Eric Dier, and Christian Eriksen made up the midfield trio. Ahead of them sat pacey wingers Lucas Moura and Heung-Min Son.
Pep Guardiola declined to stray away from his usual 4-3-3 formation and even started many of the players who featured versus Spurs in midweek. Sergio Agüero led the line next to Raheem Sterling and Bernardo Silva. Kevin De Bruyne started in midfield next to defensive midfielder İlkay Gündoğan. Eighteen-year-old Phil Foden, Oleksandr Zinchenko, and John Stones coming in for David Silva, Benjamin Mendy, and Vincent Kompany, respectively, were the only changes Guardiola made.
Manchester City strike an early blow, revealing a key tactical battle
Manchester City started the game off in nervy fashion; Stones gave the ball away cheaply only two minutes in, allowing Son to race towards goal and fire a shot on target. City looked to get back into their rhythm and managed to string together a good series of passes, before they switched play to Walker on the right. The athletic right back strode forward into space and laid the ball off to Bernardo Silva, who cut inside and floated a delicious cross into the box. Agüero, unmarked, tapped a header towards Foden, who converted an easy chance.
The goal, though occurring in a relatively disorganized state of proceedings, revealed one of the central battles of the match – City's positional fluidity versus Spurs narrow 5-3-2 defensive block.
Tottenham Hotspur's narrow 5-3-2 medium block A medium block refers to a team that retreats in their own half out of possession, generally only disrupting their opponents some way into their own half. versus City's buildup.
While Pochettino was forced to move away from his diamond midfield thanks to the injury to Sissoko, the Spurs manager still managed to choose a defensive structure that clogged midfield. With a three of Alli, Dier, and Eriksen, and a two of Son and Moura, Pochettino was able to overload the center of the pitch and increase the risk of turnovers if City tried to get the ball to Gündoğan.
Pochettino's game plan obviously ceded wide areas, which proved to be a problem on the goal. But once Spurs settled into the game, they began to neutralize the opposition. Dele Alli and Eriksen worked very hard to track Walker and Zinchenko, respectively, buying time for Spurs' formation to shift into a wing-oriented stance.
Manchester City reacted by interchanging positions and manipulating their structure. The most common variations were Walker's evolving roles as an inverted and traditional fullback. When City had the ball in defense, Walker would occupy the deep right halfspace, creating a safer environment for ball circulation. Alli smartly declined to follow the former Spurs fullback, allowing Walker to carry the ball upfield without resistance for a few seconds.
Alli would then engage, forcing Walker to pass to Bernardo, who occupied the right flank. Instead of making overlapping runs, Walker would either underlap or hold position, allowing Bernardo to go one-versus-one with Davies. This was what led to the first goal and proved to be City's best option in the first half. Bernardo played extremely well and always found ways to cut inside to dribble, pass, and shoot, which would then cause Walker to move towards the byline like a conventional fullback.
However, due to Alli's solid defensive work, City could not always penetrate through the right-hand side of the pitch. Thus, Pep's men tried to better access the middle by having Zinchenko join Gündoğan in a double pivot, which caused Walker to drop and form a back three with Stones and Aymeric Laporte. It did not have much of an effect, and City were often forced into frustrated long balls that Spurs' defense easily dealt with.
Mauricio Pochettino outmatches Pep Guardiola's pressing structure
Contrary to what one might assume, Tottenham created few opportunities on the counterattack. This was thanks to City's effective counterpressing After losing possession, a team immediately moves towards the ball as a unit to regain possession, or at least slow down the pace of the counterattack., which was supported by good preparation in possession.
Instead, Spurs got their best opportunities when building out from the back against an organized City defense. This was because Guardiola's 4-1-4-1 high press could not deal with the overloads provided by Pochettino's 3-1-4-2 buildup structure.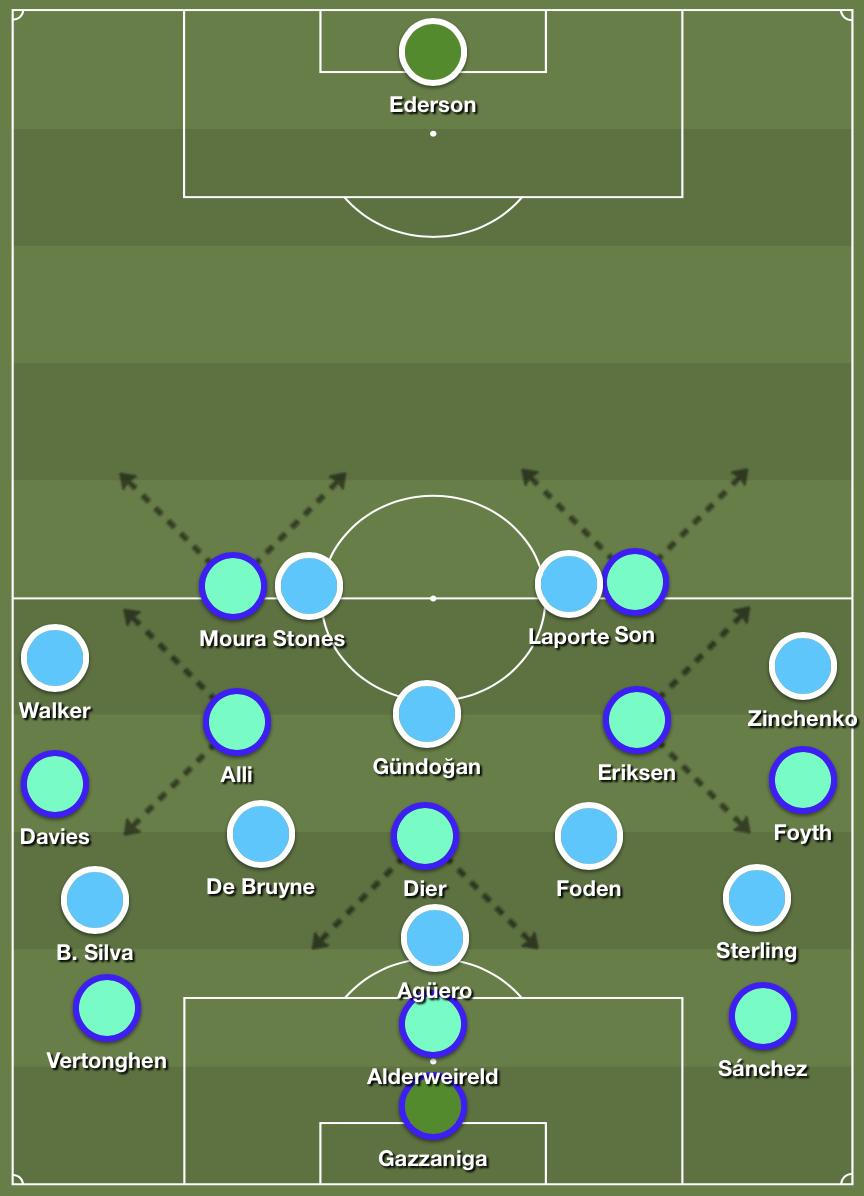 Tottenham's 3-1-4-2 buildup structure creating overloads versus Manchester City's 4-1-4-1 high press.
To start, City's front line were unsure as to how to press Spurs' back three; Agüero and one winger would press while the other wide player stayed in reserve, allowing Spurs to switch play far too easily. After some time, City's front three began to get more aggressive, but their change in approach was not sufficient thanks to Spurs' three in midfield.
Alli, and especially Eriksen, were extremely good at moving into free pockets in the halfspace, thereby occupying the attention of De Bruyne and Foden. This left Dier free to slip out of Agüero's cover shadow When a player is positioning himself between the opponent that has possession of the ball and another opponent, he is blocking the passing lane. When applied the right way, his 'shadow' is effectively taking the opponent in his back out of the game, because the pass can not be played., unless Gündoğan wanted to follow him. The German midfielder was reluctant to do so, since any aggressive movement from him would allow Alli or Eriksen to pull away vertically.
As a result, Spurs comfortably broke through City's first line of pressure and played direct passes towards Son, who was repeatedly denied a goal through last ditch tackles and capable saves from Ederson.
Tottenham Hotspur's deep stance in a clear 5-3-2 formation.
Paulo Gazzaniga limits Tottenham's offensive potency
The second half started off in much the same way as the first – nervy, chaotic, and with lots of fifty-fifty duels. City nearly struck early, again, when Walker surged forward past three players and fed a cross into Agüero, who had his shot blocked. As the game settled down, the pattern of play resembled much of what had occurred in the first forty-five minutes; City kept trying to exploit Bernardo Silva's qualitative superiority and Spurs looked to shut down his side of the pitch.
City did stop trying to overload the center of the park with Zinchenko, though whether that was down to the Fernandinho substitution – who came on for the injured De Bruyne in the 38th minute – is up for debate.
Pochettino made a defensive midfield change of his own, bringing on Wanyama for Dier at the half hour mark, but the tactics remained the same. In fact, the only thing that affected proceedings for the first twenty-five minutes of play, was Paulo Gazzaniga – Tottenham's goalkeeper.
City, in an attempt to stop Spurs' ball progression, upped the intensity in their front line, forcing Spurs' center-backs to play the ball to Gazzaniga. With plenty of options and time to think, the goalkeeper would either misplace a short pass or pointlessly punt the ball long.
Unsurprisingly, this completely destroyed Spurs' main method of chance creation. Gazzaniga's long passes also created an increase in fifty-fifty duels that created a more chaotic game state. Hence, Spurs were less prepared to deal with City's attacks thanks to the disorganization that came from trying to win aerial duels in midfield.
A clear 4-3-3 formation by Manchester City, whose fullbacks were the main distributors of the ball.
Pochettino and Guardiola change it up with substitutions
Five minutes after the Wanyama substitution, Guardiola brought on Sané for Agüero – possibly to better take advantage of the new end-to-end atmosphere. Pochettino reacted by bringing replacing Alli with Danny Rose in midfield – perhaps to provide superior defensive coverage against Bernardo and Walker.
Sané made an impact soon after coming on, running behind the defense after Gündoğan latched onto an unnecessary mistake from Moura. Sané, who is absolutely lethal in transition situations, played a perfect low cross to Sterling, who inexplicably fired straight at Gazzaniga.
As the game started to trickle towards full-time, Spurs and Pochettino became more desperate. Tottenham began to press, but City found it too easy to switch play to wide areas. In the 78th minute, Pochettino brought on Fernando Llorente for Toby Alderweireld, creating a narrow 4-3-3 formation of sorts. The extra man up front made it viable for Spurs to go route one, but City's defense was up to the challenge and managed to hold on for the 1-0 win.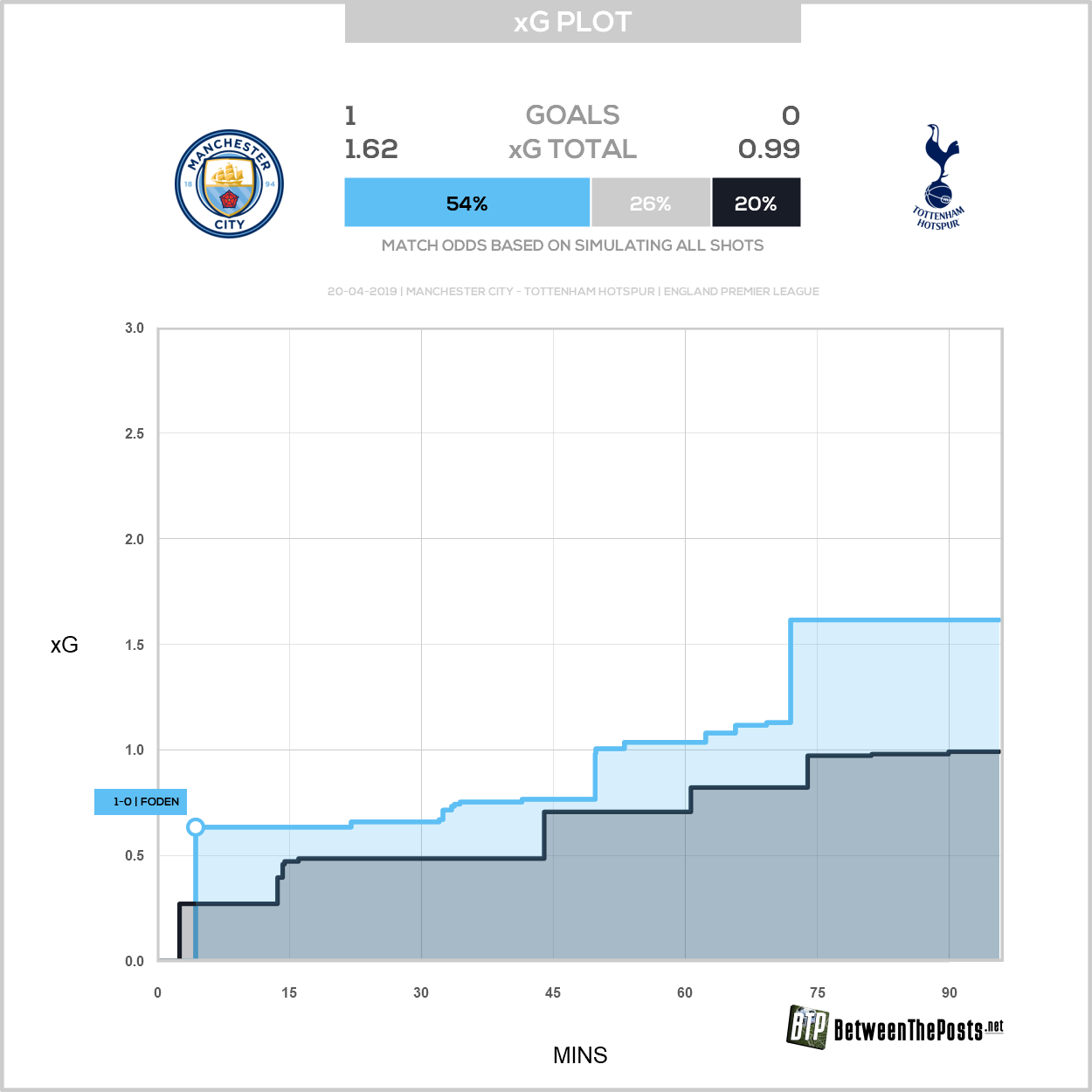 Takeaways
The increase in ball-playing goalkeepers over recent years has introduced a fiery debate in football; are shot-stoppers or good passers more valuable?  Any reasonable person would probably state that both qualities are needed, but a portion of fans do fervently believe that it is unnecessary to have a keeper in the vein of Ederson. Hopefully, their minds might be changed by what occurred in this match, where Gazzaniga's inability to pass the ball ended up dooming his team's chances of a comeback.
In that respect, Guardiola got lucky. If someone like Alisson had been in goal, maybe things would have turned out differently. But, ironically, this performance will take some of the pressure off of him, as results are what determine narratives in the public consciousness. If Manchester City can hold onto their one-point lead at the top of the table and secure the Premier League title, it is not unlikely that Guardiola will once again be the favored son of the beautiful game.
Use the arrows to scroll through all available match plots.