Manchester City – Tottenham Hotspur: City Unfortunate to Draw in Dominant Performance (2-2)
Manchester City were held to a draw against Tottenham Hotspur, despite being the far better side. City dominated the game for large stretches as Spurs struggled to deal with their dangerous wing attacks. Spurs, on their turn, could rarely break through City's pressing when they had the ball. Despite this, a long range strike from Erik Lamela and a header from substitute Lucas Moura from a set piece were enough for Spurs to salvage a draw. 
Tactical analysis and match report by Josh Manley.
City started off their search for a third consecutive Premier League title in emphatic fashion last week with a 5-0 win over West Ham. New signing Rodrigo seemed to be settling into the mould fairly quickly, and star forward Raheem Sterling got his campaign off to a perfect start with three goals in their season opener. 
Both Sterling and Rodrigo featured in the starting lineup for this game as well. Pep Guardiola also reintroduced Bernardo Silva to the starting lineup, as well as İlkay Gündoğan, who took the place of David Silva as the Spaniard dropped to the bench. Silva was joined by another new signing in João Cancelo, who is yet to make his debut for City as Kyle Walker again took up the right back position. 
Spurs also got a victory on the opening day, however theirs was somewhat more nervous than City's as they initially went behind against Aston Villa. It took Spurs until late in the game to finally make their breakthrough as new signing Tanguy Ndombele scored on his debut to equalize, before two clinical strikes from Harry Kane helped secure a 3-1 win. 
Mauricio Pochettino made one change from the team that started against Villa, replacing Lucas Moura with Christian Eriksen, who impacted the game very well as a substitute last time out. They did change formation though. After going with a 4-4-2 diamond in the season opener, against City they would use a 4-2-3-1 formation, with Eriksen slotting in on the left of midfield. 
City completely smothered Spurs, who has most problems keeping up with numbers on the flanks. Initially they mostly operated from a 4-3-3 setup.
Spurs unable to defend City wing attacks
City's base possession structure in this game was fairly familiar. They started from a 4-3-3 base formation with wingers Bernardo Silva and Sterling hugging the touchlines, while Kevin De Bruyne and Gündoğan positioned themselves high up in the halfspaces. If you divide the field in five vertical lanes, the halfspaces are the lanes that are not on the wing and not in the center. Because there is no touchline like on the wing, players have the freedom to go everywhere. But this zone often is not as well-defended as the very center. This makes it a very valuable offensive zone to play in and a lot of chances are created by passes or dribbles from the halfspace.
The variable positioning of the fullbacks allowed them to create a few different structures from the base 4-3-3 shape however. These alternative structures usually involved Walker tucking inside to become part of a back three alongside Nicolás Otamendi and Aymeric Laporte. 
Oleksandr Zinchenko could then move alongside Rodrigo in a central midfield position to create a 3-2-4-1 shape for City in possession. This could be useful as Rodrigo was often being marked by Lamela in the number ten position in Spurs' 4-4-1-1 defensive shape. Adding Zinchenko into the second line of buildup could allow City to progress the ball into central midfield without using Rodrigo. Alternatively, Kane would drop deeper to cover Zinchenko while Lamela covered Rodrigo, which would in turn create extra space for the City center-backs to carry the ball out. 
Later on in the game, City's shape in possession were more like a 3-2-4-1.
There was also another variation of City's attacking shape, where Walker again would stay deeper alongside the center-backs, with Rodrigo as the sole number six in front of the defense. This time though, Zinchenko would occupy the left touchline, allowing Sterling to move inside onto the last line alongside Sergio Agüero, creating a 3-5-2 like structure for City. 
In all of these variations, the positioning of De Bruyne and Gündoğan in the halfspaces coupled with City's occupation of the width created problems for Spurs in terms of preventing easy ball progression for City. 
Spurs' defensive setup
Spurs defended in a 4-4-1-1 formation, which was relatively compact. The distances between the fullback, central midfielder and wide midfielder on each side of the pitch were made even smaller as they tried to tighten the spaces for De Bruyne and Gündoğan. This made it harder for them to receive line-breaking passes from the City defenders and Rodrigo. 
Here, Spurs faced a dilemma which City thrive on creating for their opponents. How to prevent City accessing the halfspaces while also not giving up too much space on the wings? In this case, Spurs gave up space on the wings, allowing City to make easy space gain with passes and switches of play A pass from one side to the other. into Sterling and Bernardo Silva.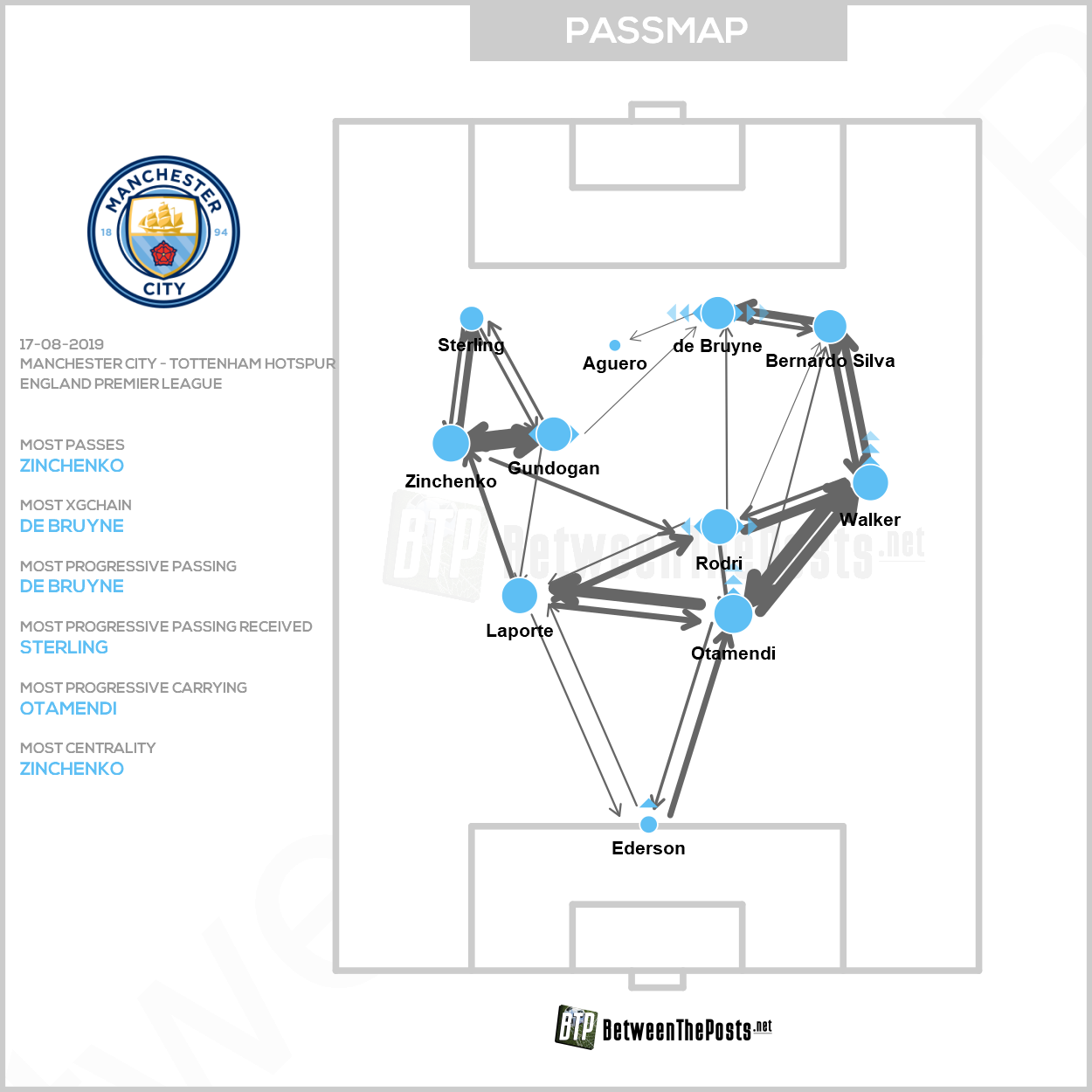 City relied on the wings to stretch Spurs' defense, but were always able to get central midfielders Gündoğan and De Bruyne involved.
City could then use the underlapping runs Underlap means that the full-back joins the offensive play by playing on the inside of the winger he supports. This is the reverse of an overlap, where the full-back plays on the outside and the winger moves inside. from the likes of De Bruyne and Gündoğan from the halfspaces to move the ball back inside and get crosses into the box. 
This was demonstrated in both of City's goals. In the first case, De Bruyne stayed slightly deeper to receive from Bernardo Silva and cross to the far post for Sterling to head the ball into the net. For the second goal De Bruyne this time made an underlapping run in behind the Spurs fullback, before picking out Agüero's near post run. 
Spurs also struggle with ball progression 
Between City's two first half goals, Spurs managed to get a goal of their own, courtesy of Erik Lamela's long range effort, which was helped by some questionable positioning by Ederson in the Manchester City goalmouth. 
The goal came completely against the run of play though. As well as not being able to contain City's attack, Spurs also had trouble finding consistent ways to progress the ball and get out of their own half. 
City usually pressed in a 4-4-2 shape, as De Bruyne pushed forward from his central midfield slot to put pressure on the Spurs center-backs alongside Agüero, leaving Rodrigo and Gündoğan to form a midfield two. 
De Bruyne and Agüero made good use of their cover shadows When a player is positioning himself between the opponent that has possession of the ball and another opponent, he is blocking the passing lane. When applied the right way, his 'shadow' is effectively taking the opponent in his back out of the game, because the pass can not be played. to prevent Spurs from being able to feed the ball into their midfield double pivot 4-2-3-1 is one of the most frequently occurring formations in football. The two most defensive midfielders are called a 'double pivot'. of Harry Winks and Tanguy Ndombele. This involved not only preventing forward passes from the center-backs, but also getting into good covering positions when the ball went wide, to prevent Spurs from breaking City's pressure with passes inside from the fullbacks into the central midfielders. 
City then were generally able to restrict Spurs to circulating the ball across their own backline, with Spurs' rare forays forward coming from winning second balls between the front four after direct passes, or occasional counterattacks.
The passmap of a team that is completely smothered in a deep position.
City unable to secure the win
City went in 2-1 up at half-time and in full control of the flow of the game. Without Spurs making a miraculous tactical adjustment to change the course of the game it seemed as if City would be able to run away with the game. 
Indeed, City continued to dominate proceedings as the second half began, still creating plenty of shots and preventing Spurs from doing so at the other end. In need for a change, Pochettino decided to make his first substitution, bringing on Lucas Moura in place of Winks. This meant that Sissoko, previously on the right side of midfield, would move into a central role alongside Ndombele. 
With the introduction of Lucas Moura, Pochettino would look to gain a quick dribbler, someone to help Spurs take advantage of their rare counterattacking opportunities, as well as maybe finally retain some possession higher up the pitch. What he probably did not expect to gain was an aerial threat at set-pieces. That's exactly what he got though, as within seconds of coming on, Lucas headed home Lamela's corner delivery to make the score 2-2, a second equalizer for Spurs which again came completely against the run of play. 
Still, the goal out of nowhere did little to change the flow of the game. City continued to push for a third goal. Pep made substitutions of his own, bringing on Gabriel Jesus as a like-for-like replacement for Agüero. Looking to add even more creativity to the attack, he then brought on David Silva in place of Rodrigo, meaning that Gündoğan would move to the defensive midfield slot, with Silva alongside De Bruyne ahead of him. 
Still though City could not find the breakthrough they needed in the final third. The one-third of the pitch that is closest to the opposition's goal. City were loading up the box and sending in crosses, looking to thread through balls through compact spaces, but Spurs deep defense was able to cling on as time began to run out for City. 
There was late drama as City seemed to have finally found their winning goal scored by Gabriel Jesus, only for VAR to intervene and rule it out for a Laporte handball in the lead-up. With that, Spurs had somehow managed to hold onto their point as the game ended 2-2. 
Takeaways 
City absolutely dominated the game and there is little doubt that they should have won it. This was a strong performance from Guardiola's side against the team that most would agree is their second closest contender after Liverpool. Despite the dropped points, City have little reason to be worried about their overall performance. 
Spurs, meanwhile, will be thrilled to have escaped with a draw in a game where they created three shots and conceded twenty-eight. Whether or not it was a conscious choice for them to sit back rather than impose their pressing game on City can not be known, but they were thoroughly outclassed for most of the game regardless. 
Use the arrows to scroll through all available match plots. Click to enlarge.
Match plots for all other matches available at our match plots page.