Manchester United – Liverpool: Solskjær's Change Of System Only Enough For A Draw (1-1)
Manchester United came into this game with a tactical surprise as Ole Gunnar Solskjær deployed a new 5-2-1-2 system against Liverpool. United's pressing was able to blunt Liverpool's attacking play in the first half and they were able to catch the away side on the counterattack to go ahead. In the second half Liverpool made changes of their own and applied pressure against a deeper United defense, which eventually paid off as substitute Adam Lallana equalized late on.
Tactical analysis and match report by Josh Manley.
A home fixture against Liverpool is always one of the biggest games of the season for Manchester United, but this match came at a time where Ole Gunnar Solskjær's side were badly out of form. They had gone five games without a win in all competitions, and only had three wins in total so far in the season.
Solskjær decided on a change of system for this game, with the team sheet prior to the game suggesting some kind of three center-backs system would be deployed, as opposed to the 4-2-3-1 system United have been using so far this season. Axel Tuanzebe was due to start alongside Victor Lindelöf and Harry Maguire in the center of defense for United, however Tuanzebe was injured in the warmup, meaning that Marcos Rojo stepped into the backline as a like-for-like replacement.
As it turned out, United would opt for a 5-2-1-2 system, as Scott McTominay and Fred formed a central midfield partnership, with Andreas Pereira at number ten ahead of them. Daniel James and Marcus Rashford would play as the two strikers. 
Liverpool were looking to continue their winning record in the Premier League, and they were boosted by the return of Alisson in goal after his injury in their opening day win over Norwich. 
However, there was also bad news for Jürgen Klopp's side as Mohamed Salah was ruled out. This meant Divock Origi stepped in on the left side of the forward line in their customary 4-3-3 formation, with Sadio Mané on the right, and Roberto Firmino as false nine. A striker that constantly drops deep and plays like a number ten.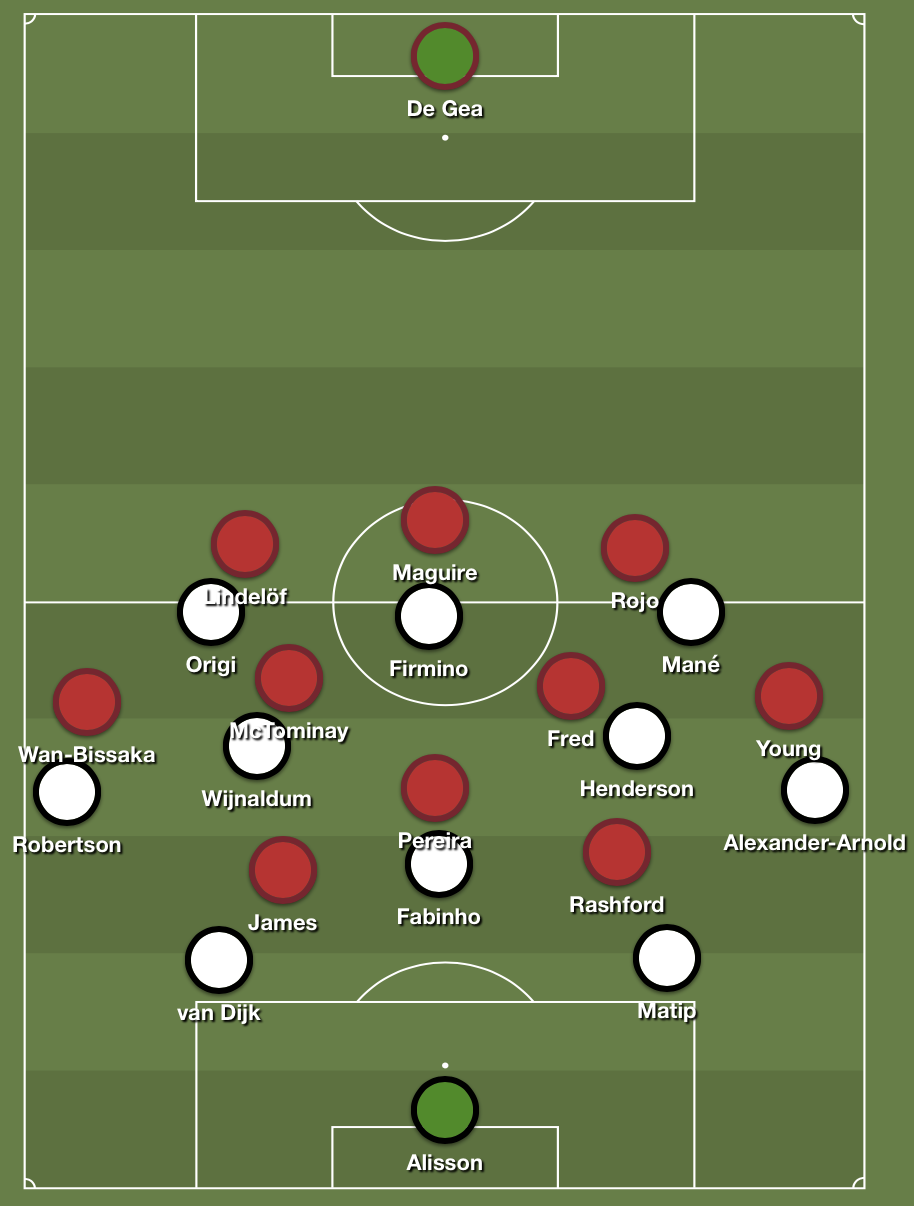 Manchester United pressing Liverpool's buildup.
Liverpool struggle to outplay United pressing
The home side looked to assert themselves through a high pressing game at various points early in the match. Liverpool did not respond especially well to this, as their attempts to outplay the press usually revolved around direct methods of progressing the ball which were often unsuccessful.
United with their 5-2-1-2 defensive shape could match Liverpool man for man across the pitch. They were not strictly man-marking, however their defensive starting positions essentially lent them easy access to their direct opponent in most cases.
The two strikers would lead the pressing against Liverpool's two center-backs, while Pereira as the number ten would usually try to stay close to Fabinho. Meanwhile Liverpool's central midfielders and narrow front three were matched up against United's central midfield pairing and back three respectively. 
This firstly made it difficult for Liverpool to build cleanly from the back, as the all forward passing options were usually marshalled by their opposite number from United. The free players were usually the fullbacks.
United's own wing-backs were the ones tasked with pressuring Liverpool's fullbacks when they received the ball, but they usually had to come from a slightly deeper starting position, so the fullbacks for Liverpool were usually able to receive and face forward before pressure arrived.
This did not make outplaying United's pressure much easier though, as there was still rarely a free player available when the fullbacks looked ahead. Often then, they opted for direct passes into the forwards who would attempt to hold the ball up with their back to goal against one of the United center-backs.
On a couple of early occasions for example, chipped passes from Andrew Robertson went up to Origi, who looked threatening against Lindelöf, who seemed to struggle with the physical duels. More generally though, these passes from the Liverpool fullbacks ended up being speculative at best, and were symptomatic of Liverpool's apparent lack of ideas when it came to outplaying United pressure in the first half.
United in deeper defending and counterattacking
It wasn't always possible for United to be pressing high up the pitch though, in which case they would drop back again into a 5-2-1-2 shape, or sometimes getting closer to a 5-2-3-0 when James and Rashford dropped off of the front line slightly. 
In this deeper pressing, the United wing-backs were usually a bit less aggressive, so James and Rashford were sometimes responsible for moving across to apply pressure on the Liverpool fullbacks when they had the ball.
The positioning of James and Rashford when Liverpool had the ball was key to United's game plan though. They were generally in the halfspaces, If you divide the field in five vertical lanes, the halfspaces are the lanes that are not on the wing and not in the center. Because there is no touchline like on the wing, players have the freedom to go everywhere. But this zone often is not as well-defended as the very center. This makes it a very valuable offensive zone to play in and a lot of chances are created by passes or dribbles from the halfspace. where upon winning the ball back, they would be looking to attack the channels between Liverpool's center-backs and their advancing fullbacks.
This was the case for United's goal which put them 1-0 up ten minutes before half-time. United won the ball from Lindelöf's challenge on Origi, which Liverpool will argue was executed unfairly. Nevertheless, play went on, and McTominay released James running in behind the defense in the space vacated by Roberton's forward run. The Welshman was able to cross, finding Rashford in the box, who had used some nice movement to create separation from Joël Matip before scoring past Alisson from close range. 
Liverpool generally also struggled against United's deeper defending. Henderson had a somewhat interesting role from their initial 4-3-3 shape, as he often found himself moving to advanced areas on the right wing as Mané occupied the right halfspace.
On a couple of occasions Firmino was able to get free between the lines as Maguire was unwilling to follow him into midfield, meanwhile McTominay and Fred were focused on their direct opponents. Firmino then had some decent opportunities to create and overloads When one team has more players in a certain area or zone than the other team. as the free man, but Liverpool still struggled to find him consistently and could not really get any promising dynamics going against United's defensive scheme. 
Klopp's changes enough to rescue draw
Liverpool made a half-time tactical change, as Klopp ordered his side to switch to a 4-2-3-1 system. This meant that Fabinho and Georginio Wijnaldum would make up the double pivot, 4-2-3-1 is one of the most frequently occurring formations in football. The two most defensive midfielders are called a 'double pivot'. while Henderson would now move more permanently to the right wing. Mané switched to the left side, while Firmino moved into a number ten role and Origi became the striker. 
United meanwhile were defending deeper and would do so for longer spells than in the first half. Liverpool's change of shape also initially meant that they did not have the easy access to their opposite numbers from within their formation as easily as they did in the first half.
The Liverpool double pivot could now outnumber Pereira in the second line, so United could not establish access so easily. After a short time, United then switched to a 5-3-2 with McTominay as the number six with Pereira and Fred either side of him. This now matched them up with Liverpool's formation again, but by this point United were defending more passively anyway.
The formations going into the second half, with United defending deeper.
The midfield three had a lot of responsibility in covering large spaces across the pitch, as Pereira and Fred were tasked with pressuring the Liverpool fullbacks, as United's own wing-backs were more often pinned back by the Liverpool wide players now. 
Liverpool's attack was still not especially potent though. The front four were often rather flat against United's back five and were not always well connected. Liverpool were reliant on crosses from deep to try and find the forwards. They struggled to build constructively through the center, and the crosses were often lacking in quality. 
Klopp made further substitutes, with Alex Oxlade-Chamberlain and Adam Lallana replacing Origi and Henderson respectively in the front four. Liverpool continued to apply pressure against United, who moved into a 5-4-1 low block A low block refers to a team that retreats deep in their own half out of possession, generally only disrupting their opponents around their own box. as Dan James began to join the midfield line to provide extra coverage on the left.
Finally though, the pressure that Liverpool had built up in the second half paid off. Eventually one of Klopp's substitutes, Lallana, was in the right place at the back post to tap in a cross from Robertson that Lindelöf and Rojo both failed to intercept. The game would go on to finish with a 1-1 scoreline, which United were likely thankful for as Liverpool continued to apply pressure in the short time left after the equalizer and looked the more likely team to score again. 
Takeaways
The formula of playing two fast strikers working the channels on counterattacks with a number ten behind them is what helped Solskjær earn some of his good results early in his United managerial career, and he turned to it again in this game. 
It remains to be seen whether Solskjær will stick with this going forward, or revert back to the 4-2-3-1 formation he had been using so far this season, as the performance in this game was an improvement over what has been seen in recent weeks. United still did not create a huge amount of chances, but this is perhaps more understandable against Liverpool than the other teams they have been struggling to create against.
Liverpool looked out of sorts in the first half in particular against United's pressing scheme and seemed to lack ideas about how to outplay the home side. In the second half they established themselves more in the game, but were still not at their creative best, again sometimes seeming to lack ideas in getting quality service to the front players. Eventually they were able to break through the United defense to preserve their unbeaten record, but in terms of overall performance it certainly was not one of their best games. 
Use the arrows to scroll through all available match plots. Click to enlarge.
Check the match plots page for plots of other matches.