Napoli – AS Roma: Derby del Sole Draws Sunset on Title Ambitions (1-1)
Napoli could not afford to drop points. They went into the lead at half-time, but slight adjustments in the buildup from José Mourinho firmly placed control in AS Roma's hands. Stephen El Shaarawy's injury-time finish was devastating, but had been coming.   
Tactical analysis and match report by Joel Parker. 
With both Milan clubs making strides, Napoli knew that victory was a necessity to keep any Scudetto dream alive.
Five points separated them from the top spot, a gap which would've been a lot closer if Fiorentina hadn't inflicted a crushing blow to another Napoli title charge. Spalletti's team had gained control through their more direct approach, but as the game grew, so did Fiorentina's control of proceedings. To keep any title push, they must capitalize on phases in which they are on top.
They faced Roma, unbeaten in Serie A since January, another team who remains within a late Champions League push – victory down South would put them three points away from fourth-placed Juventus. Mourinho's team could have a huge influence on the Scudetto's destination, with a trip to Internazionale scheduled for next weekend, a few days before their Europa Conference League semi-final with Leicester City.  
Luciano Spalletti made three changes, to the team that lost last weekend. David Ospina was ruled out with flu-like symptoms, so Alex Meret returned between the posts. André Zambo Anguissa came back from suspension to replace Piotr Zieliński, whilst Hirving Lozano joined the forward line, in place of Matteo Politano.
José Mourinho had finally conquered FK Bodø/Glimt in Europe, which saw the bulk of the first-team squad in play. He kept all but one player in the team, with Henrikh Mkhitaryan replaced by Sérgio Oliveira in the midfield. Despite injury scares to Lorenzo Pellegrini and Nicolò Zaniolo, both men started.
 Similar in success, contrast in styles
Though quick, fast progression doesn't often reflect either coach's general aims, both Napoli and Roma excelled in these areas, taking advantage of both loose defensive blocks and neither team's grab of control. Napoli bested their opponents in the early phases: due to the flat 3-4-1-2 set-up that Mourinho deployed.
This often saw little coverage in front of the center-backs, especially when Roma were engaged high up the field. With one of Bryan Cristante and Oliveira stepping far up the field, this enabled the direct ball into Victor Osimhen to become a handful asset. As well as Osimhen, an inside run from three-man combinations enabled Spalletti's team to progress, whether that would come from the underlapping fullback or the ball sided midfielder. With Hirving Lozano and Lorenzo Insigne sticking to wider positions, deeper in the buildup, these spaces were easy to open.
Six minutes into the game, Napoli was able to benefit from their most creative asset in the final third, when Lozano was left isolated with Roger Ibañez. Stanislav Lobotka's dinked ball, over the top of the defense, put Lozano through on the right side of the field. Ibañez bundled the Mexican forward over in the box, and although the VAR decision took some time, a penalty was awarded. Insigne made no mistake, giving Napoli a crucial lead.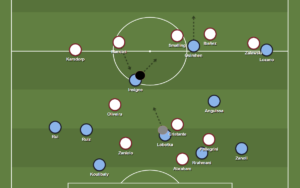 15th minute: Example of the quick transitions that Napoli could make (First pass, grey ball: second pass, black ball.) A dropping Insigne connected play, against a Roma backline which was delayed to the pass.
Napoli continued to utilize their passages through Roma, whether that would come from fast, direct balls or the use of the third man. Once they were set up in the opposition half, their passes were shorter and forwards narrower. They also had moments where their counterpress, especially on the left side, was able to keep the pressure on the Roma defense: one of these moments was the perfect launchpad for a Rui overlapping run, which lead to half chances for both Osimhen and Lozano.
The hosts had control in these phases,  but the setup doesn't establish this for long periods. From deep, no player is close to Osimhen, which leads to very little penetration behind the last line and the runners having to come from deep areas. Direct balls to the forwards were successful but is an approach that is always a lottery and can put the opponent's back on the ball.
 Zaniolo behind Rui, but no substance
Roma's approach was also based on turning circulation into fast attacks but had a particular trigger in place. They aimed to get the ball down the right side, where Zaniolo would laterally drift outwards. When Rui was forced to engage with Rick Karsdorp, Zaniolo would often make this run, but could also sit in the fullback's space when Roma went more direct. With a significant height advantage, this was an effective route.
These balls were often dangerous, as they drastically pulled Napoli onto one side. As they were in a scattered 4-1-4-1 shape off the ball, this often left Lobotka engaging the Roma attackers running infield, without vertical coverage. Both Pellegrini and Tammy Abraham were left isolated with the center-backs, whilst Nicola Zalewski could join the offensive transition.
A similar pattern could also work on the other side when Abraham peeled off the frontline and into deeper space. The striker moved into Anguissa's blindside, often the highest of the three midfielders off the ball, which left Lobotka to cover Abraham and Pellegrini switching positions to keep the center-backs pinned deeper.
26th minute: Ibañez pass to Abraham. As Abraham received, Lobotka was forced to screen and engage with the striker. Abraham beat the midfielder, whilst neither Ruiz nor Anguissa covered the position behind, which lead to Roma driving the ball towards the penalty area.
Mourinho's team continuously had space back inside, as Roma started to look the more dangerous team after twenty-five minutes. That being said, turning such patterns into shots proved to be difficult. Firstly, neither Amir Rrahmani nor Kalidou Koulibaly was pulled out of their central positions, the latter being one of the finest Serie A center-backs when it comes to defending tightly or reacting to the dangerous ball. Secondly, Roma didn't have any established runs behind or around the center-backs to create more space in these transitions.
Cristante's indirect free-kick was flicked onto the crossbar by Anguissa, but Roma's first shot, in play, didn't come until stoppage time in the first half. Even this involved a lot of donkey work from Zalewski, who eventually got the better of Alessandro Zanoli after dribbling the ball out and back in again, comfortably saved by Alex Meret.
 Roma begins to squeeze
After initial phases of Napoli pressure, one of which saw Lozano and Osimhen neatly combine for the Nigerian to take a scuffed shot, Roma started to put the squeeze on the hosts and circulated more of the ball. Mourinho took off Cristante and replaced him with Mkhitaryan at the start of the half, an appropriate change for a team that was about to have more of the ball.
The dynamics were slightly altered when Roma built around the back. Firstly, they made more use of the free man when they exchanged passes, with the wide center-back stepping further forward, more noticeable in Gianluca Mancini. With Napoli's 4-1-4-1 block becoming flatter and deeper, this saw Fabián Ruiz (and soon to be Zieliński, who replaced the injured Lobotka) be more drawn to Mancini.
With Ruiz, now the man covering, or Insigne, forced to step into this space, this enabled the visitors to become more aggressive on the right side. Either Zaniolo or Pellegrini could make a run behind Koulibaly, with the free forward dropping into the vacant space, as seen in Pellegrini's chance towards the hour mark.
57th minute: Player positions for Mancini's long ball for Pellegrini chance, highlight the altered positions within the buildup. Mancini is noticeably further forward from the other center-backs, whilst there was a lot more pressure on Napoli's last line.
Secondly, more of a split was seen between the double pivot. Cristante was often part of the same line as Oliveira, but Mkhitaryan often sat behind Anguissa once Roma had the ball further forward. With players altering their positions between phases, it became more difficult for Napoli to press without opening spaces behind them, especially as Spalletti's team are more drawn to going man-to-man against their opponents.
Chances started to creak into Roma's play, Pellegrini's chance was close, but their best opportunity fell to the player they would prefer. With Mancini stepping forward, the visitors were able to put both Zaniolo and Karsdorp behind Insigne and created a two-versus-one on Rui. This made space for Karsdorp to deliver an excellent cross, which hanged beautifully for Tammy Abraham inside the area. Though separated from Rrahmani, Abraham failed to properly adjust to the cross and his attempt was easily gathered by Meret. A golden opportunity for the man upfront.
 One man's change is another man's gain
The visitors' control was broken up by some Napoli phases after an hour had passed. This involved the hosts using the same mechanics as seen at the start of the game, with Lozano and Insigne taking wide positions, supported by the fullback in a more narrow position or the ball sided midfielder. Spalletti replaced Ruiz with Diego Demme and Eljif Elmas came on for Lozano, changes which saw Elmas drift into some good positions, whilst Anguissa pinned players ahead of him.
Slowing the game down was more catered for Napoli, but it wasn't too long before Roma reasserted their grip and the hosts failed to kill the game off. Mourinho's changes were more offensive, most notably, taking off Zalewski and putting on Stephan El Shaarawy. His affect was felt almost instantly, as El Shaarawy put Zaniolo through, between Rrahmani and Zanoli. His shot was saved by Meret who had charged out of his goal.
Roma continued to apply pressure, whether that would come from going more direct to Abraham or connecting with Zaniolo, who was drifting more towards the left side. Feeling the squeeze, Spalletti made the boldest of calls: Osimhen and Insigne were taken off, replaced by Juan Jesus and Dries Mertens with ten minutes left.
The 5-4-1 formation was chaotic out of possession, with no offensive outball to relieve pressure and a midfield that became way too clustered and open. Mourinho smelt blood, immediately taking off Mancini and putting on Carles Pérez. Zaniolo was forced off shortly after, with Felix Afena-Gyan replacing him, but continued to put Napoli under pressure, with Gyan and Abraham making aggressive runs between the center-backs.
90th minute: Buildup to Roma goal (First pass, grey ball: second pass, black ball: third pass, pink ball.) A combination of different elements is seen throughout. An easy route into the forwards, without any coverage from Napoli midfielders, followed by a lateral run behind Rui, which shifted the backline and created an overload at the back post.
Into injury time, Roma finally broke down the Napoli walls. As play filtered towards the right, Karsdorp put Pellegrini behind Rui, with Jesus stepping out of the line to confront Pérez. Pellegrini's ball was left by Afena-Gyan, flicked on by Abraham and powered in by El Shaarawy, left free on the overlap.
 Takeaways
Another crushing result for Napoli. Four points separate them from leaders Milan, whilst Inter can leapfrog their city rivals by winning their game in hand. Nevertheless, it would take the greatest of collapses and finest of resurrections, if Napoli are to climb to the summit with five matches left.
Roma showcased their value here. Perhaps a draw wasn't entirely desirable, especially as to how they were able to get back into the game after a difficult opening period. A huge few weeks are inbound for them, perhaps another Scudetto charge can be spoiled when they face Inter next week.
We decided to make this article free to read. If you want to support our work, consider taking a subscription.
Use the arrows to scroll through all available match plots. Click to enlarge.
Check the match plots page for plots of other matches.