Olympique Lyonnais – Barcelona: Lyon escape the clutches of Barcelona to somehow come away with a decent result (0-0)
The incessant attacking flow of this game was in no way comparable to the final scoreline. However, a lot more of the open attacks fell in favor of the visitors, whose exploits in every third of the pitch were superior to Lyon. The weaknesses within Lyon's deep block were plain to see but Barcelona could not muster up the finishing touch to make their opponents pay.
Tactical analysis and match report by Peter M.
Bruno Génésio and Ernesto Valverde are two managers that are always questioned, always in the hot seat, always under scrutiny.
Génésio's Lyon are in fine form, although it took them a while to get there, whilst Barcelona have been facing a few struggles in their recent, uninspiring performances. Fans of the latter, now more than ever following Valverde's contract extension, have become the voice of negativity, so it is essential for Barcelona to lay down a marker here, not just for their own team's sake but the fans, as well.
Three changes were made by Génésio from their 2-1 win over EA Guingamp with Fernando Marçal dropping out for the preferred Ferland Mendy. Tanguy Ndombélé reprised his role in a midfield pairing with Houssem Aouar and behind Moussa Dembélé stepped in Memphis Depay for the suspended Nabil Fekir.
Barcelona had rotated more heavily against Real Valladolid, now seeing Thomas Vermaelen, Carlos Aleñá, Arturo Vidal and Kevin-Prince Boateng sit back out in for the likes of Clément Lenglet, Nélson Semedo, Ivan Rakitić and Luis Suárez.
Lyon look panicked in the opening stages
The pre-match atmosphere exerted a feeling of confidence from a Lyon perspective but what the fans actually witnessed was something on the opposite end of the scale.
Barcelona, like they always do, pressed as high as possible in a 4-4-2 shape looking to pick up as many men as possible. And, with their own 4-4-2 formation, that quickly transitioned into a 4-1-1-4 in their buildup phase, the home side quickly played their way into trouble on multiple occasions.
Their attacking line was too flat to be targeted, as no player was freely in a position to claim any knockdowns. Goalkeeper Anthony Lopes was clipping balls into central areas looking to find Aouar or anyone nearby. It was one thing being inferior in every duel to Barcelona but to hand them possession like this was criminal. Lyon's receiving players were completely overloaded by opposition bodies when these fancy dink balls into tight areas were played in.
In the seventh minute, Lyon were nearly made to pay for their poorly thought out exploits as a failed, narrow chip into Léo Dubois was pounced upon by Ousmane Dembélé. Rakitić slid it directly into Suárez's feet who looked lob it over to Lionel Messi but it was slightly overhit.
Lyon had no control on the game whatsoever. Their struggles continued further up the pitch, too. Here, as well, their incredibly stretched shape was causing themselves more problems than it was their opponents. Lyon simply did not have the individual quality to go toe-to-toe, man-for-man with the Barcelona team and that was why they struggled so badly.
The wide midfielders in their 4-2-3-1 formation kept very wide as they attempted to stretch across the visitor's fullbacks but it was meaningless. By the time the attack had positioned itself appropriately, Lyon's double pivot had been crowded out and had lost possession.
Lyon's stretched 4-2-4 provided no basis for linkup nor control.
The one way they were going to sustain some pressure was by having a consistent presence between the lines – something they clearly did not have. Depay was supposed to be this player but he struggled as a lone mover in the middle. It was a side that lacked the kind of linkup Fekir offered, which would have provided more stability in midfield.
Lyon did however muster one effort early in the half. A direct ball played into Dembélé from out wide was claimed on the knock-down from Martin Terrier. With the freedom of the midfield to drive into with the ball, he unleashed a shot from twenty-five yards out that was tipped onto the bar expertly by Marc-André ter Stegen.
In this increasingly open game – that mostly consisted of Barcelona dominating with the ball and, if not, quickly recovering it to spring counterattacks – Ousmane Dembélé was a persistent threat. The gap between Bertrand Traoré and Dubois down that side was enormous, so he had all the time and space he could wish for. In the nineteenth minute, Barcelona's superiority in one-versus-one duels came to the fore as the French winger squared up to the fullback, jinxed past him and opened up the angle for a good chance. However, the drilled effort was tame and easily collected by Lopes.
Busquets had space and time to progress the ball up the field, straight through the middle.
Gaps in Lyon's deep block help slow the game down to Barcelona's pace
Following a frantic first twenty-odd minutes, the match settled into a steady rhythm of Barcelona possession and offered little form of escape for the hosts.
In their vertically compact 4-4-2 shape, Lyon's backline was tightly squished together, not caring for the width provided by their opponents' fullbacks. This seemed to lean more towards prioritizing the blocking of shots. Whereas the midfield line was the polar opposite – and not to Lyon's advantage, it turned out.
Traoré hung slightly deeper, wide of Dubois to help deal with the threat of Jordi Alba whilst the rest of the second line stretched themselves across the pitch. What was equally disorganized was the positioning and pressing of Lyon's two center-forwards, who attempted to herd the ball backwards in a vertical line but were unaware of any gaps they were leaving between them.
Lyon's compact-yet-open defensive block.
Soon came a pattern of dangerous plays as a result of all of this. In this 4-3-3-come-4-2-3-1 – that saw Sergi Roberto compensate for Messi's deeper, central positioning by almost becoming wide midfielder – Barcelona exploited these gaps countless times. The ball would be wide on the right before quickly being fed through the gap between Depay and Moussa Dembélé into a midfielder that was nowhere near to being pressured by the now-isolated Ndombélé. Messi and the likes could then receive and combine around the spare midfield cover to generate openings on the edge of the box.
In the 38th minute, the same pattern repeated itself with Sergio Busquets searching for the ball, laying it off to Messi, who then wriggled through the shrinking gap and dinked the ball over for Ousmane Dembélé. The wide attacker appeared to be clean through but the ball that just would not come down for him was hit with a heavy dosing of indecision, subsequently falling tamely into the goalkeeper's hands.
No respite for Lyon in the second half
The only adjustment Génésio made for the second half was to have Depay and Moussa Dembélé positioned much higher up. In the first half, Lyon had massively struggled to launch any kind of counterattack since their center-forwards were too deep to be accessible or a threat. Now they were pushed right up and were free from defending, in essence.
The tactic did manufacture one solid 'opportunity' as Terrier found Depay who sprung it diagonally into Dembélé. Finally in a position to go one-versus-one at the last hurdle, the striker narrowly lost out but it was a far better situation than anything Lyon had worked open for themselves prior to it.
Without that added support, though, the Barcelona pressure continued in its relentlessness. Despite having to defend so deep, Lyon's double pivot still appeared to be ill-disciplined. Ndombélé and Aouar were constantly stepping out to press their opposition midfielders tirelessly, unalert to the dangers it manifested, particularly with Messi hanging around the midfield area. Equally, the fact they were fairly slow in recovering their positions meant Barcelona had plenty of room in which to operate as well as to find cutbacks into the attackers.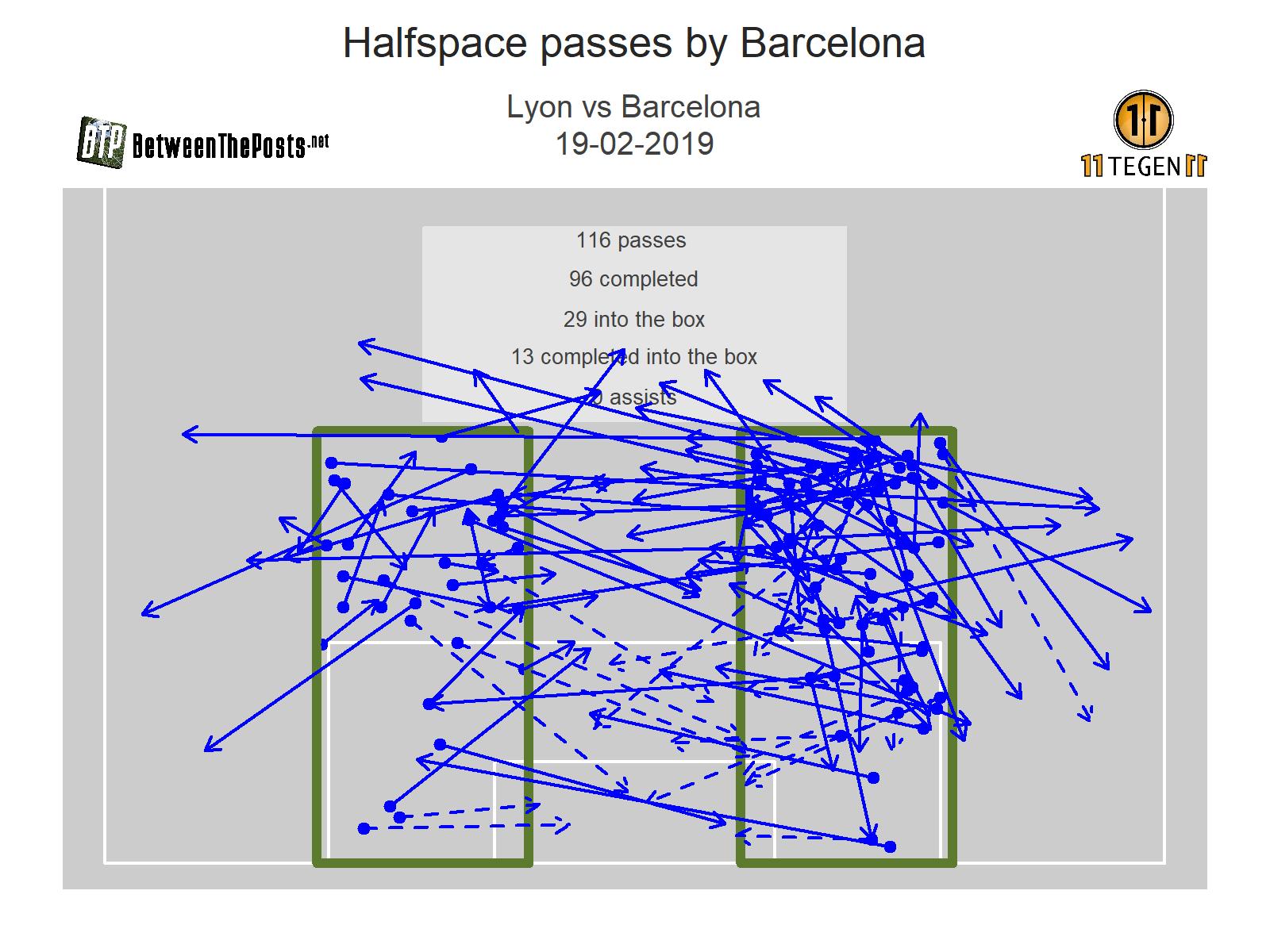 Barcelona's complete territorial dominance is evident from these passmaps.
Lyon adjust to hang on for their clean sheet
Ironically, Génésio's switch to a 4-5-1 by bringing on Lucas Tousart had the adverse effect in the moments following it. Substitute Phillipe Coutinho received the ball in the hole besides the now squished together midfield trio, played it out wide to Alba who then cut it back past the mess of a midfield shape into Suárez. The ensuing effort was struck with power but lacked the level of accuracy that we have become accustomed to with the Uruguayan. A golden opportunity missed.
Time and time again, Barcelona exploited the same holes, got themselves into good positions in the box and had their efforts blocked. The sheer number of bodies on defending that area, especially after Maxwel Cornet came on to fill in as a right wing-back, was enough to see them over the line.
Takeaways
In many senses, Lyon limited Barcelona to low-quality shots from range but in another sense, they conceded too much space within their block, were sloppy in and out of possession and were fortunate Barcelona's end product was not quite at its usual standard.
A 0-0 draw is undoubtedly a favorable result for the big underdogs in this tie. Who knows what they might be able to achieve when they travel to the Camp Nou a few week's time, shortly after Barcelona's back-to-back Bernabéu Clásico's…
Use the arrows to scroll through all available match plots.