Paris Saint-Germain – Bayern Munich: Smart Pressing, Clinical Finishing And An Absent Neymar (0-1)
After keeping Bayern at bay with some smart pressing, PSG missed the chances they created in the first half. The second half was a lot more even and eventually tilted Bayern's way, as PSG could never recover from a Kingsley Coman header, meaning Hansi Flick's machine continued their remarkable run and won the biggest prize in club football. 
Tactical analysis and match report by Erik Elias. 
Champions League knockout ties have historically been close, with one or two key moments deciding matchups between Europe's elite football clubs. Fine margins, as they tend to say. This season featured the finest margins of them all, because ties were not fought out over 180 minutes, but over 90 minutes instead. This final proved to be no exception.
PSG's go-to formation was 4-4-2 pre-lockdown, but in the four matches they played since football returned, PSG has come on the stage in a 4-3-3 shape. After dramatically beating Atalanta and easily shoving aside RB Leipzig, manager Thomas Tuchel decided to stick to this formation for the final. The only unexpected quirk is Neymar is now playing as a striker, even though his free role can very quickly turn this 4-3-3 shape into a 4-2-2-2 or 4-4-2 diamond setup. With Marco Verratti still not fit enough to start, Leandro Paredes acts as the team's main playmaker from deep.
Since Hansi Flick took over, Bayern Munich have been consistently playing in a 4-2-3-1 formation. Their high tempo game has been a joy to watch, the standout performance of course being the 8-2 against Barcelona. The only surprise for the final was Kingsly Coman being preferred over Ivan Perišić, presumably because of better one-versus-one qualities against PSG's right back Thilo Kehrer.
A pass to Davies is when PSG press
Bayern Munich had over sixty percent possession in the first half, but only took two shots from inside the box. They were kept quiet largely because of PSG's pressing, which revolved around trapping Bayern's left back Alphonso Davies.
Both these teams gravitate towards the left side of the pitch when they start their buildup. For Bayern this is because their main playmaker Thiago likes to drift left and they have a Canadian bullet train on that side.
When Bayern Munich would start their buildup, PSG would form an asymmetrical 4-4-2 shape, with Ander Herrera often man-marking Thiago and Ángel Di María in between Davies and David Alaba.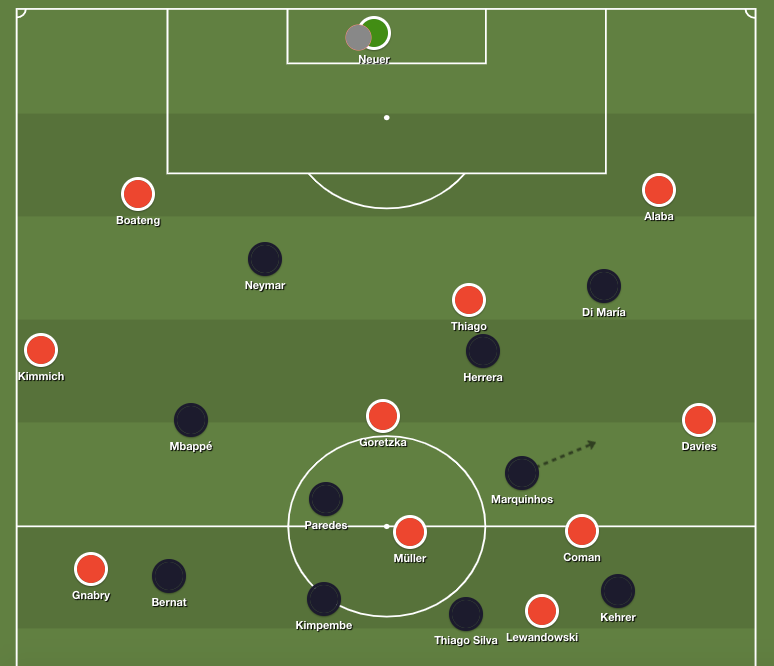 Fourth minute. PSG's way of setting a pressing trap.
Di María is excellent at cutting off passing lanes like this, meaning often it was either Manuel Neuer or Thiago who played the outlet pass to Davies. Either Marquinhos, Herrera or Kehrer would then apply pressure on the Canadian fullback, leading to some turnovers by either Davies or other Bayern players that were involved in the play.
After the ball was won, PSG would use quick vertical passing to make use of the space in behind Bayern's defense. After a few warning shots from Kylian Mbappé, in the 17th minute PSG got their first serious shot on goal when Neymar was denied by a brilliant save from Neuer.
In the 23rd minute, PSG got another chance, this time for Di María. PSG made good use of the spaces left between the lines by Bayern's high press. A couple of vertical passes and some lucky bounces later, they were on Bayern's half in numbers. Some quick combinations led to a Di María shot, which went over the bar. PSG's second big chance went amiss.
23nd minute. Bayern's high press exploited by PSG, which leads to a big chance for Di María.
Bayern rarely enter PSG's box
Besides pressing, one of the key elements of Flick's Bayern Munich is their wing play. In the first half, they were not able to put that into practice and enter PSG's box with regularity. It is fitting that their two biggest chances of the half came from early and deep crosses.
One minute before Di María's shot went over the bar – once again: fine margins – Robert Lewandowski got on the end of a Davies cross, used his striker instincts to turn and hit the inside of the post. This was one of the few instances when Davies had time and space on the ball from the left. 
The second deep cross that led to danger came in the thirtieth minute, as space prober Müller found a gap on the right flank, and launched a cross that was deviated. 
As the half progressed, this game was played more and more on PSG's half, and Herrera lessened his pressing on Thiago, meaning PSG played in a low block more often. In this phase, Bayern mainly relied on Coman to beat Kehrer one-versus-one, which he did multiple times, the last time even resulting in a half-foul inside the penalty area that could have been given.  
The half ended with a clumsy Alaba turnover, who gifted Mbappé a huge chance to score. His shot went meekly into the hands of Neuer though – meaning each member of PSG's attacking supertrio got a chance to grab the limelight and score the opener in the Champions League final, but none of them did. 
Second half opens more quiet 
In the first fifteen minute of the second half, PSG retreated more than they had done earlier. They now sat back more in a 4-5-1 shape, still with Di María slightly higher up the pitch, but the pressing was abandoned in this phase. 
Games like these are decided by minor details. One of those minor details being that after Serge Gnabry – who had a very anonymous game – had fouled Neymar in the 50th minute, Mbappé and Di María switched sides for ten minutes, Mbappé now playing on the right and Di María on the left. 
PSG's counterattacking was far less productive in the second half, but one of the biggest opportunities came in the 56th minute, when Neymar launched Di María one-versus-one with Niklas Süle, who had come on for the injured Boateng.
56th minute. Di María one-versus-one with Süle, one minute before Bayern's goal.
What if this would have been Mbappé, still playing on the left, with only Süle to beat and fifty yards of space ahead? Instead, we got a Di María turnover – and a Bayern goal one minute later. 
Literally the attack after Süle stopped Di María, Bayern managed to free up Kimmich in the right halfspace for the first time, thanks to a beautifully line splitting pass by Thiago. Kimmich's cross went over the head of a ball-watching Kehrer – who was PSG's worst player on the night – right on the head of Coman, who headed in the opening goal.
Shortly after scoring, Coman got another chance, from a similar right-sided cross. His volleyed effort was not aimed well though, and was cleared by PSG captain Thiago Silva. 
Tuchel's changes cannot tilt the game PSG's way
Though it is fair to say Tuchel got his gameplan right in the first half, his decisions after the Bayern goal did not turn out well. In the 65th minute, Verratti was introduced for Paredes, but the small Italian could not give PSG any midfield control. Flick brought on Coutinho and Perišić for his adventurous wingers Coman and Gnabry, presumably in an attempt to ban out risk and go for more control and possession.
Oddly enough, Bayern's way of managing the game was hyper-offensive: they tried to continue to play on PSG's half. This made for fun viewing for neutral supporters, but the amount of spaces they kept on giving away to PSG's front three was remarkable.
After 72 minutes, Julian Draxler was introduced for Herrera, introducing more creativity, but because of Bayern's prolonged expansive way of playing, this only opened up the spaces for the Bavarians to play in. As mentioned earlier, PSG rarely established any control – they still had only 45% possession in the last half hour, when they were chasing the game. 
PSG's biggest chances to equalize came in the 69th and in the 91st minute. In the 69th minute, a fantastic Di María pass set up Marquinhos one-versus-one against Neuer. Again, the German goalkeeper prevailed, putting together a statement performance. And again, PSG missed a great chance from inside the box. 
No Neymar
It is worth mentioning that normally Neymar starts pulling all the strings for PSG in moments like these. Because Bayern had more of the ball here and PSG's attempts to get it back failed continuously, he was left powerless, waiting for passes that would not come his way. Neymar completed just twelve passes (!) and three dribbles in the entire match. 
The game went on as described earlier: Bayern mostly in possession on PSG's half, seldom forced into a low block, though PSG had their moments to break through this, but couldn't. PSG's last chance of the match illustrated how attacking Bayern kept on playing, even while in the lead. After an attack by Bayern, Verratti had one of his few moments of creativity and spun away from Kimmich. He launched Mbappé on what was effectively a four-versus-four attack.
Two passes later, Neymar set the ball up for another substitute, PSG's quarter-final talisman Eric Maxim Choupo-Moting. He could not repeat the trick however, meaning PSG's last chance of the match went out of the window and Bayern Munich crowned themselves Champions League winners.
91st minute. Verratti takes out Kimmich and suddenly Bayern have only four players behind the ball.
Takeaways
It is fun to analyze a big game like this from a tactical point of view; how a manager approaches a final can tell you a lot about their football philosophy and tactical sharpness. More often than not though, finals are not decided by tactics, but why which team takes their chances better. And PSG definitely failed in this aspect. As Ander Herrera put it in a post-game interview: 'If you miss clear chances, and you play against another top side, they will probably kill you'.
Hansi Flick deserves credit for not altering his teams' risky style of play, even when facing the most prolific attack in the world. Finishing is not luck, it is a skill, and Bayern did it better than PSG on the night. It is worth reiterating how close these finals can be though, and how we view the different situations in the match based on the result.

Most people who watched this game for example will tell you Alaba had a good game – which he did! But what if Mbappé scores off of his turnover and it turns out to be the only goal of the game? The outcome of these small moments will always decide how we judge the actions of players, which is exactly why evaluating knockout performances can be so hard. 
We also recorded a podcast on this match. 
Use the arrows to scroll through all available match plots. Click to enlarge.
Check the match plots page for plots of other matches.