Qatar – Argentina: A Formation Change Spurs Argentina Into The Copa América Knockout Rounds (0-2)
A switch to a 4-4-2 diamond formation improved Argentina's offensive structure and helped them overwhelm Qatar, despite a limp showing from Messi. A classy performance from Sergio Agüero also helped.
Tactical analysis and match report by Om Arvind.
It is old news that Argentina are no longer one of the world's elite teams. Since the 2018 World Cup casual fans, committed supporters, and journalists alike have noted the decline in Argentina's squad quality and the inconsistent and ill-fitting tactics that the players have been forced to operate under. Jorge Sampaoli, a great coach on paper, introduced an intense, high-tempo pressing style that was at complete odds with an aging core and a slow, mistake-prone back line.
Fast forward to today, and current manager Lionel Scaloni has not looked much better. In Argentina's group stage clashes versus Colombia and Paraguay, Scaloni toyed with 4-2-3-1 / 4-3-3 shapes that failed to look convincing offensively. Argentina severely lacked occupation between the lines and looked to force-feed Messi the ball at every single opportunity. When possession was lost, their poor structure and average back line left them vulnerable to counterattacks.
As a result, Argentina picked up only one point en route to their final group stage clash against Qatar, who also had only one point in the standings. If there was a game that Argentina were expected to win, it would have been this one, but Qatar were not to be taken lightly. They had shown themselves to be a serious team by winning the Asian Cup in February and have some tricky attacking players that can pose a significant threat on the break.
In order to maximize Qatar's strengths, coach Félix Sánchez Bas lined his players up in a 5-3-2 formation. Forwards Almoez Ali and Akram Afif spearheaded the group, ahead of a midfield led by the impressive Abdelaziz Hatim. In defense, marauding fullbacks Pedro Miguel and Tarek Salman flanked center-backs Boualem Khoukhi, Salem Al Hajri, and Bassam Al Rawi.
Scaloni, recognizing that his tactics were not working, switched things up significantly. He went with a 4-4-2 diamond formation that placed Messi in the number ten position behind strikers Lautaro Martínez and Sergio Agüero. Rodrigo De Paul and Giovani Lo Celso were selected as the interior midfielders and Leandro Paredes started as the lone defensive midfielder. Ajax defender Nicolás Tagliafico and Renzo Saravia were tasked with being the wing-backs while Juan Foyth came into the side next to center-back Nicolás Otamendi. Franco Armani played in goal.
Argentina pick up a quick goal and dominate the opening phases of the game
Knowing that a bad result could see them knocked out of the Copa América, Argentina started the game with a desperate intensity that was quickly rewarded. Messi managed a shot only two minutes into the game, before Lautaro Martínez rifled an effort wide after a failed clearance. Qatar, clearly shaken by the early assault, gave the ball away needlessly only seconds later. Martínez latched onto Bassam Al Rawi's errant pass and calmly converted, putting Argentina up 1-0.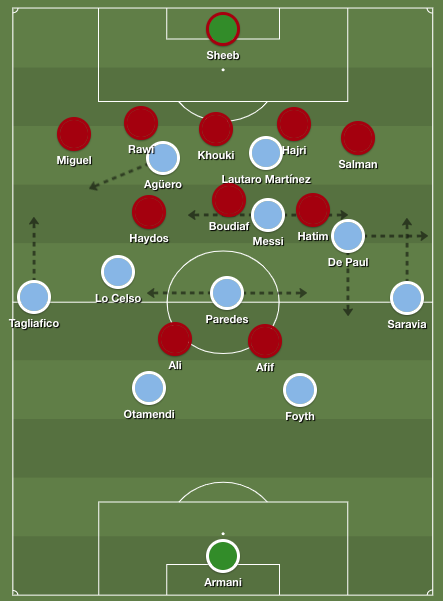 Argentina's 4-4-2 diamond in action versus Qatar's 3-5-2 medium block.
The goal simultaneously damaged Qatar's confidence while boosting Argentina's, contributing to the latter's early dominance of the game. But Scaloni's tactical changes were also a factor, as his decision to pack the midfield and play two forwards helped provide the central occupation that was missing in earlier games.
Lo Celso and Paredes provided Argentina with a fulcrum to center their possession-game around, and Messi and De Paul acted as vertical options so that their teammates could break lines. Agüero and Lautaro added extra central presence and created an obvious platform that Messi could link with in order to penetrate Qatar's back line.
Messi took advantage of this in the 21st minute, when he burst into space and slipped Agüero through on goal, but the diminutive maestro was strangely absent for large swathes of the game. He was unable to drive past players like his typical self – completing only two dribbles and attempting only five – and was needlessly wasteful both with his control – he recorded four unsuccessful touches and one dispossession – and passing in transition.
This left the responsibility of creating danger on the shoulders of his teammates, something that they responded to well. Paredes, Lo Celso, and de Paul fired in lofted passes into Martínez and Agüero, who bullied Qatar's center-backs and came close to doubling Argentina's advantage.
The diamond presents Argentina with some defensive challenges
Though Scaloni's formation change helped Argentina offensively, it arguably made his team's defense at least slightly worse. Already susceptible to counterattacks, Argentina's lack of defensive width in the 4-4-2 diamond shape made it even harder to stop Qatar from getting one-versus-one opportunities against Otamendi and company.
Throughout Argentina's period of dominance, Qatar showed glimpses of their potential thanks to the aggressive runs of their fullbacks and quick ball circulation upfield. But it was not until around the halfway mark of the first half that they began to truly threaten. They started to retain possession more effectively before advancing upfield via the use of rapidly executed switches of play.
Thus, even when Argentina had time to organize themselves, they looked suspect, as Messi's disinterest in engaging in defensive work left only three midfielders to guard the width of the pitch.
Argentina's 4-4-2 diamond shape defending against Qatar's 3-5-2 attacking structure.
De Paul and Lo Celso were soon overwhelmed and Qatar began to threaten the box without finding any end product. Their best moment came late in the half, when Al Rawi's free kick struck the post, signaling the end of the first forty-five minutes of play.
Qatar perform better in the second half but fail to find a breakthrough
Qatar came out of the half-time tunnel a more disciplined team without the ball. Their strikers did a better job of harrying Otamendi and Foyth, and midfielders Hassan al Haydos and Hatim stuck tighter to counterparts Lo Celso and De Paul. Qatar's defenders also started winning more duels in the air, as they were now aware of the way that Argentina were trying to feed Agüero and Martínez.
Qatar's improved defense led to a handful of half chances in transition, with the most notable one arriving from increased pressure on Foyth in the 70th minute. Forward Akram Afif was the beneficiary but could only send the ball wide from the outside of the box.
The improved defense also enabled Qatar to enjoy another bout of possession inside Argentina's half. On this occasion, Hatim and Haydos made plenty of diagonal runs towards the flanks in order to consolidate their team's advantage in those regions of the pitch. These movements helped cut through Argentina's shaky defensive compactness, but Qatar lacked the final pass like they had in the first half.
As the game moved into its concluding stages, Agüero decided to take control of things. With Messi having an off-day, Agüero dropped into the left halfspace If you divide the field in five vertical lanes, the halfspaces are the lanes that are not on the wing and not in the center. Because there is no touchline like on the wing, players have freedom to go everywhere. But this zone often is not as well-defended as the very center. This makes it a very valuable offensive zone to play in and a lot of chances are created by passes or dribbles from the halfspace. so that he could receive between the lines and spark attacks. This manifested in a spectacular move on two separate occasions – the latter of which came in the 81st minute. Agüero picked up the ball from substitute Paulo Dybala, glided past two defenders, and powered a low finish past Qatar's goalkeeper. If you ignored the blonde hair you might have been forgiven for thinking that Messi had finally made his mark on the game.
Takeaways
It appears that Argentina have found an offensive formula that might work for them. The 4-4-2 diamond solved their previous central occupation issues and allowed them to produce 19 shots. Their strategy of lofting balls over the top did become less effective as the match wore on, but it is unlikely that Argentina's attack will look so one-dimensional if Messi plays like himself in the next game. The real concerns remain on the other end, where Scaloni has been unable to find a way to protect his side in defensive transition. However, that may be a trade-off that he has to accept, as Argentina have not looked this effective in a long time.
Qatar played better than the stat-line suggests. They created several opportunities that failed to materialize into shots and the game may have tipped in their favor had they not conceded so early. There have rightly been a variety of voices questioning why Qatar is participating in this competition in the first place, but, from a pure footballing perspective, they showed that they belong.
Use the arrows to scroll through all available match plots.