RC Strasbourg – Olympique Lyonnais: Lyon's inconsistency costs them two points (2-2)
Lyon were predicted to have a tough game against Strasbourg, even when the host have not been themselves recently. Lyon's first half performance saw them easily dominate Strasbourg by pressing high up the pitch and provoking errors. In the second half, Strasbourg turned the game around using a fast-paced attacking style of football. Two goals in just a matter of a minute formed a perfect reward for their efforts.
Tactical analysis and match report by Daryl Gouilard.
Thierry Laurey's Strasbourg started their season very well. Starting out as a relegation contender, they defined every expectation by residing in the top half of the league table. As a crown on their already impressive season, they have reached the Coupe de la Ligue final. On their impressive run to Stade Pierre-Mauroy, they have eliminated big names such as Lille, Olympique Lyonnais and Olympique Marseille. Recently, the thick of the season seemingly caught up with Strasbourg, who had a dip in results with two draws and three losses. The reason was due to the absence of some key defensive players which forced Laurey to change the defense continuously.
Strasbourg lined up in a familiar 3-5-2 formation, with Laurey's preferred back three returning to the starting lineup. This was the first time that Lamine Koné, Stefan Mitrović and Pablo Martinez started together since their lost against Saint-Étienne, one month ago. Anthony Caci and Kenny Lala started off as wing-backs. Former Nantes man Adrien Thomasson completed the midfield that consists of Sanjin Prcić and Youssouf Fofana. Ludovic Ajorque replaced topscorer Lebo Mothiba to form the front line with Nuno Da Costa.
For Lyon, consistency is their biggest problem. With the second leg versus Barcelona coming up in five days, Bruno Génésio was forced to make some changes. As usual, Portuguese goalkeeper Anthony Lopes was chosen to be in goal. Captain Marcelo led the defense but was replaced by Léo Dubois in the 17th minute due to injury. The rest of the defense consisted of former Manchester City player Jason Denayer, Ferland Mendy and Kenny Tete as fullbacks. In midfield, Génésio replaced Nabil Fekir and Tanguy Ndombélé with Pape Diop and Houssem Aouar. Lucas Tousart continued as a single pivot. Martin Terrier returned to the starting lineup and he played alongside Ivorian winger Maxwel Cornet and topscorer Moussa Dembélé up top.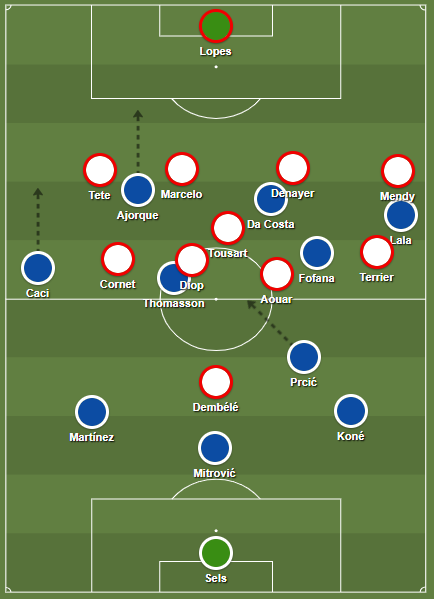 Out of possession, Lyon formed a 4-1-4-1 defense against Strasbourg's 3-5-2 formation.
Lyon's positive start to the first half
As expected, Lyon immediately deployed their pressing game. The attacking trio up front would press the opposition's center-backs, preventing them to build from the back. This quickly proved effective as the opening goal came from such a situation.
Everything started with Tousart's clearance from his own half, then the ball reached Koné. At that point, Lyon's front three started to press Strasbourg's center-backs. Terrier was sprinting towards the former Sunderland defender and he capitalised on Koné's mistake to steal the ball. His attempt on goal was saved by Sels, but Cornet found himself in a clear position to take a shot. Somehow it turned into a pass that later hit Dembélé's leg and went into the goal.
While the strikers pressed, their defensive line would locate themselves near the halfway line. It is worth noticing that Denayer and Marcelo's physical advantage helped the away side a lot. When the club's captain hopped of the field in the 17th minute, Lyon became more vulnerable in the air. Tete could not cope with Ajorque's height, and Strasbourg were presented an outlet, which they neatly exploited.
When on the ball, Lyon adapted a high-tempo attacking play. Combined their extremely pacey wingers like Terrier and Cornet, this resulted in dangerous attacks. Striker Dembélé would move around, trying to find spaces that would allow him to receive the ball easily. He would drag Strasbourg's center-backs with him, creating spaces for his teammates to move into.
Lyon's problem against wing-oriented teams like Strasbourg
Lyon defended in a medium block, A medium block refers to a team that retreats in their own half out of possession, generally only disrupting their opponents some way into their own half. and this was the crucial point in their pressing game. They adapted a two-layer defensive structure in which Tousart sat between the defensive and midfield lines. His responsibility is to intercept passes and provide cover if his teammates decided to step out of the line. The system is quite similar to Atlético Madrid's, but Génésio had made some changes.
A potential vulnerability with this system is the narrow defensive shape. Lyon aimed to overload the middle area, preventing Strasbourg from making through passes or even long passes. The defensive line acted like an offside trap, therefore forcing creative players like Prcić or Thomasson to circulate the ball. When the opposition tried to switch the ball to the other side, their structure would follow the ball and restart the press.
Such a narrow set-up combined with intense pressing leaves the opposite side free, and a wing-oriented team like Strasbourg will not miss this opportunity. Both Lala and Caci have pace to beat their defenders, and they just need a long pass to break free. This was Strasbourg's main source of attack, which created eleven crosses in the first half. Most of these were rather ineffective though, and Strasbourg only registered a single shot on target. Lyon kept their one-goal led until half-time.
A second Lyon goal
In the second half, Lyon started to dictate the tempo of the game by building their attacks from the back. They dominated possession in the second half, and it came to little surprise when they found their second goal of the game, although it came from a penalty.
Strasbourg adapted a pressing game throughout the field, with the aim to suffocate any Lyon's ball-carrying player. Generally, this created a tight defensive structure in the middle of their own half. But for Lyon's second goal, that structure was broken when Mitrović followed Dembélé, allowing Aouar to move in that space. And like for the first goal, it was Koné who made an error that led to the penalty.
Strasbourg capitalised on Lyon's complacency
The home side had no choice but to push forward in numbers in order to salvage a point. As a result, Lyon started to exploit the space behind Strasbourg's defensive line and more chances were created, though Lyon failed to score a third goal. Strasbourg capitalised on that and managed an unlikely comeback.
Strasbourg's first goal came from their favorite method of attack, crossing. After receiving the ball from Fofana, Prcić made a run towards Lyon's final third and passed the ball to Caci. The French left back noticed Thomasson made an incisive cross for the midfielder. He perfectly met the cross and steered the ball into the far corner. Surprisingly, no Lyon defenders or midfielders noticed the ex-Nantes midfielder's run and closed him down. It was a textbook attack, but Lyon's complacency cost them a goal.
The second Strasbourg goal came was the result of a more intense pressing game. Diop picked up the ball after a misunderstanding between Dubois and Tousart, who was late to pick up the pass. The ball fell to Thomasson, who noticed Ajorque's run and made a through ball to him. Only Dubois and Denayer recognized that and when they started closing him down, the ball had already left his foot. His shot was so strong that Lopes had no chance of stopping it, and Strasbourg had managed a two goal comeback in just one minute.
In the remaining minutes, Lyon started to push forward but they faced a stubborn Strasbourg defense. Defending the point, Strasbourg now dragged every player back in their own half, creating a low block A low block refers to a team that retreats deep in their own half out of possession, generally only disrupting their opponents around their own box. in front of Sels' goal. This prevented Lyon from accessing the final third, except from long shots and crosses. But the aerial superiority of the center-backs and the defensive awareness of the midfielders meant Strasbourg held onto a point.
Takeaways
Lyon was the superior team throughout the first sixty minutes. They created a lot of good chances and ran out to a seemingly comfortable 0-2 score line, although expected goal numbers support the claim that Lyon could have had an even bigger lead by that time. At the other end, the defensive players were having a good day too, blocking shots and making interceptions. But once again, complacency and inconsistency cost them vital points.
For Strasbourg, their direct, wing-based style of play paid off, but you could say they had some luck on their side. Strasbourg can also create thoroughly-prepared attacks though, with creative players like Prcić or Thomasson. So far, results leave little room to doubt Thierry Laurey's preferrred style of play, as it proves its efficiency. A Coupe de la Ligue final is waiting for Strasbourg, and this match might be the best preparation.
Use the arrows to scroll through all available match plots.