Real Madrid – Celta Vigo: Zidane Calls In The Old Guard On His Return (2-0)
The new manager effect and Zinedine Zidane's aura gave Real Madrid a platform of heightened energy to work from. Unsurprisingly, it did not produce immediate results, as players like Isco looked rather rusty. Eventually, the quality of Madrid broke through in the second half and Celta Vigo were dispatched with ease.
Tactical analysis and match report by Om Arvind.
Real Madrid's season is dead. After two failed coaching appointments, varying tactical systems, and all sorts of lineups, the most storied club in European football is out of the Champions League and Copa del Rey and miles behind FC Barcelona in LaLiga. Desperate and at a loss, president Florentino Pérez has turned to the last man to get it right – Zinedine Zidane.
Like the first time Zidane arrived, there is a lot of hope but no expectations. That seems like an odd thing to say for a three-time Champions League winner, but Zidane has a knack for knowing when to step down and when to take charge. He gave up his job when he sensed decline and decided to come back when there was nothing left to fight for. What follows is going to be an extended pre-season, with Zidane carefully evaluating everything in order to decide how best to march forward into 2019/20.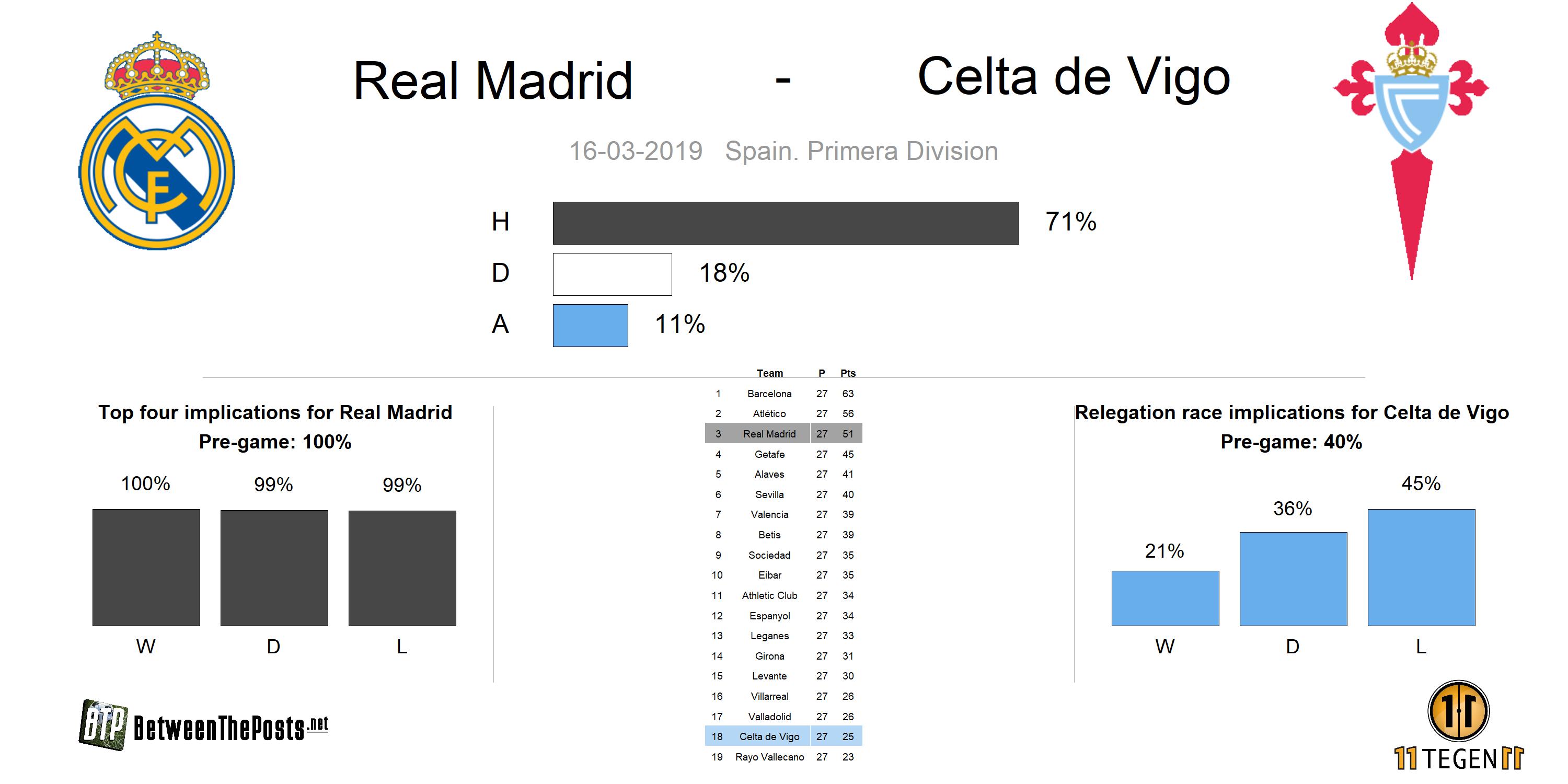 For his first match of the season against Celta Vigo, Zidane decided to stick to what he was familiar with. He brought Keylor Navas, Isco Alarcón, Marcelo, and Gareth Bale back into the starting eleven, leaving Santiago Solari stalwarts Thibaut Courtois, Lucas Vázquez, and Sergio Reguilón on the bench. Casemiro and Dani Carvajal likely would have started as well, but the former was suspended and the latter was injured. Zidane adjusted by going with a 4-2-3-1 formation, with Toni Kroos and Luka Modrić in a double pivot, 4-2-3-1 is one of the most frequently occurring formations in football. The two most defensive midfielders are called a 'double pivot'. and by starting Álvaro Odriozola at right back.
Due to all the noise surrounding the return of Zidane, it would have been very easy to have forgotten about Celta Vigo's own drama. No, they were not welcoming the return of a legendary coach themselves, but they were flirting with the relegation zone after winning only one of their last twelve games. Even with Iago Aspas, who has ten goals and two assists in eighteen games, Celta's offense has been putrid; they have only managed to create 0.99 expected goals per game in LaLiga, The amount of goals a team is expected to score based on the quality of the shots they take. enough to make them second worst.
Against Madrid, Celta would have to do without Aspas due to injury. Thus, on paper, Madrid were heavy favorites. But a team desperately trying to stave off relegation can be a dangerous animal for a so-called "big team," and Celta were determined to try to spoil Zidane's return party.
Consequently, Celta manager Fran Escribá went with one of the best lineups he could muster, putting Maximiliano Gómez up top and Sofiane Boufal and Pione Sisto out wide.
The game is strangely muted as Real Madrid struggle to shake off some rust
Just as had happened in Zidane's first game in charge so many years ago, everyone expected Madrid to come out of the gates all guns blazing. It certainly looked like that would be the case to start, as Isco had a shot blocked and Ramos headed an attempt from a corner wide, all within the first couple of minutes. The energy was great, and all the players seemed to be working hard, but it soon became apparent that things were just not clicking.
Isco, who had been completely frozen out under Solari, understandably looked a little poor. His touch was rough, he was half a second slow in his decision-making and failed to float around the pitch like many have become accustomed to. That was especially detrimental to Madrid's buildup, as Zidane had gone with a 4-2-3-1 shape. Such a structure put a lot of onus on Isco to investigate space across the width of the pitch and progress the ball through his positioning between the lines.
Real Madrid's 4-2-3-1 attack versus Celta Vigo's 4-1-4-1 defense.
That formation and Isco's role also affected Madrid's defensive structure, as the team transitioned into a 4-4-2 formation off-the-ball instead of the usual 4-1-4-1. Pressing had long been inconsistent in the first Zidane era and never more so than in that shape. Benzema and Isco struggled to protect the passing lanes into midfield and the narrow positioning of Modrić made it too easy to progress through wide areas.
Real Madrid improve after changing to a 4-3-3 formation
If Zidane has never been known for being a consistently great tactician, he has always been known for being an extremely flexible one. That was on show in this match, when Zidane asked Madrid to switch to a 4-3-3 formation around the half hour mark; Modrić moved higher up the pitch, Isco shifted to the left halfspace, If you divide the field in five vertical lanes, the halfspaces are the lanes that are not on the wing and not in the center. Because there is no touchline like on the wing, players have freedom to go everywhere. But this zone often is not as well-defended as the very center. This makes it a very valuable offensive zone to play in and a lot of chances are created by passes or dribbles from the halfspace. and Kroos became the lone defensive midfielder.
Real Madrid's change to a 4-3-3 formation pushed Modrić higher up the field
The improvement was close to immediate. Though Isco's influence diminished slightly, Modrić came to the fore. His presence provided another option between the lines and the little Croatian's spatial intelligence and control in tight spaces started to push his team into the final third. The one-third of the pitch that is closest to the opposition's goal.
Once there, Madrid did what Zidane knows best – cross. However, the results were less stellar than he would have hoped, which probably had something to do with the absence of a certain Cristiano Ronaldo. Though Marcelo put in plenty of delicious deliveries and Odriozola surged forward on the overlap, When a wide player, most of the times a wing-back, runs outside to fill in the space left by a winger going inside with or without the ball, this is called overlapping. Karim Benzema simply could not get on the end of any of them. Gareth Bale and Marco Asensio even swapped flanks so the Welshman could whip in a few, but it had little effect since it placed Bale farther away from the penalty area.
As a result, Madrid only created one high-quality open play chance in the first half, when Bale picked up the rebound off of Benzema's blocked bicycle kick and volleyed a shot off the bar.
The old guard steps up
Aside from the excitement from Bale's shot, there were also more than a few moments when Celta Vigo broke free on the counterattack. These were often in three-versus-three or even three-versus-two situations, showing that the counterpressing After losing possession, a team immediately moves towards the ball as a unit to regain possession, or at least slow down the pace of the counterattack. weaknesses present in the previous Zidane era still remain – at least for now.
That, along with Madrid's crossing strategy, continued into the second half. Thankfully for the raucous Bernabéu crowd, Sofiane Boufal threw away his team's opportunities with awful passes and the scoreline stayed at 0-0.
Still, the home side needed a breakthrough and it was difficult to see where it was going to come from, until Celta foolishly gave away the ball in midfield. Modrić pounced on the mistake and threw his team forward. Asensio, sensing that the moment had finally arrived, surged forward on a magnificent run through the heart of Celta and played a delicious through-ball to Benzema. The Frenchman played a square pass into the six-yard box and Isco converted the tap-in.
Celta Vigo try to attack and Real Madrid feast in transition situations
Up until the goal, Celta Vigo had been performing fairly well. Their 4-1-4-1 defensive block A defensive block is the compact group of defenders that defends a particular zone, either their own half in a medium defensive block, or the zone around their own box in a deep defensive block. was disciplined and center-backs Néstor Araujo and Wesley Hoedt dealt with almost all of the crosses that came their way. Hence, as long as they could defend and play for the draw, they were in their element and there was a feeling that they could escape with a result.
But, as soon Real Madrid scored, Celta had to push forward and things started to fall apart. It is hard to describe Celta's buildup because it almost did not exist. The attacking structure was aimless, the passes were telegraphed and the tempo was slow, and Boufal had to dribble past three or four players just to create a passing angle.
Madrid, therefore, found it very easy to win possession back and launch counterattacks. Bale nearly scored in such a situation minutes after Isco's goal and Asensio got a shot from a well worked set-piece after he won a corner on the break.
The second goal appeared to be inevitable, and it finally came off another poor giveaway. Ceballos won the ball back off a throw-in, before Kroos sprayed a pass to Marcelo. The Brazilian left back surged forward and threaded a pass towards Bale, who crashed a right-footed shot off the post and into the net in the 76th minute.
Game over.
Takeaways
It is difficult to draw any hard conclusions from the first game of any coach. The new manager effect entails that players work harder and raise performance levels in the short-term as they revel in the novelty of their situation and seek to impress the man in charge. That is amplified with the return of Zidane, whose aura breathes life into the team simply because the players believe that it exists.
However, due to the vast sample size of Zidane's previous tenure, it is rather obvious that the legendary coach made no real tactical changes versus Celta Vigo. That is not a surprise, as he is only beginning his assessment of his squad, but all the prior strengths and weaknesses of his game plan were on full display; the tactical flexibility, the improved progression to the final third, the fluidity in attack, the overreliance on crossing, the mediocre pressing, and the poor counterpressing.
There is a lot less to say about Celta Vigo. As mentioned before, they defended well, but their attack was absolutely atrocious. If they cannot play simple passes on the counterattack, let alone find a way to move into the opposition half as a collective, they are doomed to fall into the Segunda División.
Use the arrows to scroll through all available match plots.