Real Madrid – Valencia: Valencia Attempt Second Half Comeback But Can't Overcome Superior Madrid (2-0)
Real Madrid calmly gained an advantage over a listless Valencia side, before securing the result on the counter-attack when Valencia decided to become more proactive.
Tactical analysis and match report by Om Arvind.
Expectations for Valencia coming into the 2018/19 season were very high, given their strong fourth place finish in the previous campaign. They seemed committed to another run at the European spots after they signed Gonçalo Guedes and Michy Batshuayi to permanent deals, but severe finishing woes have prevented that from happening.
Prior to this game, they sat 13th in the table and had the third worst goal scoring record in the league, despite being in the top five for expected goals per game from open play. Their defense had not been the issue either when looking at the underlying numbers, as they had conceded the least amount of expected goals  The amount of goals a team is expected to score based on the quality of the shots they take. of any team in the league.
Hence, their recent resurgence –  four out of their last six matches –  seemed like a classic example of regression to the mean,  In any event where a certain factor of luck is involved, like football, outcomes that differ from what one would expect based on underlying statistics are not sustainable over long periods of time. When a team starts scoring or conceding goals again in a way that is more suitable to their underlying statistics, this is an example of 'regression to the mean', as the unexpected results do not occur any longer.   giving Valencia fans hope that they could produce a result at the Bernabéu.
Real Madrid fans had grounds to be nervous for reasons beyond Valencia's underlying numbers, as Madrid had begun to look vulnerable following their strong start under Santiago Solari. They were completely outplayed by Eibar last week, and rather fortunate to come away with a victory over AS Roma in midweeks Champions League action.
Defensive midfielder Marcos Llorente was a big reason Madrid stole a victory, and he deservedly kept his place in Casemiro's absence versus Valencia. Dani Ceballos – who had been the initial stand-in for Casemiro – was instead pushed upfield as Kroos was rotated to the bench, while Lucas Vázquez and Sergio Reguilón came in for Marco Asensio and Marcelo respectively.
Valencia's manager Marcelino also made a fair few changes from his side's Champions League game, rotating out Rodrigo Moreno for Kevin Gameiro up front, Carlos Soler for Geoffrey Kondogbia in midfield, and Mouctar Diakhaby for Ezequiel Garay in central defense.

Valencia struggle to break past Madrid's press in the first half
One of the more surprising parts of Solari's time with Madrid has been his decision to implement a high press, as it had rarely been a feature of his Castilla sides. The fact that the high press has been largely effective has been even more surprising and has proved to be the Solari's biggest tactical positive so far.
Things were no different in the first half of this game, where Madrid effectively suffocated Valencia's build-up.
Valencia's build-up in their 4-4-2 formation versus Real Madrid's high press.
Modrić played a big role in this as the pressing trigger – he pushed out of midfield and pressed Dani Parejo, prompting Karim Benzema and Vázquez into pressing actions on the nearest center-back and fullback. Ceballos would zonally mark the left halfspace If you divide the field in five vertical lanes, the half spaces are the lanes that are not on the wing and not in the center. Because there is no touchline like on the wing, players have freedom to go everywhere. But this zone often is not as well-defended as the very center. This makes it a very valuable offensive zone to play in and a lot of chances are created by passes or dribbles from the halfspace. and Gareth Bale would protect against a potential switch, while Llorente looked to clean up any attack that progressed.
Real Madrid scored their first goal thanks to their aggressive system. Modrić initiated a press before Llorente dispossessed Francis Coquelin and sparked another Madrid attack. After a couple passes, Modrić curled a cross into the box, which bounced off Benzema's chest and eventually fell to Carvajal. The fullback kept his cool, dribbled his way into the box, and bounced a pass off of Daniel Wass and into the net.

Passive Valencia allow Madrid to ease their way into the final third early on
Valencia, who were unable to progress past the press partly because of their own poor play, were no better off the ball. A lot of this had to do with their passive 4-4-2 medium defensive organization, which gave Madrid 65% of the ball in the first half.
Real Madrid's build-up versus Valencia's 4-4-2 defensive organization.

Marcelino's decision might have been a good one if Valencia had stayed compact and adequately covered their passing lanes, but they were strangely undisciplined and lacking in intensity. Center forwards Santi Mina and Kevin Gameiro only half-heartedly tried to obstruct Marcos Llorente from getting on the ball, and their movements to protect the spaces behind them were lackadaisical.
Central midfielders Luka Modrić and Dani Ceballos took advantage of this in different ways. Modrić – who has not looked like himself this season, but performed very good in this match – consistently came deep to receive the ball, while Ceballos stayed a bit higher and looked to provide an option between Valencia's midfield and defense.
However, Solari's fluid midfield system meant that these were only general trends, as Modrić could also be seen swapping positions with Llorente and moving into the space directly behind Daniel Carvajal.
Regardless of where the Croatian moved, Madrid's style of progressing into the final third The one-third of the pitch that is closest to the opposition's goal. remained the same – triangle patterns down the wing. Depending on their positions, Modrić or Llorente constantly sought to initiate passing combinations between themselves, Carvajal, and Lucas Vázquez. This was mimicked on the left side, though it was mostly Ceballos who initiated these combinations.
Valencia reacted to this by tightening their defensive structure around the relevant flank and by narrowing their midfield line, but Madrid countered by bringing their wingers deeper. Vázquez was especially good at this and dropped more frequently than Bale to ensure ball retention in tight spaces.
Once Madrid successfully evaded the tackles, they often switched play and progressed into the final third. There, they patiently probed and looked for opportunities to cross from the flanks or play lofted deliveries from the halfspaces.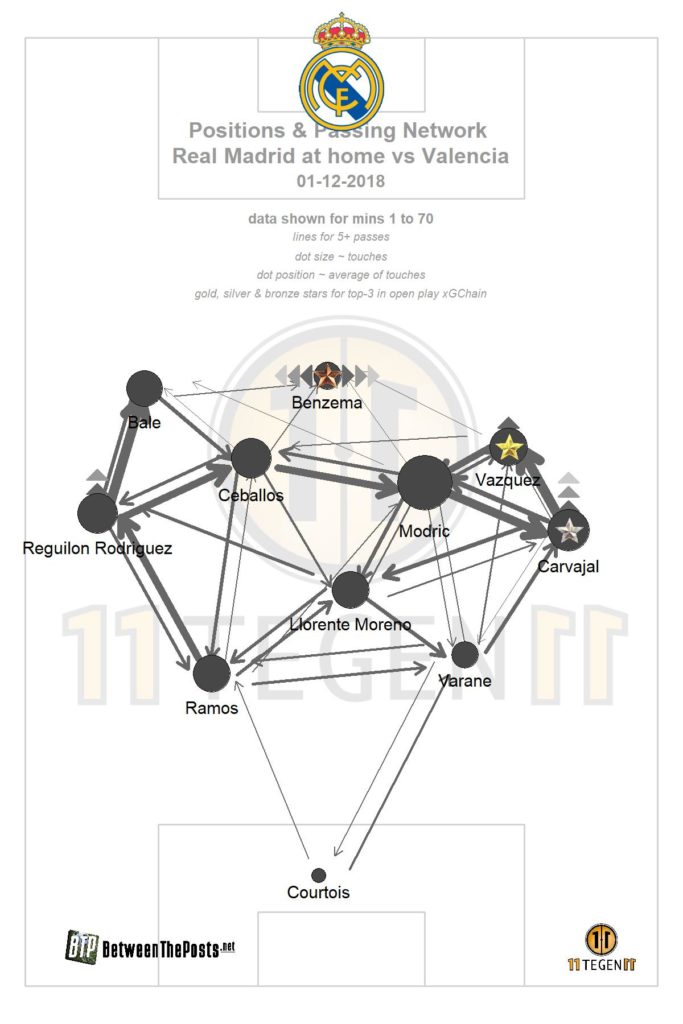 Valencia become braver in the second half but don't create enough
Marcelino demanded his players to be more positive and to seek more of the ball in the second half. They succeeded to a certain degree, as they created a fifty-fifty battle for possession and became a bit better against Madrid's press. Part of this was down to better movement from the strikers – who dropped deep to provide vertical options – and better ball carrying from the wingers.
These two improvements allowed Valencia to spend time closer to Madrid's defensive third, where Valencia's forwards then made runs behind the defensive line. This resulted in one excellent chance for Santi Mina, who burst away from Ramos and volleyed a direct pass over the bar.
That, unfortunately, was the only real chance Valencia managed, aside from a set-piece routine that gave Coquelin a good look around the half hour mark. For those two chances, Valencia traded away whatever defensive stability they had in the first half, as their more aggressive approach left spaces that could be exploited in transition.
Real Madrid, who are probably better on the counterattack than they are in slower possession play, consistently broke past Valencia's defensive line and attacked the opposition goal in situations of favorable numerical superiority. Eventually, Madrid struck gold. In the 82nd minute, Lucas Vázquez won a duel in his own box to spark a counterattack, before quickly arriving at the other end to finish the move.

What if Valencia had been better in transition themselves?
A big question throughout the entire game, but especially in the second half, was how different the game could have been had Valencia been effective on the counter.
While Solari's Madrid has shown a recent ability to press well, their counterpress has been non-existent or only sporadically applied because there is no prior preparation when in possession. That gave Valencia quite a few opportunities to attack the home side's back-line immediately after Madrid lost the ball.
Valencia were unable to take advantage of this partly due to a lack of supporting movements from the wide players and strikers. This meant that whoever secured possession was often left alone against superior numbers.
Even when Valencia did have good support and dangerous passing options, Francis Coquelin single-handedly killed counter-attacks due to poor ball control and overhit passes. Consequently, Valencia had to rely on their ability in possession to create chances, something that does not suit their personnel in attack nearly as much. Without any genuine way to hurt Real Madrid's plagued defensive line, Valencia in the end created very little chance and the home side's win felt very deserved.

Takeaways
The 2-0 victory over Valencia makes it five wins out of six for the recently appointed Santiago Solari. Though many valid questions remain over his ability to manage this team over the long-term, his decisions to start Llorente and move his wingers deeper – the high positioning of Bale and Asensio was a big problem versus. Eibar – show a potential for adaptability that was non-existent at Castilla.
It is difficult to feel one way or another about Valencia after this game. The underlying numbers and recent results are in their favor, but their tactical approach was wrong for a full half of football, their overall performance being thoroughly uninspiring. One would be inclined to say that they are destined to move upwards, but confidence is a funny thing, and that could be badly affected after a loss like this.
Use the arrows to scroll through all available match plots.