Russia – Denmark: Spirited Denmark Overwhelm Limited Russia (1-4)
Denmark arrived with an interesting tactical shift from their nominal 3-4-3 shape in the first half but did not create so many chances due to some issues in its implementation. Mikkel Damsgaard's impressive strike put them ahead in the first half, and Yussuf Poulsen pounced on an error in the second half to make it 2-0. The following thirty minutes saw complete capitulation from Russia as Denmark went on to add two further goals. 
Tactical analysis and match report by
Josh Manley
.
Russia were brushed aside with minimal effort by Belgium in their first game of the tournament, but were able to secure a 1-0 win over Finland in the second game to give them a chance at knockout qualification.
Russia started with a back three of Igor Diveyev, Georgi Dzhikiya and Fyodor Kudryashov, flanked by wing-backs Mário Fernandes and Daler Kuzyayev. In central midfield in their 3-4-3 formation were Magomed Ozdoyev and Roman Zobnin, while Aleksei Miranchuk and Aleksandr Golovin supported Artem Dzyuba up front.
The continuing recovery of Cristian Eriksen overshadows anything happening on the pitch for Denmark at the moment, as they came into this game on the back of eventual defeats against Finland and Belgium. 
They also lined up in a 3-4-3 shape, with their back three consisting of Andreas Christensen, Simon Kjær and Jannik Vestergaard. Daniel Wass and Joakim Mæhle were the wing-backs, with Pierre-Emile Højbjerg and Thomas Delaney in midfield. Finally, up front was the trio of Martin Braithwaite, Yussuf Poulsen and Mikkel Damsgaard. 
Russia choose passivity 
Given that a point would give them a good chance of qualifying for the next round, Russia decided on a passive approach in this match. With the ball, they sought very little risk in buildup, and their short attacking phases consisted largely of long balls towards Dzyuba and the duo of Miranchuk and Golovin trying to pick up the second balls. 
This led to a first half in which Denmark had nearly 70% of the possession. Russia largely sat off and defended in their own half in a 5-4-1 shape. This included Dzyuba, who would often latch onto the deepest Denmark midfielder and try to prevent them from receiving the ball, rather than putting pressure on Denmark's backline when they had the ball. 
An interesting aspect of Denmark's possession was the transition from their nominal 3-4-3 shape into a 4-3-3 shape when they had the ball. This was achieved through the movement of Christensen into the number six position when Denmark had organized possession phases. Earlier in the game these diagonal movements from right side center-back to the number six zone could be a bit awkwardly executed in terms of timing and coming too close to other midfielders, but this became slightly smoother as the game went on.
Denmark in their 4-3-3 shape with Christensen having pushed up from right center-back into the number six position.
This had the knock of effect of one or both of Højbjerg and Delaney being released into higher or wider positions, as they would if they were playing as number eights in a 4-3-3 system. Higher up the pitch, the front three could rotate positions, but initially Braithwaite often tended towards the right touchline, while Poulsen played center forward and Damsgaard drifted in off the left. 
So Denmark had plenty of stable possession, but generated very little in terms of shots during the first half. The occupation of the spaces between the lines was often not that strong, since Poulsen and Braithwaite were more focused on the last line, while Højbjerg and Delaney often either moved wide or did not move well into pockets of space between the lines. 
One occasion where Denmark were able to find a player between the lines led to them going 1-0 up shortly before half time, as Damsgaard received outside the penalty box and sent an impressive finish curling past the goalkeeper. 
Russian capitulation 
The goal forced a change in attitude from Russia as they needed to avoid losing. They were still direct but less risk-averse in possession now, bringing the wing-backs and number tens more into the game with longer possession phases. However, before the hour mark could be reached, a gift of a backpass from a Russian defender into the path of Poulsen allowed the striker to put Denmark 2-0 up.
Double changes from both sides followed, with Jens Stryger Larsen and Kasper Dolberg replacing Wass and Poulsen for Denmark, while Russia added Alexander Sobolev and Rifat Zhemaletdinov in place of Miranchuk and Ozdoev respectively. Another double substitution followed shortly after for Russia, with Maksim Munin and Vyacheslav Karavaev replacing Kuzyayev and Kudryashov. 
Russia rather broke down in the ten minutes following the second goal, losing turnovers in their own half and generally playing very unfocused, perhaps also disrupted by the substitutions and switch to a back four during this period. This threatened to change in an instant though with twenty minutes left, as Russia's first real attack after their rough spell resulted in a penalty, which Dzyuba scored to put the score at 2-1. 
Russia were at this point playing with a 4-3-1-2 shape, with two target men up front in the form of Sobolev and Dzyuba. Zhemaletdinov played at number ten, with the trio of Munin, Zobnin and Golovin behind him. 
Russia's goal did not end up being the signifier of any kind of resurgence, however. In fact, they sunk even further on a psychological and physical level, as Denmark actually became even more dominant in the game, creating plenty of shots. This paid off in the final ten minutes as Christensen scored a thunderbolt from the edge of the box, and Mæhle adding another from a counter-attacking move a couple of minutes later to make it 4-1.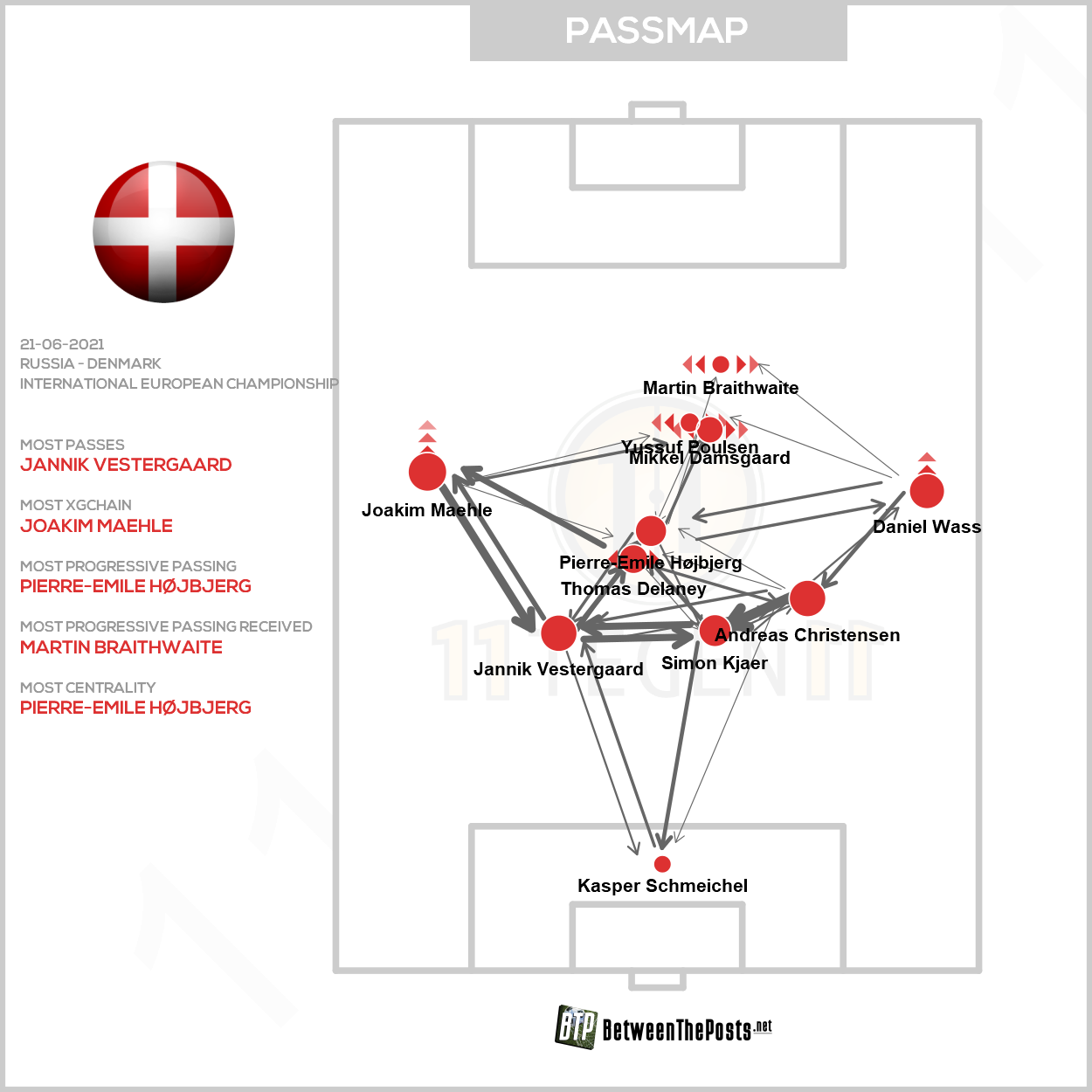 Takeaways
Russia were very passive in the first half and relied on their ability to defend deep against Denmark. This threatened to work, as they limited to Denmark to very few shots before being undone by Damsgaard's moment of magic just before half-time. After the second Denmark goal, Russia seemed physically and mentally drained, unable to compete on a general level aside from anything tactical. 
Denmark meanwhile had an interesting setup with the transition from a back three to a four in possession, although not executed brilliantly. They performed very well in the second half though, outplaying Russia in all phases and taking advantage of their opponents' mistakes in order to qualify for the knockout rounds. 
We decided to make all of our EURO 2020 articles free to read. If you want to support our work, consider taking a subscription.