Sevilla – Internazionale: Thrilling Final Crowns Sevilla for the Sixth Time (3-2)
As the world yearns for a sense of "normality", Sevilla getting their hands on the Europa League is the closest we have got so far. After neatly exploiting Internazionale's pressing structure, Sevilla would constantly evade pressure and produce smart combinations within their buildup. In the end, the game would not be defined by oozing moves though, but by set-pieces.  
Tactical analysis and match report by
Joel Parker
.
After four hundred and twenty-one days since the first qualifying round took place, we finally reached the final of the 2019/20 Europa League campaign.
Even in these unique circumstances, it was only right that Sevilla were in Cologne to compete for their sixth title. When it comes to the Europa League, no team comes close to their achievements, lifting the trophy in each of their five previous appearances. Julen Lopetegui's team were not just going into this game in elite form in Europe, but they had also continued the longest unbeaten run in their history, having not lost a game in their past twenty matches.
Inter's decade of despair witnessed Italy's only treble-winning team, be slowly unraveled as years go by. Only now does it feel like they have reached anywhere near such heights, Romelu Lukaku matching Ronaldo's first season tally, while the team lost just four times across the entire Serie A season. However, with Antonio Conte and the board not seeing eye-to-eye, such progress over the past year would take a significant hit if he were to walk. Perhaps a European trophy would have broken bread, rather than rub salt into wounds. 
Lopetegui made just one change to his 4-3-3 formation that beat Manchester United, as Luuk de Jong started upfront, ahead of Youssef En-Nesyri. Conte picked the same starting eleven that smashed Shakhtar Donetsk in the semi-finals.
Flexibility versus rigid structure
From the game's early phases, the difference between the respective managers' styles were on view, as Sevilla and Inter contested for control of the game.
Conte's players have embraced Italy's love for strong defensive units, while maximizing their transitions forward, into the space outside of the center-backs. Within the first three minutes, such a transition would already take place, as Inter countered from their defensive third. Romelu Lukaku would drag Diego Carlos wide and beat him in the one-versus-one situation, before being brought down by the defender. 
Lukaku dispatched the penalty, as Inter flexed their offensive threat from early on. Though the game showed a touch of Libertadores flair, with an abundance of fouls to break up play, this was an intriguing match-up between Sevilla's flexible buildup structure and Inter's strong tactical framework. 
Sevilla's midfielders constantly dropped deep towards the defensive line to receive and exchange. They would also overload When one team has more players in a certain area or zone than the other team. certain areas of the pitch, to isolate the opposite flank and play the diagonal pass into space. This is a common trend of Lopetegui's team, who would develop third man combinations A passing combination between two players, while a third player simultaneously makes a run, usually in behind the opponent's defensive line. After the initial combination, the ball is quickly played in depth for the third player to run onto. from these diagonal passes. Against Conte's trademark 5-3-2 shape, whose only source of natural width would come from the wingbacks, Sevilla had no issue playing through their opponent's defensive block.
11th minute: Player positions in the buildup to Sevilla's equalizer. Éver Banega's vertical pass breaks lines and finds Jesús Navas.
Such principles would be involved in Sevilla's equalizer soon after. A sequence of passes down the right created space for them to evade pressure, before playing the ball back down the channel. Jesús Navas, Joan Jordán and Suso would combine and created the ideal space to deliver a cross in the area. Luuk de Jong moved in front of Diego Godín to power a header towards goal. 
Inter's failed high press
Within Sevilla's buildup, the relationship and dynamism between fullback and winger is crucial. Both players on either flank can operate in the halfspace If you divide the field in five vertical lanes, the halfspaces are the lanes that are not on the wing and not in the center. Because there is no touchline like on the wing, players have the freedom to go everywhere. But this zone often is not as well-defended as the very center. This makes it a very valuable offensive zone to play in and a lot of chances are created by passes or dribbles from the halfspace. or hug the sideline to maintain the team's width. To combat this, Inter deployed pressing traps A pressing trap is a predefined plan to leave a particular player or zone open, to invite a specific pass. Upon a pass to that player or into that zone, a rapid coordinated team press on that player or zone is exerted. within the middle third, as well as moving Marcelo Brozović forward to occupy Éver Banega's space.
Inter's pressing scheme would not live well against the fast passing sequences that Sevilla would produce. Their collapsing onto receivers was slow and enabled Sevilla to retain possession, while their high press would open space behind them for them, for their opponents to progress vertically. 
Sevilla evade Inter's pressing scheme, with fast interchanges and diagonal passes into space. 
On the ball, Sevilla's buildup structure and organization within their positional play comfortably bypassed this high block. A high block refers to a team that regularly leaves their own half out of possession, to disrupt their opponents far into the attacking half. The positions of both fullbacks, who moved out of the sideline to open a close passing lane, alongside the center-midfielders dropping into the deeper halfspaces, enabled Lopetegui's team to develop good circulation of the ball and encouraged them to build vertically. 
As well as short diagonal options to progress, Sevilla were also capable of going more direct to their frontline. Inter were encouraged to move higher up the field, due to the number of players their opponents had committed in the construction phase. Long passes to the physical presences of Lucas Ocampos and Luuk de Jong, who would drop into the left channel, were constantly on for Sevilla.
Despite an effective passing structure, Lopetegui's attack failed to have such quality in later stages. Combinations down the channels would often slow down, which gave Inter time to recover and commit bodies towards that area. As a result, Sevilla did not threaten Inter in the final third, The one-third of the pitch that is closest to the opposition's goal. despite having the ability to get there repeatedly. 
Sumptuous set-pieces
Both teams have produced very strong numbers, over the course of the season, when it comes to defending set-pieces. Inter had conceded the least in Serie A, with eleven, while only Atalanta had a better performance in set-piece expected goals conceded. Sevilla had conceded more, with seventeen, but ranked third in set-piece expected goals against.
It comes as a surprise that both these two teams would succumb to conceding from indirect free-kicks, within two minutes of each other. The first would come from a Brozović foul on Banega, which enabled the Argentine to deliver a gorgeous cross towards the back post, for Luuk de Jong to head the ball over Samir Handanović. 
Just moments after Sevilla took the lead, Lukaku would then be toppled over by Diego Carlos. Brozović would record an assist himself, curling a similar ball into the penalty area for Diego Godín to score. Four goals within the opening thirty-five minutes, three of them coming from dead ball situations.
Banega tames Brozović
The second half would see Inter attempt to build against the Sevilla high block. Off the ball, Lopetegui's team would form a 4-2-3-1 shape against Conte's 3-5-2 / 3-1-4-2 buildup shape. Both Lucas Ocampos and Suso would move narrow, covering passing lanes for the center-backs, while De Jong could directly press one of the ball carriers.
Éver Banega and Marcelo Brozović continued their duties to nullify one another, as Banega stuck to Inter's single pivot, as if they were two breakaway riders on the final stretch of a Tour de France stage. Banega's role off the ball was pivotal in denying Inter progression up the field. When Brozović would drop into the defensive line, Banega would occupy the receiver or close passing lanes for the Croatian.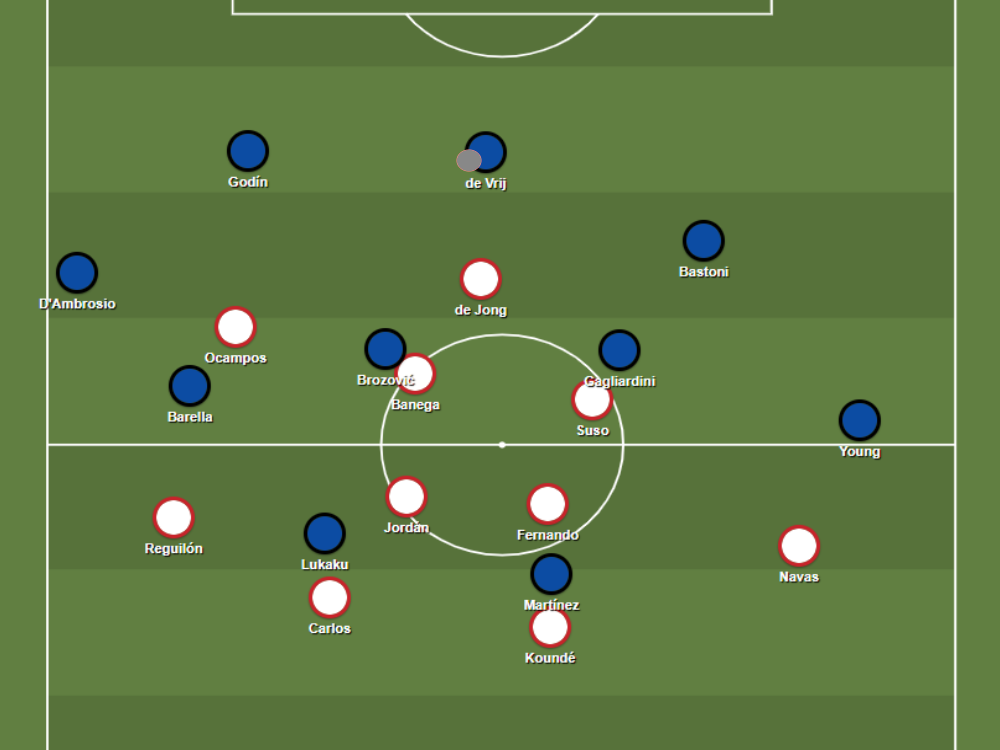 Sevilla's 4-2-3-1 medium block A medium block refers to a team that retreats in their own half out of possession, generally only disrupting their opponents some way into their own half. versus Inter's 3-5-2 buildup shape. 
In the middle third, Banega's role would remain the same, whilst Sevilla would bounce between a 4-4-1-1 and 4-2-3-1 defensive block. Although Inter's defensive line was awarded time in possession, the cover shadow When a player is positioning himself between the opponent that has possession of the ball and another opponent, he is blocking the passing lane. When applied the right way, his 'shadow' is effectively taking the opponent in his back out of the game, because the pass can not be played. of the offensive three shut passing lanes towards potential receivers. Their setup off the ball gave Sevilla great coverage of the field, as well as the ability to shift towards the flanks, without losing numbers in the middle.
Inter offered very little from their buildup, forced into sideways passes before moves would inevitably end, whether that would come from a misplaced pass or turnover in possession. Their only source of chance creation would come from the movements of Romelu Lukaku and Lautaro Martínez.
Lukaku would have one attempt on the transition, able to get behind Diego Carlos after his poor touch on the ball. His control was not great, which affected the result, a shot straight at Bono, in a one-versus-one scenario. A golden chance for Inter. 
Sevilla punish Conte
Spells of Inter passing produced very little, and with fifteen minutes left on the clock, Sevilla would punish their opponents for such wastage. Yet another set-piece would give them the goods, but this was more extravagant than the others. A cushioned header from Godín would be perfect for Carlos to turn, and overhead kick the ball towards goal. Lukaku's deflection made sure it was in, but nothing epitomized the craziness of this game more than a center-back scoring an overhead kick to win a European trophy.
Sevilla's third goal finally sparked Conte to send on the cavalry, Christian Eriksen, Victor Moses and Alexis Sánchez taking a field, but with limited time to produce in the final third. Inter continued to build up, but with very limited effect, while Lopetegui transitioned his team into a 4-1-4-1 shape to create better coverage in midfield zones.
Lopetegui would also bring on fresh players further forward, to keep the intensity of their press going into the final stages. Sevilla made it number six and capped off a fine season with another Europa League trophy to their name. 
📸 It is always possible. Never surrender! ⚪️🔴#WeareSevilla #UELFinal #WeAreAllOfYou pic.twitter.com/dG3o93h7IG

— Sevilla FC (@SevillaFC_ENG) August 21, 2020
Takeaways
With Conte and the board's continuous friction, the Europa League served as a great catalyst to get all parties on board. Winless seasons do not sit well with Conte, regardless of the progress that the club has made in that time. If he were to leave again, it would be a great shame for the Serie A to lose one of their best contenders to break the Juve dynasty. 
Sevilla's success in the Europa League serves as a reminder that they are one of the best model clubs around. This is no super club, backed with billions in the bank, this is a team built with excellent scouting and a strong tactical identity. Their win is blessed with romance, Navas' return as captain, Banega's last dance and Lopetegui's first taste of success. This competition was made for Sevilla.
Use the arrows to scroll through all available match plots. Click to enlarge.
Check the match plots page for plots of other matches.