Shakhtar Donetsk – AS Monaco: Shakhtar Profit From Monaco Misfires (2-2)
Knockout football can be brutal; something that is now also know to any AS Monaco supporter. They threatened on transitions, controlled vast amounts of the match and outshot their opponents by 18 shots. But Shakhtar Donetsk held on and advance to the Champions League by virtue of one of the cruelest of own goals.
Tactical analysis and match report by 
Joel Parker.
In modern football's landscape, it's unusual to see a hot coaching prospect leave a 'top-five league', to cut his cloth outside of such terrains. Nevertheless, Roberto De Zerbi, previously of Sassuolo, is stamping his style at Shakhtar Donetsk, with the aim to embody such an approach on the European stage.
Shakhtar took a huge step in the right direction. They came into this game with a goal advantage, having dominated the possession in the first half and Pedrinho scoring early on. Monaco came back with more control, but De Zerbi's team left Southern France with the wind in their sails. 
Failure to qualify for the Champions League group stage will add more gloom to a torrid start to the campaign. Monaco have gained just one point from their first three games in Ligue 1. Despite over 70% possession against Lorient and RC Lens, Niko Kovač's team failed to accumulate over one expected goal The amount of goals a team is expected to score based on the quality of the shots they take. in either match.  
De Zerbi made just one change from the first leg, within their 4-2-3-1 system. New signing Pedrinho was replaced by fellow midfielder Alan Patrick. Center-back Marlon, who signed from Sassuolo, and striker Lassina Traoré who signed from Ajax, were the new additions to the Shakhtar team. 
Kovač also made just the single change, within the 4-1-4-1 formation deployed in the first leg. This came between the posts, as Radosław Majewski was replaced by Alexander Nübel, on loan from Bayern Munich. 
Monaco cage in Shakhtar 
Monaco set the intensity from the get-go, disrupting Shakhtar, who could not get into a rhythm. Not only did Monaco's press create a vast number of high turnovers, but it put them in a position to turn these moments into direct shots at goal. 
They pressed in a 4-1-4-1 formation with Kevin Volland as part of the midfield line and Aurélien Tchouaméni screening the forwards that pressed. What made their press so effective was its ability to close down receivers quickly, with two or three players, whilst still blocking passing lanes around them. Both the double pivot Two central midfielders next to each other. was closely man-marked and Shakhtar were forced backwards, into corners as a result of their opponents' effective defensive organization.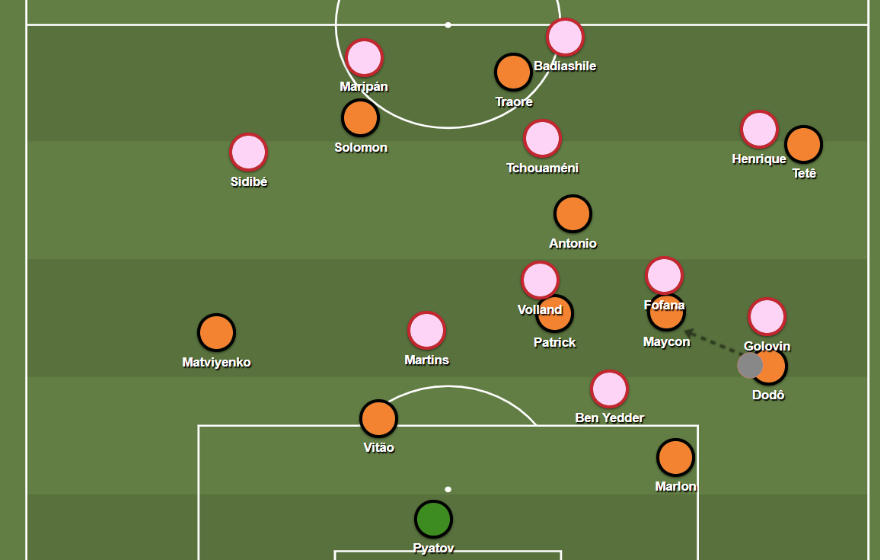 Monaco's 4-1-4-1 high press was able to match Shakhtar's shape and squeeze space in wider areas.
Shakhtar did display a couple of solutions, but these came few and far between. One of those was the long switch from Andriy Pyatov, out to Mykola Matviyenko on goal kicks, but this was a risky ball that relied upon excellent control and close options around the receiver. Monaco slightly tweaked their formation, into a 4-1-3-2 shape, on Shakhtar goal kicks, to match the center-backs, with Volland next to Wissam Ben Yedder, which stopped them from forming short, square passing patterns to encourage a press they could play through.
The other solution was Lassina Traore dropping out of the center-forward position and allow inside forwards to rotate around him. However, Monaco did not allow this situation to happen and kept a high pressing intensity when Shakhtar played the ball from deep. With the far-side winger, either Gelson Martins or Aleksandr Golovin, always in space when Monaco pressed out wide, Kovač's team had transitional threat by laterally moving the ball into space. 
They created a flurry of chances from early on; six attempts were taken in the first fifteen minutes alone. Eventually, their pressure paid off, as a smart piece of counterpressure After losing possession, a team immediately moves towards the ball as a unit to regain possession, or at least slow down the pace of the counterattack. from Benoît Badiashile, from a throw-in, sparked the counterattack forward. A nice interchange between the two strikers saw a good shot from Volland saved, only for Ben Yedder to fire the rebound home, meaning Monaco led after 18 minutes.
Momentum continued through the buildup
Now in the lead, Monaco were able to build sufficiently against a passive medium block. A medium block refers to a team that retreats in their own half out of possession, generally only disrupting their opponents some way into their own half. From deep, Tchouaméni dropped between a wide split from the center-backs; though Shakhtar did not press high, it enabled Monaco to move the ball around their 4-4-2 medium block.
Monaco's 3-2-5 shape against Shakhtar's 4-4-2 medium block. Poor screening from the midfield line enabled Maripán to progress, straight towards Volland.
From the middle third, Monaco's shape resembled a 3-2-5 formation, as Djibril Sidibé tucked inside and Caoi Henrique pushed further up. The passing structure was fairly simple from Monaco, with little rotation, except for Sidibé who could overlap down the right once the ball had moved into the final third. The one-third of the pitch that is closest to the opposition's goal.
Although Monaco did miss an option, to bridge the midfield and forward lines, they were able to keep the ball and progress through the middle quite comfortably. This was due to Shakhtar's zonal defensive block, being passive out of possession and a midfield line that did not block passing routes well. Guillermo Maripán was able to play passes into Ben Yedder's feet, or towards Kevin Volland, whose lateral movements towards the touchline opened up such lanes. 
Monaco were able to keep their control of the game, but their work in the buildup did not create many chances, especially when you compare their work on the transition. This was due to the lack of movements behind the defensive line or rotations to pull markers out of position, whilst dealing with less space after they had slowly moved the ball into the final third. 
The game had slowed down to this point, Monaco did not vastly dominate possession, whilst the number of fouls being committed increased. Both teams took a limited amount of shots, but Monaco progressed the ball easier and looked more likely.
After a quiet period, Badiashile hit the post from an indirect free-kick, before Kovač's team scored a deserved second goal. From a second phase of a corner, Nübel's long ball back into play set up Henrique to cross the ball and Ben Yedder to smash in from close range. 
Shakhtar gradually get back  
The hosts did have passing phases throughout the first half, but this was vastly unlike the usual De Zerbi style. Monaco moved back into a 4-1-4-1 medium block and Shakhtar were forced into longer passes towards wide fullbacks, before chipped balls down the channels to get up the field. 
Monaco moved ten to fifteen yards deeper into the second half, as they aimed to build more compactness in the middle and slow the tempo of the game even further. However, a slower tempo, against a deeper block, suited Shakhtar's buildup and more recognisable patterns emerged. This involved the closer fullback dropping infield, whilst the further maintained the width, as De Zerbi's team aimed to create overloads When one team has more players in a certain area or zone than the other team. in the center.
Example of Shakhtar's positional play patterns, as seen in the second half. This involved Dodô moving infield and Maycon moving out wide, to create a better passing angle towards Tetê.
Shakhtar banked on their positional play to see them through, and although it made the game more balanced, it was not exactly penetrating through Monaco lines. Rotations between players were slow and Monaco stopped short, vertical exchanges by making their shape narrower. However, Shakhtar found space on the outside and produced better situations, by creating two-versus-two situationss on the channels and getting their wingers separated from opposition fullbacks.  
Despite being able to produce the patterns they wanted, Monaco's transitional threat was still producing the game's best opportunities. Ben Yedder got into another excellent shooting position, thanks to Martins making a turnover, Volland cutting through the defensive line to meet Ben Yedder but the captain could not finish. 
Just as momentum started to swing back into Monaco's favor, Shakhtar got the goal that they crucially needed, from an excellent passing sequence. Marlon was able to move the ball wide to substitute Ismaily, whose vertical pass back inside found Alan Patrick's blindside run. A neat one-two with Traore pulled Monaco's defensive line central, making space for Marlos, who came on ten minutes earlier, to slide the ball in at the near post, scoring against the run of the game. 
Late Monaco domination
Late changes from Kovač changed the makeup of Monaco's attack. Martins was replaced by Jean Lucas before Shakhtar had evened up the aggregate score. Golovin and Ben Yedder were replaced by Sofiane Diop and Wilson Isidor, just when Monaco needed another goal to finish the contest. 
What followed was the best flurry of chances throughout the match. Monaco were able to create many chances, building off second balls and being able to go more direct. This was due to the aerial work by Isidor, which enabled Monaco attackers to pop up in areas around the box, most notably Volland. 
From a Shakhtar opportunity, an excellent long pass from Tchouaméni was brought down brilliantly from Isidor. Volland made the run into space, but an off-balanced shot skewed a chance which could've been taken a lot better. 
Tchouaméni also expressed his passing range minutes later, as a lofted diagonal over the defense reached Lucas for a cut-back, only for Volland's shot to be blocked on the line by Marlon. Monaco continued their control in the dying moments, sitting in their 3-2-5 passing circuit and getting into good crossing locations. 
Isidor was involved again in another chance, this time on the transition where he was able to carry the ball from the halfway line, towards the penalty area. With Shakhtar defenders heavily bunched, space drastically opened for Volland again, his shot expertly saved by Pyatov. Monaco kept on knocking, but Shakhtar lasted the heaviest of storms.
The most brutal of conclusions
Extra-time offered a standard chain of events: a much slower version of what we've seen, sprinkled with more players cramping. Monaco failed to regain such late momentum they had established, whilst Shakhtar relied upon deep switches towards pacey wingers that they had brought on. 
Both Marlos and Mykhailo Mudryk made several carries forward, always looking to cut back inside onto their predominant foot. Although both men looked fresh, neither side looked like they had the capacity to properly break through. 
Only the most ludicrous of events could stop the inevitable shootout, only that event would appear with just minutes left. Shakhtar were able to break forward, Fernando was also brought on to provide fresh legs forward. Mudryk overlapped and got into the box, attempting to cutback to Patrick, only for the rising boot of Ruben Aguilar to send the ball over the goalkeeper and into the net, from the far corner of the penalty area. The most bizarre of circumstances to not only lose a football match but to send you out of competition. Brutal fashion.
👊🏻 @ChampionsLeague group stage battling figures!

📊 Statistics of the #ShakhtarASM match from Panini Digital.#Shakhtar #UCL pic.twitter.com/s251ODnpGr

— FC SHAKHTAR ENGLISH (@FCShakhtar_eng) August 26, 2021
Takeaways
A match of momentum switches, increasing stakes and high drama, even the August Champions League games can provide the odd gem here and there. De Zerbi's first mission is complete, now he must further imprint his style and tighten up the defense, ready for further European action. 
Monaco's start to the season has been rough, but there are positives to take. They created much better opportunities, through their counterattacking ability and Kovač's changes had great effect. Thursday nights can still be fun.
We decided to make this article free to read. If you want to support our work, consider taking a subscription.
Use the arrows to scroll through all available match plots. Click to enlarge.
Check the match plots page for plots of other matches.