Manchester United – Everton: United's left-sided attack secures victory over Everton (2-1)
Manchester United recovered from their midweek Champions League defeat against Juventus to beat Everton 2-1. A highlight for United was their left-sided attack, with Anthony Martial once again being integral to the attacking exploits of Jose Mourinho's side.
United's 1-0 defeat against Juventus does not look like the worst result on paper given the Italians' quality, but the lacklustre nature of the performance displeased many fans. An improved performance was needed against Everton then, especially with big away games at Juventus and Manchester City on the horizon for United.
Everton came into this game on the back of three wins, sitting in eight place. This seems roughly in line with expectations this season, as they should have the player quality in the squad to be aiming for a top half finish this season, but probably don't have enough to break into the top six.
United's only change from the Juventus game was the inclusion of Fred, in place of an out-of-form Romelu Lukaku, who Mourinho said is currently lacking confidence. This change meant that Rashford moved into a center-forward role, and Mata moved to the right, making room for Fred as a central-midfielder in a 4-3-3 formation.
Everton's starting lineup and 4-2-3-1 shape were unchanged from their 2-0 win over Crystal Palace. The team included big money signing Richarlison, along with ex-Barcelona backups Lucas Digne and André Gomes, as well as Bernard, who was facing up against former Shakhtar teammate Fred.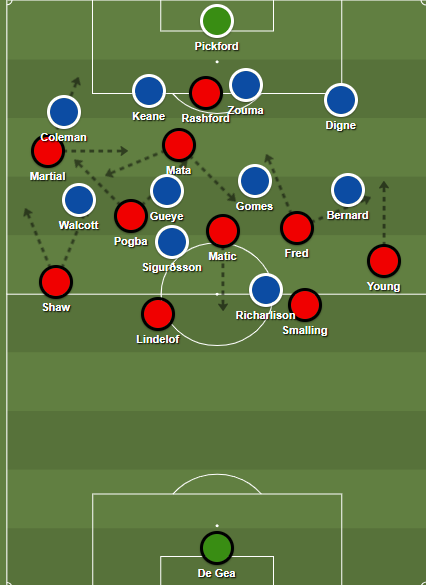 General movements and positioning when Manchester United was in possession.

United focus on the left
As alluded to, most of United's attacking threat in this game came down their left side. Juan Mata, nominally a right-winger in this lineup, had the freedom to move long distances towards the center as well as all the way over to the left-wing when United had the ball, making him a key player in helping to create overloads in that part of the pitch.
Anthony Martial mainly occupied Everton's right-back Seamus Coleman. He would either hold his width near the touchline on the left, or drift inside to the left halfspace behind Everton's midfield line in their 4-4-1-1 defensive shape. Luke Shaw would then support Martial with overlaps from the left-back position.
Another key component for United was Paul Pogba, a player who naturally seems to enjoy playing from a left central midfield position and drifting into wide areas. He would occasionally make diagonal runs in behind Coleman when Martial pulled him out of position.
In contrast, the right side of United's attack was less active. This was essentially a natural result of the personnel involved and their roles. Mata constantly drifting away from the right wing obviously meant that there were less connections on that side for United. Furthermore, Fred was the right-sided central midfielder, and he is not the same playmaking presence as Pogba on the other side who is always demanding the ball and trying to create attacks on the left.
United's passmap shows how Mata was tucked in as a nominal right winger,
and how much play ran through Pogba.

As a result, the attacks down the right side were fleeting and slightly more linear. Ashley Young pretty much had the right wing to himself apart from occasional forays from Fred or Mata into that area, but Young had to pick and choose his moments to go forward, especially with Shaw bombing forward on the other side. This meant that United didn't always have an option in an advanced position on the right wing, further forcing their attack down the left.
When Young did get the ball, he would usually play back into the center, or in deeper areas he would occasionally seek a long-ball into the channel for Marcus Rashford to chase, again partly a result of having fewer options in front of him on that side.
When United's goal eventually came, it was again from the threat provided by their left-sided players. Pogba, just inside his own half, played a throughball down the touchline to Martial. Coleman had been caught ahead of the ball, so Idrissa Gueye was forced to cover the wide space and confront Martial one-versus-one. Having backed off into the penalty box, Gueye then was fooled by Martial's footwork, leading him to clumsily trip Martial, and give United a penalty.
Pickford saved Pogba's penalty, but the Frenchman was able to tap in the rebound, giving United the lead.

United less passive in defense
A notable aspect of United's performance against Juventus in midweek, especially in the first half, was the very passive approach against the ball. United ceded high amounts of possession and territory to the Italian side, and barely pressured the ball over the halfway line until later in the game.
Against Everton, they were more aggressive without possession. Of course, there were still spells where they were happy to utilise a deep block and minimise the space in behind, which is usual for a Mourinho team, but there was also plenty of aggressive pressing in Everton's half. This forced Everton into ball losses with long-balls which were usually dealt with by United's defenders.
Everton, although their starting formation was a 4-2-3-1, would sometimes form 4-3-3 type structures midfield when they had possession, with Andre Gomes or Gueye dropping into a central position in front of the defence, with Sigurðsson either side. With United's man-marking, this sometimes changed United's defensive shape to a 4-4-1-1, with Pogba or Fred moving up to pressure Gomes or Gueye.
Everton's passmap how little play took place in central midfield for them.
In general, Pogba had more freedom to push out of the midfield and onto Everton's center-backs to help United start their press. Rashford's use of curved runs to force play to one side was also a feature of United's press. Elsewhere, the presence of Fred helped cover Mata's defensive vulnerability on the right side. The Brazilian worked hard to shuffle into wide areas at times and help plug gaps left by Mata, as well as supporting Young at right-back.
United were able to keep Everton's attack quiet for much of the game, although Marco Silva's team did have some joy down their right wing, where they got in behind Luke Shaw on a couple of occasions.
A small detail which has been a problem for United in the last couple of games has been Matic losing markers going into the box and running behind the fullbacks. He made a poor attempt at tracking Paulo Dybala's run into the box for Juventus' goal in midweek, and there were a couple of times in this game where Sigurðsson was able to run off him and get into space, which fortunately for United did not lead to anything.
Nevertheless, this might be an issue to look out for when watching United, as Mourinho's defensive system requires that the defensive midfielder is able to track his opponent into wide areas, so that both center-backs can stay close to each other and defend the penalty box.

Nervy ending for Mourinho after solid performance
After a good first half performance, United continued in a similar vein in the second half, and before long they made it 2-0. Again Martial was able to get himself on the scoresheet for United after his brace against Chelsea last week. The winger scored with a wonderful low, curling shot from the edge of the box, which was reminiscent to some extent of his second goal in the aforementioned game at Stamford Bridge.
As the half progressed, United fell deeper into the own half to protect their lead, and Everton had more of the ball. Lukaku was brought on in place of Rashford, and although he was still unable to get on the scoresheet, his hold-up play became a source of counter-attacks for United on a couple of occasions.
United did give away a couple of chances in this half. Summer signing Bernard came close to scoring after an improvised offside trap from United failed, and the Brazilian winger was able to take the ball around De Gea, but was unable to find the target. Coleman also had a chance after a lapse in concentration from Martial allowed him to run behind United's defence, as Shaw had been dragged inside.
Eventually, Everton's goal did come. It was the type of goal that one imagines Mourinho finds especially frustrating – one which arose from a player, in this case Pogba, taking unnecessary risks on the ball in his own half. Pogba attempted to flick the ball to Mata, and the pass was intercepted. Straight away, the ball was played to Richarlison running off the shoulder of Smalling, who then dived in, giving away a penalty, which was converted by Sigurðsson.

Takeaways
Sigurðsson's goal ensured a nervy last fifteen minutes or so for United, but they managed to hold out and take the three points. This game should go down as one of United's better performances this season, although the bar is not especially high in that regard. Mourinho said in his programme notes that he expects United to be "in a completely different position in the table" by the end of December.
If that is to be the case, they'll need to put together a run of results very soon, having already lost ground on the rest of the pack.
For Everton, they will know that they did have a couple of decent chances in this game and failed to take them.