Tottenham Hotspur – Manchester City: A Similar Narrative Does Not Cloud The Wider Perspective (1-0)
Manchester City turned up to Tottenham Hotspur and lost. It's a narrative we have come used to, a bizarre trend in their period of absolute dominance. Yet the spaces left for Spurs to transition into cast an uncomfortable light on a piece of City security that has begun to show cracks.
Tactical analysis and match report by Joel Parker.
We decided to make this article free to read. If you want to support our work, consider taking a subscription.
Modern title chases leave little breathing room for runners to relax, a story that Man City know too well. Arsenal failed to pass the Goodison Park test, but City had to break a hoodoo of their own to capitalise. 
Pep Guardiola hasn't travelled to a stadium more than Spurs, without picking up a victory (or even a goal!) However, Tottenham remains an inconsistent profile: a rough forty minutes can be followed with five in which they truly click into gear, as seen in their game against Fulham. A match against City has always provided Antonio Conte with his ideal game plan, predetermined transitions to exploit space. Spurs will have to do it without their coach on the sidelines, for the time being, recovering at home in Italy after undergoing gallbladder surgery.
Their first fixture, a 4-2 victory for City at the Etihad Stadium, sparked remarkable comments from Guardiola: a coach who made his concerns public about his squad's hunger. João Cancelo's loan move to Bayern can be a product of that, but Pep can't stitch hunger to his tailor-made structure.
Tottenham remained completely unchanged from their 1-0 victory away to Fulham. Pedro Porro, recruited on deadline day from Sporting CP, was added to the options on the bench – an ideal wing-back option in their usual 3-4-2-1/3-4-3 system. Cristian Stellini was left responsible for actions from the bench.
Man City made four changes, with Kevin de Bruyne and İlkay Gündoğan moved to the bench. John Stones was out with a hamstring injury and Aymeric Laporte was also changed from the backline. In came Kyle Walker and Nathan Aké, whilst Bernando Silva joined the midfield and Julián Álvarez into the attack.
Spurs shut down the Silva space
Discussion towards Guardiola's tinkering can lead to tiresome conversations, but leaving De Bruyne on the bench was sure to perk the ears. Their switch to a 3-4-1-2 shape was designed to overload Tottenham's double pivot, so Silva could receive the ball without the wide center-backs baring down on the Portuguese man.
Rico Lewis inverted next to Rodri, with Kyle Walker tilted on the right side and bouncing between the first two lines of their buildup. With Manuel Akanji and Aké, City missed a consistent line breaker from deep and it did not go unnoticed that Spurs could force them to turn backwards quite comfortably.
City's shape changed in the deeper buildup: Aké manoeuvred into a left-back space and Akanji remained as the right-sided center-back, spacing that denied them of short connections and did not protect its double pivot if the ball was to be lost. As Spurs increased their pressing intensity in this phase, a long ball from Ederson to Haaland, who dropped towards the left, was the best route for them to evade pressure.
14th minute: Buildup to Tottenham's opener. Rodri's pass was intercepted, with big distances between himself and the left-sided options. Kane was in a golden position to profit.
However, Spurs captured on City's vulnerability in this area. In the 14th minute, Rodri allowed the ball to run across his body, to try and open up the left side of the field. His short ball into Lewis was pickpocketed by a more alert Pierre-Emile Højbjerg, with Harry Kane open in space towards his right. Another Kane finish, to become Tottenham's all-time top scorer.
With Spurs in the lead, there was less of a need to engage with City in their own third and Spurs could focus on closing down routes for City. Spurs combated against the Silva overload, as Højbjerg moved closer to the potential receiver and Rodrigo Bentancur stepped up to engage with the double pivot, alongside Kane. Dejan Kulusevski and Heung-min Son kept central compactness by tucking in within the Tottenham midfield line.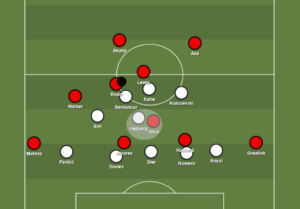 17th minute: Vertical lane to Silva blocked off. Rodri is pressured by Bentancur, whereas Højbjerg covered Silva in the next line.
When neither midfielder picked up Silva, Eric Dier would track him as far as the final third. With this lane blocked off, passes funnelled outwards towards Jack Grealish and Riyad Mahrez, without either man having a connection to bounce off from. Grealish dribbles offered more set-piece opportunities and flexibility when he moved inside, potentially dragging both center-midfielders with him. With this being said, this was a City team that was still very rigid and stale when they were moving the ball in possession.
When trying to create passing routes, Silva never dropped in front of Tottenham's midfield and the City double pivot had no versatility to counteract. Haaland made explosive runs around Cristian Romero but was never connected. Take De Bruyne out and deep halfspace crosses are eradicated. Without such service, City's chance creation can dry up too.
Does City have a transition problem?
The foundations of City's recent success can be seen in how its counterpress has evolved. Timings from Rodri to step up and Walker tucked in at the back would sniff out any opposition counterattack, which enabled them to pin teams and control games for a lot longer periods. The second half away at Tottenham can indicate how such foundations are beginning to crack and aggravate more underlying issues further afield.
For the record, this is still a team that can press effectively. City showcased this when Spurs circulated in an expansive 3-4-2-1 formation. Haaland spearheaded, Grealish and Álvarez moved onto the wide center-backs and City pressed high in an asymmetric 4-4-2 formation, before moving into the more recognizable shape in a medium block. However, this only funnelled Spurs out wide or long and City were still relied upon to break down Tottenham in possession.
Grealish carries produced the best territorial gain for Guardiola's team, but Pep stuck to the 3-4-1-2 shape that he had prepared for. Before the hour mark, holes in the safety net began to spill Tottenham into the other half of the field. Rodri started to move higher when Silva carried the ball further forward, whilst Lewis was more attentive to filling in the space next to Aké, who was more central and engaging with Kulusevski, to stop Spurs from having so much space on the wings against their opponents' back three.
However, this enabled Spurs to establish an out ball and a launch pad to break forward. Kane was a mismatch against Akanji or Aké with his back to goal, supported by Højbjerg third man runs around the striker and Son constantly on the last line to create space between the lines. The protection in front of Man City's backline was no longer in place to put out fires and Spurs constantly attacked the transition in numbers.
64th minute: Buildup to a Tottenham counterattack. Son was in a position where City have usually covered so well on the counterpress, but left unsupervised as Romero followed his pass to join the counter, Kulusevski and Kane shifted towards the right and Perišić kept Walker deep by his position on the left.
Kane nearly doubled their lead once again with two opportunities on the break. After Grealish was tackled, a huge space opened with Rodri and Lewis positioned on the left and Son able to build the tempo against a retreating back three. Ivan Perišić played the ball across the goal, but Kane narrowly missed the pass through. The next chance had Son dribbling the ball around Rodri, with Emerson Royal in support inside of Kulusevski. Son put the ball into Kane, who had Walker and Akanji still to beat, who turned both, but Ederson spread to deny the shot.
De Bruyne's introduction did not change the axis of City's attack. Silva was now positioned on the wing, with Mahrez departing. Walker and Aké positioned themselves higher up the field, as Walker offered the occasional overlap and allowed Silva to tuck inside. However, City failed to disrupt the numerical superiority in Spurs' favor, as they were able to shift into a four-versus-three down the channels.
Guardiola's last gamble was to stick Gündoğan in the same position and have De Bruyne on the right side. The dismissal of Romero should have applied more pressure onto the Spurs backline, but even with a man advantage, City failed to truly increase their foothold in possession. Cristian Stellini was quick to fill in the hole by putting Davinson Sánchez on for Kulusevski with a few minutes left.
Takeaways
A big win for Tottenham, to keep tabs on both Man United and Newcastle who take up the Champions League spots. Playing against Guardiola's men has always provided a great platform for them to counter from and even before their Conteization, this was a team that was always effective when attacking at speed.
It, therefore, shines a mirror on Man City's wider picture. This is a team that has always evolved, but has Guardiola had a squad as rigid since he came in? In their recent stretch of inconsistent form, the departures of Raheem Sterling, Oleksandr Zinchenko and Gabriel Jesus have added a lot more weight without many flexible options for Guardiola to change up. Yet Pep did not change the buildup shape and things aggravated when the holes in front of the center-backs became wider. This is still an elite team, but how Guardiola builds a substantial title charge will need an interesting adaptation.
Use the arrows to scroll through all available match plots. Click to enlarge.
Check the match plots page for plots of other matches.